"We had Chaka Khan's 60th birthday party here a few weeks ago. Most of the furniture is movable, so we can set up for almost any kind of event," said the youthful and engaging Alex Likhtenstein as we discussed the decor at EVR Gastro-Lounge.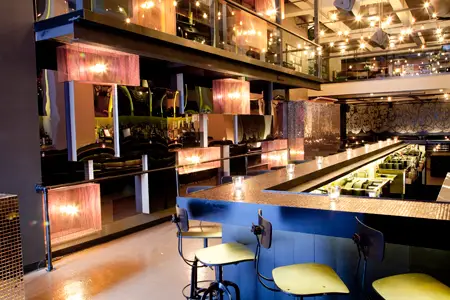 Located in what their Twitter bio refers to as "Manhattan's Empire District," upon close inspection, versatile is indeed a word that comes to mind, along with posh, sleek, and cocktails. But the versatility of EVR is especially interesting, because it's only there when it wants to be. TV's are hidden behind two-way mirrors that blend seamlessly into the lounge decor, unless they are turned on—tuned to CNBC for lunch, or the Yankees vs. Red Sox during happy hour.


There are outlets behind the banquettes and at every bar stool that can alternately power a mid-day laptop, or a dying cell phone in the last hours of a lengthy evening. A sky-high ceiling in the bar area is festooned with industrial cords and light bulbs that mimic stars. The mirrored tile host stand and DJ booth near the entrance contrast with wall mounted cages made of rough iron. The open, airy front gives way to a bi-level, cave-like atmosphere in the back where glass and steel meet scrawled graffiti coming together in a host of Picasso-esque faces.
Alternately glitzy and gritty, from specialty cocktails, to business lunches, to after-work hangouts, to late-night revelry; it's rare to see a place that can do it all, and do it all well. We spoke recently with Likhtenstein about how EVR pulls it off.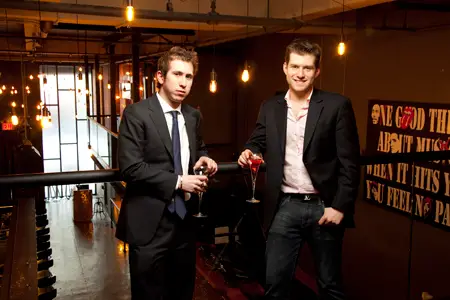 Alex Likhtenstein (right) with partner Ian Magid (left) at EVR

What's your favorite food item on the menu?
I like the short rib sliders. They're braised, with a little manchango cheese and pickled onion. They're simple, and really good. I also like the boneless buffalo bites, they're served with a bamboo skewer, which makes them easy to eat in a setting like ours. Our chef makes a mean skirt steak, and I like the Argentinian flatbread pizza as well. When we first opened in late January, I felt like everything, and especially the cocktail program, was an A-plus and the food was at like a B-minus. So we brought in a great new Executive Chef, Chris Nirschel, in early March. He was at Celsius in Bryant Park when we met, and their season was about over, so he just came straight here after that. He's been a great fit and I'm really happy with the food now.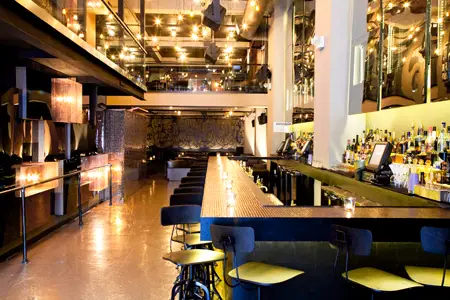 How did you make such a great space that's also so eclectic?
Basically we wanted to be a high-end, chic place, but we also wanted it to have some of that cool downtown factor. I guess we wanted to incorporate uptown sophistication and downtown artistry in a midtown location. Our designer, John Rollins, really brought that vision to the space and I'm really happy with the way everything turned out. This property started out as office space, so we had a totally blank canvas to start with. From there we knew we wanted to keep the feel a bit more industrial, to keep the space true to the neighborhood but we also wanted luxury. My background is partly in nightlife, and I knew I didn't want to open a club, but we did want to incorporate some of the fun elements of clubs, like DJs and the party atmosphere, and we also didn't want a straight cocktail bar like Ward III, for example. But we wanted an amazing cocktail program; we didn't want a white tablecloth restaurant but we wanted great food. So we kind of took the elements from each of those places that we liked and put them together. Which I guess is a little unorthodox, but it's working out pretty well so far.
What are your favorite cocktails?
Well, we have about 20 cocktails on our list, and they change sometimes when there are new ingredients in season. But I like the Tomato Basil Martini, which is cherry tomato, gin-infused basil, lillet blanc, agave, lime, and habanero reduction with a Himalayan salt rim and black peppercorn. You're probably thinking that's crazy, but it's really good. Our mixologist, Orson Salicetti, was formerly the head mixologist at Apotheke, and all of our cocktails incorporate fresh juices like the Spring Pear, which is vodka, pear, spices, sage, lime and agave. It's simple but it's sweet, easy to drink, and really tasty. We also have a parallel program at lunch where we have a drink menu of non-alcoholic juice drinks.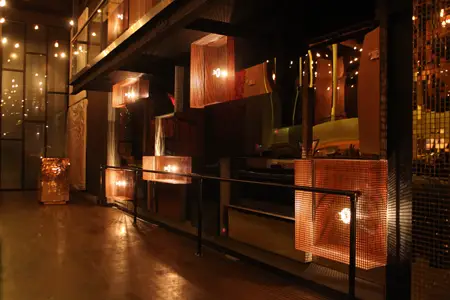 You've got a shiny booth and a big space carved out for music. Tell me more about the program.
It changes throughout the day. Usually it's kind of mellow, low-key stuff at lunchtime and then a little more poppy, like 80's, 90's, and Top 40, for the after-work set. We have some special events too. On Wednesdays from 6-10pm, we have the awesome rock and roll DJ Steve Lewis who comes in for a set. Then, after dark and on the weekends, we've hosted everything from the big DJs like Sinatra and Dalton, which usually bring a big crowd, to interactive dance entertainment with people dressed up like robots, dancing and spraying everyone with fog machines. We just want everyone to have a good time, so if it's a fun idea I'll usually try it.
EVR Gastro-Lounge: 54 W. 39th St., 212-977-3900; EVRnyc.com