Instagrammable moments, or should we say "immersive experiences," are taking over New York. Whether located in a pop-up space, museum, or major retail store, these photo ops are awfully pretty and fabulous fun to visit. There's the selfie-friendly Color Factory, brand pop-ups like Sony Square, and offbeat picks like the KGB Spy Museum. Each of these 24 experiences will make great fodder for your Insta feed, only in the endlessly photographable New York City.
Instagrammable Experiences in NYC: Color Factory
Color Factory, a massive interactive art space, began in August 2017 in San Francisco. Wildly popular, the project has set up shop in Soho as of last summer. Designed by a wide spectrum of artists, Color Factory walks visitors through 16 rooms devoted to the wonder of color. You're invited to compliment someone using color words, discover your signature color, and read wishes for the world written by NYC school children on varicolored balloons. Each room is equipped with a camera that can take a picture of you and send it to your phone: the better to post with! On view now. 251 Spring St., [email protected], colorfactory.co, @colorfactoryco
Instagrammable Experiences in NYC: DreamWorks Trolls The Experience
Cute kids never fail on IG. Take yours to Trolls The Experience for some pretty phenomenal pics. DreamWorks Trolls The Experience in Midtown makes the world of the Trolls movies into a reality. Kids can wear wigs of the trolls' signature tall hair, make their own scrapbook, and dance in a wind tunnel filled with confetti (cue adorable video!). The experience culminates with a dance party accompanied by 3D projections of the trolls characters. There's also a gift shop and cafe with goodies from City Bakery. Extended through November 3 for "Happy Trolloween" this Halloween season. 218 W. 57th St., 855-316-8306, trollstheexperience.com, @trollstheexperience
Instagrammable Experiences in NYC: Music x Innovation at Sony Square
Sony Square in Flatiron offers a rotating set of interactive installations, plus product launches, performances, and other exciting events. Right now, Music x Innovation takes you on a journey through music history with the help of the Sony Walkman. Explore the 40-year history of this handy device with a giant Walkman sculpture and a wall featuring the music player's many forms. Listening stations and other photo backgrounds are on offer. Also current at Sony Square is a Beatles-themed pinball machine and a photography exhibition featuring the work of Daido Moriyama in the "SHIBUYA/Daido Moriyama/NEXT GEN" gallery. On view now through October 26. 25 Madison Ave., 212-833-8800, sony.com, @sonysquarenyc
Instagrammable Experiences in NYC: Wallplay at The Seaport District
Its makeover well under way, The Seaport District is revamping with the help of several exciting artists. In addition to new murals by Natasha May Platt, The Black Gotham Experience (BGX), and Mike Perry, the Seaport has also established two immersive exhibitions with the help of Wallplay. On Beekman Street, get ready for some Turing Test-worthy tech with Sentient Electronics by Syntax Projects. At Fulton Street, see the upcoming installation Messages from Ghosts by Lance de Los Reyes, just in time for Halloween. Sentient Electronics: October 5-17, 117 Beekman St.. Messages from Ghosts: October 13-November 17. 26 Fulton St. 117 Beekman St., seaportdistrict.nyc/artists.html, @seaportdistrict.nyc, @wallplaynetwork
At this experience, it's rosé all day. Rosé Mansion will continue this fall, with its winning, wine-themed delights like a champagne ball pit, mini-theme park called Roséland, and tree house. It's also Magical & Mystical October through November 3. You'll still get to enjoy the 14 rooms of this rosé-themed jaunt, but for Halloween it'll be just a little haunted. You'll also get to try autumnal frosés, including a pumpkin spice variety, and special themed parties hosted on weekends at the Mansion. Mondays, it's Halloween movie night with upcoming screenings of Beetlejuice, Casper, and Gremlins. On view now. 111 W 32nd St., rosewinemansion.com, @rosewinemansion
Instagrammable Experiences in NYC: Music Reborn Experience at Dolby Soho
The floor-to-ceiling installations at Dolby Soho are truly immersive. Right now, Dolby Soho presents an immersive journey into music with Music Reborn. Listen to the work of modern masters, sit behind a drum set, and get caught up with the help of Dolby Atmos technology. There are ten exhibits making up this special event, including a room filled with lighted globes and a photogenic pink Dolby logo. Admission is free. On view now. 477 Broadway, soho.dolby.com, #dolbysoho


Instagrammable Experiences in NYC: Arcadia Earth
This experience puts a new spin on environmental awareness. As you journey through the wondrous Arcadia Earth, you'll not only get lots of likes, but you'll also learn about sustainability and the future of the world. The experience uses analog art elements like twisted reeds and hanging nets, along with augmented reality, virtual reality, and video projection for a thrilling reminder of Earth's beauty. Tickets on sale through October 31. 718 Broadway, arcadia.earth, @arcadiaearth
Instagrammable Experiences in NYC: Wonder World
Inspired by Alice in Wonderland, Wonder World takes you through the rabbit hole by way of Williamsburg. These eleven photogenic rooms will provide you backdrops in a light tunnel, amidst a garden of toadstools, below a neon sign or two, and on a bright slice of moon. After previous runs in Manhattan and Los Angeles, the new installation designs come from eight artists for this iteration of Wonder World. There's a gift shop on site as well. On view through November 9. 61 N. 9th St., 347-925-5834, wonderworldspace.com, @wonderworldspace
Instagrammable Experiences in NYC: Surrounds at MoMA
The Museum of Modern Art will reopen October 21, bringing new design, greater gallery space, and exciting exhibitions to its Midtown location. Surrounds: 11 Installations will debut at the grand reopening. At this exhibition, explore the work of 11 artists in these room-sized environments, whether they're self-contained spaces or works in series. Featured artists include Guillermo Calzadilla, Sadie Bennig, and Dayanita Singh. On view October 21 through January 4, 2020. 11 W 53rd St., 212-708-9400, moma.org, @themuseumofmodernart
Instagrammable Experiences in NYC: Mushroom Rally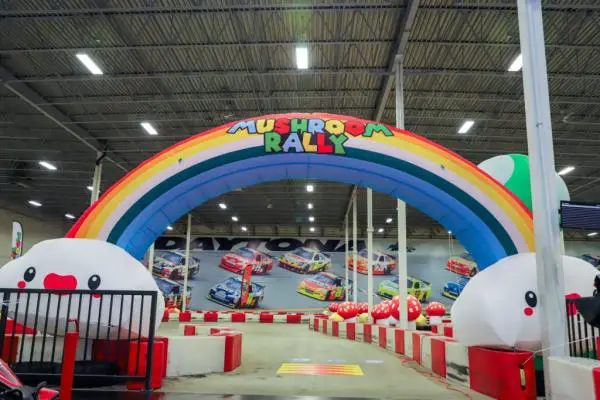 Mario Kart fans, this is your moment. Mushroom Rally brings your gaming dreams to life with a go-kart race wherein participants dress like their favorite characters, from Princess Peach to Yoshi. Not only is there an exciting indoor race in the mushroom-filled environment, but there are also games for participants and onlookers alike. This popular event has already hit cities worldwide, and the race will go on with an epic championship round in Las Vegas. The New York event will occur on several dates in late October and early November, but tickets have begun selling out already. Tickets still available for October 18 and 27, and November 2 and 3. 99 Caven Point Rd., Jersey City, 646-781-7359, mushroomrally.com, @themushroomrally
Instagrammable Experiences in NYC: Yayoi Kusama Installations at David Zwirner
With her smash-hit mirror rooms and abundance of polka-dots, artist Yayoi Kusama almost single-handedly ushered in the blockbuster immersive installation. She is bringing her talent for wonder, play, and just the right amount of excess to the gallery David Zwirner New York in November. This installation is sure to be another hit, so be ready to hop in line, and get your poses ready! November 9 through December 14. 537 W 20th St., 212-517-8677, davidzwirner.com/artists/yayoi-kusama, @davidzwirner
Instagrammable Experiences in NYC: The Museum of Ice Cream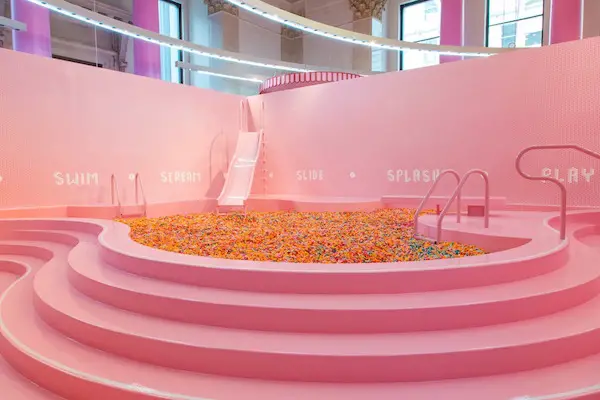 Among the first of its kind, The Museum of Ice Cream enjoyed a sweet stint in Manhattan beginning in 2016. Now it's back at a permanent location with even more space to play in. Check out the three-story slide that ends in a pool of sprinkles, and walk through a hall of ice cream scoops at the supersized Soho location this fall. There will also be branded ice cream to taste and very cute MOIC merch to take home. Tickets go on sale October 9. 558 Broadway, museumoficecream.com, @museumoficecream.
Instagrammable Experiences in NYC: Gelareh Mizrahi Mini Mart
A magazine shop might feel like a thing of the past, but Iconic Magazines has gotten quite a boost this fall. In honor of New York Fashion Week, accessories designer Gelareh Mizrahi transformed the Soho shop into a color-coded display full of magazines and handbags. What was meant to be a week-long engagement is now an Insta-friendly spot you can visit for the next several months. You'll know Iconic Magazines by its neon-green facade specifically for the pop-up. On view now through Fall 2020. 238 Lafayette, @gelarehmizrahi
Instagrammable Experiences in NYC | Driven: 007 x SPYSCAPE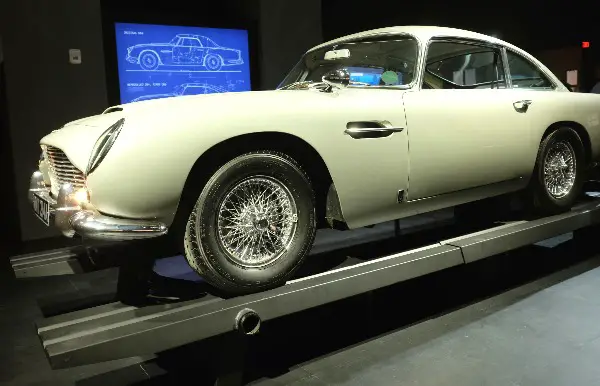 Midtown's spy museum takes a new look at the world's most famous secret agent: James Bond. Visit SPYSCAPE to snag a pic with Bond's Aston Martin DB5 in this thrilling exhibition about the world of 007 himself. Visit Q's lab to see gadgets used throughout the Bond film franchise, and get a look behind the scenes of the finale in Skyfall. You'll even see concept art from Sir Ken Adams, the Oscar-winning production designer who worked on seven Bond films. Open now. 928 Eighth Ave., 212-549-1941, spyscape.com/events/007, #007xspyscape
Instagrammable Experiences in NYC | Jump for Joy: Bouncy Castle of Breasts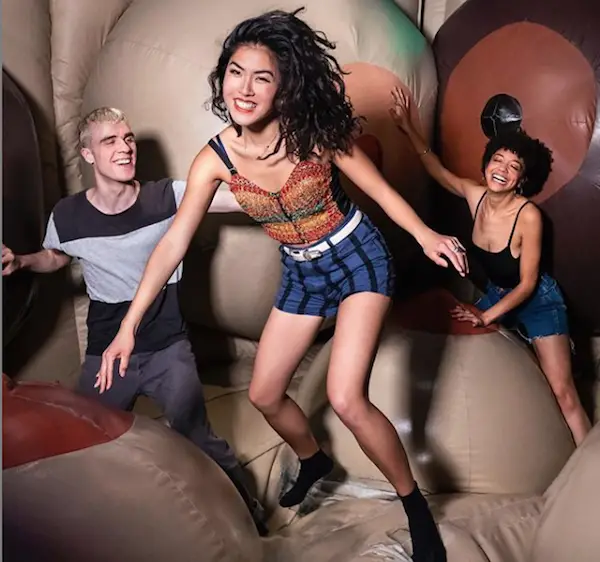 Museum of Sex Instagram.
Playful and kinky, the Bouncy House of Breasts will make a perfect Instagram story or video. Inside this unique art installation, you can jump around like a child in a bouncy castle—except the inflatable forms are all breast-shaped (and it's for adults only). This ongoing installation at Flatiron's Museum of Sex was designed by Bompas & Parr, who drew on the hidden eroticism of historic traveling fairs. The designers also encourage body awareness among visitors in the midst of this exuberant anatomical environment. Tickets to the bouncy house are $3.50 in addition to regular museum admission. On view now. 233 Fifth Ave., 212-689-6337, museumofsex.com
Instagrammable Experiences in NYC: Museum of Illusions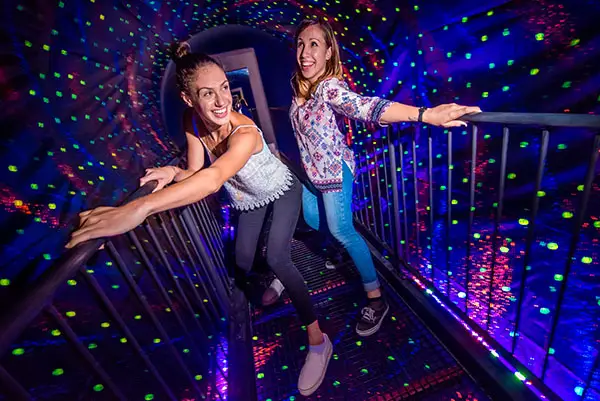 The Museum of Illusions NYC is great photographic fun, as you'll be able to laugh, scream, run, take selfies, and generally do the kinds of things they don't allow in other museums. You (or your prankster friend) can even become a head on a platter. There's also an Anti-Gravity Room, an Infinity Room (a hall of mirrors for the 21st century), and a room where you'll walk on walls. Nothing is as it seems; it's all illusion, and all incredible! On view now. 77 Eighth Ave., 212-645-3230, newyork.museumofillusions.us, @moi_newyork
Instagrammable Experiences in NYC: The Winky Lux Experience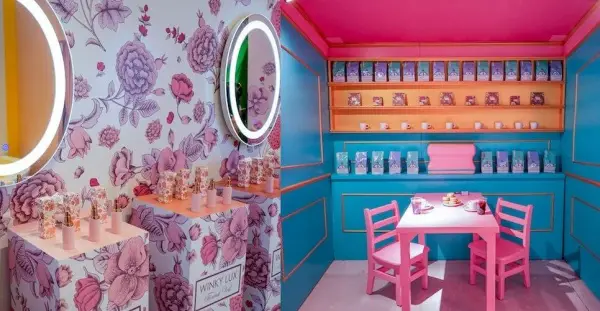 Winky Lux, the smash-hit beauty brand, has opened a pop-up experience in tandem with their Soho retail store. The Winky Lux Experience leads you through seven brightly colored rooms full of fur pillows, splashy rose wallpaper, large flowers, and makeup, of course. Their cheeky philosophy, according to the Winky Lux site: If it didn't happen on Instagram, it didn't happen. Your $10 ticket goes toward the purchase of a beauty product at the end of your journey. The success of this popup has led to additional Experience Stores in Chicago, Tysons Corner, Virginia, and another coming up in Nashville. NYC Experience Store on view now. 430 W Broadway, 646-952-0380, winkylux.com, #winkyluxnyc
Instagrammable Experiences in NYC | National Geographic Encounter: Ocean Odyssey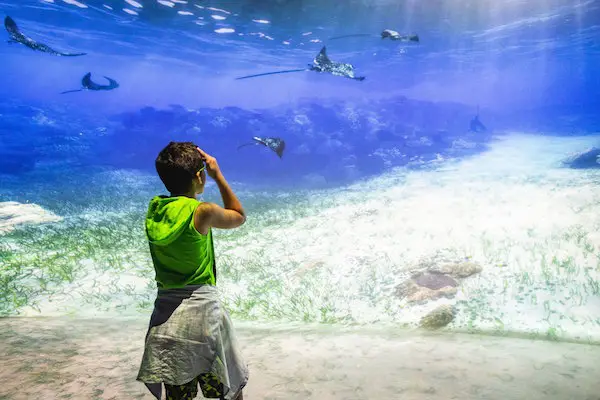 Take a portal from the heart of Times Square into the depths of the sea at National Geographic Encounter: Ocean Odyssey. This immersive experience explores ocean life using state-of-the-art projections in walk-through screening rooms that surround you and your family with the deep blue sea. You'll get panoramic views of a blue whale, sharks, schools of fish, and coral reef. The experience also challenges visitors to rethink ocean conservation and reduce plastic use. Use City Guide's coupon to receive $10 off admission. 226 W. 44th St., natgeoencounter.com
Instagrammable Experiences in NYC: STORY at Macy's Herald Square
STORY at Macy's combines a pop-up installation with an engaging shopping experience. This new store inside the flagship Macy's on 34th Street tells a new retail story every 6-8 weeks with a themed suite of small-business products for sale. This season, Outdoor STORY takes a cue from Mother Nature and has filled the Herald Square location with picnic-inspired backdrops, games of cornhole, and a vertical hammock for your perfect summer selfie. Events at STORY focus on hiking, indoor plant systems, and much more. Open now. 151 W. 34th St., 212-695-4400, macys.com, #storyatmacys
Instagrammable Experiences in NYC: Dolce & Gabbana Clubhouse for Millennials
The dressing room at a retail store is decent Instagram fodder if you have the right outfit, but you're usually working with poor lighting and boring backgrounds. Take your personal fashion show to the stratosphere at Dolce & Gabbana's Soho store, a.k.a. the Clubhouse for Millennials. Floor to ceiling, this store is wild and colorful, full of textures and patterns only the dynamic duo of Domenico Dolce and Stefano Gabbana could dream up. There are iridescent brick walls, a hand-painted sofa, and a second floor covered in leopard print from the rug to the wallpaper. On view now. 155 Mercer St., 212-716-1247, dolcegabbana.com
Instagrammable Experiences in NYC: Find Your Match at Museum of the Dog
Remember that time last year when everyone posted their fine-art doppelgänger? The Museum of the Dog gets cuddlier with its face-matching installation, Find Your Match. At this new museum in midtown, you can find out whether you look more like a cocker spaniel or a Siberian husky after the digital installation analyzes your face. While you're around, you can also pet a virtual lab puppy and see canine-related artwork throughout history. On view now. 101 Park Ave., 212-696-8360, museumofthedog.org, @museumofthedog
Instagrammable Experiences in NYC: KGB Spy Museum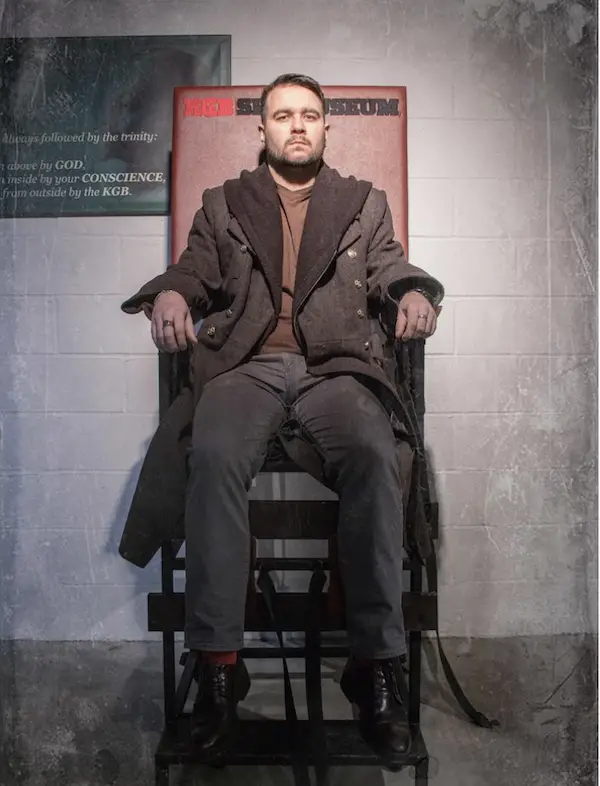 New to Chelsea, the KGB Spy Museum explores the secret world of Soviet intelligence. Not only are there listening devices and lipstick pistols on view, but immersive rooms where you can be a spy, a KGB boss, or the unlucky object of Soviet suspicion. There's a Soviet official's office where you can pretend to answer the secure rotary phone, as well as an interrogation chair and a KGB prison cell where you can sit on the bed. The eeriest space might be the KGB dentist's office, complete with dental chair and instruments. On view now. 245 W. 14th St., 917-388-2332, kgbspymuseum.org, @kgbspymuseum
Instagrammable Experiences in NYC: SHOWFIELDS
"The most interesting store in the world" is, you might imagine, pretty Insta-friendly. SHOWFIELDS combines immersive environments with retail, encouraging you to try out a wide range of awesome products on site at its Soho location. Right now, featured brands include Priori's "adaptive skincare," Boodles Gin, and gorgeous shoes from CFDA x Isa Tapia. All products are showcased in artistically unique environments that just beg to be photographed. Open now. 11 Bond St., showfields.com
Instagrammable Experiences in NYC: Arcadia Earth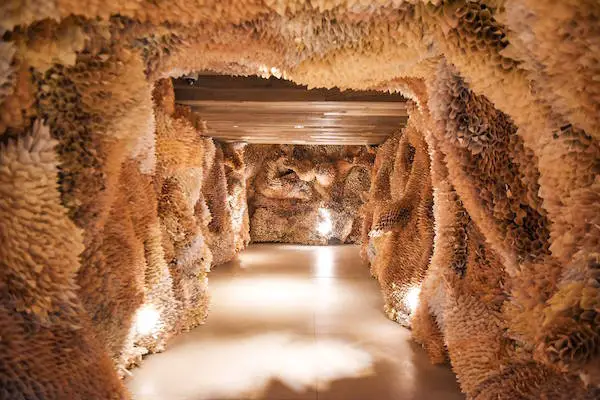 Arcadia Earth is a one-hour immersive exhibit created by an artist collective. Augmented reality messages, virtual reality animations, and interactive environments will teleport you into a journey through the planet. For every ticket sold, Arcadia Earth will plant one tree and donate to charity partner Oceanic Global. Open through Jan. 15, 2020. 718 Broadway, 215-760-5392, arcadia.earth
---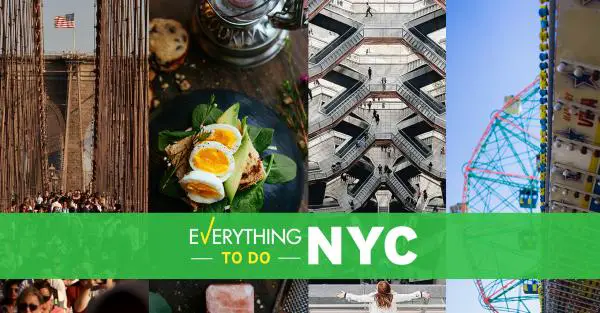 Want free advice on what to do and see in New York? Join our Facebook group Everything to Do NYC, a place for people to ask questions and get tips on how to make the most of the city.