(3/31-4/7) New Yorkers and tourists alike are impacted by COVID-19, but we are resilient. Read on for the latest info about entertainment resources, restaurants still serving amazing meals, closures, and more.
NYC RESOURCES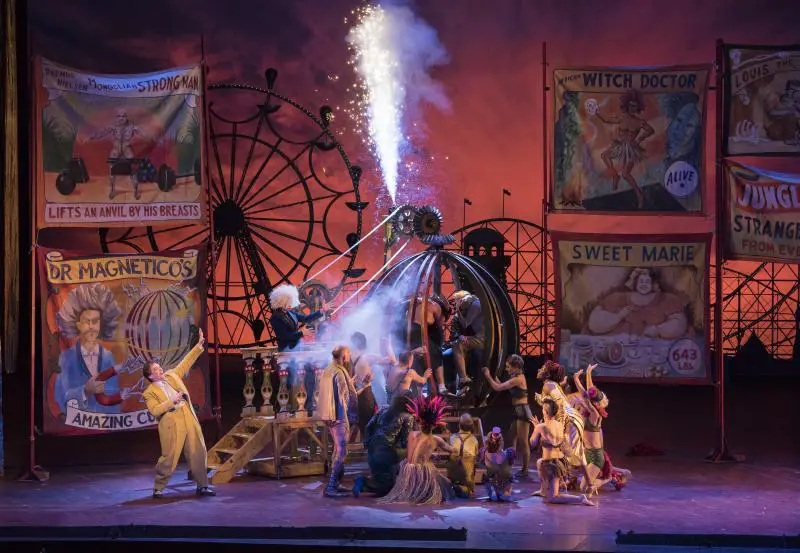 The Metropolitan Opera will be streaming operas FREE nightly.
Friday night join the Rosé Mansion virtual Happy Hour. This week's theme is CRAZY CUPS—bring the funkiest drinking vessel you can find for the chance to win a sweet prize!
The New York Public Library has access to more than 300,000 FREE e-books and e-audio books.
NYC Health information page for COVID-19.
NYC restaurant world information.
Stream hundreds of Broadway shows (by subscription).

15 Broadway shows you can watch from home.
Broadway performances live—from stars' living rooms.

51 New York TV shows and movies.
5 eras of New York to enjoy in books and movies.

2,500 museums and galleries you can visit virtually.
The New York Botanical Garden in bloom from home.
Exploring Ripley's Believe It or Not! Times Square.

Livestreamed fitness classes.

Fun at-home activities for kids.
6 podcast series to help you understand New York.


Discover the best of New York, from hidden gems to iconic landmarks, through The New York Landmarks Conservancy's "Tourist in your own Town" Video Series.
VIRTUAL MUSEUMS
Explore the world of design with Cooper Hewitt.
Experience the Intrepid Museum anywhere.
New-York Historical Society from home.
NYC PROMOTIONS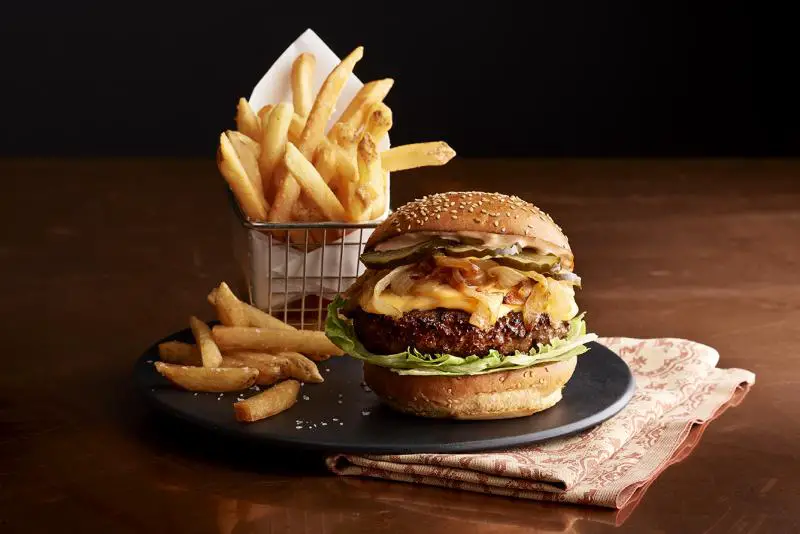 Indulge all your senses when you experience famed New York City steakhouse Strip House. An innovative menu features signature prime cuts of beef and an extensive wine list and they're still available despite the city's pause. Right now at both locations, midtown and near Union Square, they're offering 10% off all food for takeout or curbside pickup (not valid on delivery) and 50% off select wines with a food purchase for curbside pickup. Look for meal to-go kits with some family packages or the option to buy the meat sealed to cook at home.
On Wednesday and Thursday this week, Strip House downtown will be offering a series of specials, including:
Burger and Booze $20: a char-grilled 8 oz Prime Burger, Local Smoked Chili Cheddar Cheese, Red Cabbage Slaw, Old Fashioned Onion Rings, and House Made BBQ Sauce, served with your choice of:
Strip House Barrel Aged Old Fashioned: George Dickel Rye, Demerara Syrup, Dry Curaco, Luxardo Sangue Morlacco Cherry Liqueur, and Angostura Bitters
or
House Made Sangria. Lolailo Sangria, Luxardo Sangue Morlacco Cherry Liqueur, St. George Spiced Pear Liqueur, and Ruby Port.
or
ABK Pils.
This weekend (Friday- Sunday), Strip House downtown also has a $40 Two Course Menu; a Classic Caesar Salad or Iceberg Wedge with Blue Cheese, Bacon Lardons, and Tomatoes lead into a choice of 8oz Filet Mignon or 8oz New York Strip, with side possibilities that include whipped potato puree, black truffle creamed spinach, and cream corn with pancetta. There are dessert add-ons available as well, including Strip House's Signature 24 Layer Chocolate Cake and homemade cheesecake. And add in 50% off Wine and Beer and
$12 Handcrafted Cocktails! striphouse.com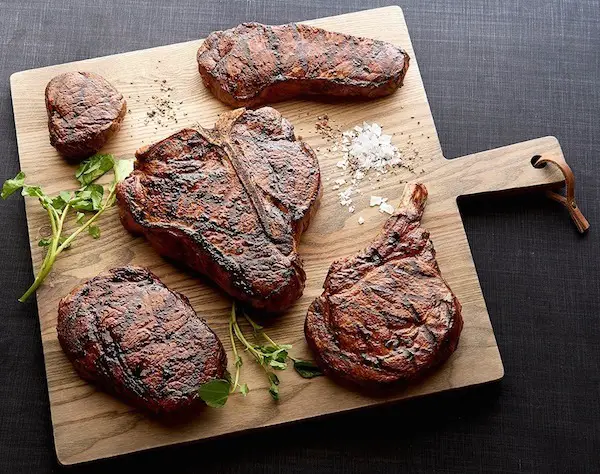 Morton's The Steakhouse in midtown is open daily from noon until 8pm for pick-up. They are rolling out special dining kits, which include Cryovac-sealed steaks with Morton's signature seasoning and house-made au jus, ready-to-bake side dishes, a fresh chef's house salad with your choice of dressing, and homemade dessert. The "Table for Two" special ($69) includes the salad, two 8-oz. center-cut filet mignons, two 5-oz cold water lobster tails, and a choice of one side: bacon and onion mac 'n' cheese, grilled jumbo asparagus, or smoked gouda au gratin potatoes. Save room for dessert, which is a double chocolate mousse. A second special is also available, the "Ultimate Grill," a $99 deal that includes the salad, four 6-oz. center-cut filet mignons; a choice of two 16-oz. prime rib-eyes or two 16-oz. prime New York strips, two 5-oz cold water lobster tails, and a choice of two sides and dessert, You can also ask for their full a la carte delivery menu. Grubhub link.
You can find American cuisine with French influences at NYC favorite The Ribbon on the Upper West Side. You can expect delights for all palates, including spit-roasted meats, seafood, and Blue Ribbon classics like legendary chicken. With dining rooms closed, the Bromberg brothers' 25+ years of renowned hospitality is being focused on delivery. Look for a special offer on the GrubHub, Postmates, and Uber Eats platforms featuring $5 off all deliveries; $10 off with an order of $65 or more; and $10 craft cocktails and 50% off beer/wine. theribbonnyc.com/delivery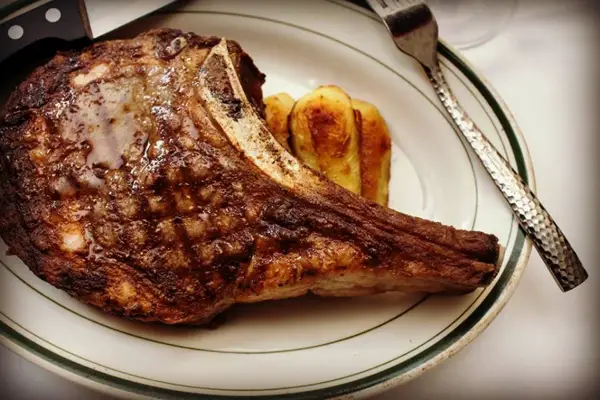 Among the top steakhouses in the city, Benjamin Steakhouse serves its guests with class and plenty of taste. Extraordinary sirloins, ribeyes, and filets are dry-aged by the steakhouse and served with sides like crab legs and bleu cheese-topped home fries, as well as Benjamin's own steak sauce. Although dining rooms are closed, their full menu is available for pick-up at Benjamin Steakhouse New York City and Westchester locations. Revised hours of operation will be Tuesday through Saturday from noon to 8pm. They are offering special deals on packaged meats to cook at home! Look for a very appetizing $5 a burger patty, $14 for a filet mignon, $9.95 per piece for USDA prime rack of lamb, and $20 a pound for cuts of meat that include Porterhouse and bone-in New York Strip. benjaminsteakhouse.com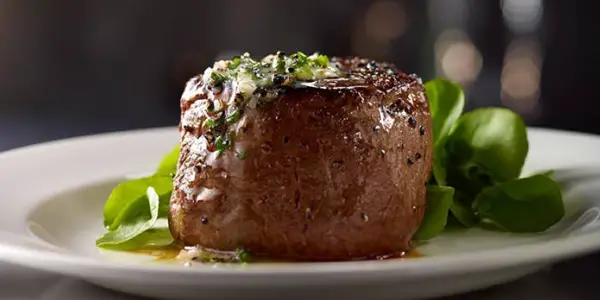 Del Frisco's Double Eagle Steakhouse New York reflects the energy, vibrancy, and romanticism of the city. Even with the dining room closed, you can get this elevated steakhouse experience with to go options. Curbside pickup brings 10% off all to-go orders, and half off of all bottles—up to $400 vintages. In addition to the midtown location you can find this special at Del Frisco's Grille in midtown and downtown. delfriscos.com
DENTAL EMERGENCIES
Since 1981, Linhart Dentistry has been taking care of New. York City. Although for the safety of patients and staff the Linhart Dentistry offices are closed, Linhart is still serving the community. If you have any dental issues, questions, or emergencies, a dentist is on call 24/7. Just dial 212-682-5180 and press 1 to reach a doctor on his or her cellphone. Any emergencies will be handled promptly and with the care that you expect from Linhart. You can also leave a message by pressing 2. Voicemails and emails will be checked daily so please feel free to call or email at [email protected].
NYC UPDATES: APPLEBEE'S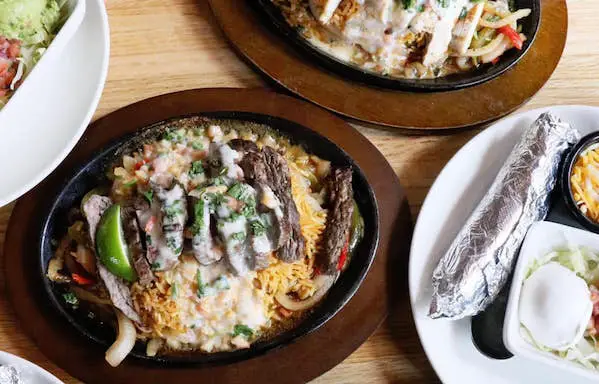 Photo Credit: Makenna Katz
Listed below are locations currently OPEN and accepting orders at Applebees.com, the Applebee's Mobile App, and of course walk-ups at the restaurant.
Current Hours: Sunday-Thursday noon-9pm; Friday-Saturday, noon-10pm.
| | | |
| --- | --- | --- |
| New Dorp | 430 New Dorp Lane | Staten Island |
| Bay Plaza | 2276 Bartow Ave | Bronx |
| Fresh Meadows | 61-48 188th St | Fresh Meadows |
| Sheepshead Bay | 2505 Emmons Ave | Brooklyn |
| Bedford-Stuyvesant | 1360 Fulton Street | Brooklyn |
| Riverdale | 76 West 225th St | Riverdale |
| Astoria | 38-01 35th Avenue | Long Island City |
| Triangle Apple | 2201 Nostrand Ave. | Brooklyn |
| Bronx Terminal Market | 610 Exterior Street | Bronx |
| 117th St. East River Plaza | 509 East 117th St. | New York |
| Throggs Neck | 815 Hutchinson River Pkwy | Bronx |
| Gateway Center | 448 Gateway Drive | Brooklyn |
Outside of NYC's Five Boroughs there are also Applebee's locations at the Cross County Shopping Center in Yonkers and Cortlandt Town Center in Mohegan Lake (both in Westchester) that are open as well.
As of Monday, March 16, Governor Cuomo waived all state park fees. It's a good opportunity to go with family or friends outdoors, to city or state parks, while still observing social distancing.
ARTECHOUSE NYC is now temporarily closed. This pioneering digital gallery, new to Chelsea, has launched the #SupportARTECHOUSE campaign. Anytime Access passes can be purchased at a discount and redeemed for a later visit at any ARTECHOUSE location, which includes D.C. and Miami in addition to NYC. You can find this offer, as well as the option to simply donate to support the future of large-scale digital art, HERE.
SNEAK PEAK NEXT WEEK: PASSOVER
Upper West Side favorite The Ribbon has your Passover dining needs covered. They've just launched a new "Passover Delivery" service, running at just $34.99 per person. The package includes all the holiday classics: gefilte fish, matzo ball soup, brisket or rotisserie chicken, mashed sweet potatoes, potato pancakes, macaroons, and a bottle of kosher or Israeli wine. Plus, make your own seder plate with The Ribbon's do-it-yourself kit! theribbonnyc.com/passover-delivery
---
EVERYTHING TO DO NYC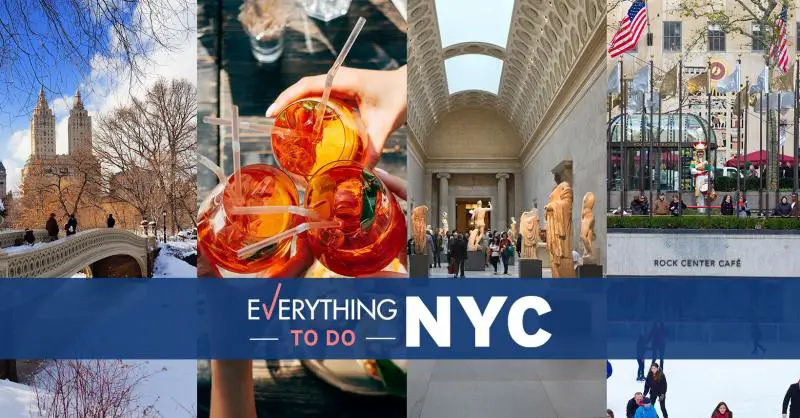 Want free advice on what to do and see in New York? Join our Facebook group Everything to Do NYC, a place for people to ask questions and get tips on how to make the most of the city.