Summertime means gorgeous, breezy outdoor dining in some of New York City's most iconic spaces.
---
Casa Lever is on the ground floor of the stunning, 1952 landmark, green-glass Lever House, where you expect to run into the cast of TV's Mad Men. In summer, Casa Lever Gardens occupies the unique courtyard with a main dining area, as well as a 50-foot bar and lounge for aperitivos. After business hours, Park Avenue is relatively quiet and the illuminated office towers create a romantic atmosphere.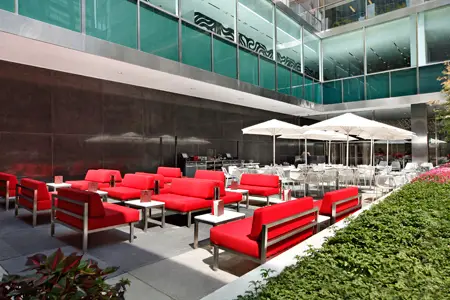 Chef di Cucina Alessandro Caporale designs a sophisticated menu with appetizers like Vitello Tonnato, the summer classic of cold, thinly sliced, slow-roasted veal topped with a cloud of tuna-infused mayonnaise and caper sauce. Hamachi (yellow tail ceviche) is sprinkled with pomegranate seeds. Danieli is from Abruzzo, the region of Italy known for pasta, and there are many outstanding pasta dishes, such as the Linguine with King Crab, Santa Barbara sea urchin, and pepperoncino. Veal Milanese, the traditional breaded chop, is served with wild-arugula-and-tomato salad dressed with extra virgin olive oil, balsamic, and Parmesan. The Casa Lever Salad of organic mixed greens, mozzarella, olives, avocado, cherry tomatoes, and radish is an ideal summer dish.

Popular aperitivos at the bar include the Lever Burgers: sliders of dry aged beef with homemade fries. A favorite brunch dish is the Frittata di Zucchine with scallions and goat cheese. Italians have always created great desserts, so don't leave without trying the Gianduja, a sculpted work of art made of hazelnut cream layers, wafers, and chocolate mousse. Lunch, aperitivo, dinner, Monday through Saturday 11am to 11pm; brunch Saturday.
390 Park Ave., 212-888-2700; www.casalever.com
---
A Voce is a lovely, sophisticated restaurant, one of two partnered by Executive Chef Missy Robbins, where you will enjoy some of the tastiest and most creative interpretations of Italian cuisine. Although not Italian herself, Robbins always loved the cuisine and trained in Italy. The comfortable outdoor terrace, on a quiet street near Gramercy Park, is furnished with wood and wicker chairs and tables surrounded by planters with flowering trees. Relax here with a special summer cocktail, the Dose del Giorno, also available by the pitcher, made with dark and light rum, biscotti liqueur and some orange and pineapple juices.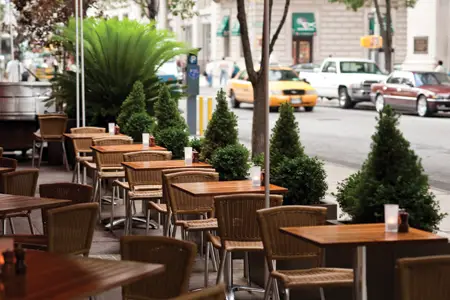 Evan Sung

The light and refreshing antipasti, Terrina di Polpo, is a gorgeous flat mosaic of thinly sliced octopus, Cerignola olives, some citrus and celery leaves on a rectangular plate that looks ready to frame and hang in a museum; nevertheless, dig in, it's delicious. Pasta is made in house and the Casunziei, filled with spinach, ground sweetbreads, garlic and fennel, is served in a buttery sauce with a few crispy bits of sweetbreads sprinkled on top. You will find yourself lingering over the last buttery morsel to extend the sensual pleasure. Bistecca, grilled hangar steak, is sliced and garnished with arugula, charred spring onions and a balsamic marrow dressing. The richness of the bone marrow, already a heady and flavorful experience, is further enhanced by the balsamic vinegar. Lunch Monday to Friday 11:45am to 2:30pm; dinner Monday to Thursday 5:30 to 10pm, Saturday to 10:30pm.


41 Madison Ave., 212-545-8555; avocerestaurant.com
---
Bryant Park Grill was built in 1995 as part of the restoration plan for the park itself, and it provides more outdoor than indoor dining with the café (300 seats), patio (200), and roof garden (140). The more formal indoor restaurant seats 180. Chef Gadi Weinrich oversees an enormous kitchen beneath the main building with four runners (they are extremely fit!) on each shift whose only job is to carry the completed dishes upstairs.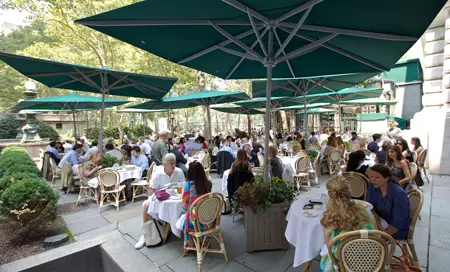 The Burrata Mozzarella appetizer is light and refreshing with organic greens, seasonal tomatoes, and balsamic nectar, which is an essence lighter than vinegar. Gazpacho with lime-marinated cucumbers and mint is a favorite summer appetizer. A deeply flavorful entrée is the Moroccan-Style Lemon Chicken with tiny roasted potatoes, capers, tomatoes, and preserved lemon slices. Given the setting and population of the surrounding office buildings, this is a popular destination, so you need to book well in advance. There is a large selection of salads, and sandwiches are served with a wedge of watermelon. Try the Citrus Marinated Fresh Tuna Salad with cucumber and tomato on a seeded roll.

Pastry chef Ann Marie Noonan offers a knockout take on the traditional lemon meringue pie called Upside Down Lemon Meringue. The "pie" is a ring of tender crust standing upright on the plate. At its base is a delicious tart/sweet lemon curd on top of a mound of chewy meringue with a drizzle of blackberry merlot sauce. Mmm, mmm! Monday to Sunday 11:30am to 11pm; weekend brunch 11:30am to 3:30pm.
25 W. 40th St., 212-840-6500; arkrestaurants.com/bryant_park.html
---
At La Mangeoire, Gerard Donato has recreated the kind of French country bistro he grew up in with his family in Antibes, and for 35 years has enjoyed welcoming his guests (mangeoire means "manger," a place to rest and eat) to the sidewalk terrace in summer or inside with its bright wall paintings and large vases of flowers. Renowned chef Christian Delouvrier, who worked in Michelin-starred restaurants here and in France, and consulted for Donato in the past, has now made this kitchen his home.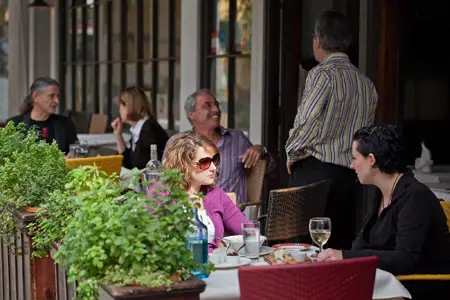 The traditional appetizers—such as French onion soup and mussels in white wine, crème fraiche and thyme—are perfect, and there's a Grilled Baby Octopus with lemon and couscous that's so tender you can cut it with a fork. Plats, or main courses, can be ordered in small or large portions, and the signature Coq au Vin and Braised Rabbit Leg also come family-style for the table. A wonderful entrée of Sautéed Wild Sea Bass with pearl onions, macaroni, and chanterelles becomes a perfect marriage of sea and earth with a delectable black-truffle broth. (You will want to mop up every last drop with your tasty rustic bread.) In summer, Chef Delouvrier provides more light fish and salad dishes such as the classic Salade Niçoise; and by omitting the cream and using a blender, he creates light, fresh, and beautiful soups with summer ingredients.

Magnifique desserts include Coupe Gasconne, prune ice cream—made with Armagnac-marinated prunes and dressed with more Armangnac, a type of brandy from Gascony, which is also home to Delouvrier. Monday to Thursday noon to 10pm; Friday to 10:30 pm; Saturday 5:30 to 10:30pm; Sunday 11am to 4pm and 5:30 to 9pm.
1008 Second Ave., 212-759-7086; lamangeoire.com
---
Chez Josephine is a unique and charming homage to Josephine Baker, the young American-born entertainer who became famous in Paris during the Jazz Age and had her own eponymous bistro in Montmartre. A landmark in the theatre district for nearly 30 years, owner and host Jean-Claude Baker, an unofficially adopted French son of the legendary performer, ensures that everyone has a good time. Summer is a lovely time to sit at the sidewalk café and sip a Folies Bergère or Princess Tam Tam cocktail. Like its namesake, the restaurant is a celebrity magnet.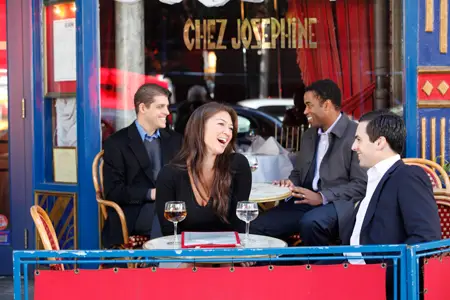 Executive Chef Frank Diaz turns out sophisticated French plates with a touch of soul, such as Elvira's (Josephine's grandmother) Down Home Fried Chicken with sweet potato fries and blueberry corn bread, a signature dish. The chicken is rubbed with lemon and allowed to marinate in a particular spice mix before it is deep-fried. A favorite appetizer is the Chinese Ravioli, stuffed with triple cream French goat cheese, dressed with a ginger jus, and garnished with chopped chives and pine nuts. Lobster Cassoulet, on the menu from day one, is a fragrant and tasty mélange of the sea. Desserts helped bring this restaurant its two stars from The New York Times, so don't leave without trying the Crème Brûlée (one of the two best in the city), or Le Delice Josephine, also known as Chocolate Heaven. Dinner Tuesday to Saturday, 5pm to 1am; Sunday brunch and dinner noon to 10pm.
414 W. 42nd St., 212-594-1925; www.chezjosephine.com
---
In summertime, when the ice skaters are gone and the zamboni is in the garage, the Rock Center Café opens its glass walls alongside the ice rink to create the Summer Bar and Café outdoors. Chef Antonio Prontelli, the son of Italian immigrants in the Bronx, has been cooking here for 20 years, and his unbounded enthusiasm shows in the quality of the dishes, such as his signature Hot Jumbo Lump Crab and Artichoke Dip. This is addictive comfort food that you scoop up with house-made kettle chips while enjoying a summer cocktail or glass of chilled Chardonnay. Rather than coating calamari with bread crumbs, Pontelli prepares it with a light batter of corn flour, leaving it crisp, tender, and delicate to dress with saffron mayonnaise.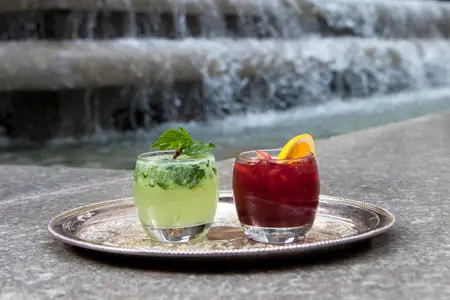 The Fish and Chips entrée is deservedly a favorite. Fluke from Montauk is prepared in a batter made with the dark and spicy Brooklyn Six Point Sweet Action beer. The grilled skirt steak is tender and juicy with crispy herbed potatoes, spring onions, and chimichurri sauce of minced parsley, garlic and olive oil. Atlantic Salmon with summer vegetables and a roasted spring onion vinaigrette is another winner. Penne Capresse is a tasty summer pasta salad with tomato, mozzarella and basil. Pastry chef Michael Gabriel has a yummy dessert for peanut butter lovers: Milk Chocolate Peanut Butter Crunch Tart with caramelized banana. Breakfast weekdays 7:30 to 10:30am; lunch weekdays 11:30am to 4pm; dinner Monday to Saturday 4pm to 10pm, Sunday to 9pm; weekend brunch 10:30am to 4pm.
20 W. 50th St., 212-332-7620; rockcentercafeny.com
---
Despite its whimsical name, Vice Versa in the Theatre District serves some seriously authentic Italian cuisine. A long bar and large dining room leads to a walled-in back garden where umbrella-shielded tables are surrounded by planters with greens and flowers as well as fountains and lanterns.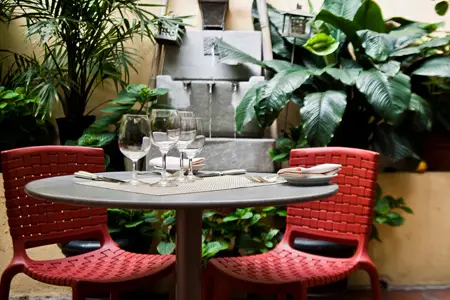 The best-selling antipasti is a unique and tasty dish of calamari and artichokes dusted with flour and gently pan fried in a little oil until they form a pancake that is placed atop a fresh radicchio-and-tomato salad. The favorite pasta is Casoncelli, typical of chef and co-owner Stefano Terzi's hometown of Bergamo in Lombardy. Two sheets of pasta are pressed together at the edges over a filling of ground veal, raisin, and crumbled amaretto cookies. Once cooked the little pasta pockets are lined up on a long plate and dressed with a butter sauce and bits of pancetta, sprinkled with Granna Padano and garnished with fried sage leaves for a bit of crunch. A favorite summer entrée is halibut in a tomato crust on a bed of zucchini purée served with thinly sliced tomato and risotto.

The terrific focaccia is made in house, sometimes with rosemary, sometimes with onion or other seasonings. In addition to an elegant dessert list, Pastry Chef Warren McKissick bakes a wonderful selection of dark and light cookies, which are also for sale by the box. Lunch Monday to Friday noon to 2:30pm; dinner Monday to Saturday 5pm to 11pm, Sunday to 10pm; Sunday brunch 11:30 to 3pm.
325 W. 51st St., 212-399-9291; viceversanyc.com
---
Salinas is a casually elegant Chelsea restaurant where Chef Luis Bollo, a native of San Sebastian, presents a sophisticated and authentic Spanish dinner menu. The main dining room, with 90 seats surrounded by white stone walls and large vases of fresh roses, extends out to a garden where a leaf may occasionally flutter in over the 35 diners—but should raindrops pose a threat, a glass roof slides overhead like an umbrella.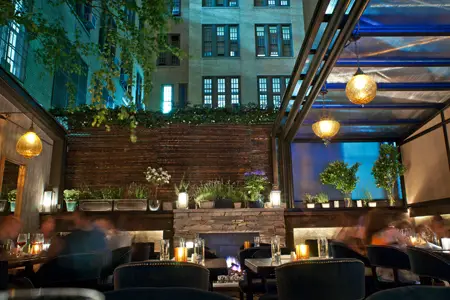 Tapas selections are quite wonderful such as a Moorish-style short rib (Castilla Moresca) braised with Rioja and balsamico wines. The Bikini de Cochino is a sexy little ham-and-cheese sandwich on multigrain bread, with pulled suckling pig, Serrano ham, tetilla cheese, mushrooms, red onions and pickled fennel. (Chef Bollo loves pickles and you will find them in many dishes.) One of the hot items of summer is the chilled gazpacho, and Bollo presents a "structured" dish: a little mound of diced vegetables in the soup bowl, which are then covered with the fragrant soup at table. If you have yet to try Spanish pasta—fideo—do so here. It is a kind of crispy vermicelli, and the Negros y Crujientes comes with shaved sepia (a relative of calamari), watercress and beet powder. The sofrito, a tangy sauce, is mixed into the fideo by your server. Always on the menu is Porcella, slow-roasted suckling pig served with watercress, frisée, grilled peaches and wine reduction.

Blanco Y Negro is a fabulous dessert of white and dark chocolate custard served with a Manchego emulsion. The New York Times gave Salinas two stars but I would give them a few more. Dinner 6pm to 10pm weekdays, later on Saturday; 5pm to 10pm on Sunday. Bartender brunch Sunday 3 to 5pm.
136 Ninth Ave., 212-776-1990; salinasnyc.com