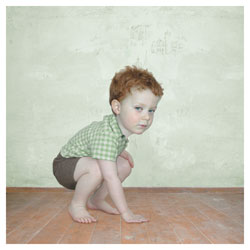 Brooklyn is blooming with cherry blossoms and art. This week, we'll take you across the river to see for yourself. The Brooklyn Museum (200 Eastern Parkway, 718-638-5000) made headlines recently when it unveiled the Elizabeth A. Sackler Center for Feminist Art. The New York Times has called this a "watershed year" for feminist art, but BMA takes the lead with the first public space of its kind devoted to it. Judy Chicago's The Dinner Party, an icon of American art, is at the heart of the new center. The 39 settings at the table represent historical female figures from ancient Mesopotamia to Sojourner Truth and Georgia O' Keefe. Other galleries include one devoted to Egyptian pharaohs, queens, and goddesses.

Meanwhile, just around a corner is the Brooklyn Botanic Garden (1000 Washington Ave., 718-623-7200), where the cherry blossoms are nature's work of art. In fact, "Hanami" is the Japanese cultural tradition of viewing and cherishing each moment of the cherry-blossom season from the first buds to the petals falling like snow to the ground. Photographers flock to the Brooklyn Botanic Garden's Sakura Matsuri Festival every year. Both the museum and the garden are quick rides from midtown on the 2 or 3 subway lines.

Lovers of Broadway musicals will find a special treat this week at Carnegie Hall (Seventh Ave. & 57th St.) when the New York Pops, with conductor/pianist Rob Fisher, present the one-night-only Broadway Then and Now Friday, Apr. 13 at 8pm. Call CarnegieCharge at 212-247-7800 for tickets. Then book yourself a table next door at the fabled Russian Tea Room (212-581-7100), which is back in business!

If that's a bit steep for the younger members of your party, here's an idea for the whole family: Sony Wonder Technology Lab (56th St. & Madison Ave., 212-833-8100). If you've never been, now's the time; if you have, you know you need to go back for more. This is a free, multi-level museum for all ages. Hands-on exhibits, walk-through techno-galleries, special events, and films make this a year-round destination, or the perfect place to spend an April-showery afternoon. Call in advance for reservations.

Save a gorgeous spring day for a walk in Central Park. Rent a rowboat on the lake near Bethesda Fountain and soak in the sunshine and skyline. Or there's a darling little cottage complete with a puppet theater just steps from the Great Lawn. The Swedish Cottage Marionette Theatre is most easily reached by entering the Park at Central Park West & 81st St. Right now the show is Cinderella Samba, a jazzy updated version of the fairy tale set in the lush landscape of Brazil. You must call for ticket reservations (a very affordable $6 for adults and $5 for children) at 212-988-9093.