You can get your fashion fix year-round at FIT in Chelsea. This institution of higher education is exclusively dedicated to the study of fashion: its history, production, marketing, and more. The graduate students at FIT's Fashion and Textile Study program have curated a new exhibition at the Museum at the Fashion Institute of Technology coming March 6. Pockets to Purses: Fashion + Function will consider the variety of ways people have stored their belongings from the 18th century until today. From a small silk drawstring bag from 1800 to a Louis Vuitton "Speedy" monogram purse from 2003, the display will be arranged chronologically.
Expect to see fashion artifacts like raincoats, purses, and dresses with pockets, as well as photographs, advertisements, and film clips to trace the evolution of functional dress and accessories.
Detail of bodice, silk taffeta, circa 1878, France, Gift of Bernice Margulies. The Museum at FIT.
Including both men's and women's fashions, the exhibition will start by showing how men's pockets were incorporated into their waistcoats in the eighteenth century. These functional pockets held items as large as books but could create awkward silhouettes for that reason. Women, on the other hand, had small purses worn underneath their large skirts and remaining concealed as they went about their day.
A key historical item is the reticule, or a small drawstring purse that marks the transition from women's hiding pockets to carrying handbags around 1800. The reticule is made from pink-toned beige silk, its fabric repurposed from a man's waistcoat.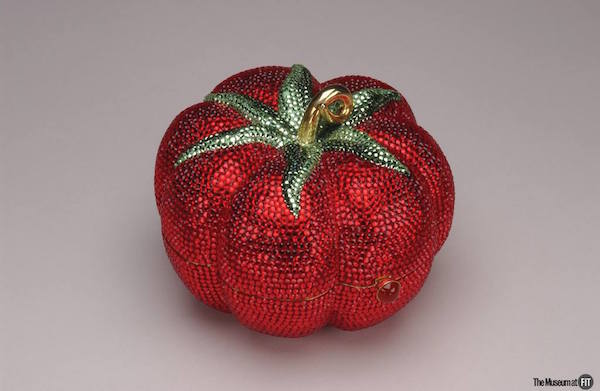 Judith Leiber, pavé rhinestones with gold metal, 1994, USA, The Museum at FIT, gift of Judith Leiber, Inc.
Another memorable item on view will be a sapphire-blue bodice and skirt dating from around 1878. Made of silk with lace embellishments and a pink ribbon to accent the line of buttons down the front, the bodice features a small outside pocket on the left side at the waist. It was meant to hold a woman's watch but is also a tasteful addition to the garment's design.
By the time World War II hit and women entered the workforce in droves, designers like Elsa Schiaparelli interpreted the pragmatism of the movement with designs like her "Cash and Carry" suits. These beautiful garments incorporated giant pockets at the waist. An ad for these suits will be on view at the exhibition.
Something of a response to designs like Schiaparelli's, a Molyneux dress on view has small pockets all over the hip—less functional than silhouette-driven, as these pockets make the waist look smaller. This wool houndstooth garment is preserved from around 1948 and will be on view as well.
Whimsical and almost purely decorative bags have served as curiosities and status symbols for decades. Take a Lederer purse shaped like a clock, complete with brass minute, hour, and second hands. Or a minaudière shaped like a tomato (we're not sure how you would carry this one, as it doesn't have a strap or handle!).
It wouldn't be a purse exhibit without an Hermès bag. For this exhibition, the curators have chosen the iconic "Kelly." It was originally designed in the 1930s but renamed in honor of the movie star Grace Kelly in the 1950s after a seminal Life magazine cover with Kelly holding the Hermès purse in front of her face. The black Kelly bag on view is from 2000.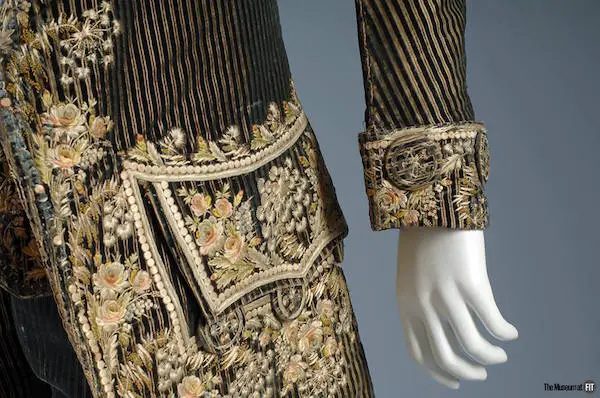 Detail reproduction of man's suit, velvet with silk embroidery, c. 1785, France, The Museum at FIT.
Men's fashions will include a gorgeous eighteenth-century black velvet suit with exquisite embroidery. The gallery will also feature a 1992 Versace men's suit and a Jean Paul Gaultier jacket with pockets and zippers galore. Another unique design for men is the Rod Keenan wool bowler hat with a zipper bifurcating the crown (the pocket was meant to hold a condom).
These items and their functional, beautiful design elements will expose differences between genders, pragmatism and aesthetics, and various periods of history.
Pockets to Purses: Fashion + Function will be on display March 6 to 31, 2018. The Museum at FIT is open noon-8pm Tuesday through Friday, and from 10am to 5pm on Saturdays. Admission is free.
Seventh Avenue at 27th St., 212-217-4558, fitnyc.edu