This high-ceilinged, spacious newcomer in the Flatiron District calls itself a "Peruvian Kitchen and Pisco Bar" and holds many culinary treats. But first, have a Pisco Sour, a tasty, foamy cocktail made with Peru's national drink, a type of distilled brandy mixed with lime, egg whites, and some secrets. You will get a little bowl of Cancha with your drink; this is Andean popcorn, which is not popped—it is boiled, then fried, then salted, and you can't stop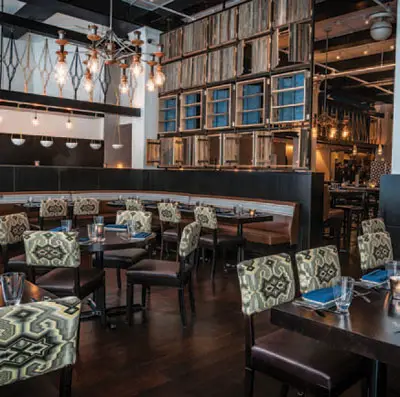 eating it.
In the amazingly large kitchen, Chef Erik Ramirez creates the authentic cuisine of Peru, from the coastal areas known for ceviche and tiradito (a Peruvian version of sashimi), to the mountains, where potatoes and meat rule. A flavorful and elegant Fluke Tiradito is garnished with a few slivers of sweet potato, aji amarillo (yellow chile), and chalaca, a dressing of onions, peppers, and lime juice. The Causa of the Day is a must. This native treat is built on a base of mashed yellow potato spiked with key lime, onion, oil, and amarillo and topped with a variety of treats, such as cubes of tuna ceviche. The Anticucho is a traditional preparation of grilled meat served on w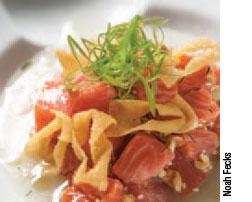 ooden skewers—sort of a Peruvian shish kebab. One delicious version is hangar steak glazed and grilled and dressed with salsa. Main courses include Pan Roasted Chicken Breast with creamy aji amarillo sauce, roasted baby potatoes, olives and quail eggs. Don't leave without trying the Picarones: ring-shaped fritters (Peruvian doughnuts) from a dough made with yellow squash or pumpkin, served warm with a molasses sauce. Talk about addictive! Lunch weekdays, 11:30am to 2:30pm; dinner daily 5 to 11 pm, later on Friday and Saturday.
43 West 24th Street • 212-929-1200 • richardsandoval.com/raymi