Get theatrical, thrilled, and totally out of the ordinary at New York's best theme restaurants. The following spots brim with atmosphere, whether immersing you in a ninja village or a tea party fit for Alice herself. Bring kids to family-friendly hits like Ellen's Stardust, or get kitsch on a night out at Trailer Park Lounge. From the decor to the wait staff's attire to the food, you'll want to take pictures of everything at these 18 theme restaurants.
Best Themed Restaurants in NYC: Hard Rock Cafe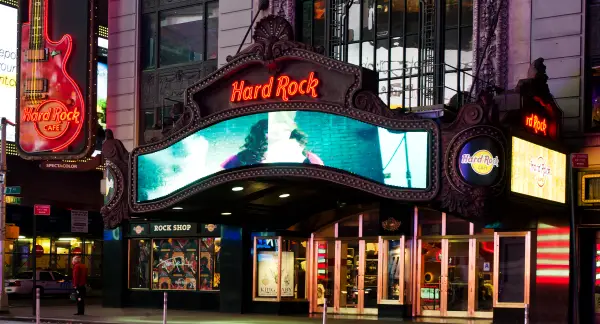 The Times Square location of Hard Rock Cafe, in the center of the action, is one of the largest entertainment restaurants in the city. You can check out memorabilia from the likes of The Beatles and Led Zeppelin while enjoying one of the house's Original Legendary Burger, which brings together bacon, cheddar, an onion ring, and an Angus beef patty. There's also a Rock Shop on site for musical merch. 1501 Broadway, 212-343-3355, hardrock.com
Best Themed Restaurants in NYC: Bubba Gump Shrimp Co.
Right next to the Hard Rock, Bubba Gump Shrimp Co. in Times Square takes its name from a character from Forrest Gump. Inside this lively restaurant, the Louisiana shrimp-boat decor recalls the character Benjamin Buford "Bubba" Blue from the 1994 film. You'll also find references to the movie's famous catchphrase "Run Forrest, Run!" To eat, you'll find lots of seafood, like Dumb Luck Coconut Shrimp, and Creole-influenced cuisine like Jambalaya Pasta. 1501 Broadway, 212-391-7100, bubbagump.com
Best Themed Restaurants in NYC: Ellen's Stardust Diner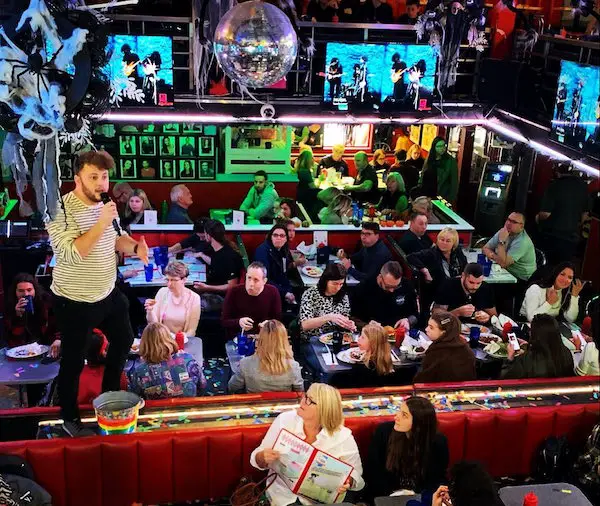 The famous Ellen's Stardust Diner fits right into the Theatre District in with a staff that doubles as entertainers. The waiters and waitresses sing pop and Broadway songs while you chow down on diner favorites. We'd steer you to the all-day breakfast items, like the challah bread French toast with Vermont maple syrup. 1650 Broadway, 212-956-5151, ellensstardustdiner.com
Best Themed Restaurants in NYC: Max Brenner
The theme at Union Square's Max Brenner is pretty simple: chocolate, chocolate, and more chocolate. You'll find the restaurant's signature ingredient in cocktails, on waffles, in their special Hug Mugs of hot chocolate, on a sweet pizza, and even in a syringe. While you're here, look up, and you'll even see tubes carrying chocolate throughout the dining room. Max Brenner also serves American cuisine all day if you'd like a savory meal before your chocoholic feast. 841 Broadway, 646-467-8803, maxbrenner.com
Best Themed Restaurants in NYC: Planet Hollywood
At Planet Hollywood in Times Square, movie magic takes the main stage as the central theme and comes to life in the restaurant's decor. Each area has props and costumes from different blockbuster films like Ghostbusters and Home Alone. The menu offers a range of classic American fare like personal pizzas, salads, sandwiches and burgers. To top off your cinematic meal, have the house special dessert: a Cool Planet Martini Sundae topped with sprinkles and brownies. 1540 Broadway, 212-333-7827, planethollywoodintl.com
Best Themed Restaurants in NYC: The Sugar Factory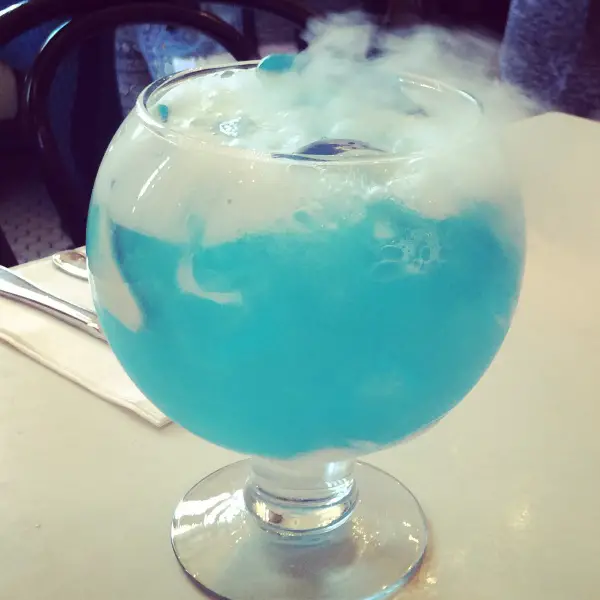 The Sugar Factory's theme is right in the name, and in the restaurant's super-sweet drinks and desserts. Both the Meatpacking District and Upper West Side locations even have candy counters so you can carry home goodie bags full of Couture Pops. Their Goblet drinks, available with or without alcohol, are big enough for two and filled with gummies! On the savory side, Sugar Factory Rainbow Sliders are regular cheeseburgers that look like gummy patties. Meatpacking: 835 Washington St., 212-414-8700: UWS: 1991 Broadway, 212-414-8700, sugarfactory.com
Best Themed Restaurants in NYC: Lillie's Victorian Establishment
Sometimes it's fun being froufrou. With locations at Times Square and Union Square, Lillie's over-the-top Victorian vibes make for perfect pics (backdrops include gilded mirrors, antique paintings, and a marble mantlepiece). Kids and adults will love the atmosphere, as well as pub food like burgers and sandwiches, offered all day. Those 21 and over can also enjoy a cocktail, beer, or food until past midnight. Times Square: 249 W 49th St., 212-957-4530; Union Square: 13 E 17th St., 212-337-1970, lilliesnyc.com
Best Themed Restaurants in NYC: Ninja New York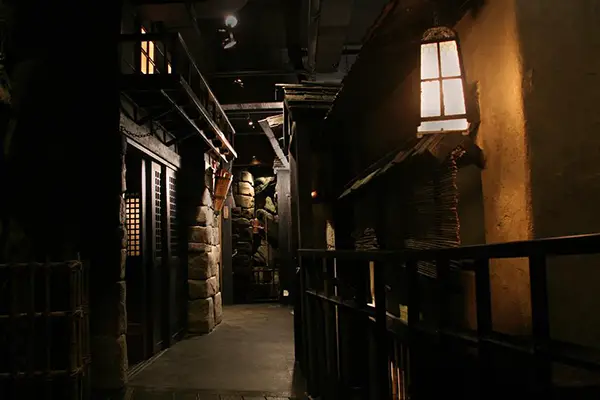 If you're a fan of sushi and Japanese cuisine, Ninja New York in Tribeca serves up great versions with a themed twist. What makes Ninja NYC unique is that any time, a ninja can appear and scare you and your family. They mostly use jump-scare tactics to create a night full of adrenalin, but they may also show off some stunts and magic to break the tension. 25 Hudson St., 212-274-8500, ninjanewyork.com
Best Themed Restaurants in NYC: Jekyll & Hyde Club
Dinner and a show gets quite interactive at Jekyll & Hyde Club in the West Village. Performers come right up to the tables for an individualized show for every guest in the house. No matter how many times you go, the experience is different because they take your reactions, answers, and the mood of the table into consideration. To make the most out of the experience, answer all questions with an unexpected response; the actors will dive deeper into the story, and the service will be impeccable. On the menus you'll find monstrous American cuisine (Frankenstein's Favorite, The Mummy) as well food for little monsters (i.e. kids). 91 Seventh Ave. S., 212-989-7701, jekyllandhydeclub.com
Best Themed Restaurants in NYC: Alice's Tea Cup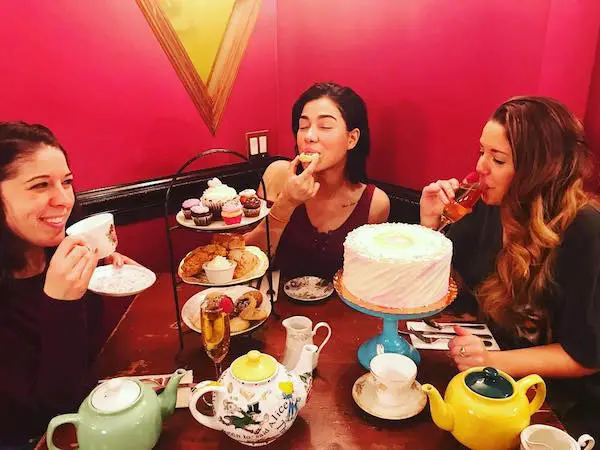 Have a very merry unbirthday at Alice's Tea Cup, the Wonderland-themed tea parlor that's perfect for whimsical kids. You've never seen a longer tea menu than the one at Alice's, and every pot is a picture-perfect piece of china. Have breakfast, brunch, or lunch at either Alice's location, or a cup of tea and a scone at teatime. Fairy tale flourishes (including wearable fairy wings) abound at both the Upper West Side and the Upper East Side locations. The UES location also serves craft cocktails with tea, if you're looking for some Mad Hatter-y in the evening. UWS: 102 W 73rd St., 212-799-3006; 156 E 64th St., 212-486-9200; alicesteacup.com
Best Themed Restaurants in NYC: Beetle House
With Beetlejuice-inspired decor and spooky characters in costume, Beetle House keeps Halloween going year-round. Get spooked in the East Village with the Tim Burton-esque Coco Skellington with rum, gin, and coconut. The popup-turned-permanent restaurant serves American cuisine with substantial vegan offerings. Make reservations if you plan to eat here; these are close quarters! 308 E. 6th St., 646-510-4786, beetlehousenyc.com
Best Themed Restaurants in NYC: Brooklyn Farmacy & Soda Fountain
Savor the antique atmosphere at Brooklyn Farmacy & Soda Fountain in Cobble Hill. A former apothecary with beautifully preserved interiors, the shop now peddles beautiful ice cream sundaes instead of medicine. Sundaes include the Mr. Potato Head with vanilla ice cream, potato chips, and peanut butter. The Farmacy also brought back the egg cream and serves a total of nineteen ice cream floats! Alcoholic drinks (at least one with ice cream) and sandwiches like the Gooey Grilled Cheese are also on offer. 513 Henry St., brooklynfarmacyandsodafountain.com
Best Themed Restaurants in NYC: Trailer Park Lounge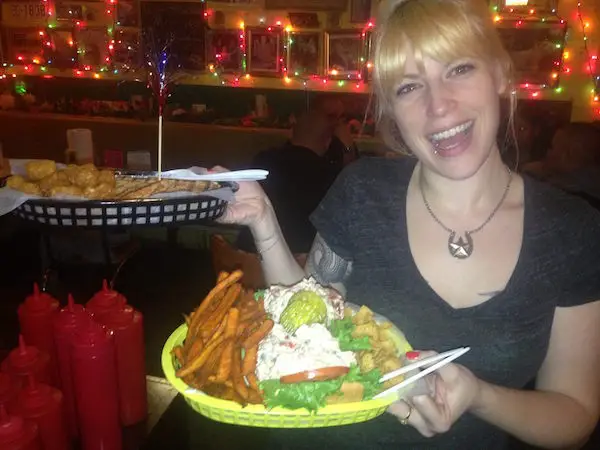 Get loose and enjoy a stress-free evening at Trailer Park Lounge! The atmosphere of this Chelsea spot embraces trailer park kitsch (with a tiki bar thrown in for good measure). We suggest a specialty cocktail: try the Paradise Hawaiian Style (three kinds of rum, pineapple brandy, and passionfruit juice, served up in the shell of a pineapple) for an Instagram-worthy drink. On-theme eats include a Grilled Fat Dog and Moon Pies. 271 W. 23rd St., 212-463-8000, trailerparklounge.com
Best Themed Restaurants in NYC: Nutella Cafe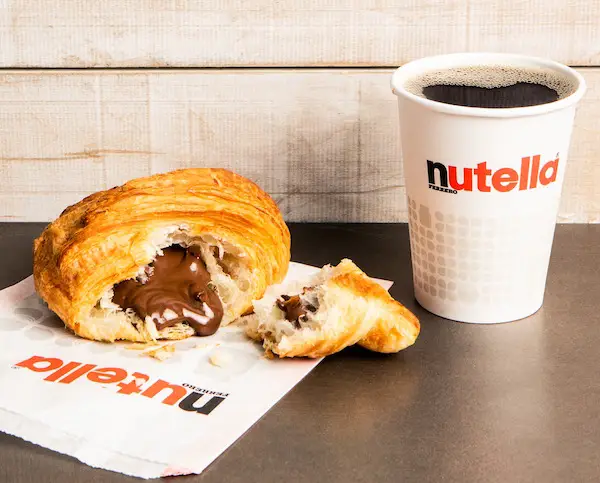 Whether you pronounce it New-tella or Nut-ella, the chocolate-hazelnut spread brings everyone together. Just south of Union Square, Nutella Cafe serves its namesake spread on grilled banana bread, quinoa pudding, crepes, and much more. Come for a sweet breakfast or brunch, and don't forget there's a special Nutella coffee you can enjoy on the go. 116 University Pl., nutella.com
Best Themed Restaurants in NYC: Cowgirl
The West Village's Cowgirl tips its ten-gallon hat to the Old West. The Texan feel is on the antler-clad chandeliers, the wood paneling, and the Frito Pie on the menu. You'll also find Tex-Mex fare like enchiladas, nachos, and baby back ribs on the lunch and dinner menus. Cowgirl also serves weekend brunch and offers a kids menu for cowgirls and -boys in training. 519 Hudson St., 212-633-1133, cowgirlnyc.com
Best Themed Restaurants in NYC: Barking Dog
To balance out the cat- and dog-lovers on this list, we give you Barking Dog. Although this Upper East Side restaurant does not keep a squad of furry creatures on hand like Koneko, it does invite all pups to come enjoy its outdoor "dog fountain" and meet some new friends (human and canine). Inside, you'll find dog-themed decor too. The all-day cafe features American cuisine that's perfect for families—particularly at their popular weekend brunch. 1678 3rd Ave., 212-831-1800, barkingdog94.com
Best Themed Restaurants in NYC: Koneko
Koneko has a one-word theme: cats! That's right, this Lower East Side cafe is crawling with kitties you can pet, play with, and even adopt. Koneko (Japanese for "kitten") is the first cat cafe in the United States and features sake, pastries, Japanese savory snacks, and Stumptown coffee on its menu. Eat and drink in the Upper Cattery, Lower Cattery, and the Catio for a puntastic experience with your new whiskered friends. 26 Clinton St., 646-370-5699, konekonyc.com
Best Themed Restaurants in NYC: The Cauldron NYC
Hogwarts hopefuls and visitors from Middle Earth should fly to FiDi for The Cauldron. This bar/restaurant is for fantasy and sci-fi obsessives—as in, you can pour your drink from a giant Tree of Life in the middle of the bar. You'll find magical elven bread and sandwiches like The Once and Future Burger on the gastropub-inspired menu. The interiors resemble a medieval cottage, with a few extra brooms and wands lying around. For an extra-magical time at The Cauldron, book a Magical Experience, and mix your own alcoholic potion while wearing mystical garb. 47 Stone St., 917-635-1960, thecauldron.nyc
Read Next | What to Do in the Financial District