Atrio Restaurant and Wine Bar is a little jewel tucked off the Conrad Hotel's main (and very glamorous) atrium, which is majestically dominated by a towering Sol Lewitt sculpture. Here, in the shadow of this lofty lobby -- and surrounded by the business Mecca of the world, including the World Financial Center, the Stock Exchange, City Hall -- the mighty Atrio can hold its own. The restaurant glows in this burnished environment. And while it's also a convenient stone's throw from TriBeCa, SoHo, Greenwich Village, and the Meatpacking District, it should nonetheless be considered as much a destination restaurant for uptowners, as well as for visitors to Gotham, alike. It's just that good, that it's worth going out of your way to sample the fare here.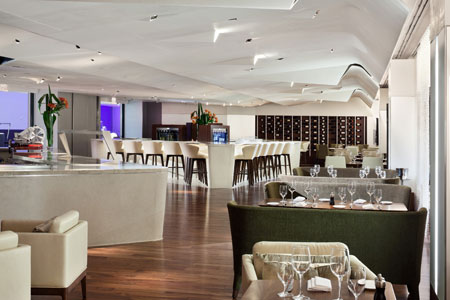 The Mediterranean-, slightly Spanish-flavored fare is presided over by chef Anthony Zamora, a veteran of Five-Star and Five-Diamond restaurants in New York and Miami, and who most recently presided at the Four Seasons Hotel here in Gotham. He has designed the menu to reflect a simple, contemporary culinary concept, which, parenthetically, he carries out, as well, in the hotel's equally fashionable Loopy Doopy rooftop bar (soon to open for the season), where inventive offerings (ooh, those cocktails!) include hearty flatbreads, roasted seasonal vegetables, meatballs, salads, artisanal cheeses, and cured meats.


Zamora's creative and innovative culinary talents are on full display, however, at Atrio, and it is here (in an open kitchen with a stone-wood oven) that the chef fashions the freshest local and seasonal ingredients into masterpieces, drawing inspiration from his own Italian and Lebanese roots. Zamora recently planted a garden on the rooftop of the hotel, so that he can gather his own ingredients (including Greek and purple basil and rosemary), as well as vegetables such as heirloom tomatoes, crookneck squash and cubanelle peppers. Expect to see all the garden's bounty on the menu.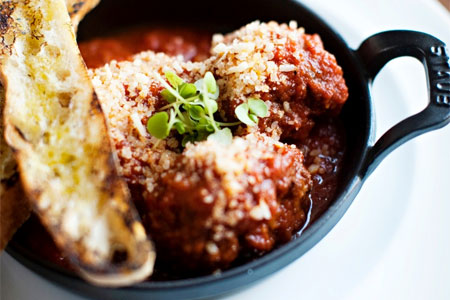 Veal & Pork Meatballs
At Atrio, Zamora's dishes reign: They include his quartet of savory crostini, which should not be missed as you sip one of the bar's special brews. If you have only one appetizer, then you'd be hard pressed to settle on one, lest you are forced to pass up the amazing charred Brussels sprouts sprinkled with pine nuts and Parmesan or the fingerling smashed potatoes. Oh, just too many choices! There are also astonishing farm house cheeses to nibble on, at any time during your meal and if you agree with me that one appetizer simply isn't enough (and it should not be!), and you want to fill up on starters, and skip right to dessert, you'd have no problem here finding four or five primi piati to fill that bill, including the sweet potato gnocchi with duck confit and sage brown butter. Listed among the "bites to share" are the veal and pork meatballs (inspired by a generations-old, Zamora-family recipe), but trust me, you won't want to share them; you'll want to hog them to yourself, they are that delicious. So light, like eating fairy dust. Yummm... And if you don't finish them, be sure to bring them home for breakfast!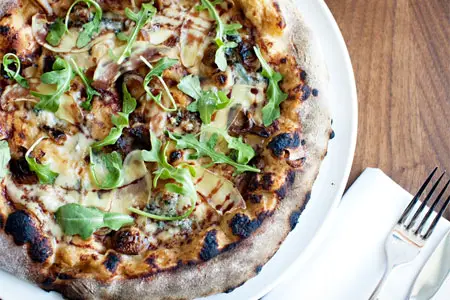 Carmelized Onion Pizza
Among the main courses are endless home runs: The Moroccan-braised short ribs with preserved lemon, chick peas, and minted yogurt will melt in your mouth. The stone-fired organic chicken is like no other chicken you have ever tasted—it is what chicken should taste like, and it is served with a mouthwatering, five-cheese polenta. The grilled hangar steak is so delectable with cipollini onions, cubanelle peppers, and crispy potatoes, you'll also want to bring any leftovers home for a midnight snack. (Believe me, if you brought home a doggie bag of your leftovers, you'd eat well for another 24 hours -- portions are generous, so this is entirely possible!)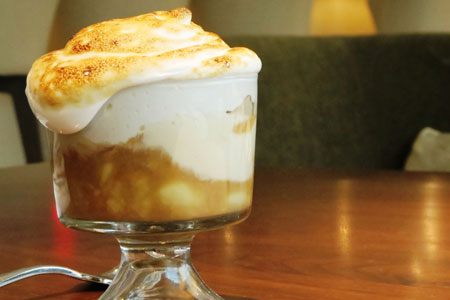 Salted Peanut Gelato
But, a fast caveat here, because dessert is really worth indulging in and you don't want to be too full, lest you have to pass on the sugary confections. Again, trust me, the codetta to a meal here is the must-have sweet course, and the best of the over-the-top finale menu includes the salted peanut gelato, which is served with caramelized bananas, Nutella, and a baked marshmallow that is to die-for. As you hear yourself say, "I'll just taste it, I'm dieting..." you will simultaneously find your fork or spoon repeatedly dipping into desert, and then you'll wind up scarfing down the entire compote!
And a word about the hotel: If your out-of-town friends ask you to recommend a gracious hotel, do steer them downtown to the Conrad New York, which is a luxury, all-suite hotel (463 of them). With magnificent views of the Hudson River, the property is adjacent to the verdant and inviting Hudson River Park, and a short hop to many of the city's important and historic landmarks, like Trinity Church, Bowling Green, the Woolworth Building, and the African Burial Ground National Monument. The hotel offers spacious guestrooms (average is over 450 square feet) and plenty of amenities. Sixteen stories up is the fun Loopy Doopy Rooftop Bar, mentioned above, with panoramic vistas of the Statue of Liberty, Ellis Island, New York Harbor, and a magnificent expanse of the Hudson River. Chef Zamora's bar menu also features a fun rarity—prosecco fresh from the tap (!) along with his signature "Prosecco and Popsicle" combo, guaranteed to quench summer thirst with boozy, house-made ice pops, perfect for dipping into a bubbly glass.
Conrad New York, 102 North End Avenue, 212-945-0100; ConradHotels.com