Ah, tweens. Sometimes they act like kids, sometimes they're like teenagers and don't want you anywhere in the vicinity—until they need dinner or laundry done. New York, happily, provides activities no matter which mood your tween is in. You may even enjoy tagging along.
Feel like fighting off zombies, or racing, or flying in a paraglider? You got it. Want to climb a mountain? Done. Strap on a headset and transport yourself to one of 50 experiences, each lasting between 5 and 10 minutes, at VR World, which bills itself as "the largest virtual reality center this side of the planet." Some of the experiences are hands-free and some require controls, as in an electronic game. Do you love heights? Do you hate heights? Either way, you can still try out an experience where you can take an elevator to a plank 480 feet above the ground and then walk to the end. (Not really. It's virtual reality, remember.) You can even be a real life fruit Ninja. Note: Some of the experiences are seriously scary, so choose wisely. (And you can take 10% off with City Guide's coupon.)
Come mid-March, the Unseen Oceans exhibit at the American Museum of Natural History is the place to be for this landmark exhibition. New technology has made it possible to view parts of the ocean that were previously inaccessible. Participate in an immersive theater presentation on a vertical undersea journey and see what the inside of a scale model of a Triton submersible. You'll also encounter fluorescent creatures, plankton, giant creatures, tiny creatures—and more. (It's hard to act bored when you're face to face with a giant squid or whale.)
Media-loving tweens and their families can get a glimpse of upcoming TV shows at the Paley Center for Media. On March 26, for instance, many of the cast members of the original (and now revamped) ABC TV show "Roseanne" will be on hand to answer questions after a peek at the first episode. Check their website for other speakers.
The Lower East Side of today is not your grandmother's lower east side. It's not even your mothers', or yours of say, six months ago. Thanks to rapid development, top-notch restaurants are opening up all the time, and it's a great place to take a tween for a kind of food exploration. At Clinton Street Baking Co. & Restaurant, it's hard to be jaded when your mouth is full of blueberry or banana walnut pancakes. (There's breakfast all day, no matter the time of day, and pancakes are what everyone orders—unless they're ordering the fried chicken with waffles. Can't decide? Have both.) While you're down there waiting for your table (and you will wait, no matter when you go), pop into Supermoon Bakehouse, for a cookies and cream cruffin to take home. (It has a croissant-y muffin filled with smashed cookies and chocolate ganache, topped with…more stuff.) Also fun: The bi-colored croissant, with flavors like matcha & lemon—very Instagrammable. And as long as you're on a sweets binge, visit Economy Candy, which celebrated its 80th anniversary last year. Tweens will probably like the novelty candy (or at least, enjoy purchasing it and flaunting it), with offerings like chili-cucumber lollipops and bacon gumballs, as well as more traditional offerings, like chocolate and gummy candy.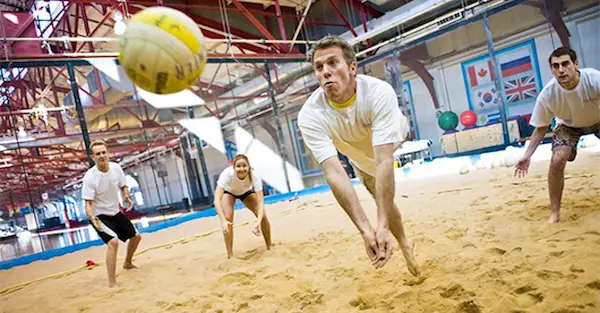 Looking for more energetic offerings? Chelsea Piers isn't just for birthday parties in the ball pit. They have a wide variety of drop-in activities, from parkour (like a high-intensity obstacle course that requires acrobatics, running and climbing—it's not for the faint of heart.) They also offer batting cages; open soccer and basketball; year-round indoor ice skating; and bowling at Bowlmor Lanes, so your tween can choose one—or more. While you're there, you can grab lunch, from pizza to healthier offerings like sushi or smoothies.
via Facebook
Kids feeling crafty? At the Craft Studio, you can walk in and choose from one of their activity specials--it might be white chocolate houses, infinity scarves, or DIY puzzles. You can also choose from regular activities like fabric crafts, decoupage, lamps, slippers, and more. Workshops are offered throughout the year, and they're often seasonal (i.e., a pot of gold workshop before St. Patrick's Day).