When the sun is shining and temperatures are moderate, light, fresh fare is ideal. Whether health-conscious foodies are seeking lunch offerings or a delicious meal for dinnertime, Greek is the way to go. There are an array of dining destinations in New York that offer delish Greek eats. The menus boast an appealing ingredient list with main dishes that range from salads to seafood, lamb, and pasta. A range of enticing seasonings such as fennel, mint, basil, and other herbs awaken the flavors.
5 Greek Restaurants to Try in NYC: Nerai
Offering a contemporary twist on sophisticated Greek dining, TripAdvisor ranked Nerai one of the top 100 restaurants in New York City. It boasts a menu of flavorful fresh seafood-focused dishes. The serenity of the Greek islands can easily be found at this chic Greek-inspired getaway, which offers an escape from the buzz of city life. One of the standout dishes for fish enthusiasts is the seafood orzotto, which features saffron orzotto and some of the stars of the sea—from octopus and shrimp to mussels and calamari. 55 E. 54th St., 212-759-5554, nerainyc.com
5 Greek Restaurants to Try in NYC: Fournos Theophilos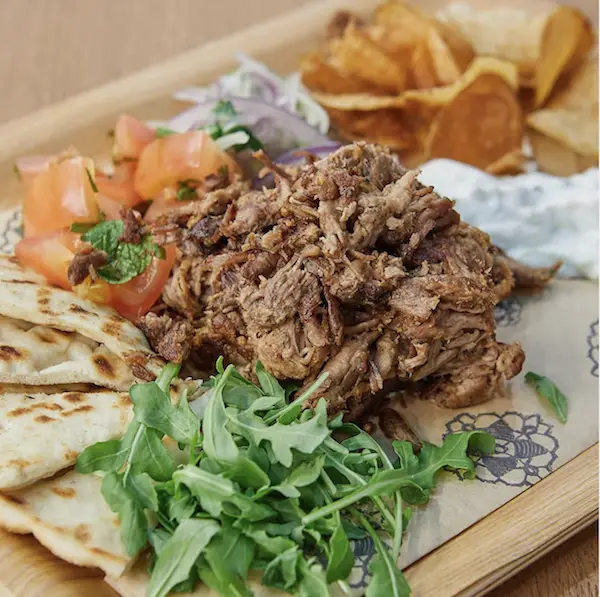 Fournos Theophilos was created out of a desire to share the joy of freshly prepared, simple Greek fare that was inspired by authentic traditions. Those seeking healthy, Greek lunch options can explore the bowl offerings. Fournos Theophilos invites guests to choose one base (lentils and rice; orzo, or quinoa tabouleh); two sides (Greek salad; Green spinach salad; black eye bean salad; and roasted potatoes among others); and one main (roasted lemon chicken; Greek meatballs; roasted lamb; and beef stew to name a few). Dishes are served with oregano and olive oil bread, and a choice of one spread (fava; Kopanisti cheese spread, or tzatziki). Most of the eatery's fresh, quality ingredients hail directly from Greece. 45 W. 45th St., 212-278-0015, fournos.com
5 Greek Restaurants to Try in NYC: elea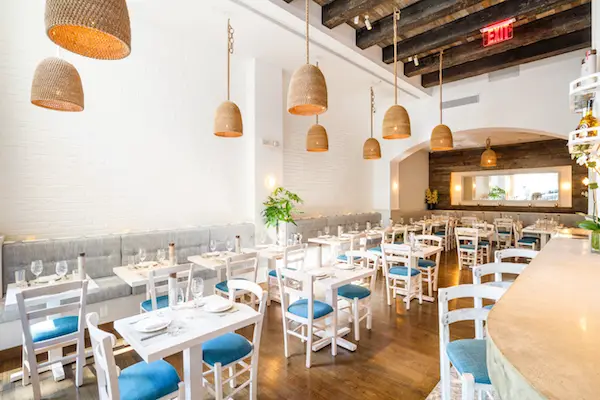 Photo: Alex Staniloff.
Enjoy a midday break at the Upper West Side's Greek dining destination elea, which recently introduced a lunch menu. Fusing authentic Greek cuisine with a modern day, cozy Mediterranean feel, elea's culinary talents offer bold flavors through the use of seasonal ingredients. Beyond the à la carte menu and outdoor seating space, elea offers foodies a three-course prix-fixe ($25). Star starters include spankakopita, horiatiki salad, and pikilia—a trio of faves such as hummus, tzatziki, and tyrokafteri with toasted pita. Entrées include a succulent lamb burger with tirokafteri and tomato jam served on a brioche bun—or the classic chicken souvlaki served on a freshly toasted pita. Seafood enthusiasts will enjoy the mussels saganaki, which is flavored with tomato, herbs, uozo, fennel, and Arahova feta. Bonus—elea's daytime menu offers a selection of wines by the glass for just $10. 217 W. 85thSt., 212-369-9800, eleanyc.com
5 Greek Restaurants to Try in NYC: Kellari Seafood Taverna
Kellari Seafood Taverna serves up authentic Greek dishes for brunch, lunch, and dinner crowds. It has certainly earned its culinary credibility. It's been a Manhattan staple for about a decade. Beyond the raw bar and garden fresh salads, there's a menu of light fare that is ideal for midday breaks. Opt for the vegan quinoa bowl, which features healthy ingredients such as chickpeas, seaweed, and lentils as well as red onions, Holland peppers, watercress, and radishes. Those who yearn for a great dish of pasta can indulge in the Pasta Ala Grecca—artisanal fussily prepared with local vegetable ragu and olives. The dish is seasoned with spring faves such as basil, mint, and crumbled goat feta. 19 W. 44th St., 212-221-0144, kellariny.com
5 Greek Restaurants to Try in NYC: Ousia
The West Side's Ousia offers a variety of dishes that reflect classic Greek cuisine. Its culinary talent infuses Mediterranean flavors into modern dishes such as the baked pastitsio (a Greek take on the Italy's traditional lasagna), the New-American gyro slider, and shishito peppers with kasseri cheese. The team strived to curate a menu that caters to those who remain committed to healthy lifestyles. Ousia offers a vast selection of vegetarian and Mediterranean diet-friendly choices. It also offers a cocktail program that focuses on Greek spirits, and a wine list with more than 350 bottles of Mediterranean wines. 629 W. 57th St., 212-333-2000, ousianyc.com