Updated January 27th. Big Apple stages are alive with new plays and musicals, so it's not surprising that theatre lovers are busy plotting their Broadway and Off-Broadway adventures. Just in case you're wondering what's up and running or coming up later in the season, here is a list of shows that have gone on record with preview and opening dates.
(FYI: City Guide will be adding updated postings to the list below, so make it a point to check in regularly.) We've also got the latest on vaccination and mask policies for Broadway shows.
BROADWAY SHOWS: CALENDAR SO FAR
Up & Running
Aladdin (New Amsterdam Theatre). Like The Lion King, this Disney musical developed from animated origins has been a total crowd-pleaser since it arrived in 2014. This family-friendly magic carpet thrill ride flies onto the stage teeming with romance, mischief, and, of course, a wildly madcap Genie! The end result is a not-to-be-missed Broadway spectacular! (aladdinthemusical.com)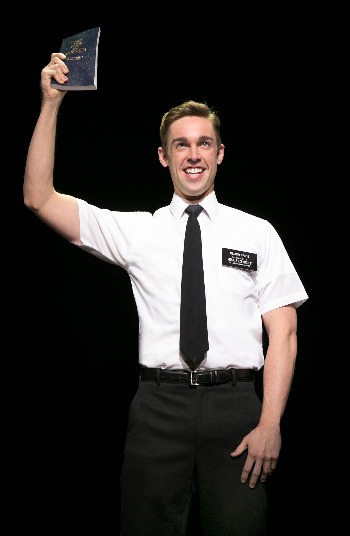 Photo by Joan Marcus.
The Book of Mormon (Eugene O'Neill Theatre). One of Broadway's most successful, Tony-winning (nine in 2011!) musicals, from Trey Parker and Matt Stone—the duo behind South Park—follows a couple of wide-eyed Mormon missionaries whose first official assignment takes to a remote village in Uganda. Divinely profane in all the right places!(bookofmormonbroadway.com)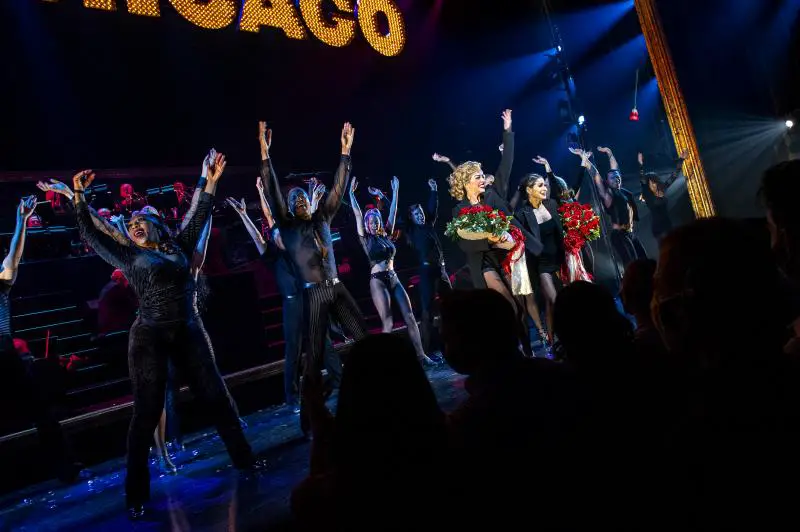 Chicago reopening night, 2021. Photo: Daniel Rader.
Chicago (Ambassador Theatre). It picked up a Tony for Best Musical Revival back in 1997 and has reigned as one of Broadway's fiercest hits ever since (pandemic notwithstanding). Roxie, Velma, Billy, Mamma, and the cellblock vixens are now poised to sizzle their way back into our hearts! (chicagothemusical.com)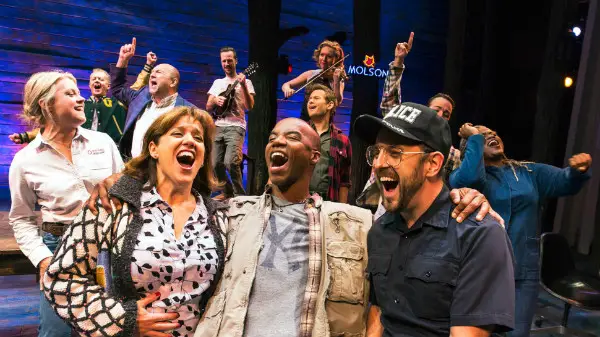 Photo by Matthew Murphy.
Come From Away (Gerald Schoenfeld Theatre). One of Broadway's most celebrated musicals is based on the true story that unfolded on 9/11, 2001 when 38 planes were ordered to land in the remote town of Gander, Newfoundland. What unfolded when the stranded international strangers deplaned was amazing: the locals stepped up to host them, leading to extraordinary camaraderie. Worth noting: Christopher Ashley picked up the 2017 Tony for Best Direction of a Musical. (comefromaway.com)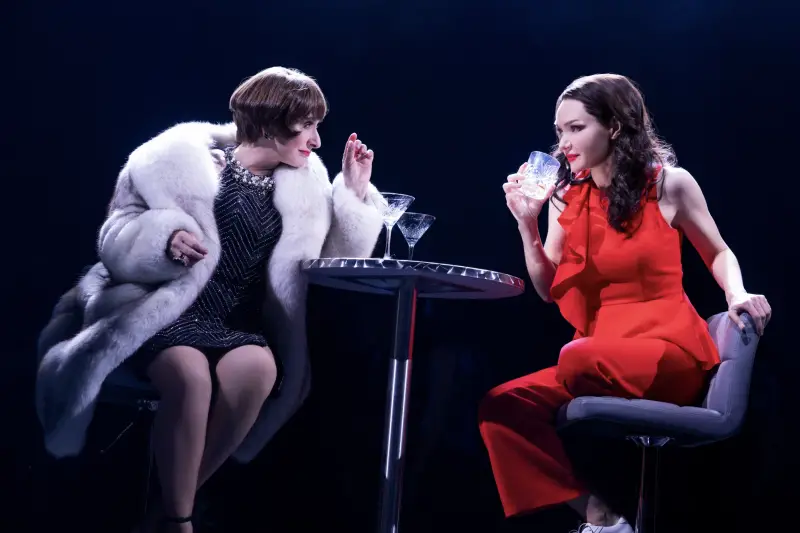 Patti LuPone and Katrina Lenk in Stephen Sondheim's Company. Photo by Matthew Murphy.
Company (Official opening was December 9th at the Bernard B. Jacobs Theatre). This big buzz gender-tweaking Stephen Sondheim revival stars Tony winners Katrina Lenk (as Bobbie) and Patti LuPone (as Joanne), alongside a serious and impressive collection of Broadway star power. (companymusical.com)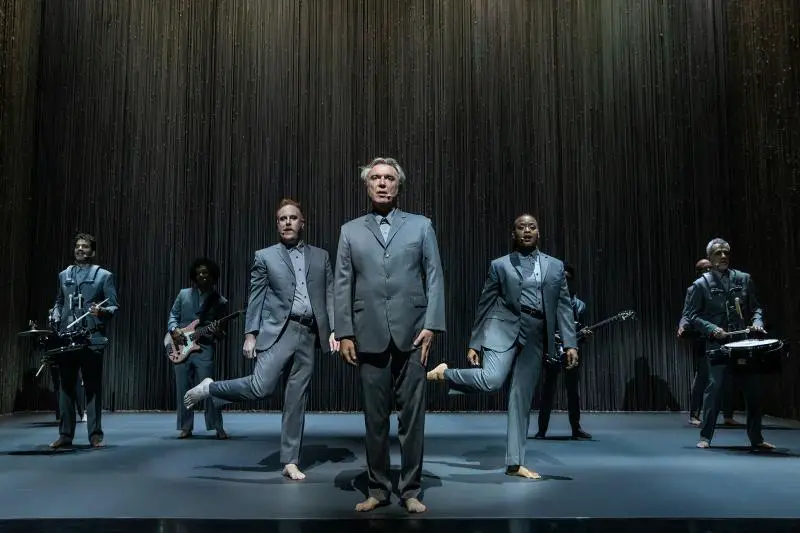 David Byrne's American Utopia (St. James Theatre). Former Talking Heads frontman Byrne and his enormously talented ensemble of musicians from across the globe return for a limited run, once again serving up a unique blend of concert and theatricality. Limited run thru 4/3. (americanutopiabroadway.com)
Photo: Matthew Murphy.
Dear Evan Hansen (Music Box Theater). It picked up the 2017 Best Musical Tony and now DEH has reopened with its compelling take on what happens when one high school student deals with the aftershock of a death that changes everything. (dearevanhansen.com)

Jewelle Blackman, Kay Trinidad, and Yvette Gonzalez-Nacer of Hadestown. Photo by Matthew Murphy.
Hadestown (Walter Kerr Theatre). 2019's haunting Tony-winning musical follows the overlapping love stories of Orpheus & Eurydice and Hades & Persephone. The action unfolds in both a stylized New Orleans setting and Hades's stomping ground, The Underworld. As for the score, think New Orleans jazz melded with American folk music. (hadestown.com)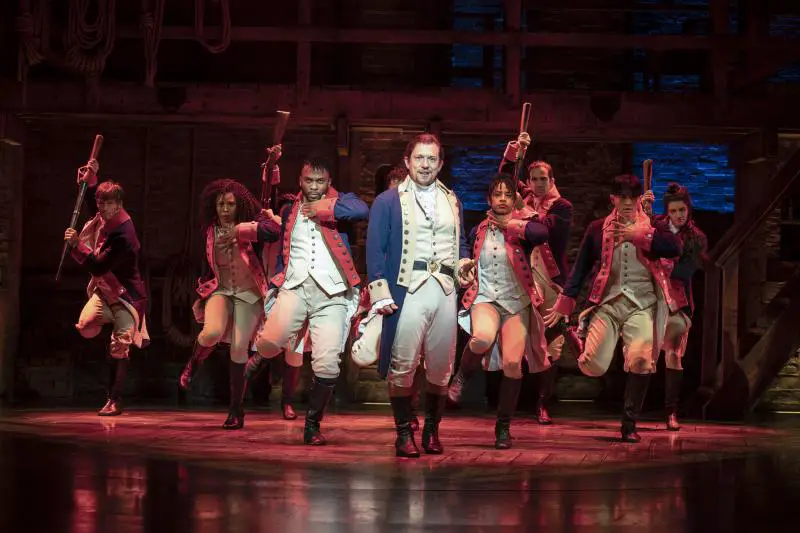 Miguel Cervantes and the ensemble of Hamilton, (c) Joan Marcus 2021.
Hamilton (Richard Rodgers Theatre). Visionary Lin-Manuel Miranda's white-hot historical musical that redefined Broadway. Told through a score of musical theatre, hip-hop, jazz, and R&B, the Pulitzer Prize-winning show has also scooped up Tony, Olivier, and Grammy awards. Act fast. (hamiltonmusical.com)
Harry Potter and the Cursed Child (Lyric Theatre). This much anticipated reopening arrives with a major change: instead of being presented as two separate plays, HPATCC has been reconfigured into a single night of theatre. What hasn't changed is the show's introduction of a new generation of Hogwarts students and, naturally, their magical adventures. (harrypottertheplay.com)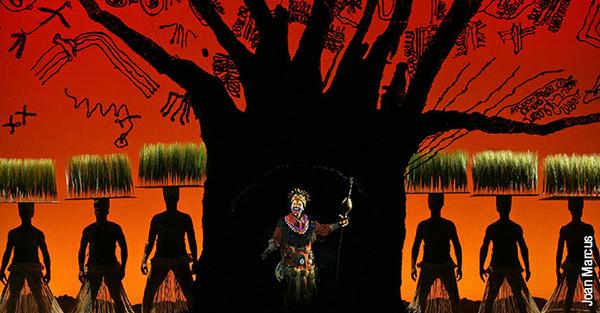 The Lion King (Minskoff Theatre). The longest-running Disney production to grace Broadway—it arrived in November of 1997—this Tony-winning stage adaptation of the animated classic is a musical and visual treasure-trove to be savored and shared generation after generation. (lionking.com)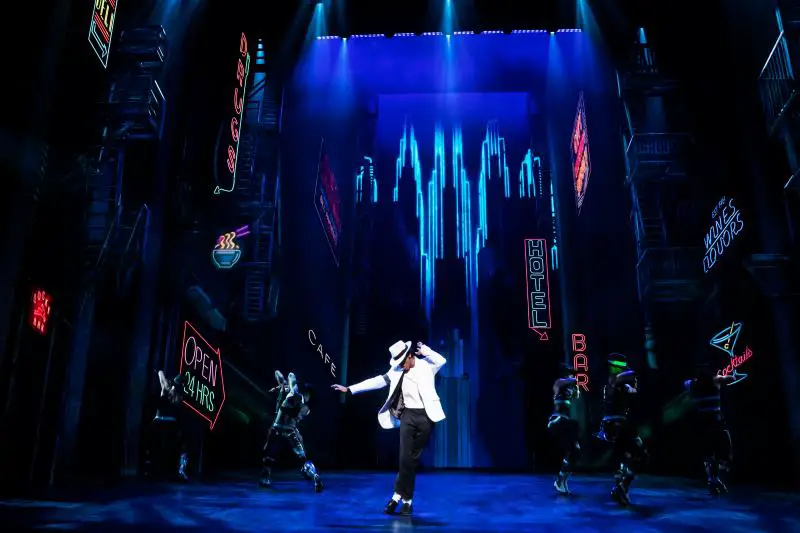 Myles Frost as Michael Jackson, photo by Matthew Murphy.
MJ the Musical (Official opening set for February 1st at the Neil Simon Theatre). The new musical bio featuring over 25 Michael Jackson hits comes with a staggeringly impressive pedigree: book by two-time Pulitzer Prize winner Lynn Nottage and direction/choreography by Tony-winner Christopher Wheeldon. (mjthemusical.com)
Moulin Rouge! The Musical (Al Hirschfeld Theatre). A gleefully flamboyant stage adaptation of Baz Luhrmann's 2001 genre-bending film, the acclaimed musical that launched the 2019/2020 season is kicking up its decadent heels anew.(moulinrougemusical.com)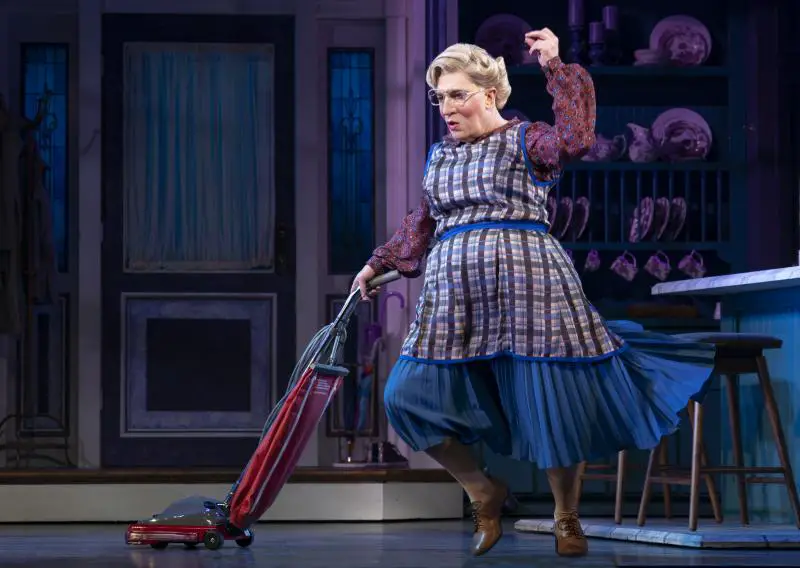 Mrs. Doubtfire (Official opening was December 5th at Stephen Sondheim Theatre). The arrival of the musical based on the hilarious Robin Williams film becomes a long-awaited reality starring Tony nominee Rob McClure (Chaplin) in the titular (pun intended) role. Note: on Omicron hiatus thru 3/14. (mrsdoubtfirebroadway.com)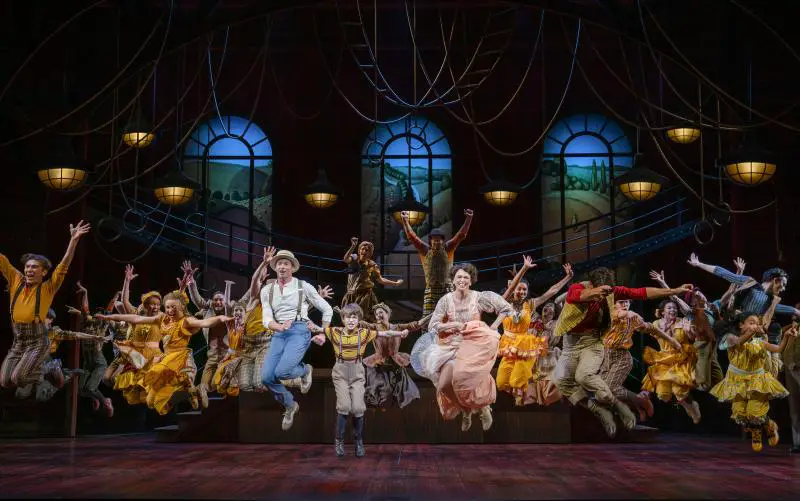 Photo by Joan Marcus.
The Music Man (Official opening set for February 10th at the Winter Garden Theatre). Meredith Willson's beloved musical comedy returns to Broadway with an all-star cast led by Hugh Jackman and Sutton Foster. When con man Harold Hill arrives in River City to sell the townspeople the promise of a marching band, he gets more than he bargained for—including romance with Marian the librarian. No surprise this is one of the season's hottest tickets! (musicmanonbroadway.com)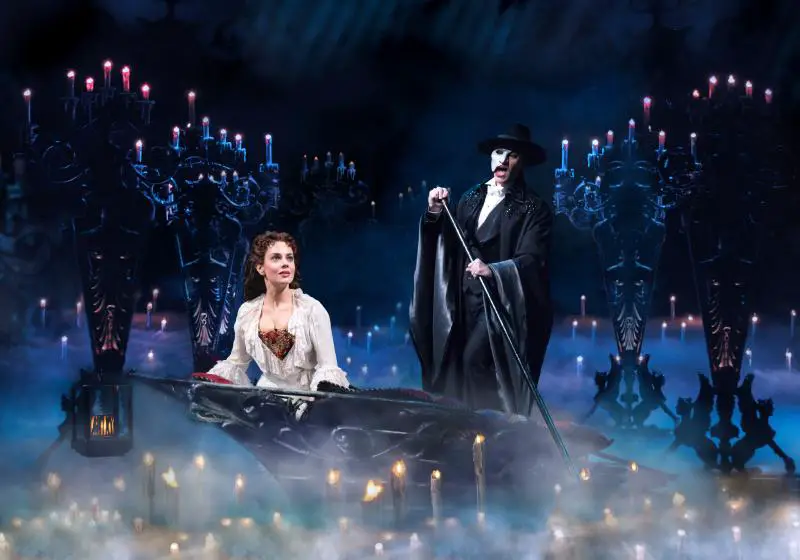 Meghan Picerno as Christine and Ben Crawford as The Phantom. Photo by Matthew Murphy.


The Phantom of the Opera (Majestic Theatre). Andrew Lloyd Webber's staggeringly long-running record breaker will be spreading "Music of the Night" in its Broadway digs once more. Well worth a visit...or revisit. (us.thephantomoftheopera.com)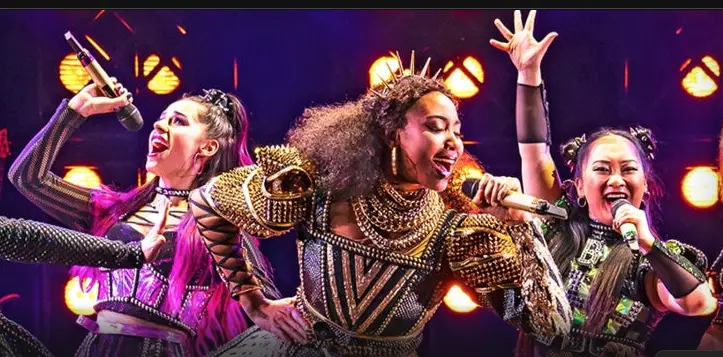 SIX (Official opening was October 3rd at the Brooks Atkinson Theatre). Derailed in previews by the pandemic, Henry VIII's sextet of wives—all portrayed by original cast—finally get to rock out in vibrant Broadway sass and style for a run that actually includes an opening night! (sixonbroadway.com)
Skeleton Crew (Official opening is January 26th at the Samuel J. Friedman Theatre). Tony winner Phylicia Rashad stars in Dominique Morisseau's drama set in 2008 Detroit. Against the backdrop of a failing automotive factory, the play explores the tight knit family of workers, as well as the relationship between blue and white collar in a time of crisis. (manhattantheatreclub.com)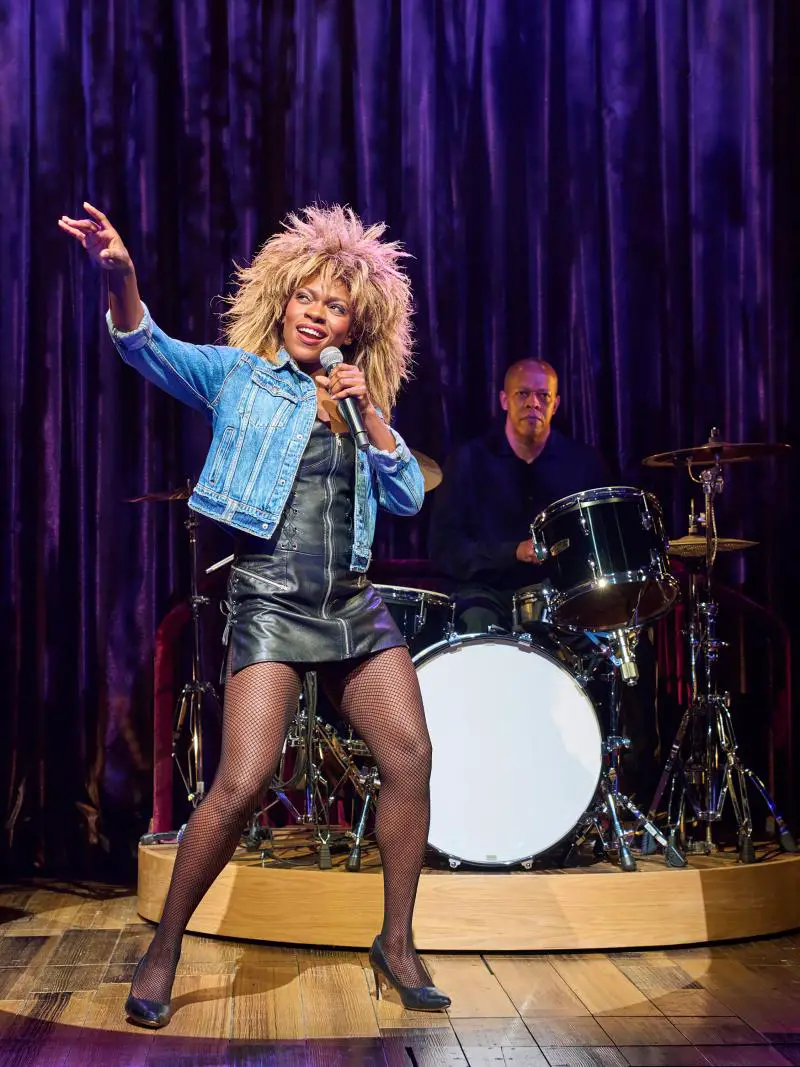 Nkeki Obi-Melekwe in TINA. Photo by Manuel Harlan, 2021.
Tina: The Tina Turner Musical (Lunt-Fontanne Theatre). Big wheel [will absolutely] keep on turning, when Tina sparkles its way back onto the Lunt-Fontanne stage. Tracking the life and music of the Queen of Rock 'n' Roll, Tina is both nostalgic and inspirational. (tinaonbroadway.com)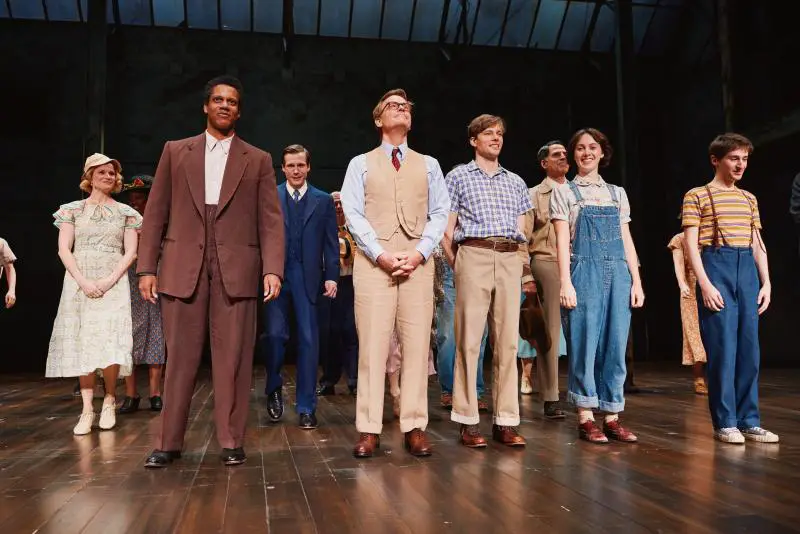 Photo by Emlio Madrid.
To Kill a Mockingbird (Belasco Theatre). Aaron Sorkin's celebrated stage version of Harper Lee's Pulitzer Prize-winning novel stars Oscar-nominee Greg Kinnear as small-town southern lawyer Atticus Finch, who is called upon to defend a young Black man accused of raping a white woman. Told from the perspective of Finch's daughter Scout—a character based loosely on Lee and her memories of an incident from her childhood—the powerhouse drama offers a timely look into racial injustice and the importance of heroism and humanity in the face of pervasive ignorance. On hiatus thru 6/1. (tokillamockingbirdbroadway.com)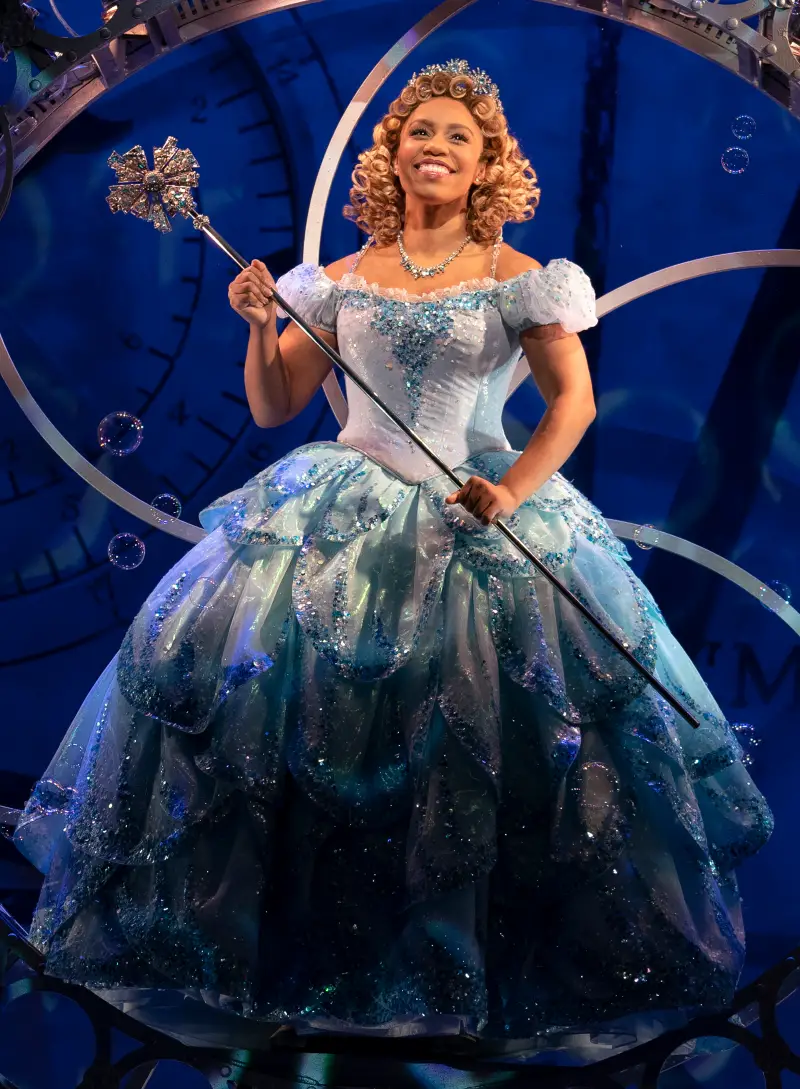 Brittney Johnson will make history in February when she becomes the first Black actor cast full-time as Glinda in Broadway's Wicked. Photo by Joan Marcus.
Wicked (Gershwin Theatre). Broadway's fifth longest-running show ever—and the only one with a green-hued heroine—Wicked takes the world of Oz's fairy tale roots and replants them into an eye-popping musical that turns the original story upside down by elevating the friendship between two young witches. (wickedthemusical.com)
---
Broadway isn't shutting down any time soon, but last minute Covid-related postponements of individual shows will be part of NYC's theatrescape for the near future. So be sure to check websites for performance cancellations before heading to the theatre, and do have a back-up show or two on your must-see radar!
For the latest news on Broadway scheduling and cancellations, check out this great resource from the Broadway League.
Vaccination and Mask Policy for Broadway Shows in NYC
The owners and operators of all 41 Broadway theatres in New York City will require vaccinations for audience members as well as performers, backstage crew, and theatre staff, for all performances through April 30, 2022. Masks will also be required for audiences inside the theatre, except while eating or drinking in designated locations.
Under the policy, guests—age 12 and older—will need to be fully vaccinated with an FDA or WHO authorized vaccine AND present a government-issued photo ID such as a driver's license or passport. (Guests 12-18 may use a government-issued ID or school ID, no photo required.) "Fully vaccinated" means on the date of the performance a guest is at least 14 days after their second dose of a two dose COVID-19 vaccine OR at least 14 days after their single dose of an approved single dose COVID-19 vaccine.
Beginning January 29th, 2022: the theatres will also require full vaccinations for children ages 5 -11 years old for all performances in accordance with New York City's Key to NYC Guidelines. Under the policy, guests age 5 and older will need to be Vaccinated with an FDA or WHO authorized vaccine. Proof needs to be shown as follows: guests 12-17 may use a government-issued ID or school ID - no photo required; guests ages 5 – 11 may enter the theatre only when (1) accompanied by an adult who complies with the theatre's vaccination entry requirements, and (2) has proof of at least one dose of an FDA or WHO approved vaccine.
For international guests TWO doses of any "mix and match" combination of an FDA or WHO approved Covid-19 vaccine are acceptable.
Guests under 12, when accompanied by a fully vaccinated adult may enter the theatre with ONE of the following:
Proof of ONE dose (through February 28, 2022 only) of an FDA or WHO approved vaccine at least 14 days before the performance date OR
A negative COVID-19 PCR test performed by a medical provider within 72 hours of the performance start time. The test results must clearly show the date and time of the test; OR
A negative COVID-19 rapid antigen test taken within 6 hours of the performance start time. The test results must clearly show the date and time of the test.
For more information, please visit your show's official website or contact your point-of-purchase. More information is available here.—The Broadway League
---
Coming Soon to Broadway
Matthew Broderick with Sarah Jessica Parker, photo by Little Fang.
February 25th: Plaza Suite (Official opening is April 13th Hudson Theatre). This limited engagement revival of the Neil Simon comedy triptych stars two-time Tony winner Matthew Broderick alongside his real-life spouse, two-time Emmy winner Sarah Jessica Parker, in three separate vignettes unfolding in the noted New York hotel. (plazasuitebroadway.com)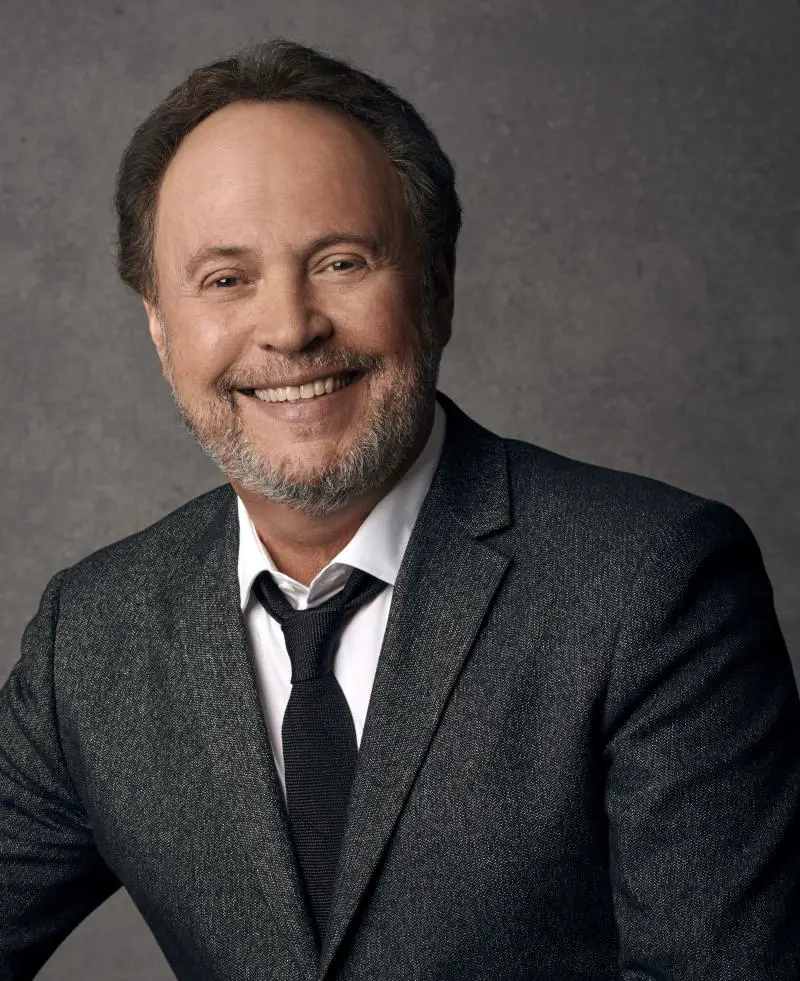 Photo by Steve Schofield.
March 1st: Mr. Saturday Night (Official opening is March 31st at The Nederlander Theatre). Tony and Emmy winner Billy Crystal returns to Broadway in this new musical comedy based on his 1992 film of the same name. The story follows Buddy Young Jr., a one-time famous TV comedian who now some 40 years later seeks one more shot at the spotlight— and while he's at it, one last shot at fixing the family he fractured along the way. (mrsaturdaynightonbroadway.com)
March 4th: The Little Prince (Official opening is March 17th at the Broadway Theatre). Following sold-out runs in Paris, Sydney, and Dubai, one of the best-selling and most translated books ever published arrives on Broadway in a new stage production filled with theatrical spectacle, dance, aerial acrobatics, and ground-breaking video-mapping technology that bring the classic adventure story loved by generations to life. (thelittleprincebroadway.com)
March 10th: Take Me Out (Official opening is April 4th at the Helen Hayes Theatre). This first Broadway revival of Richard Greenberg's Tony-winning play centers on what happens when a star baseball player exits the closet. Off the field, facing hostile teammates and fraught friendships, he must deal with being a gay person of color within the confines of a classic American institution—all as his team struggles toward a championship season. (2st.com)
March 15th: The Minutes (Official opening is April 7th at Studio 54). Tracy Letts' mega-hit from Steppenwolf Theatre Company will be resuming Broadway performances. The play looks at how small-town democracy is not always what it seems, with greed and hypocrisy forming its core—and change possible within "a matter of minutes." (theminutesbroadway.com)
March 15th: Paradise Square (Official opening is April 3rd at the Ethel Barrymore Theatre). Conceived by Larry Kirwan, who co-wrote the book with Craig Lucas, Marcus Gardley, and Christina Anderson, this new musical centers on the racially diverse 1863 regulars at Paradise Square, a saloon in the slums of Lower Manhattan, and how their relationships come unraveled "by a country at war with itself." (paradisesquaremusical.com)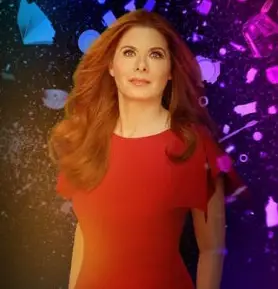 March 18th: Birthday Candles (Official opening is April 10th at the American Airlines Theatre). In playwright Noah Haidle's Broadway debut, actress Debra Messing(Will & Grace) stars as a woman who examines her life from ages 17 through 101, birthday by birthday. (roundabouttheatre.org)
March 22nd: American Buffalo (Official opening is April 14th at the Circle in the Square Theatre). David Mamet's explosive and timely classic revolves around the business of crime and how it takes over three small-time hustlers. The all-star award-winning cast includes Laurence Fishburne, Sam Rockwell, and Darren Criss. (americanbuffalonyc.com)
March 26th: Funny Girl (Official opening is April 24th at the August Wilson Theatre). This long-awaited first Broadway revival of the celebrated Fanny Brice musical bio comes to life with a revised book by Tony winner Harvey Fierstein and starring Beanie Feldstein (American Crime Story: Impeachment), Jane Lynch (Glee), and Ramin Karimloo (Les Misérables). (funnygirlonbroadway.com)
March 29th: How I Learned to Drive (Official opening is April 19th at the Samuel J. Friedman Theatre). Paula Vogel's powerhouse of a Pulitzer Prize-winning drama comes to Broadway with its two original 1997 Off-Broadway stars, Mary-Louise Parker and David Morse. (manhattantheatreclub.com)
March 29th: Macbeth (Official opening is April 28th at the Lyceum Theatre). Tony-winning director Sam Gold helms this limited engagement production starring Daniel Craig and Ruth Negga as the notorious Shakespearean couple whose bloody quest for power becomes tinged with soul-gripping guilt before the final curtain. Fifteen weeks only. (macbethbroadway.com)
March 31st: The Skin of Our Teeth (Official opening is April 25th at the Vivian Beaumont Theater). This timely launch of Thornton Wilder's Pulitzer-winning masterwork coincides with the playwright's 125th "birthday." The story tracks the Antrobus family of Excelsior, NJ, as they persevere through an Ice Age, a biblical flood, and war. (lct.org)
April 1st: for colored girls who have considered suicide/when the rainbow is enuf (Official opening is April 20th at the Booth Theatre). In the Broadway revival of Ntozake Shange's celebration of Black womanhood—reimagined, reinvented, directed, and choreographed by Tony nominee Camille A. Brown—seven women share their stories and find strength in each other's humor and passion through a fusion of poetry, dance, music, and song. (forcoloredgirlsbway.com)
April 6th: A Strange Loop (Official opening is April 26th at the Lyceum Theatre). Michael R. Jackson's Pulitzer Prize-winning, blisteringly funny musical exposes the heart and soul of Usher, a young gay artist grappling with desires, identity, and instincts he both loves and loathes. Hell-bent on breaking free of his own self-perception, he wrestles with the thoughts in his head, brought to life on stage by a straight-shooting ensemble. (strangeloopmusical.com)
April 8th: Beetlejuice (Marriott Marquis Theatre). This wild ride of a musical returns to Broadway bringing with it an edgy and madcap take on life—and afterlife, once the gloriously irreverent and unapologetically scruffy title ghost insinuates himself into the life of "a strange and unusual" teen who has befriended the deceased former owners of her family's new home. (beetlejuicebroadway.com)
July 6th: The Kite Runner (Official opening is July 21st at the Helen Hayes Theatre). In this new play with music based on the best-selling novel, it's a beautiful afternoon in Kabul, Afghanistan where the skies a filled with excitement of a kite-flying tournament. But neither Hassan nor Amir—two close childhood friends—can foresee the terrible incident that will shatter their lives forever. Limited run thru 10/30. (thekiterunnerbroadway.com)
OFF-BROADWAY SHOWS: CALENDAR SO FAR
Up & Running
Assassins (Classic Stage Company's Lynn F. Angelson Theater). Stephen Sondheim and John Weidman's Tony-winning musical explores the lives of nine men and women who either killed (or tried to kill) a U.S. President. From John Wilkes Booth to Lee Harvey Oswald and beyond, the stories of these murderous individuals intersect in unexpected ways, creating a powerful, yet unnervingly funny look at some of the most shocking moments in U.S. history. Limited run thru 1/29. (classicstage.org)
Black No More (Official opening is February 15th at the Irene Diamond Stage, Pershing Square Signature Center). George S. Schuyler's novel set during the Harlem Renaissance is the basis for this new musical, which follows Max Disher, an eager volunteer for a machine that guarantees a solution to "the American race problem"—by turning Black people white. Limited run thru 2/27. (thenewgroup.org)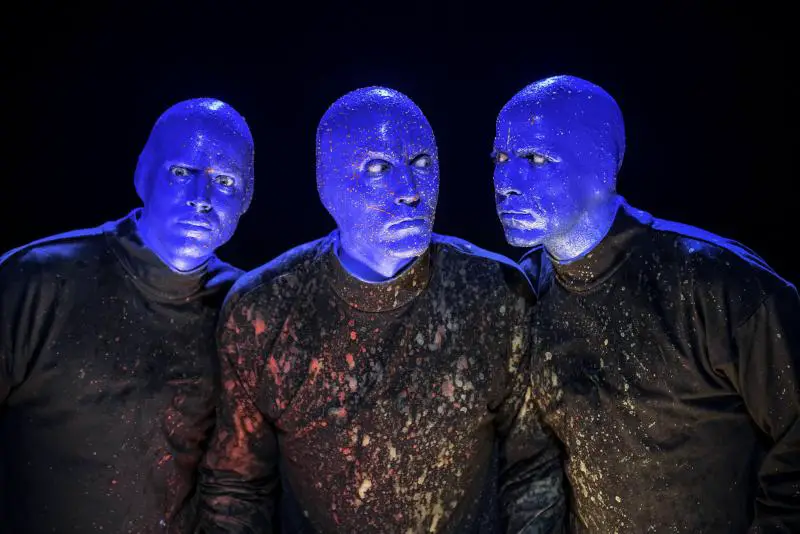 Blue Man Group (Astor Place Theatre). No plot, dialogue, or ripped from headlines drama, just a romp and a half orchestrated by three blue-hued alien dudes. This long-running Off-Broadway show and international sensation combines music, paint drums, snacks, high-tech hijinks, and unpredictable physical comedy. (blueman.com)
The Collision and The Martyrdom (59E59 Theaters). In The Collision, when a mysterious object falls from the sky, three religious sisters wonder is this God's work, or Satan's? The Martyrdom is a raucous contemporary adaptation of a 10th-century comedy about virgins who triumph over the devil. Limited run thru 2/5. (59e59.org)
Di Froyen (The Women) (Theater for The New City). This New Yiddish Rep production centers on a Hasidic woman who is ostracized and kept from her children after fleeing an abusive marriage. When she returns with a court order and the women of the community learn she didn't abandon her family, they rally behind her and back other women suffering abuse. Performed in Yiddish/Yinglish with English supertitles. Limited run thru 1/30. (theaterforthenewcity.net)
Ectoplasm (The Players Theatre). At a private seance in 1912 one of the guests is a famous magician—based on the real-life Harry Houdini—hell-bent on using his knowledge of illusions to de-bunk spiritualism. A simmering love triangle adds gasoline to the tense private affair, and a mysterious uninvited guest leads the party to question life and death itself. Limited run thru 2/6. (theplayerstheatre.com)
Empire Circus (Empire Stores, Brooklyn). Bozo the Clown for the 21st century! Crazy fun is all the rage as this family-friendly-choose-your-own-circus adventure explodes onto the scene with free goodies, surprises, performers, and Bozo-centric hilarity! You might even find yourself a star aerialist or Grand Prize Game show contestant! Limited run thru 1/30. (empirecircus.com)
Gazillion Bubble Show (New World Stages). A family phenom for your family from the Yang family of bubble virtuosos. "We are so thrilled to be bringing bubbles back to the stage and smiles to our audiences," says master bubble maker Melody Yang. (gazilllionbubbleshow.com)
I Just Want to Tell Somebody (Theater for the New City.) Ronald Smokey Stevens has adapted his autobiographical novel into a one-man, two-character show dramatizing his lifelong battle with drugs while walking audiences through moments in theatre history that marked his triumphs. Limited run thru 1/30. (theaterforthenewcity.net)
Intimate Apparel (Official opening is January 31st at Lincoln Center Theaters' Mitzi E. Newhouse Theater). Set in 1905 New York, this new opera with a libretto by Lynn Nottage follows an African-American woman who makes her living sewing beautiful ladies' undergarments. Her desire for love leads to a letter-writing relationship with a mysterious suitor, but after they embark on an unhappy marriage she realizes only certainty of her own worth will see her through life's challenges. (lct.org)

Photo: Joan Marcus.
Jersey Boys (New World Stages). The behind-the-music story of Frankie Valli and The Four Seasons. They were just four guys from Jersey, until they sang their very first note. They had a sound nobody had ever heard…and the radio just couldn't get enough of. But while their harmonies were perfect on stage, off stage it was a very different story—a story that has made them an international sensation all over again. The show features all their hits including "Sherry," "Big Girls Don't Cry," "Oh What A Night," "Walk Like A Man," "Can't Take My Eyes Off You," and "Working My Way Back To You." (jerseyboysnewyork.com)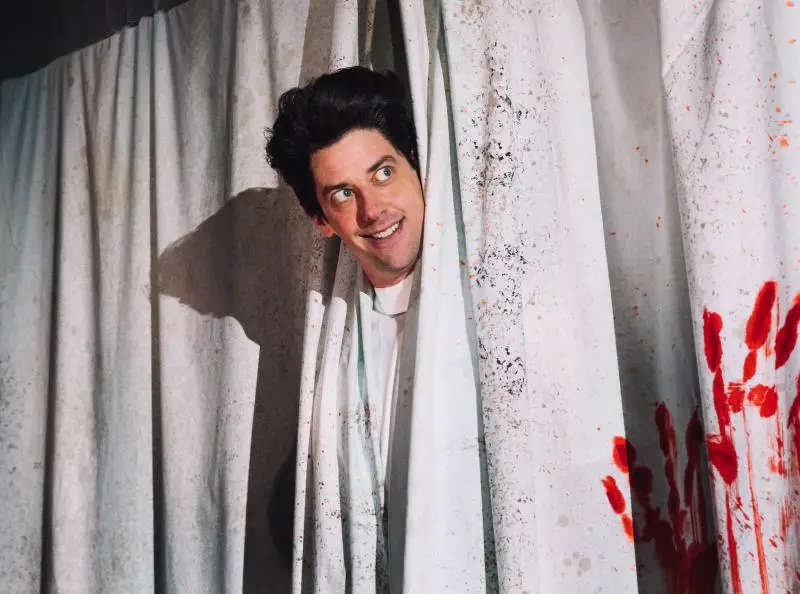 Photo by Emilio Madrid-Kuser.
Little Shop of Horrors (West Side Theatre). The wildly acclaimed musical revival is back with Emmy-winning leading lady Tammy Blanchard and two-time Tony winner Christian Borle. Tony nominee Jeremy Jordan (Newsies) joins them as hapless flower-shop employee, Seymour, trapped under the blood-thirsty fronds of Audrey II. (littleshopnyc.com)
Long Day's Journey Into Night (Minetta Lane Theatre). Director Robert O'Hara has created a contemporary reimagining of Eugene O'Neill's masterwork, inspired by the events of 2020. The Tyrone family are living together again under lockdown. As the pressure builds, each family member retreats to their own destructive devices for a visceral and provocative exploration of addiction and mental health. Limited run thru 2/20. (longdaysoffbroadway.com)
The New Eagle Creek Saloon (The Kitchen). Artist Sadie Barnette's installation ("Glowing somewhere between a monument and an altar…") recreating her father Rodney Barnette's bar—San Francisco's first black-owned gay bar—comes to life with cultural critic and DJ madison moore, whose residency throughout the run will include a range of sonic activations, programs, and presentations. Limited run through 3/6. (thekitchen.org)
Nothing's Plenty for Me (Studio Theatre at Theatre Row). With $500 million at stake, five clashing environmentalists are determined to cut their carbon footprint by 80%. But time is running out. Fights, romances and art bloom as they move into one dorm room together, vowing to live without chocolate cake, hair dye, alcohol, and other necessities for three months. Can they do it? Limited run thru 2/13. (bfany.org/theatre-row/shows/nothings-plenty-for-me)
Now in Process (New Ohio Theatre). New Ohio Theatre's free-floating, ad hoc, instant-gratification, impulse-driven, pop-up work-in-progress showing that offers NYC indie theatre artists the opportunity to test their next great idea returns with four new works: The Forest At Night, Who Gets To Be Egyptian?, Kept In the Dark, and The Porch on Windy Hill. All shows will be presented live and the second evening of each presentation will be also available as a livestream. Limited run thru 2/6. (newohiotheatre.org)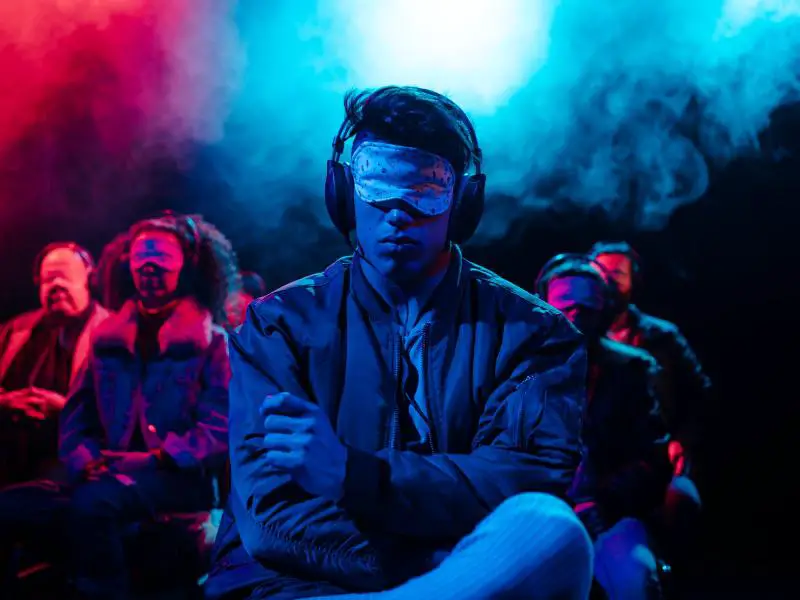 Odd Man Out (Flea Theatre). This live immersive play in darkness begins when "passengers" enter a dimly lit space and put on headphones and blindfolds and are immersed in the tale of a blind musician flying home from New York to Buenos Aires, Argentina, after decades of self-exile. This story of love, prejudice, and fears that were left behind evolves in multisensory 360 degree-surround sound. Limited run thru 2/19. (oddmanoutnyc.com)
Origin 1st Irish Theatre Festival 2022 (Various venues in Manhattan). A new hybrid of digital and in-person formats, 1st Irish 2022 hosts 20 live and virtual events with four in-person world and U.S. premieres, including Boann and the Well of Wisdom, A Bolt from D'Blue, Transatlantic Living, and Off the Meter. Limited run thru 1/31. (origintheatre.org)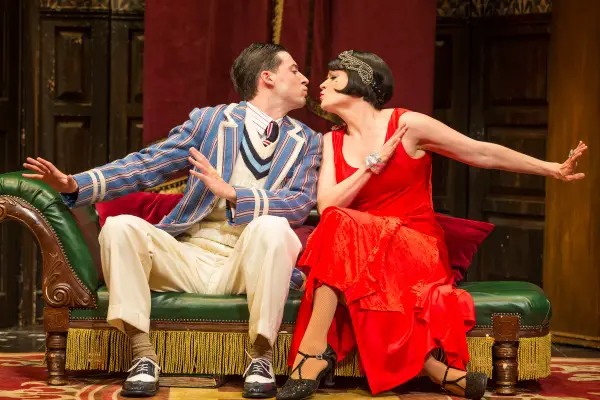 Photo by Jeremy Daniel.
The Play That Goes Wrong (New World Stages). A madcap hybrid of Monty Python and Sherlock Holmes, this award-winning comedy is bringing down the house—literally—Off-Broadway. It's opening night of The Murder at Haversham Manor where an unconscious leading lady, corpse that can't play dead, and actors who trip over everything are only some of the hilarious mishaps. (broadwaygoeswrong.com)
Prayer for the French Republic (Official opening is February 1st at New York City Center, Stage I). In 1944, a Jewish couple in Paris desperately awaits news of their missing family. More than 70 years later, the couple's great-grandchildren find themselves facing the same question as their ancestors: "Are we safe?" Following five generations of a French Jewish family, this new work by Joshua Harmon is a sweeping look at history, home, and the effects of an ancient hatred. (nycitycenter.org)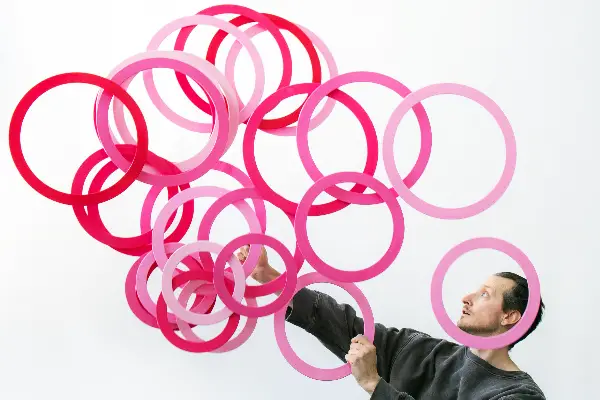 REFLEX (MITU580). This world premiere solo show from the mind of master juggler and visual artist Jay Gilligan is a unique theatrical experience that interweaves stunning juggling sequences with stories about gravity and the secrets of an ancient craft. Limited run thru 2/20. (theatermitu.org/all-works)
Scar Tissue (Players Theater). Two best friends have past scars that never healed. Jessica can't get past a damaging romantic relationship from college, while Sam has been ignoring a fractured relationship with her sister. After years of denial, a lunch date and surprise overnight guest force them to face what they didn't want to see head on. Limited run thru 1/30. (scartissuetheplay.com)
The Search for Signs of Intelligent Life in the Universe (The Shed's Griffin Theater). A newly commissioned revival of the award-winning one-woman play by Jane Wagner that originally starred Lily Tomlin. The play looks at American society, art, power, and the feminist movement through a comedic and quick-witted investigation. It currently stars Cecily Strong of Saturday Night Live. Limited run thru 2/6. (theshed.org)
SHHHH (Official opening is January 31st at Atlantic Stage 2). In this world-premiere play, Penny flirts at an anatomy museum, Kyle tells stories of dismemberment, and Sally serves tea and biscuits, while Shareen whips up a mysterious potion. All in all, a unique combo plate of kink, trauma, pleasure, and revenge. Limited run thru 2/13. (atlantictheater.org)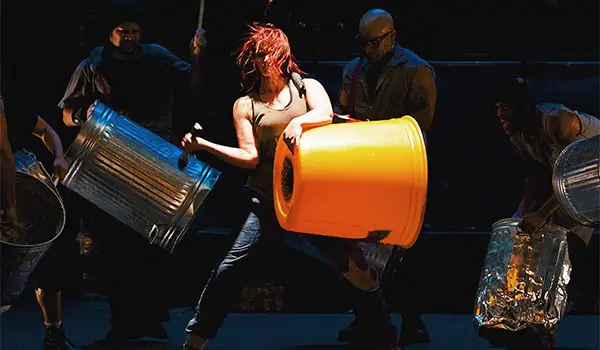 Stomp (Orpheum Theatre). "For us, Stomp has always been about connecting with the audience, having a shared experience with them and celebrating rhythm together. We can't wait to bring Stomp and New York audiences back together again," says show co-creators Steve McNicholas and Luke Cresswell. Clearly, the exuberance of cacophony has returned. (stomponline.com)
The Streets of New York (Official opening was 12/14 at Irish Repertory Theatre's Francis J. Greenburger's Mainstage). Irish Rep's holiday show is based on Dion Boucicault's 18th century play of the same name, featuring an adaptation, songs, and direction by Charlotte Moore. Limited run thru 1/30. (irishrep.org)
Tambo & Bones (Official opening is February 7th at Playwrights Horizons' Mainstage Theater). In Dave Harris's world premiere work, two characters trapped in a minstrel show formulate an escape plan leading to a hip-hop journey that roasts America's racist past and explodes its post-racial future. Limited run thru 2/27. (playwrightshorizons.org)
Through the Fire (59E59 Theaters). Victor Almanzar's autobiographical solo show, driven by his original hip-hop music, begins with a near-death experience. His life flashes before his eyes: his childhood in the Dominican Republic, his move as a youngster to NYC, gang life, drug life, identity struggles, love, and joining the Marines. A story of survival and self-forgiveness driven by Victor's original hip-hop music. Limited run thru 2/5. (59e59.org)
Trevor (Official opening was November 10th at Stage 42). In this timely musical, 13-year-old Trevor struggles with what it means to become a teenager, including the challenges of harnessing his imagination and homing in on just how to fit in. (trevorthemusical.com)
Whisper House (59E59 Theaters). A musical ghost story set in an eerie lighthouse as two lonely people—a Japanese immigrant and his, employer, Lily—have their lives turned upside down when her nephew is sent to live with them and begins to hear strange music seeping through the walls. Limited run thru 2/6. (59e59.org)
Winnie the Pooh: The Musical Stage Adaptation (Hundred Acre Wood Theatre at Theatre Row). Disney Off-Broadway! This new musical must-see comes to life with its own star roster of life-size puppets of Winnie the Pooh, Christopher Robin, Piglet, Eeyore, Kanga, Roo, Rabbit, Owl…and Tigger too! Featuring songs by the Sherman Brothers and A.A. Milne. Limited run thru 1/30. (winniethepoohshow.com)
The Woman in Black (The McKittrick Hotel). Dame Susan Hill's "ghost story in a pub" follows a young lawyer who stumbles upon a small town with a grave secret. Featuring Ben Porter and David Acton, reprising their roles from the London stage production, the McKittrick's site-specific reimagining within a pub marks the first chance audiences have to experience the show as originally staged more than 30 years ago. Limited run thru 3/13. (mckittrickhotel.com)
Coming Soon to Off Broadway
February 2nd: On Sugarland (New York Theatre Workshop). In Aleshea Harris's new work, Sugarland is on precarious soil—three mobile homes line a southern cul-de-sac replete with years and years of decorative folk-art treasures and keepsakes. Young Sadie calls on generations of matriarchal ancestors to find the truth about her mother while the denizens of Sugarland rise each day to holler for the dead—conscripted soldiers lost to a greedy war—in a ritual reclamation of timeless grief. Limited run thru 3/13. (nytw.org)
February 3rd: English (Atlantic Theater Company's Linda Gross Theater). In an Iranian classroom, a handful of adult students are prepping for the Test of English as a Foreign Language. But the word games, listening exercises, and show-and-tell sessions just might be splitting them in half. Limited run thru 3/13. (atlantictheater.org)
February 3rd: sandblasted (Vineyard Theatre). Angela and Odessa are on a sandy search for something that might not be real in this theatrically daring story of waiting and hoping and time and healing by Paula Vogel Playwriting Award winner Charly Evon Simpson. Limited run thru 3/13. (vineyardtheatre.org)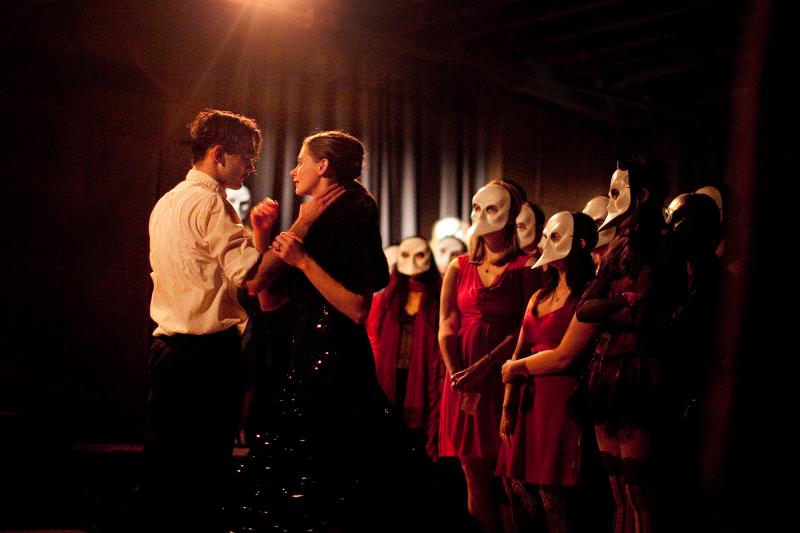 Photo by Robin Roemer.
February 3rd: Sleep No More (McKittrick Hotel). This award-winning theatrical experience tells Shakespeare's classic tragedy Macbeth through a darkly cinematic lens. Audiences move freely through the epic world of the story at their own pace, choosing where to go and what to see, ensuring that everyone's journey is different and unique.(mckittrickhotel.com)
February 6th: ARDEN: A Ritual for Love and Liberation (Flea Theater). A genre-bending, boundary-breaking, and interactive new work. Here you're invited into a strange, raw, and delightful ritual full of song, dance, and testimony. Come to Arden and happen upon a kind of love that feels too dangerous for the world we live in. Limited run thru 3/6. (theflea.org)
February 9th: Barococo (59E59 Theaters). A six-person ensemble exposes an indulgent, aristocratic, late-Baroque lifestyle precariously perched on the edge of its extinction. Experience the charade—from parlor games to pantomime, from the exquisite to the revolting—in this unique comedy of manners. Limited run thru 3/6. (59e59.org)
February 10th: A Class Act (Theater Row). Tony-winner Ed Kleban (A Chorus Line) returns to his own memorial service to set the record straight in this musical about musicals featuring such characters as Marvin Hamlisch and Michael Bennett. Limited run thru 2/20. (j2spotlightnyc.com)
February 12th: At the Wedding (Official opening is February 28th, 2022 at Lincoln Center Theater/LCT3's Claire Tow Theater). In this new comedy by Bryna Turner, a lonely single woman crashes her ex-girlfriend's wedding to a man. While there, she finds herself navigating a minefield of encounters with past lovers, old enemies, new friends, and perfect strangers. Limited run thru 3/27. (lct.org)
February 15th: Out of Time (The Public Theater's Martinson Hall). A theatrical tapestry comprised of five new monologues by award-winning Asian American playwrights that explore themes like age, memory, and parenthood. The works include Jaclyn Backhaus (Black Market Caviar), Sam Chanse (Disturbance Specialist), Mia Chung (Ball in the Air), Naomi Iizuka (Japanese Folk Song), and Anna Ouyang Moench (My Documentary). Limited run thru 3/13. (publictheater.org)
February 16th: Frigid Festival (Under St. Marks). An open and uncensored theatre festival that gives artists an opportunity to let their ingenuity thrive in a venue that values freedom of expression and artistic determination. In true support of the Indie Theater Community, 100% of box office proceeds go directly to the artists whose work is being presented. Visit website for a complete listing of performances and times. Limited run thru 3/6. (frigid.nyc)
February 19th: Sesame Street Live! Let's Party (Madison Square Garden's Hulu Theater). Sesame Street characters join with the audience to plan a party. It all comes together thanks to teamwork and friendship. Party guests will sing along to favorite songs like "C is for Cookie," with Oscar the Grouch and Cookie Monster; dance to the beat with Elmo; and spend time with Big Bird learning about some of his feathered friends! Limited run thru 2/27. (msg.com/sesamestreetlive)
February 21st: Dance of Death (Theater for the New City). Strindberg's two-part masterpiece is being presented together for the first time in North America by August Strindberg Rep. The play is a study of virulent marital dysfunction and bitter regret delivered with enduring theatrical passion. Limited run thru 3/13. (theaterforthenewcity.net)
February 22nd: This Space Between Us (Officially opening on March 9th at Theatre Row). As Jamie announces his plans to serve those less fortunate to those closest to his friends and family, one shocking afternoon at the racetrack sparks unexpected and irreversible consequences for them all. This intergenerational comedy follows a raucous attempt to reach for something more without leaving the people you love behind. Limited run thru 4/7. (keencompany.org/spacebetween)
February 24th: A Day in Hollywood/A Night in the Ukraine (Theater Row). These two one-act musicals provide a double feature more hilarious than any presented in Hollywood's heyday: the first, a salute to the Golden Age of film musicals; the second, a rambunctious Marx Brothers farce. Limited run thru 3/6. (j2spotlightnyc.com)
February 26th: A Touch of the Poet (Official opening is March 8th at Irish Repertory Theatre's Francis J. Greenburger Mainstage). This Eugene O'Neill drama centers on Con, who clings to his tenuous identity as a landed gentleman and war hero while he struggles financially as the owner of a rundown inn and tavern near Boston in 1828. When his daughter falls in love with a wealthy American, his pride drives him to an explosive reckoning with his true place in the New World. Limited run thru 4/17. (irishrep.org)
March 2nd: Notes From Now (Official opening is March 10th at 59E59). Weaving together words and music to create a gallery of playful, provocative, and profound observations on the human journey, this world premier musical anthology features newly commissioned original songs by 21 contemporary songwriters. Limited run thru 3/20. (59e59.org)
March 10th: The Baker's Wife (Theater Row). In this Stephen Schwartz-Joseph Stein musical, when the wife of the town baker runs off with a gigolo, the baker refuses to bake, leading the villagers to work as a team to bring baker and wife back together. Limited run thru 3/20. (j2spotlightnyc.com)
March 10th: Misdemeanor Dream (Ellen Stewart Theatre). Spiderwoman Theater knits traditional and contemporary narratives, movement, text, sound, installation art, and projection. This unique production homes in on old spirits, long-ago silenced, as they reveal themselves to the current inhabitants of Turtle Island through their stories and experiences of daily, contemporary life. Limited run thru 3/27. (lamama.org)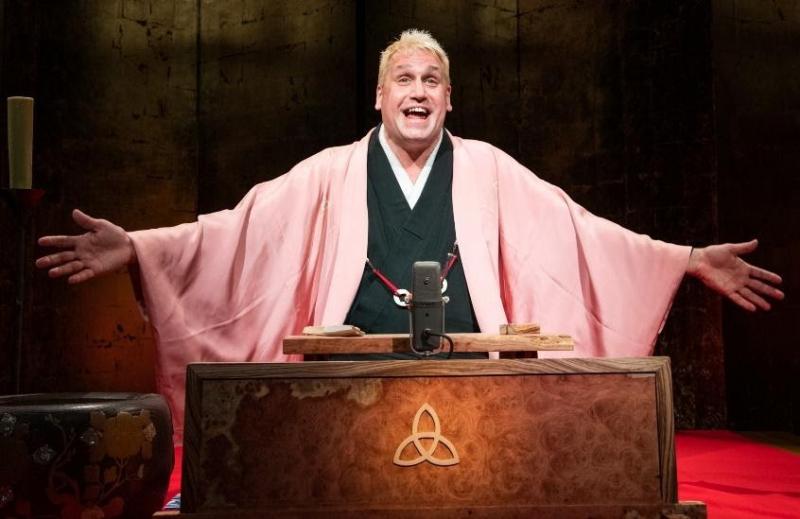 March 10th: Rakugo (New World Stages). Master Storyteller Katsura Sunshine returns to New York with his acclaimed work. With a minimal set, Rakugo features a lone storyteller dressed in a kimono, kneeling on a cushion, and using only a fan and a hand towel for props; Sunshine entertains the audience with a comic monologue followed by traditional stories. (rakugo.lol)
March 10th: Suffs (Official opening on April 6th at The Public Theater's Newman Theater). Set in the 7 years leading up to the passing of the 19th Amendment in 1920, this epic new musical brings to life the American women's suffrage movement, centering on a group of suffragists who took to the streets, pioneering protest tactics that transformed the country. Limited run thru 4/24. (publictheater.org)
March 14th: Heartland (59E59 Theaters). Set in both Maidan Shar, Afghanistan and Omaha, Nebraska, this lush theatrical work by Gabriel Jason Dean serves up is the story of a father, his determined daughter, and a journey toward mercy. Limited run thru 4/10. (59e59.org)
April 7th: The Gondoliers (Kaye Playhouse at Hunter College). Two storylines collide into one joyful Gilbert and Sullivan evening of theatre that includes exuberant dancing, as well as a delightful array of Italianate musical ensembles. Limited run thru 4/10. (nygasp.org)
April 13th: Wish You Were Here (Peter Jay Sharp Theater). It's 1978 and protests are breaking out all across Iran, encroaching on a suburb and its tight-knit circle of friends. With wit and humanity, Iranian-American playwright Sanaz Toossi chronicles a decade of life during war. Limited run thru 5/22. (playwrightshorizons.org)
April 25th: Committed (Peter Jay Sharp Theater, Theater for the New City). A work of historical fiction about the last two days of controversial Dutch filmmaker Theo Van Gogh's life. Natalie Menna's play explores the collision of an artist's temperament and unyielding vision with modern political realities. Limited run thru 5/15. (theaterforthenewcity.net)
April 26th: Golden Shield (Official opening night is May 17th, 2022 at New York City Center—Stage I). When American lawyer Julie Chen files a class-action lawsuit involving a multinational technology corporation and the Chinese government, she hires her strong-minded sister as her translator. But what compromises will they make in order to win? (manhattantheatreclub.com)
April 26th: The Lucky Star (59E59 Theaters). With scenes alternating between past and present, this mesmerizing drama brings Richard Hollander's book, "Every Day Lasts a Year: A Jewish Family's Correspondence from Poland" to the stage, restoring a family's uncharted legacy. Limited run thru 6/12. (59e59.org)
April 30th: The Bedwetter (Official opening night is May 23rd, 2022 at Atlantic Theater Company's Linda Gross Theater). Based on the bestselling memoir of the same name, this new musical zeroes in on 10-year-old Sarah whose secret shame is spelled out in the title. Limited run thru 6/19. (atlantictheater.org)
May 1st: Goldie, Max and Milk (59E59 Theaters). Max, an unemployed single lesbian, just gave birth with no clue how to nurse her newborn. Can Goldie, an Orthodox Jewish lactation consultant, guide Max into motherhood? Or will conflicting family values get the better of them both? Limited run thru 6/4. (59e59.org)
June 2nd: Corsicana (Playwrights Horizons; Mainstage Theater). In this world premiere production, a woman with Down syndrome and her brother find themselves unmoored following their mother's death. Enter a close family friend who introduces them to a recluse artist and a story unfolds about caretaking and caregiving. Limited run thru 7/10. (playwrightshorizons.org)
June 14th: Between the Lines (Second Stage's Tony Kiser Theater). In this new musical, school newcomer Delilah seeks comfort in the pages of her favorite book where she feels understood. But as fantasy and reality begin to blur, she has to confront whether she alone has the power to rewrite her own story. Strictly limited run. (betweenthelinesmusical.com)
July 7th: Seagull (NYU Skirball). Elevator Repair Service returns with Anton Chekhov's classic about artists in life and love. Blurring the line between the play itself and an informal chat with the audience, ERS's venturous approach to the text twists truth into lies and fact into fiction as actors become characters who become actors who become characters. Limited run thru 7/31. (nyuskirball.org)