With exhibits, sightseeing, fun for kids, concerts, and nightlife, there's tons going on in New York in October and we've got the best of it. (It's a great month for visiting, with the leaves turning, mellow weather, and lots and lots of activities.)
October Things to Do in NYC: Exhibitions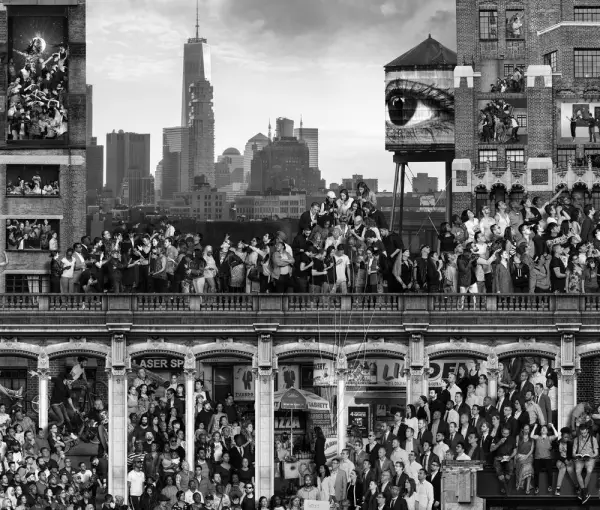 JR (French, born 1983). The Chronicles of New York City, 2018–19 (detail). Dimensions variable. © JR-ART.NET.
(10/4-5/3/2020) Street artist and photographer JR is the subject of the Brooklyn Museum's major exhibition Chronicles. Discover the over 15-year career of the subversive artist who brings art into communities through his large-scale photography installations in public places. Dioramas, photographs, and film footage from the artist's Oscar-nominated documentary Faces Places will be on view in this exciting retrospective. The exhibition also introduces JR's new mural in the Great Hall of the museum, called The Chronicles of New York City, which portrays over 1,000 New Yorkers the artist interviewed and photographed in summer of 2018. 200 Eastern Pkwy., 718-501-6354, brooklynmuseum.org
PLUS
(Now-1/5/20) Experience the past, present, and future of fashion all at once at the Brooklyn Museum this summer. Pierre Cardin: Future Fashion celebrates the French designer who embodied the Space Age and futuristic concepts in his designs. A living legend at 97, this is the first retrospective of Cardin's work hosted in New York for 40 years. It holds over 170 objects, dynamically displayed, collected from the Pierre Cardin archive, including recent work that feels every bit as vital as Cardin's historic designs. The show also shows how Cardin designed outside the realm of fashion, crafting "couture furniture," lighting, and even cars. Don't miss the fashion that literally lights up, arranged in the exhibit's back room. brooklynmuseum.org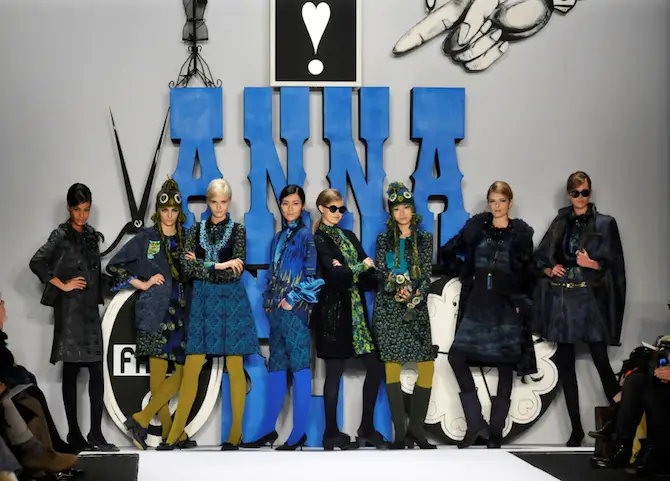 Photograph by Thomas Lau, courtesy of Anna Sui.
(9/12-2/23/2020) Opening September 12 during New York Fashion Week, The World of Anna Sui celebrates one of the country's top designers at the Museum of Arts and Design . The 75 fashion looks on display in this exhibition will showcase Anna Sui's decades-long career, beginning with the groundbreaking fashion show in 1991 that introduced the world to her one-of-a-kind eclectic aesthetic.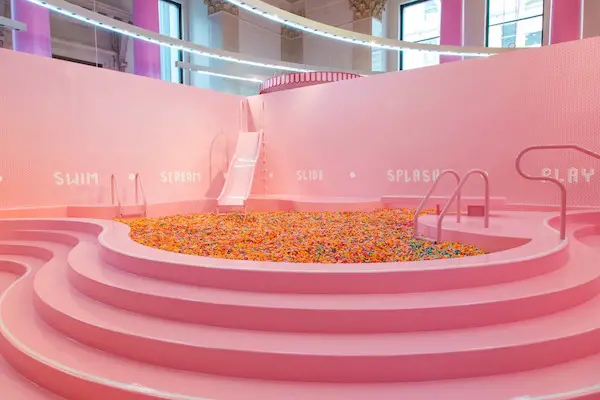 The popular pop-up the Museum of Ice Cream returns. Tickets start at $39, on sale Oct. 9.
(Now-1/3/20) The most significant site of the Holocaust, Auschwitz was not a single entity, but a complex of 48 concentration, forced labor, and extermination camps, at which 1 million Jews—and tens of thousands of others—were murdered. Auschwitz. Not long ago. Not far away., a new exhibition at the Museum of Jewish Heritage—A Living Memorial to the Holocaust, explores the legacy of history's deadliest mass murder site. More than 700 original objects and 400 photographs are on display, many for the first time in North America. Among the artifacts: personal possessions, fragments of a barrack, a gas mask used by the SS, and an original German-made Model 2 freight wagon used for the deportation of Jews to the ghettos and extermination camps in occupied Poland.
(Second half Now-1/5/20) Implicit Tensions: Mapplethorpe Now at The Solomon R. Guggenheim Museum. Robert Mapplethorpe, one of the most critically acclaimed and controversial American artists of the late 20th century, is represented in great depth in the Guggenheim's collection. In 1993 the museum received a generous gift of approximately two hundred photographs and unique objects from the Robert Mapplethorpe Foundation, creating one of the most comprehensive public repositories in the world of this important artist's work. In 2019, 30 years after the artist's death, the Guggenheim will celebrate the sustained legacy of his work with a yearlong exhibition in two sequential parts in the museum's Mapplethorpe Gallery on Tower Level 4.
(Ongoing) Faith and Empire at the Rubin Museum. Religion has influenced and empowered countless political leaders throughout history, and Tibetan Buddhism is no exception. "Faith and Empire: Art and Politics in Tibetan Buddhism" is the first exhibition of its kind to explore Tibetan Buddhism's dynamic political role in the empires of Asia from the 7th to the early 20th century. Artwork highlights include a set of 8th-century gilt-silver drinking vessels from the Tibetan Empire; an early 13th-century wrathful icon made of silk and ornamented with tiny seed pearls; a 4 ½-foot-tall 680-pound gilt-bronze bodhisattva from the early 15th-century Ming court; and a 19th-century 8-feet-wide Mongolian depiction of the final battle against the heretics and nonbelievers. The exhibition is arranged chronologically, beginning with the Tibetan Empire in the 7th century, and includes sections on the Tangut kingdom of Xixia, the Mongol Empire, the Chinese Ming dynasty, the rule of the Dalai Lamas, and the Manchu Qing dynasty.
(Permanent) The Jim Henson Exhibition at the Museum of the Moving Image will celebrate the life and legacy of the famed Muppet creator, exploring both his prolific career and the enduring effect his work has on pop culture to this day. Visitors can expect to learn more about the creation of such beloved works as The Muppet Show, Sesame Street, Fraggle Rock, The Dark Crystal, and Labryinth, as well as to discover the cutting-edge experimental works Henson made throughout his career.
(Permanent) The Museum of the City of New York presents NY at Its Core. Ten years in the making, New York at Its Core presents the compelling story of New York's rise from a striving Dutch village to today's "Capital of the World." The exhibition captures the human energy that drove New York to become a city like no other and a subject of fascination the world over. Entertaining, inspiring, important, and at times bemusing, New York City "big personalities," including Alexander Hamilton, Walt Whitman, Boss Tweed, Emma Goldman, JP Morgan, Fiorello La Guardia, Jane Jacobs, Jay-Z, and dozens more, parade through the exhibition.
(10/1-10/31) Bring on Archtober 2019. New York's annual Architecture and Design Month, now in its seventh year, is a celebration of all things architectural. This year's festival features over 150 events, from lectures to activities to exhibitions.
October Things to Do in NYC: Comedy
(10/11) SNL's Rob Schneider at Carolines.
PLUS
(10/4-10/5) Leonard Ouzts at Gotham Comedy Club.
(10/12-10/13) David Cross: Shootin the S--- (Seein' What Sticks) at Union Hall.
October Things to Do in NYC: Kids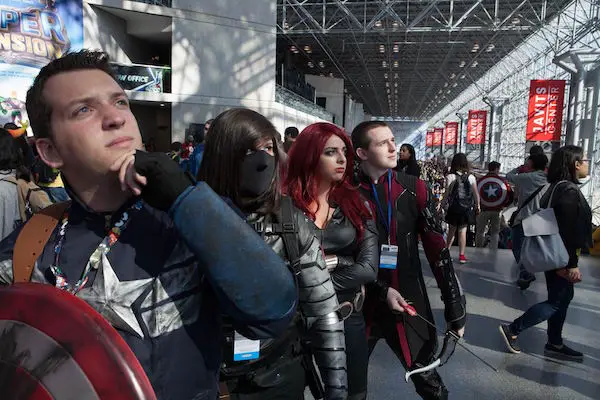 (10/3-10/6) For kids and adults alike, New York Comic Con returns to the Javits Center! This year's guests include AntMan's Paul Rudd, Frank Miller, Star Trek's Nichelle Nichols, LOTR and Stranger Things' Sean Astin, Doctor Strange's Benedict Wong, Star Wars: The Empire Strike Back's Billy Dee Williams, and more to be announced. If you can't get enough of all things comics, don't miss New York's own Midtown Comics, with three locations (Times Square, Grand Central, and downtown) and an incredible selection that includes hot new comics, graphic novels, and loads of back issues. newyorkcomiccon.com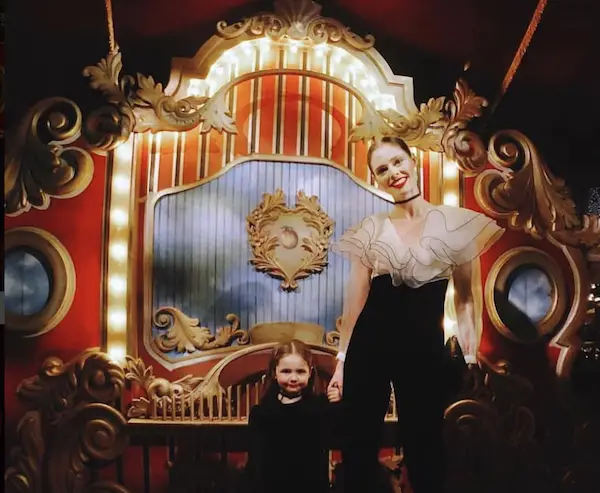 (10/12-2/2/20) Big Apple Circus at Lincoln Center's Damrosch Park is back, and while it's still appealing for kids, it's gotten a makeover, making a concerted effort to appeal to young and old alike, with a selection of high end cocktails now on sale, a VIP tent, new performers, and more. bigapplecircus.com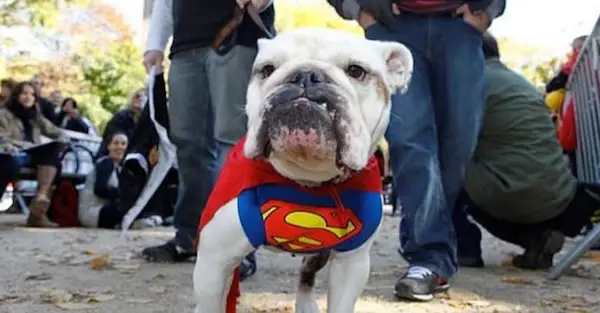 (10/20) The Annual Tompkins Square Halloween Dog Parade. Pooches let their alter-egos shine, putting on some of the cutest and most creative costumes you've ever seen at the annual Tompkins Square Halloween Dog Parade. CNN calls it "the largest dog costume parade in the world" with hundreds of dogs in costumes and thousands of spectators. The London Guardian says "It's Barkin' Mad." This year's parade contestants will be competing for thousands of dollars in prizes. East River Park Amphitheater located along side the FDR at Grand Street in East River Park. 11am-3pm. FREE. No need to pre-register your pet!
(10/20) Harvest Homecoming at the Brooklyn Botanic Garden. Discover an old-school fall foliage festival in the heart of Brooklyn—complete with hay rides, lawn games, Brussels sprout bowling, and more! Kids will have a chance to debut their Halloween costumes in a children's parade winding through the Garden. Local kombucha brewers will join cider makers in celebrating their shared love of fermentation, offering both hard and soft cider as well as tastings and demonstrations, and a farmer's market will feature heritage apples from local orchards. 11am-5pm.
(10/27) Children's Halloween Festival at Queens Farm. Dress in costume, boogie down to live country western music, take an autumn hayride, visit a Haunted House, and enjoy pony rides and a seasonal petting zoo. Find your way out of The Amazing Maize Maze, take pics with cartoon character look-alikes, and check out the Con Edison Ecology booth for recycling tips and kids' crafts. 11am-4pm. $20. queensfarm.org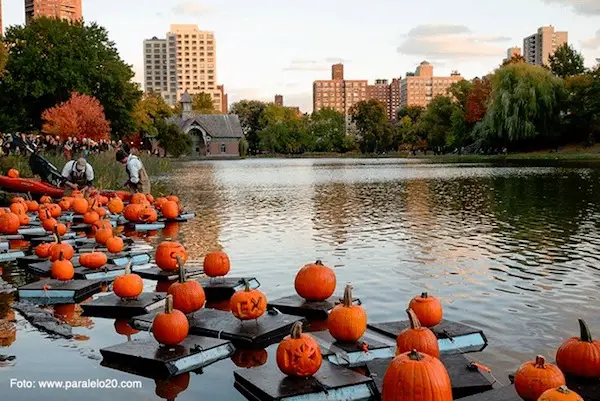 (10/30) It's time for the annual Central Park Halloween Pumpkin Flotilla. FREE!! Bring the whole family and celebrate Halloween in Central Park! Enjoy pumpkin carving, Halloween crafts, spooky stories, a costume parade, a festive pumpkin patch, and the Conservancy's signature Pumpkin Flotilla, which sets sail across the Harlem Meer at twilight. 4pm-7pm.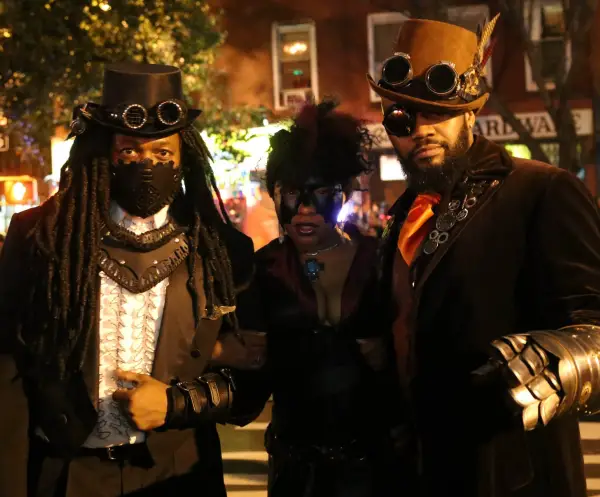 (10/31) The beloved 46th Annual Village Halloween Parade goes off in Greenwich Village at 7pm (it's also televised live on NY1). All those in costume are welcome to join a parade of hundreds of puppets, bands, dancers, artists, and thousands of other New Yorkers in costumes of their own creation in the nation's most wildly creative public participatory event. Alert: only enter the line-up between 6:30 and 8:30pm on Sixth Ave. at Canal St. For spectators, the route follows Sixth Ave. north from Spring St. to 16th St. 7-10:30pm.
(ongoing) Aspiring scientists and astronauts will want to explore the New York Hall of Science in Queens, brimming with interactive exhibits (plus an outdoor playground).
October Things to Do in NYC: Food, Music & Nightlife
(10/1-10/2) Maggie Rogers at Radio City Music Hall.
(10/1) Hillary & Chelsea Clinton: The Gutsy Women Tour at Kings Theatre.
(9/17-10/12) Madonna: Madame X Tour does an intimate residency at the Brooklyn Academy of Music (BAM). Limited tickets still available.
(10/2) Country music darling Carrie Underwood at Madison Square Garden.
(10/2) Ladytron at Brooklyn Steel.
(10/2, 10/4-10/5) Tedeschi Trucks Band at the Beacon Theatre.
(10/3) NPR's Ask Me Another with VIP Guest Cameron Mitchell at The Bell House.
(10/3) Incubus: 20 Years of Make Yourself and Beyond Tour stops at Radio City Music Hall.
(10/4) The Damnwells at The Bell House.
(9/27-10/6) Oktoberfest Tent on the East River. Tickets at zumschneider.com.
(10/5, 10/12) Oktoberfest Saturdays are brunch time at LES's Loreley Beer Garden, from 10am-4pm. Free ceremonial keg tapping at 1pm. Specials: $2 off rose mimosas, $15 one liter steins from 10am-2pm, select Happy Hour all day and night, $2 off select 1/2 liter drafts and glass of wine all day and night, $15 select one liter craft beer steins all day and night.
(10/5) Elsie Fest at Central Park SummerStage is back!
(10/5-10/6) EEEEEATSCON at Forest Hills Stadium.
(10/6) Lower East Side Pickle Day 2019.
(10/6-10/7) Phil Collins-Still Not Dead Yet Tour stops at Madison Square Garden.
(10/8) Chance the Rapper at Madison Square Garden.
(10/8) Steely Dan at the Beacon Theatre.
(10/10-10/13) The New York City Wine and Food Festival (NYCWFF) will feature more than 80 events, including tastings, classes, celebrity talks, and parties.
(10/11) Bon Iver with Yo La Tengo at Barclays Center.
(10/11-10/13) The New York Coffee Festival returns to the Metropolitan Pavilion.
(10/12) Wilco at Radio City Music Hall.
(10/12) The ultimate Diwali event is a daylong festival on Saturday, October 12 at Times Square. Some of Indian music's most celebrated performers will rock out on the main stage. 46-48th Streets & Broadway, diwalitimessquare.com
(10/4-10/20) New York African Restaurant Week Festival.
(10/13) Sara Bareilles: Amidst the Chaos Tour at Madison Square Garden.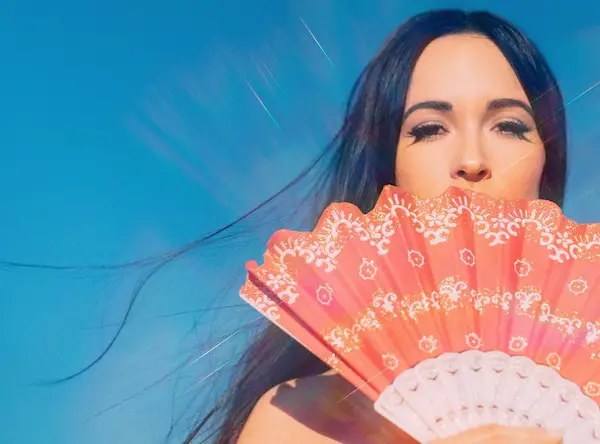 (10/15-10/16) Kacey Musgraves at Radio City Music Hall.
(10/19) The Original Misfits at Madison Square Garden.
(10/14-10/15) Post Malone at Madison Square Garden.
(10/15) The Black Keys Let's Rock Tour with Modest Mouse and Jesse Wilson at Barclays Center
(10/25) Billy Joel at Madison Square Garden.
(10/30) Sleater-Kinney at Kings Theatre.
(10/31) Dumboween
(10/31) Evolve, Cindy Cane, Ghost Funk Orchestra, Vamanos at Rough Trade
Figuring out what to do for Halloween? Explore our Halloween in NYC 2019: Scary Good Times for ideas!
Things to Do in New York in October: Sightseeing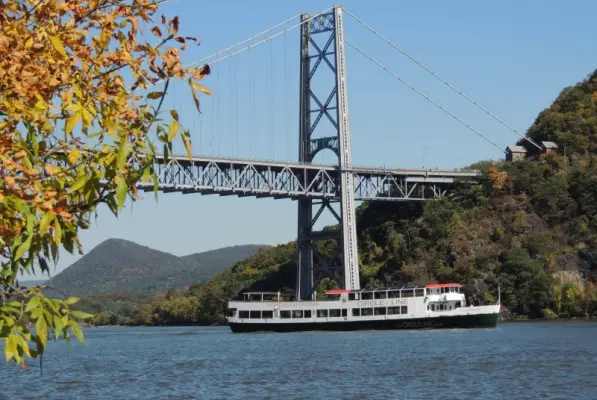 (10/5-10/6, 10/12-10/13, 10/19-10/20, 10/26-10/27) Take advantage of Circle Line's Bear Mountain Cruise, or as it has come to be known by many, the Oktoberfest Cruise. Peak fall foliage, live bands, craft vendors, and the largest pretzels known to mankind all welcome you to a hoppy universe far away from the daily grind. You can burn off all those beer and brats, plus stock up on fresh air, with a gorgeous three-hour hike along one of the 50 hiking trails in Bear Mountain State Park. They'll be setting sail Columbus Day, too. $65 adults, $52 kids. Boards 8:30am sharp. Pier 83, W. 42nd St. and 12th Ave., NY, 212-563-3200, circleline42.com, viator.com
PLUS
(10/24) Celebrate United Nations Day with a visit to the UN Headquarters complex in midtown. Weekday tours provide access to the stunning art and architecture at the newly renovated UN, in addition to insight into the organization's vast array of initiatives. There's even entry to the General Assembly, where all 193 members states are represented and negotiate.
See New York City as your own private theater! Take THE RIDE! Here's a coupon!
The One World Observatory is open, see October from 100 floors high!
Check out the hottest spots to eat and drink in the Flatiron District and Williamsburg with Like a Local Tours.
Visit the sites of Ghostbusters, Friends, Seinfeld, Trainwreck, Gossip Girl, Sex and the City, and many other NYC film sites with On Location Tours.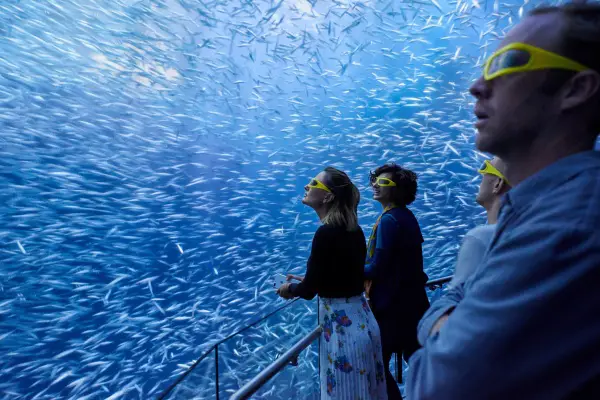 Immerse yourself in the deep, dark depths of the ocean, where Humboldt squid fight to the death, 50 foot whales ride overhead, play with sea lions, navigate a sea kelp maze and more at National Geographic Encounter: Ocean Odyssey! Here's a $10 off coupon!
Ripley's Believe It or Not! Odditorium brings people of all ages face-to-face with the world's most unbelievable curiosities. With 18,000 square feet of astonishing artifacts and exciting interactive exhibits. Check out their new escape room, Ripley's Relic! Here's a coupon!
Explore New York City from the best vantage points with Helicopter Flight Services Tours. Choose from four different itineraries.
(Ongoing) See the most famous NYC landmarks on both the Hudson and East Rivers, plus breathtaking views of Manhattan's downtown skyline, with Circle Line's Landmarks Cruise!
(10/18-10/20) Unique spaces—indoors and out—are a big part of what makes NYC so special. To feel like a total insider, check out the 17th Annual Open House New York (OHNY) Weekend, a celebration of architecture and urban design all across the city. Visitors have the chance to check out 250 sites in all five boroughs along with tours, talks, and explorations. You'll get landscape architecture, National Park Service landmarks, and cultural destinations. Most visits are free, some sites and tours require advance reservations and may charge a nominal fee. Citywide, ohny.org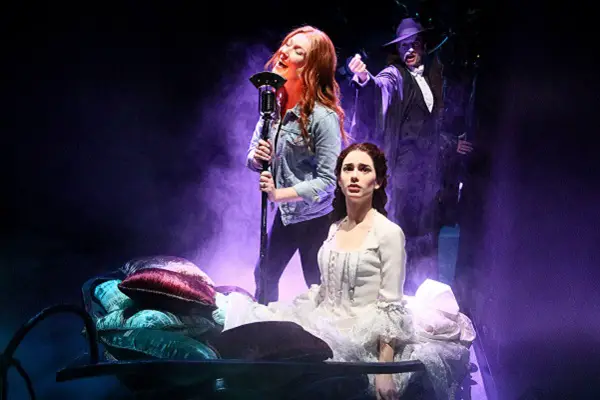 (New!) Madame Tussauds New York Presents Broadway. Take a magical journey starting with a cocktail at the Broadway Bar, and then traveling through a kaleidoscope of your favorite musicals. Enter the world of Andrew Lloyd Webber's Phantom of the Opera, Joseph and the Amazing Technicolor Dreamcoat, Evita, Sunset Boulevard, and Cats. You can sing "Memory" with Grizabella the "Glamour Cat" and wear the Dreamcoat yourself as you become a Broadway star. The Phantom of the Opera will also guide you through this dazzling backstage experience, and perhaps do a little singing himself along the way. Live actors will be on hand to enhance the rush both on- and offstage.
(Ongoing) Get the full stadium experience with Yankee Stadium Tours, which offers exclusive access to New York Yankee historic spots like Monument Park, The Great Hall, and even down to the dugout. The daily tours also bring you close to baseball artifacts like Babe Ruth's bat, Lou Gehrig's jersey, and rings and trophies representing the Yankees' 27 world championships.
(Ongoing) A shout out to A Slice of Brooklyn Tours, as they celebrate their 13th anniversary. They continue to bring locals and tourists alike the best Brooklyn Pizza, Christmas Lights, Chocolate Tours, and more. Founded by Brooklyn native and travel lover Tony Muia, the company has received Certificates of Excellence from TripAdvisor for the past six years! All tours conveniently depart and return to Union Square! Congratulations! Book your tour today!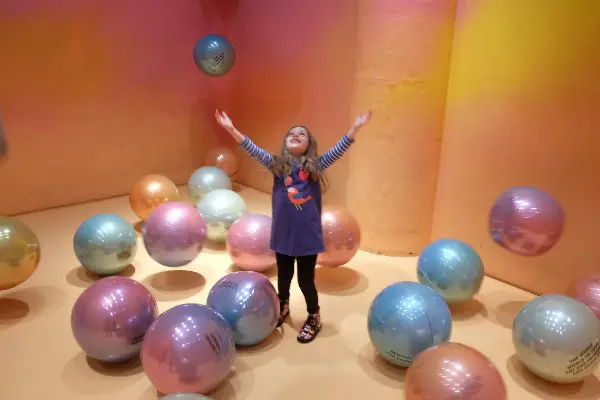 (Now-Nov. 30) Just extended! Color Factory, a massive interactive art space, began in August 2017 in San Francisco. Wildly popular, the project has set up shop in SoHo and is sure to inspire lines as long as the cronut did at nearby Dominique Ansel Bakery. Designed by a wide spectrum of artists, Color Factory walks visitors through 16 rooms devoted to the wonder of color. You're invited to compliment someone using color words, discover your signature color, and read wishes for the world written by NYC school children on varicolored balloons. Each room is equipped with a camera that can take a picture of you and send it to your phone: the better to post with! 251 Spring St., [email protected],colorfactory.co, @colorfactoryco
Things to Do in New York in October: Ongoing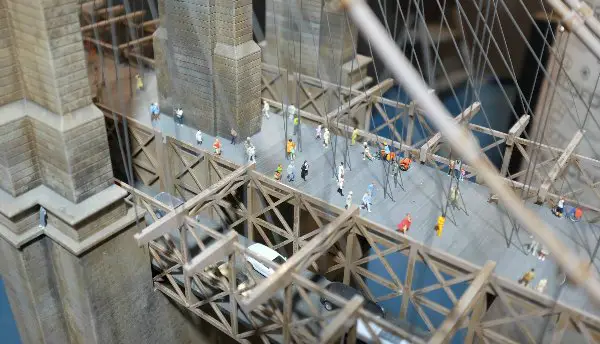 Explore NYC in miniature at Gulliver's Gate.
Visit the sites of Ghostbusters, Friends, Seinfeld, Trainwreck, Gossip Girl, Sex and the City, and many other NYC film sites with On Location Tours.
Grab a photo with Taylor Swift, One Direction, Lady GaGa, JLo, and more at Madame Tussauds New York. Here's a coupon!
Ripley's Believe It or Not! Odditorium brings people of all ages face-to-face with the world's most unbelievable curiosities. With 18,000 square feet of astonishing artifacts and exciting interactive exhibits. Check out their new escape room, Ripley's Relic! Here's a coupon!
Explore New York City from the best vantage points with Helicopter Flight Services Tours. Choose from four different itineraries.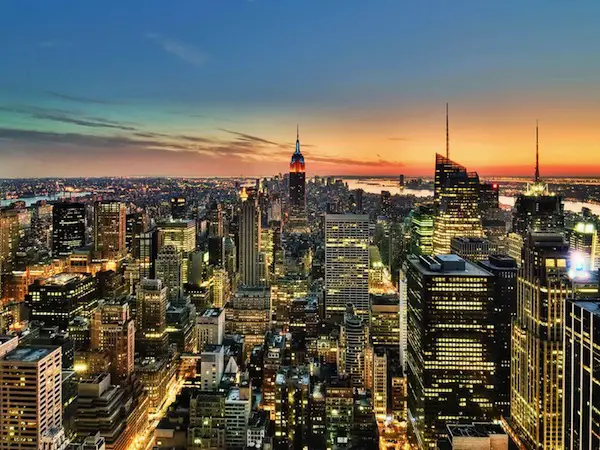 Bring a loved one to take in the breathtaking view at Top of the Rock.
New York Weather in October
For many New Yorkers, October is the best month of the year. There's a crispness to the air, it's usually dry, fall foliage is peaking, and extreme weather is usually far away. Highs average 70°F (20°C) on October 1st and cool down to 52°F (11°C) by Halloween, October 31st. Average lows overnight go from 53°F (12°C) at the month's start all the way down to 45°F (7°C) by month's end. There's rain on about 10 days, but it usually isn't heavy—4 inches in total precipitation is scattered across the month, which is usually a little drier than September. Bringing an umbrella can't hurt, and you'll want a nice jacket. And maybe a second jacket purchased at a deep discount from Century 21?