April is brimming with culture in NYC. A new exhibit on Studio 54 comes to Brooklyn Museum, The New York Botanical Garden hosts its popular annual Orchid Show, the New York International Auto Show returns to the Javits Center, jewelry fans flock to the Museum of Arts and Design for its annual LOOT shopping event, and much more!
Things to Do in New York in April: Exhibits
Guy Marineau (French, born 1947). Pat Cleveland on the dance floor during Halston's disco bash at Studio 54, 1977. (Photo: Guy Marineau / WWD / Shutterstock).
(Now-7/5) Studio 54: Night Magic. It's hard to believe that Studio 54, the mecca of the disco era, lasted just 3 years. After its opening on April 26, 1977, the legendary midtown club quickly achieved iconic status. Celebs from Andy Warhol to Farrah Fawcett flocked to this outrageous and exuberant party scene. By February 1980, the club was shut down, but its legacy remains vital 40 years later. A new exhibition at the Brooklyn Museum, Studio 54: Night Magic uses photographs, drawings, film, and fashion to document how this nightclub came to reflect a particular moment in the cultural history of New York City. The exhibition design parallels that of the club itself and features a soundtrack of disco hits like Chic's "Le Freak" and Gloria Gaynor's "I Will Survive."
PLUS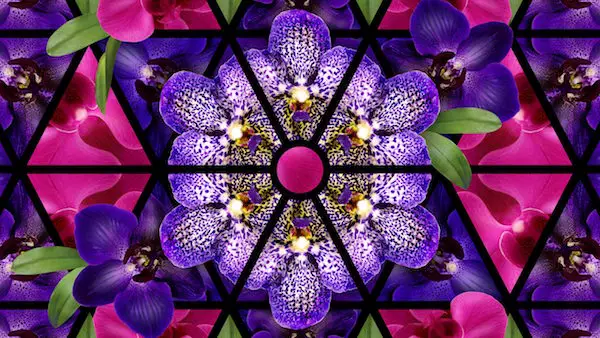 (Now-4/19) The Orchid Show: Jeff Leatham's Kaleidoscope at The New York Botanical Garden. The 18th annual Orchid Show will feature the dazzling floral creations of Jeff Leatham, the famed artistic director of the Four Seasons Hotel George V, Paris and floral designer to the stars. Leatham's bold and colorful vision will unfold through captivating installations transforming each gallery in the historic Enid A. Haupt Conservatory into a different color experience, like a turn of a kaleidoscope. See dramatically arranged orchids in arches of deliberate hues delivering a tunnel effect, along with other design surprises featuring thousands of orchids—both rare and iconic—from the garden's renowned collections and the finest growers in the world. nybg.org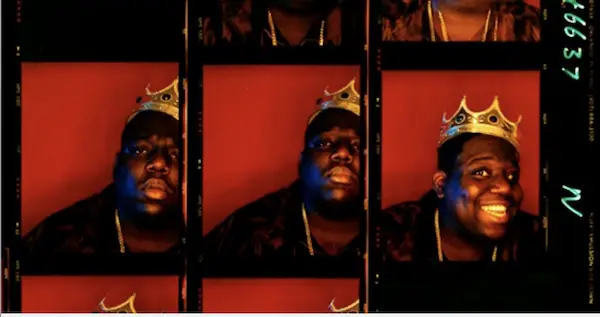 Image: Barron Claiborne, Biggie Smalls, King of New York, Wall Street, New York, 1997.
(Now-5/18) The International Center of Photography recently moved into the Lower East Side's Essex Crossing at 79 Essex Street. There are four new exhibits running at the same time-Tyler Mitchell: I Can Make You Feel Good, which explores ways to interpret Black identity in a positive light; Contact High: A Visual History of Hip-Hop, featuring a collection of portraits of some of the biggest names in hip-hop back from past to present including Notorious B.I.G., and others; Lower East Side: Selections From the ICP Collection, and finally James Coupe: Warriors, using the cult classic 1979 film to explore contested notions of community, race, gender, and class in the 21st century.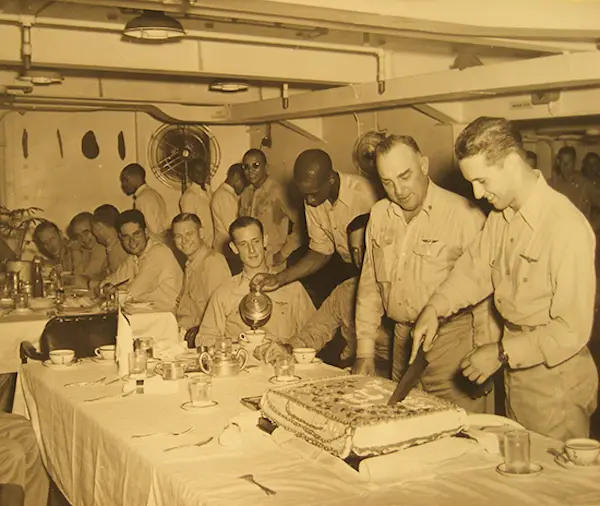 Dinner and cake in Intrepid's wardroom in October 1944. Photo from National Archives and Records Administration.
(Ongoing) Making a beautiful cake is pretty challenging, but what if you had to make it on a Navy ship, for a crew of thousands? The Intrepid Sea, Air & Space Museum's new exhibition, Navy Cakes: A Slice of History, explores the history of naval personnel and their incredible cakes.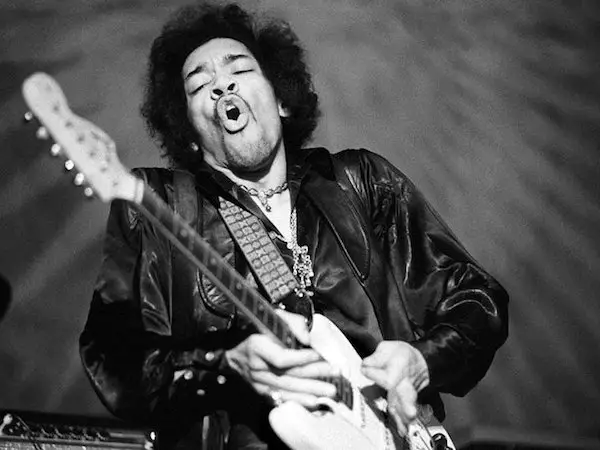 Baron Wolman. Jimi Hendrix performs at Fillmore Auditorium, San Francisco, February 1, 1968. Gelatin silver print. Iconic Images/Baron Wolman.
(Now-8/23) Bill Graham and The Rock & Roll Revolution at the New-York Historical Society. Delve into the world of Bill Graham (1931–1991), one of the most influential concert promoters of all time. Bill Graham and the Rock & Roll Revolution explores the life and work of the legendary music impresario who worked with the biggest names in rock music—including the Grateful Dead, Jefferson Airplane, Jimi Hendrix, Santana, Led Zeppelin, and the Rolling Stones—and launched the careers of countless music luminaries at his famed Fillmore Auditorium in San Francisco and the Fillmore East in New York City. Unique to New-York Historical is a special, immersive audio experience, providing a musical tour through the exhibition with songs by rock superstars Aerosmith, Blondie, David Bowie, Cream, the Doors, Janis Joplin, Tom Petty, and Neil Young, among others.
(Permanent) The Jim Henson Exhibition at the Museum of the Moving Image celebrates the life and legacy of the famed Muppet creator, exploring both his prolific career and the enduring effect his work has on pop culture to this day. Visitors will learn more about the creation of such beloved works as The Muppet Show, Sesame Street, Fraggle Rock, The Dark Crystal, and Labryinth, as well as discover the cutting-edge experimental works Henson made throughout his career.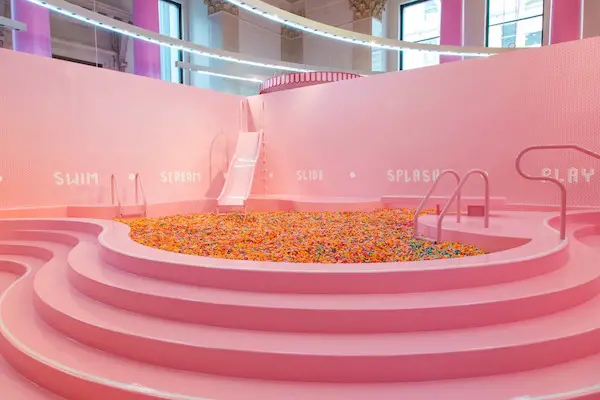 (Ongoing) The popular pop-up the Museum of Ice Cream returns. Tickets start at $39.
(Ongoing) The most significant site of the Holocaust, Auschwitz was not a single entity, but a complex of 48 concentration, forced labor, and extermination camps, at which 1 million Jews—and tens of thousands of others—were murdered. Auschwitz. Not long ago. Not far away., a new exhibition at the Museum of Jewish Heritage—A Living Memorial to the Holocaust, explores the legacy of history's deadliest mass murder site. More than 700 original objects and 400 photographs are on display, many for the first time in North America. Among the artifacts: personal possessions, fragments of a barrack, a gas mask used by the SS, and an original German-made Model 2 freight wagon used for the deportation of Jews to the ghettos and extermination camps in occupied Poland.
(Ongoing) You can experience the world of history's most famous spy at Driven: 007 x SPYSCAPE, a new exhibition inside New York's spy museum, SPYSCAPE. This immersive exhibition brings you into the Bond universe with sets, props, and insights about the creation of the ageless secret agent. Among the highlights: an Aston Martin DB5, the lab of Quartermaster (or Q), M16's gadget master, concept art from Oscar-winning production designer Sir Ken Adams, and an exploration of 2012 Bond film Skyfall's unforgettable final scene.
PLUS
(4/20-4/26) LOOT: 2020 at the Museum of Arts and Design. Now in its 20th edition, LOOT presents a cross-section of the most exciting cutting-edge art jewelry designs while offering the public a rare opportunity to meet and acquire pieces directly from some of the most skilled creators in the field. Opening night is a benefit.
Things to Do in New York in April: Comedy
(4/9) Jim Gaffigan: Pale Tourist Tour at Radio City Music Hall.
PLUS
(4/1-4/4, 4/23) Ali Wong: The Milk & Money Tour at the Beacon Theatre.
(4/7-4/11) SATC's Mario Cantone at Cafe Carlyle.
(4/10-4/11) Gina Yashere at Gotham Comedy Club.
(4/17) Jared Fried at Gotham Comedy Club.
(4/24-4/25) Chelsea Lately star and author of Has Anyone Seen My Pants Sarah Colonna at Gotham Comedy Club.
(4/30-5/20) Samuel Comroe at Gotham Comedy Club.
(Ongoing) Check out the hottest new comedy talent at LOL Times Square Comedy Club.
Things to Do in New York in April: Kids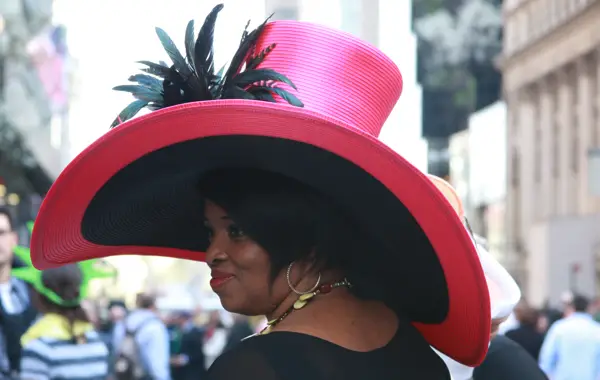 Image: Katy Gartside Photography/Flickr
(4/12) Easter in New York brings egg hunts, fine brunches, and a bonnet-filled procession down Fifth Avenue that's been a city tradition for nearly a century and a half. Celebrate the holiday in true New York fashion with a trip to the Easter Parade. The tradition dates all the way back to the 1870s, when upper class New Yorkers would stroll down Fifth Avenue after church and show off the fashionable new outfits they'd purchased for the holiday. Traffic shuts down for the parade on Fifth Avenue between 49th and 57th Streets from 10am to 4pm on Easter Sunday, letting festive paradegoers fill the streets in their elaborate Easter finest.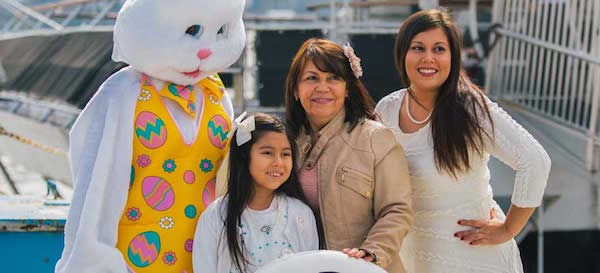 Spirit of New York offers some lovely Easter Sunday Brunch and Dinner Cruises.
PLUS
(4/4, 4/18, 4/25) Operation Slumber at Intrepid Sea, Air & Space Museum. Families can sleep among the aircraft, just like the sailors did. Includes dinner, snack, breakfast, t-shirt, planetarium activities, and more. $99 pp. *April 4, girls only. Reservations required.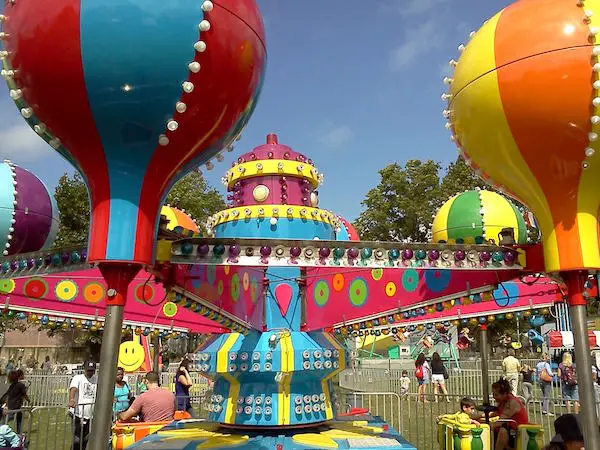 (4/18-4/19, 4/25-4/26) Apple Blossom Children's Carnival at Queens Farm. Put the Spring in your step down on the farm. Tilt-A-Whirl in our orchard and kick off the season with children's carnival rides, midway games & hayrides. Ticket includes admission to the farm grounds, unlimited carnival rides and kids crafts at the Con Edison Ecology booth.
The Apple Blossom Children's Carnival is recommended for ages 2–12. One ticket price for all ages (adults and children). Additional fees apply for hayrides, pony rides and seasonal petting zoo. Food vendors will be at the farm all day. 11am-6pm. Tickets $15 advance, $20 all ages.
For more kids things to do, visit our sister site at nymetroparents.com!
Things to Do in NYC: Food, Music & Nightlife
(4/3-4/4, 4/10-4/11, 4/17-4/18) Orchid Evenings at The New York Botanical Garden. Lose yourself in twists and turns of color as the garden hosts adult-only "Orchid Evenings." Explore famed designer Jeff Leatham's colorful Orchid Show, a kaleidoscopic display of dazzling flowers, while accompanied by performances, signature cocktails, and local flavors from the Bronx Night Market. (The garden is just a 20-minute Metro-North ride from Grand Central Terminal.)
PLUS
(4/1, 4/4, 4/7, 4/11) Madama Butterfly at Metropolitan Opera.
(4/6-4/7) Elton John Farewell Yellow Brick Road Tour stops at Madison Square Garden, followed by
(4/10-4/11) at Barclays Center.
(4/8-4/9) Singer/songwriter Dana Fuchs at The Iridium.
(4/9) Christopher Cross 40th Anniversary at Town Hall.
(4/11) Kenny Wayne Shepard The Traveler Tour stops at Town Hall, with special guest Samantha Fish.
(4/11) NYC Bacon and Beer Classic at Brooklyn Expo.
(4/12) Spring/Easter Market at Grand Bazaar NYC.
(4/15) Lukas Nelson and Promise of The Real at Brooklyn Steel.
(4/16) Kurt Vile and Cate Le Bon at Town Hall.
(4/15-4/26) The Tribeca Film Festival returns.
(4/17-4/18) NYC Craft Beer Festival at The Weylin Building in Williamsburg.
(4/18-4/19) NYC Hot Sauce Expo at Brooklyn Expo Center. The expo features free hot sauce tastings by top hot sauce manufacturers, live entertainment, a Guinness Book of Records Reaper Eating Contest, and Booze & Infuse Cocktail Competition. Spicy snacks from BBQ to vegan foods abound.
(4/18) The Dandy Warhols at The Music Hall of Williamsburg.
(4/19) Canned Heat at The Iridium.
(4/19) NYC Earth Day Pop-Up at Grand Bazaar NYC.
(4/20) The Ed Palermo Big Band at The Iridium.
(4/20) Sheryl Crow at the Beacon Theatre.
(4/22) Vagabon, with Angelica Garcia at the Music Hall of Williamsburg . 16+
(4/22) Sake Cocktails: Sakura Celebration at Japan Society. At this hands-on workshop, sake sommelier Chris Johnson guides participants through mixing original sake cocktail creations inspired by the spring blooms. Each participant will mix and enjoy several sake cocktails and receive a cocktail-making kit to take home after the workshop. 21+
(4/23) It's Take Our Sons and Daughters to Work Day!
(4/26) NYC Vegan Pop Up at Grand Bazaar NYC.
(4/29) Niall Horan, with Lewis Capaldi, and Fletcher: Nice to Meet Ya Tour at Barclays Center.
Things to Do in New York in April: Sightseeing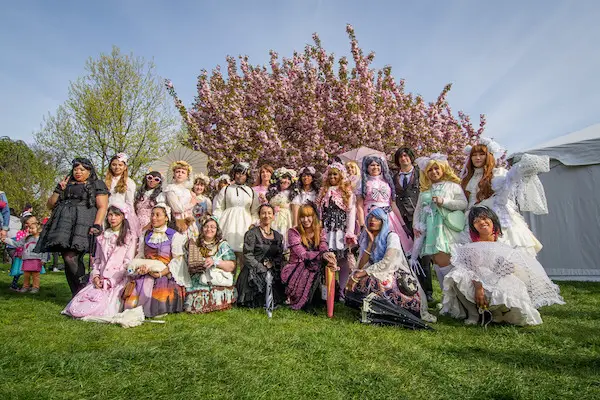 (4/25-4/26) The Sakura Matsuri Cherry Blossom Festival at the Brooklyn Botanic Garden. This beloved cherry blossom festival will be celebrating its 39th anniversary this year. Sakura Matsuri incorporates both modern and traditional Japanese culture, and it offers the perfect opportunity to check out the garden's famous Cherry Esplanade. bbg.org
PLUS
(4/4) New York Tartan Day Parade. Share in Scottish-American pride as the New York Tartan Day Parade celebrates its 22nd anniversary with a march up Sixth Avenue to cap off the festivities of NYC's Tartan Week. Look for legions of pipers, pipe bands, drummers, Highland dancers, Scottish clans, and the ever-popular Scottish dogs. Dundee-born actor and star of HBO's Succession, Brian Cox CBE, serves his second stint as Grand Marshal.
Things to Do in New York in April: Ongoing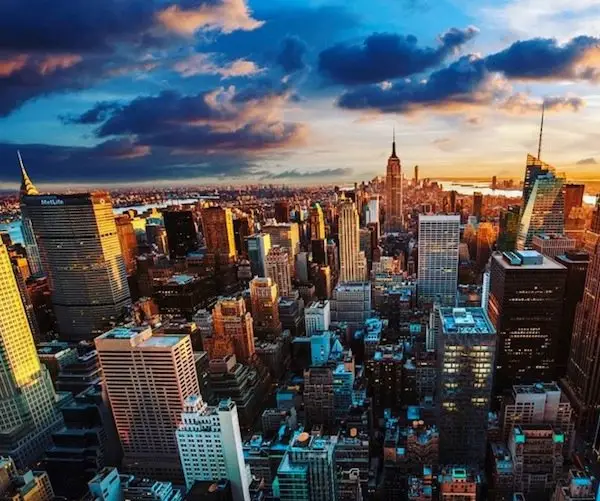 Bring a loved one to take in the breathtaking view at Top of the Rock.
PLUS
(ongoing) Ride 102 stories to the top of the One World Observatory in less than 60 seconds!

(ongoing) Springtime is baseball season! Take a Yankee Stadium Tour!
(New) Check out the New Year's Ball Exhibit at Ripley's New York, where it's New Year's Eve year-round!
Visit the sites of Friends, Seinfeld, Trainwreck, Gossip Girl, Sex and the City and many other NYC film sites with On Location Tours.

Learn more about the fascinating history of New York City's Financial District with Wall Street Walks tours.
Grab a photo with Taylor Swift, One Direction, Lady GaGa and countless others at Madame Tussauds New York.
Ripley's Believe It or Not! Odditorium brings people of all ages face-to-face with the world's most unbelievable curiosities. With 18,000 square feet of astonishing artifacts and exciting interactive exhibits. Here's a coupon!
Weather in New York in April
"April showers bring May flowers," the old saw goes, and you can expect to pay some rain dues this month in New York. In fact, more than half the days in an average April will see rain, although the total precipitation is actually slightly lower than what New York experiences in March. Expect the temperatures to rise steadily, from a start on April 1 with average highs of 56 degrees Fahrenheit (13°C) and average lows right at 40 degrees Fahrenheit (4°C), to highs closer to 66 degrees Fahrenheit (19°C) and lows of 49 degrees Fahrenheit (9°C) by month's end. Days are getting longer, with about 8 hours of light. The heaviest coats can safely be left behind, but you'll still want to pack some outerwear, with sweaters, jackets, and—of course—rain gear. Snow is a longshot by this point in the year. All the great restaurants, museums, galleries, and bars in New York make it easy to entertain yourself indoors, but the odds are you'll have at least a couple of fresh spring days to enjoy the early blooms, and the city's parks coming back to life.
---
Like what you see here? Share it with your friends on Facebook!