The Rubin Museum of Art has declared 2018 as the year of the future, with exhibitions, programs, and experiences that heighten the awareness of past, present, and future.
Feeling anxious? As you enter the Rubin, stop a moment at the lobby installation by Candy Chang in collaboration with James A. Reeves and write your current worry or hope on a card to hang on the installation wall, joining other messages. How does your private sensibility line up with the current mood? Afterward, you may find yourself continuing on your journey through the museum with a sense of relief. You certainly are not alone.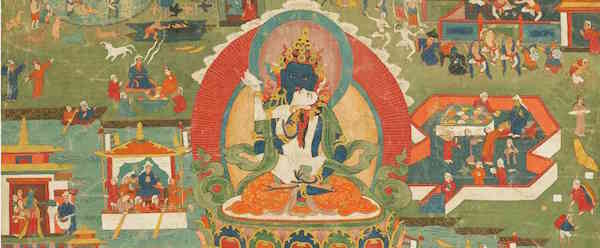 The Second Buddha: Master of Time, on view until January, 2019, gathers paintings, sculpture, augmented reality and animations to delve into the legacy of 8th century Buddhist master Padmasambhava (aka The Second Buddha), who introduced Buddhism to Tibet. On view are magnificent scenes from the master's life painted on cloth; an iron Tibetan ritual scepter, and an unusual portable shrine from Bhutan made of painted and gilded wood with clay figures, small enough so it could be carried around by teaching monks to broaden the reach of Padmasambhav's vision.
The museum's 5thfloor is given over to the work of Shezad Dawood, the Otolith Group and Matti Braun, a three-part exhibit using a range of media that explores A Lost Future. The three are contemporary artists who "dissect layers of time." Although all the works look at the history and future possibilities of Bengal, each deals with time in a different way. Currently, the central gallery space holds Dawood's interactive work, Kalimpong, a virtual reality experience which the visitor views with the assistance of a gallery guide. It's mind-bending and other-worldly, involving virtual travel from the mythic Himalayan Hotel into the mountains, to an adjacent monastery and beyond (including a "visit" with the Yeti). It's great fun, somewhat disorienting, and experienced only with timed tickets that should be purchased ahead.
From June 1-September 17, 2018, the space will hold the work of the Otolith Group: a newly commissioned film about the history and potential future of Nobel laureate Rabindranath Tagore's pioneering art school; starting October 5, 2018, Braun will transform the gallery into an immersive lake visitors can traverse.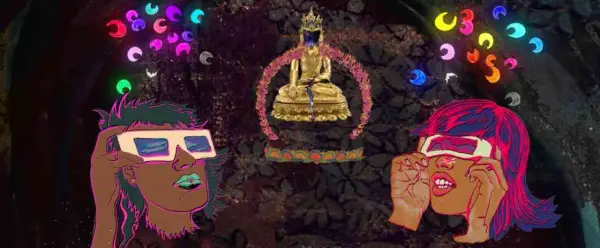 Image Credit: Chitra Ganesh; Dakini Eclipse, 2018; mixed media on paper; 40 x 60 in.; courtesy of the artist.
Also part of the museum's exploration of The Future, Brooklyn-based artist Chitra Ganesh has developed a multi-media, motion-activated work, The Scorpion Gesture, five short video animations that use both the Second Buddha and Future Buddha as departure points. The works are projected amidst traditional artworks. The exhibit's title refers to a gesture that is said to have unlimited power and potential for animation. In May, the artist will take up residency at the Rubin, curating a series of on-stage conversations that investigate ideas such as the future of behavior, the future of storytelling, and the future of the feminine. Some of these talks will be combined with films screened on Friday evenings during Ganesh's residency.
Throughout the year there are opportunities to enjoy music with Spiral Music on Wednesdays from 6-9pm, Rhythms of India on select evenings, and other performances. For help connecting mind and body, meditation sessions take place on Wednesday afternoons and some Saturdays. Other activities include films, dance, and a Slow Art Day Tour on April 14, when visitors will spend a full ten minutes in front of particular works of art to allow them to fully penetrate the senses. Sundays bring special events for families and activities for kids drawn from the spirit of the exhibitions.
Docents offer tours daily at 1 and 3pm, free with the price of museum admission ($15 adult; $10 seniors and students, free for children under 12, and free every Monday for seniors). Fridays from 6-10pm are also free when the museum's lobby-level Café Serai becomes the K2 Lounge with a Happy Hour and a special Pan-Asian menu, along with a martini and wine bar, DJ, thematic gallery tours, and other programs. Café Serai, open daily during museum hours (and can be visited without museum admission), offers coffees, teas, cocktails, sweets, wine, and beer, as well as salads, sandwiches, hummus, and nan, and other dishes, some with a vaguely Himalayan theme, such as lamb biryani and chicken tikka masala, served in a blond-wood space. There is also a delightful, well-curated gift shop.
The Rubin Museum is located at 150 W 17th Street. For more information, visit rubinmuseum.org.