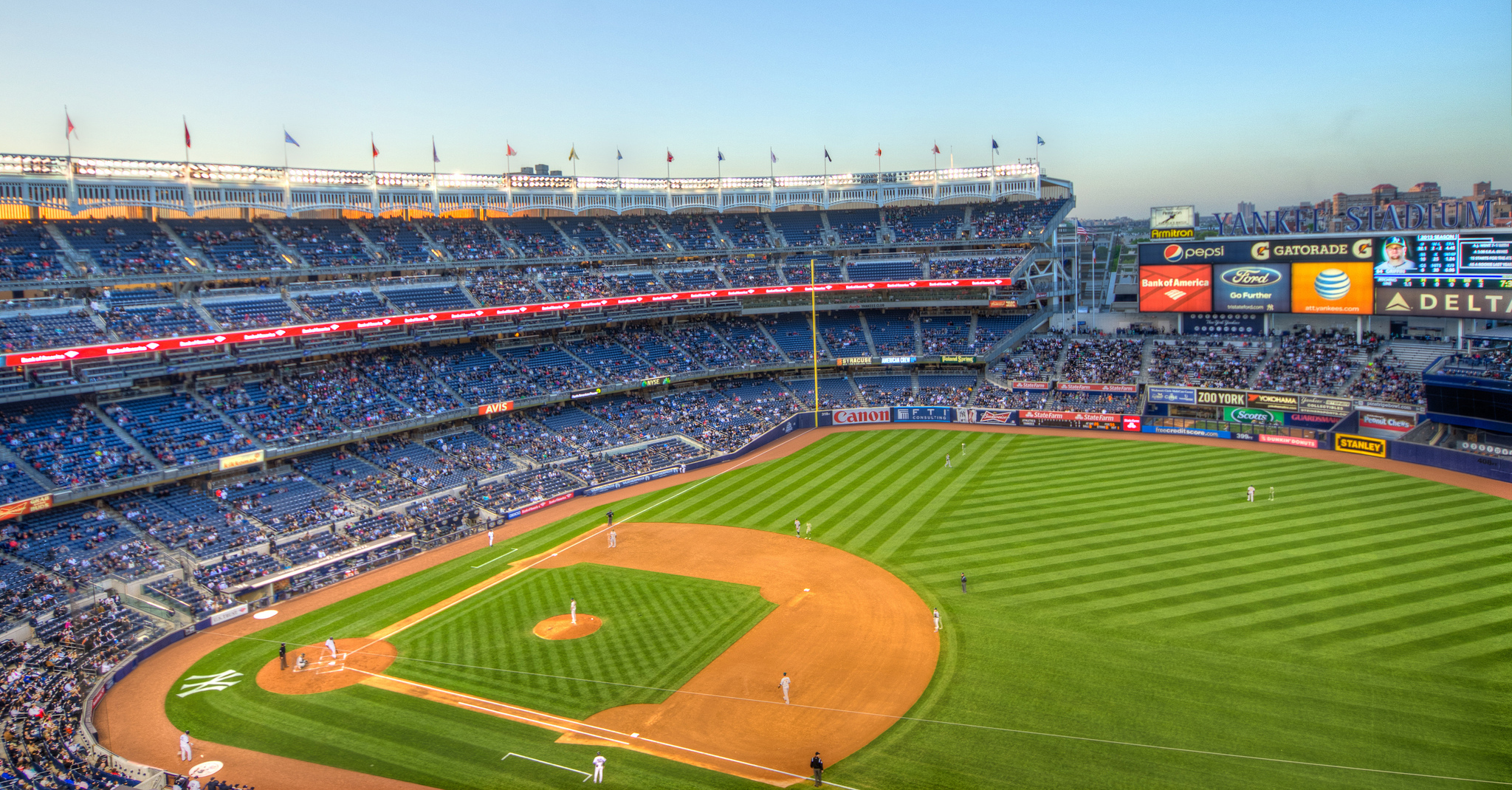 Photo: m01229/Flickr

NYC is home to the Knicks, the Yankees, the Jets, the Rangers, the Mets, the Nets, and the Islanders, so you can bet that there are sporting events happening in the city no matter the season. (There's also soccer, minor league baseball, marathons, and all kinds of college teams.) Find out what sports events in New York City are happening this weekend on City Guide's roundup and then snag some tickets for a game you'll never forget.


Christmas Bazaar Extravaganza - Aviator Sports and Events Center
December 07, 2019 - Brooklyn
Brooklyn Christmas Market OverviewThis holiday market will be held within Aviator's sky mezzanine next door to our full-service sports bar.Local small businesses and vendors will each have their own table to showcase their merchandise.Meanwhile, Aviator Sports will be running public rock climbing, bungee jumping, ice skating, and basketball sessions for an all-out family experience.Entry into the holiday bazaar will be free, there will be no tickets needed.
Register for the 46th Annual Colgate Women's Games Track and Field Series! - Pratt Institute - Brooklyn Campus
December 07, 2019 - Brooklyn
The Colgate Women's Games is the nation's largest amateur track series open to all girls from elementary school through college and beyond. Competitors participate in preliminary meets and a semi-finals at Pratt Institute, Brooklyn on winter weekends, to determine finalists who will compete at the Armory Track, NYC for trophies and educational grants-in-aid from Colgate-Palmolive Company.Our goal is to provide an athletic competition that helps the participating young girls and women develop a strong sense of personal achievement, self-esteem, instill the importance of education and provide a training ground for those who might not otherwise participate in an organized sport.Participation is FREE. There are NO ENTRY FEES OF ANY KIND.Registration Day is a great way to become familiar with the venue, and take home free gifts from Colgate-Palmolive.Please complete an entry form and bring it with you to Pratt to register - visit colgategames.com/rules and click at bottom.There is no online registration available.Entries are not accepted by email, fax, or mail.For additional information visit colgategames.com
Home Vs Indiana Pacers - Madison Square Garden
December 07, 2019 - Tarrytown
Home Vs Indiana Pacers
Girls on the Run NYC Fall 5k - WeWork
December 08, 2019 - Manhattan
Join us on Sunday, December 8, at Icahn Stadium for the Girls on the Run NYC 5k! At Girls on the Run, we inspire girls to be confident, healthy and joyful through a 10-week running based curriculum that ends in our celebratory 5k. Registration is now open to run/walk or volunteer at the event! Pre-5k Activities and day-of registration open at 9 am and the 5k begins at 10:30 am. RUNNERS/WALKERS: Participate in this fun run/walk 5k that starts and finishes at Icahn Stadium, open to youth and adults! VOLUNTEERS: Help support our girls with pre-5k fun activities, at the Start/Finish, and along the course! Note that volunteer arrival times vary from 7:30 am to 9 am, depending on the role.
Denver Nuggets - Barclays Center
December 08, 2019 - Brooklyn
Brooklyn Nets vs. Denver Nuggets
beam CBD Pop-up in Soho - 11 Howard
Through December 15, 2019 - New York
beam is excited to introduce NYC to their line of organic, phytocannabinoid-rich CBD products trusted by some of the worlds most rigorously tested athletes like CrossFit legends Mat Fraser and Tia-Clair Toomey.Throughout the beam pop-ups 3-month duration, all products including the CBD oil, salve infused with lavender and eucalyptus and raw + vegan CBD protein bars are available for sampling and purchase.
Connecticut Tigers at Staten Island Yankees - Richmond County Bank Ballpark
Through June 18, 2109 - Staten Island
Connecticut Tigers at Staten Island Yankees
Lowell Spinners at Brooklyn Cyclones - MCU Park - Coney Island
Through August 01, 2109 - Brooklyn
Lowell Spinners at Brooklyn Cyclones

Want free advice on what to see and do in NYC? Join our Facebook group Everything to Do NYC, a place for people to ask questions and get tips on how to make the most of the city.