He's an Oscar-winning filmmaker, Emmy-winning television creator, best-selling author, and a boon to every talk show with the chutzpah to book him. And now, with his quiver heavy with disgruntled pragmatism, controversy, and hard-core humor, Michael Moore is priming his rhetoric for an unrelenting game of political Whack-A-Mole in his theatrical debut, The Terms of My Surrender. I, for one, cannot wait.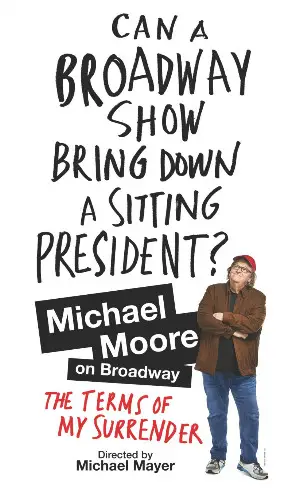 The play's poster poses the question, "Can a Broadway show take down a sitting president?" My initial guess is "no" since the show is only set for a 12-week run (previews begin 7/28 for an 8/10 opening night). However, once it's filmed (and it will be —a personal, but obvious, prediction) and hits TV and the internet…maybe. A girl can dream. Still, seeing Moore live on stage verbally dive-bombing the scary, the inept, the "what's next, dear God," is clearly one of the biggest Broadway must-sees ever.
"I think what the world needs right now is Michael Moore standing on a Broadway stage sharing his hilarious stories and incendiary political perspective, creating the kind of dialogue that can only happen in the theater," said the show's Tony-winning director Michael Mayer (Spring Awakening, American Idiot, Hedwig and the Angry Inch).
Slated to take up residence at Broadway's Belasco Theatre "…just blocks from Trump Tower," this walk on the snarky side of subversive is up for grabs as of today: michaelmooreonbroadway.com.
(FYI: Michael Moore's films include Bowling for Columbine (Oscar), Fahrenheit 9/11, Sicko, and Roger & Me. For television, he created groundbreaking series TV Nation and The Awful Truth. As for Moore's eight books, all made the bestseller list. He is the winner of the John Steinbeck Award, the British Book of the Year Award, and the Palme d'Or at the Cannes Film Festival. In 2005, Time Magazine named Moore "one of the world's 100 Most Influential People.)