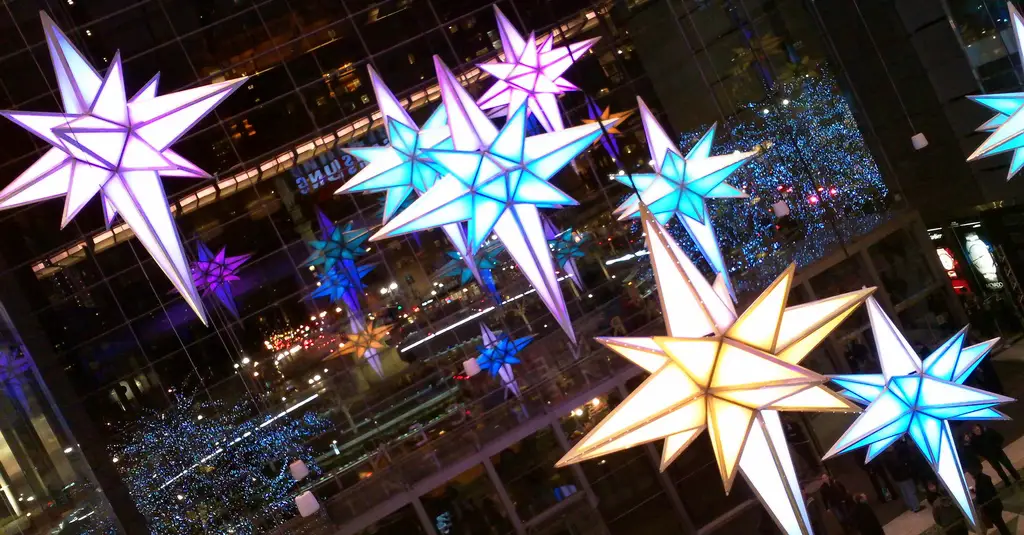 Photo: Shannon McGee/Flickr

New York City takes its seasonal specials and holidays seriously. City Guide's got all the latest and greatest news on the holiday events and specials coming up in New York City this weekend. From scoping out the windows on Saks Fifth Avenue during the Christmas season to catching a round of fireworks on the Hudson on the Fourth of July, you won't miss a thing.


Buffalo Infringement Festival fundraiser - Buffalo's Mohawk Place
March 27, 2020 - St, Buffalo
Buffalo Infringement Festival fundraiser
How to Align Your Purpose and Passion for Profit - Harlem Community Center
March 28, 2020 - New York
Join Diana George, HR Expert and Career Coach and get started on your journey to your most rewarding year in business! Learn my SECRET SAUCE to creating a purpose-driven and profitable business!
Celebrate Women in NYC's Public Markets - pin Jamaica Farmers' Market
March 28, 2020 - JAMAICA
This Women's History Month, celebrate the success of women-owned businesses in New York City's Public Markets!New York Citys Public Markets celebrate the rich history and diverse cultures, communities, and cuisines of the city we love.Join us as we celebrate the Women of Jamaica Farmers' Market! There will be a kick-off ceremony at 2 pm, live music, networking, voter registration and info on training, M/WBE Certification and grants and funding to start-up or expand your own business. Shop the market, network with other women entrepreneurs and get inspired during the 19th Amendment Womens Right to Vote Centennial and Womens History Month!Saturday, March 28th2:00 - 5:00pm at Jamaica Farmers' MarketFREE ADMISSION!Free business services such as advertising placements and marketing consultations will be raffled off to those that attend from Heritage Radio Network, Queens Feasts, Edible Manhattan and EscapeMaker.com. Prizes include:- Free web services for 2 years from Godaddy ($50 Value)- Customized social media plan for a business owner from QueensFeast- Free legal clinic with NELP for 30 minute session with a lawyer- 30 minute photo session by a pro... (read more)
*thelovemaze.com Singles Dating Match In Iconic NYC - St Patrick's Cathedral
March 28, 2020 - New York
Every year, more than five million people of every different nationality and faith enter this magnificent Cathedral. Many of them are tourists. This is a true spiritual landmark that unites people from all over the world. Whats more meaningful than meeting and connecting in this iconic House of Worship to kick off a wonderful partnership?Invite for a virtual date to get to know each other before meeting. Unlock Mazes to see who matches with you fundamentally. Join a Speed Dating Online before you meet offline.Note: A profile and RSVP in LoveMaze are required to attend: https://thelovemaze.com/eventsJoin LoveMaze today for free, UNLOCK MAZES to identify your activity partner, go on Speed Dating Party Online to test compatibility, and start earning MAZE CREDITS to get FREE fun activity driven dating events: https://enter.thelovemaze.com. More info on LoveMaze: https://thelovemaze.com.
DIFFA BY DESIGN - Center 415
Through March 28, 2020 - New York
Design Industries Foundation Fighting Aids's (DIFFA) newly transformed signature annual fundraiser, DIFFA BY DESIGN, is taking New York by storm this March. At an all-new location in the heart of Manhattan, the event will be a 3-day immersive design experience. DIFFA By DESIGN will feature an array of inspiring installations, a cash and carry boutique spotlighting the latest in luxury home accessories, gifts, and original art, topped off with a series of conversations and interactive workshops led by today's top voices in the industry. As with all of DIFFA's events, funds will support the organization's grant-making efforts to benefit those affected by HIV/AIDS.
Fragrance Week on Madison Avenue - Madison Avenue
Through March 28, 2020 - New York
The Fragrance Foundation in association with the Madison Avenue B.I.D, will present the inaugural Fragrance Week on Madison Avenue in celebration of the International Fragrance Day on March 21, with in-store festivities from March 19-28. Participating fragrance brands and retailers who reside in the Madison Avenue B.I.D. between 57th and 86th Streets, will offer an array of sensory and olfactory experiences to inspire customers to discover the artistry and passion of fragrance.Participating stores include Atelier Cologne, Carolina Herrera, Diptyque, Editions de Parfums Frederic Malle, Fueguia 1833, Giorgio Armani, Hermes of Paris, John Varvatos, KILIAN Paris, Marc Jacobs, Ralph Lauren, The House of Creed and The Fragrance Foundation Pop-Up.
Carl Cox Invites: Brooklyn Takeover - Avant Gardner
Through March 29, 2020 - Brooklyn
Carl Cox returns to Avant Gardner for a two-night Brooklyn takeover on March 28th and 29th! Join the King Saturday night as he hosts a multistage affair featuring some of the biggest names in techno.
Carl Cox: House Sessions - Great Hall - Avant Gardner
Through March 30, 2020 - Brooklyn
Carl Cox returns to Avant Gardner for a two-night Brooklyn takeover on March 28th and 29th! Join the King Saturday night as he hosts a multistage affair featuring some of the biggest names in techno.
Earth Celebrations ECOLOGICAL CITY: Art & Climate Solutions Action Workshops - Earth Celebrations @ Sixth Street Community Center
Through May 06, 2020 - Manhattan
Earth Celebrations ECOLOGICAL CITY: Art & Climate Solutions Action Workshops Join creative climate solutions action and collaborate with Earth Celebrations' artists-in-residence creating visual art, giant puppets, costumes and performances to be presented in the culminating Ecological City: Procession for Climate Solutions.Ecological City: Cultural & Climate Solutions Action Project applies the inspirational power of the arts to build community, collaboration and action on climate solution and ecological sustainability initiatives throughout the community gardens, neighborhood and waterfront on the Lower East Side of New York City.ARTS & CLIMATE SOLUTIONS WORKSHOPSFebruary 29 May 6Wednesdays 6pm 9pm | costume with artist Michele Brody Saturdays 12pm 4pm | puppet with artist Lucrecia Novoa*** ECOLOGICAL CITY - Bio Arts Workshops - Making Mycelium, Kombucha and Seaweed Sculpture & Costumes - with bio-remediation artist, Dee Dee MaucherMarch 4, 11, 18 - 6-9pm (separate sign up through link)LOCATION: Earth Celebrations @ Sixth Street Community Center638 E. 6th Street (btw. Aves. C & D) Lower East Side, NYCFREE SIGN UP TO REGISTER | LEARN M... (read more)
Women Crush Wednesdays - Lenox Public
Through December 31, 2020 - New York
Harlem, Late Night Food Menu, Happy Hour, DJ, Hookah, Party, Hip Hop, RnB, Reggae, Afrobeats, Soca, Classics
Blythe Doll - New York
Through November 29, 2021 - City Guide
BLYTHE DOLL CUSTOMIZATION PANELWhen the worlds of fashion enthusiasts and doll collectors collide, Blythe dolls are at the center. These wide-eyed darlings are beloved as a creative dress for fans who love to pose and style their dolls. But with so many fashion options, how does one get started making custom Blythes? Youll learn just how at our Blythe doll customization panel!Ever wonder how to sew your own Blythe doll clothes, resculpt her face, or style her hair? Our panel will take fans through the basics of coordination and customization. With the mini petite Blythe, middie Blythes or even the moveable Neo Blythe doll, you will learn how to make your doll special.From her humble beginnings in the 70s to her modern resurgence in the past few decades, Blythe is about bringing together the style-savvy. Almost every aspect of her can be customized. Her hands, ears, and faceplate can be swapped out to add attitude and personality. Her hair and eyes can be changed to a rainbow of colours and styles to fit any aesthetic. And, of course, there are as many options for her clothing as fans can dream of.With so many choices, a Blythe doll is a blank canvas for the fashio... (read more)

Want free advice on what to see and do in NYC? Join our Facebook group Everything to Do NYC, a place for people to ask questions and get tips on how to make the most of the city.