The character played by Nic Rouleau is described in The Book of Mormon script as "a young, dashing Mormon Missionary…with a big smile on his face" and he is the first post-prologue character onstage at the Eugene O'Neill Theatre. Within seconds of dazzling us with his Oral-B grin, he's pressing an air-doorbell; suddenly the show's signature "Ding, Dong!" and the musical takes off: "Hello, my name is Elder Price, and I/Would like to share with you the/Most amazing book."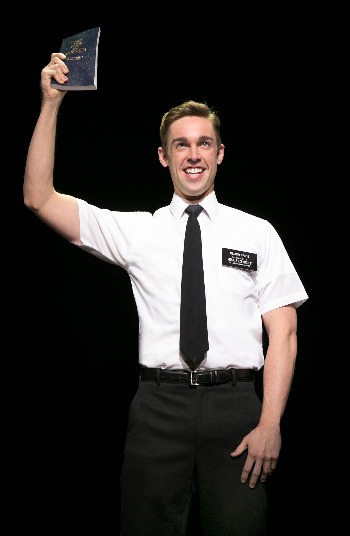 The results are a most amazing show. Written by a most amazing (and irreverent) duo: Trey Parker and Matt Stone, who traveled from South Park to Broadway and walked off with nine 2011 Tonys, including Best Musical. All for sending a couple of innocent Elders—Price and Cunningham—into a small African village where everyone has attitude and conversion seems unlikely.
Back to Elder Price: he's played by Nic Rouleau, a young actor who auditioned for The Book of Mormon without so much as an Equity card, got hired, and zingo!, his Broadway debut. And come July 19th, Rouleau will have played Elder Price for six years opposite 17 Cunninghams and countless ensemble members. Officially, he's the longest running Elder Price, his first gig being Andrew Rannells' standby in the original cast before taking over the role. He's also toured with the show, 10 months in Chicago and a year in London.
As for his current Broadway stint, he says he loves being back in the Big Apple. And he accepted City Guide's invitation to answer a question or two about his madcap, doorbell-ringing life.
GM: With six years more or less dedicated to a single role, how do you keep things fresh?
NR: I try to find something new every night. But what really makes the show unique is the audience. From that first doorbell you sense it. You get cues from the crowd and you run with them.
GM: Was it difficult to cultivate your character?
NR: It was a long journey, because originally as Andrew's standby I wanted to be as close to his performance and mannerisms as possible. So yes, it was a struggle. But I was lucky to have directors like Casey [Nicholaw] and Trey who gave me the freedom to find my own Elder Price.
GM: As an actor, what impresses you most about Book of Mormon?
NR: What I love about it is how open it is in terms of casting. The producers like to give people their Broadway debuts…I might have been the first, but it's an ongoing thing. And it helps that the show doesn't rely on a celebrity name to attract audiences.

GM: Finally, about that smile…

NR: My dad is an orthodontist. My teeth are here and ready…
TIP: Scoring tickets for The Book of Mormon can be a challenge so ordering them in advance is a big help. Also, check out the show's website, which highlights "best availability" days. Bookofmormonbroadway.com