New York knows how to do Thanksgiving. The Macy's Thanksgiving Day Parade is our biggest claim to fame, but close behind come the amazing Thanksgiving dinners served in our hotels and restaurants. Whether you're looking for a traditional bird with all the fixin's, or something a little more haute, dining in or getting to go, we've got a curated list of the best prix fixe dinners and more for Thanksgiving 2022 in New York City.
A CLASSIC NEW YORK THANKSGIVING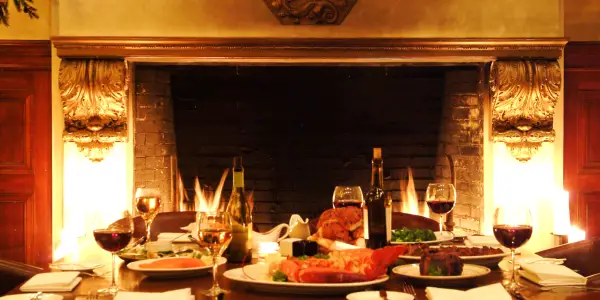 Peter Luger alumni Benjamin Prelvukaj and Chef Arturo McLeod have combined over 30 years of experience to create Benjamin Steakhouse, conveniently located near Grand Central Terminal in the century-old Chemist Club Building. Along with its usual refined Old World service and charm, Benjamin Steakhouse will be offering a Thanksgiving prix fixe. The main entree is traditional Thanksgiving turkey with stuffing, roasted yams, potatoes au gratin, and cranberry relish. For appetizer, you can choose between pumpkin soup, an autumn salad, crab cake, or shrimp cocktail; dessert is a choice of pumpkin pie with vanilla ice cream, carrot cake, or New York cheesecake. $89 per person (not including alcohol, tax, or tip).
A STEAKHOUSE THANKSGIVING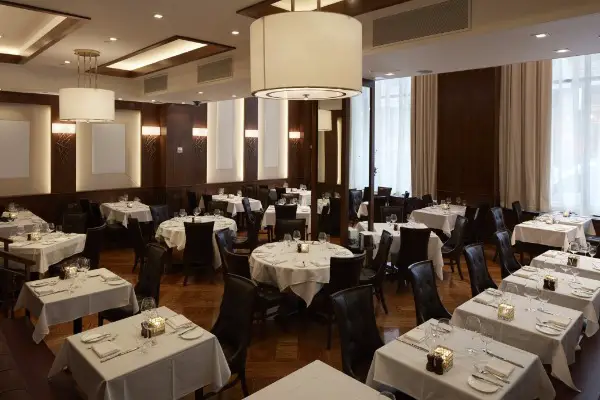 The 2019 Concierge Choice Awards winner for Best Restaurant Experience is Benjamin Steakhouse's spinoff Benjamin Steakhouse Prime. This midtown hot spot combines modern elegance with traditional steakhouse classics, picking up signature standouts from seafood legend The Sea Fire Grill, another sister property (below). This Thanksgiving look for a $89 three-course prix fixe that starts with appetizers like pumpkin soup, burrata, crab cake, or autumn salad; followed by a traditional Thanksgiving turkey with all the fixin's, and carrot cake, New York cheesecake, or pumpkin pie a la mode for dessert.
THE SEA FIRE GRILL'S THANKSGIVING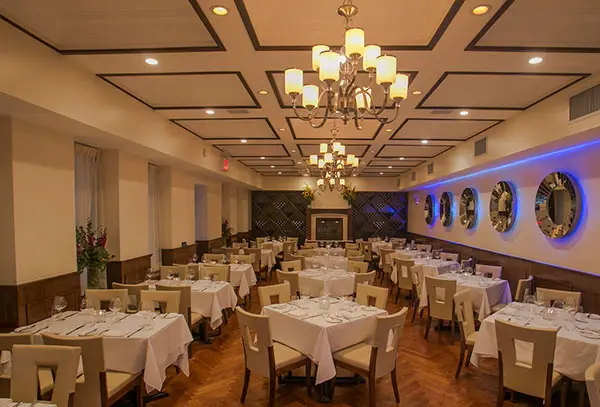 The Sea Fire Grill does for seafood what Benjamin Steakhouse does for beef (hardly a surprise, given the same pros are behind both). For $89 per person, this year's three-course Thanksgiving Day menu includes choice of appetizer (bibb salad, roasted kabocha squash soup, oysters Rockefeller, or beet salad), followed by organic heritage turkey with sourdough stuffing, gravy, cranberry sauce, mashed potatoes, mushrooms, and pearl onions, and finished with tea or coffee and a choice of pumpkin or pecan pie.
AN ELEVATED THANKSGIVING

Located Inside a sweeping space in the architecturally stunning Solow Building, Cucina 8½ offers an elevated experience of rustic Italian cuisine in Midtown West. For Thanksgiving, look for a 4-course prix fixe with insalata mista to start; pasta for a primi course (squash ravioli); cider-brined turkey or porchetta for the main; and pumpkin pie or cannoli for dessert. There are also veggie sides like Brussels sprouts, stuffing, potato (or sweet potato) puree, and cranberry-quince salsa. The prix fixe is $69.50 (not including tax or tip) and a la carte ordering is available as well.
THANKSGIVING ON THE WATER

For an unforgettable Thanksgiving experience, join City Cruises for East River and Hudson experiences. Spirit of New York, offers a buffet dinner on Thursday afternoon. Departures from Chelsea Piers.
PRIX FIXE FEASTS

The Fireman Hospitality Group excels at locations on the west side that run from comfort food to the heights of Italian cuisine. Across from Lincoln Center, Cafe Fiorello will be celebrating Thanksgiving with a multi-course feast. Look for a Prosecco holiday toast to start off, plus fried artichokes, appetizer choices of seafood risotto, butternut squash soup, pear salad, or potato gnocchi; a free-range herb-roasted turkey with all the fixin's; and dessert choices of dark chocolate mousse, pecan pie, or pumpkin pie. ($79 plus tax and tip.) With interiors inspired by a Tuscan artist's studio, Trattoria Dell'Arte brings clever design to a vibrant spot. You'll find a Thanksgiving feast similar to Fiorello's here.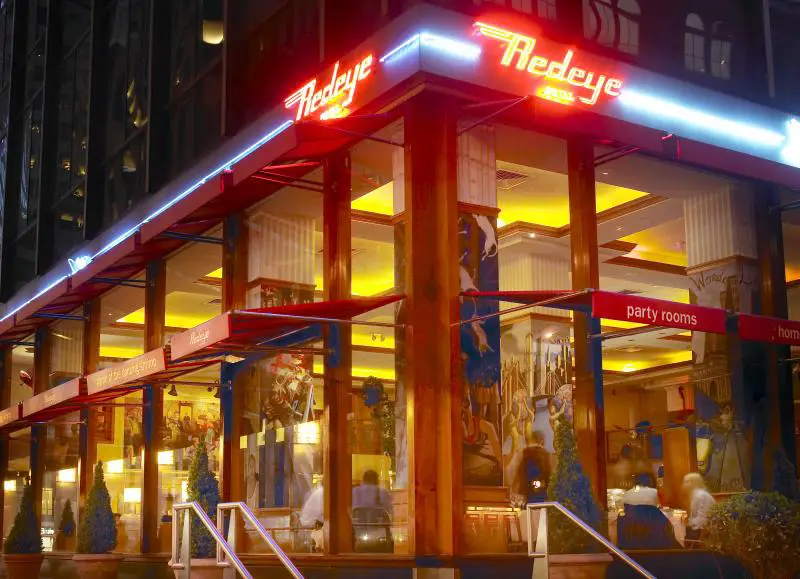 In the heart of Midtown West, the Redeye Grill hosts a classic American brasserie scene, with polished nickel and leather, warm tones, and original Red Grooms artwork. Start off your Thanksgiving meal here with salmon blini and caviar, complemented by a Champagne holiday toast. Appetizer options run from shrimp scampi to butternut squash soup to wild mushroom risotto to a harvest salad. Turkey and all the sides make the main; chocolate blackout cake, pecan pie, and pumpkin pie are the choices for dessert. (Full a la carte menu also available; the Thanksgiving prix fixe is $89).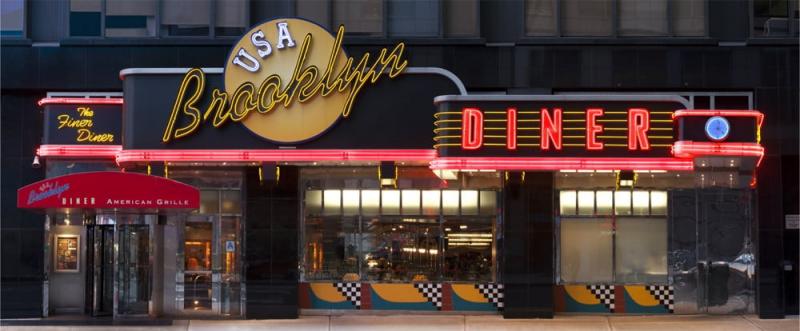 The Brooklyn Diner is doing a Thanksgiving feast with all the trimmings: expect brioche stuffing, noodle kugel, cranberry chutney, giblet gravy, haricot verts almondine, and a traditional pecan pie for dessert. It's $48 before tax and tip (the a la carte menu is available as well).
A TURKEY ALTERNATIVE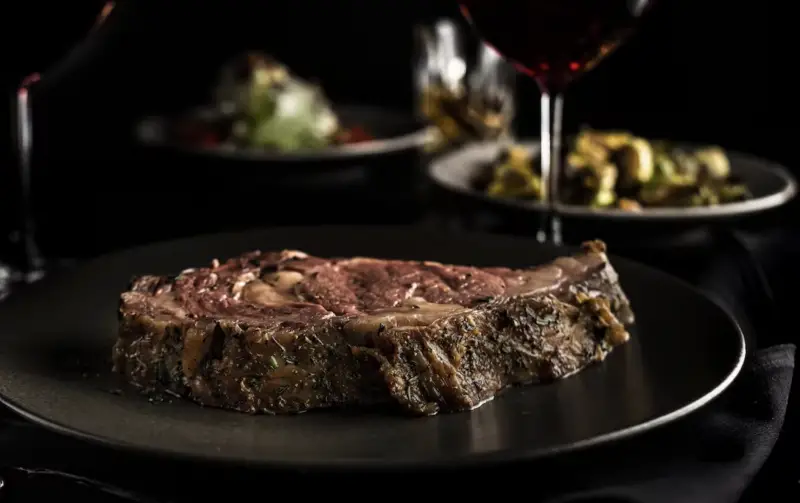 If you're not a turkey fan, New York City also offers up a classic steak. Del Frisco's Double Eagle Steakhouse features floor-to-ceiling windows with breathtaking views of Sixth Avenue and nearby Rockefeller Center. For the holiday, indulge in a 20 oz. prime rib dinner, served with horseradish cream, red wine au jus, and château mashed potatoes (the regular dinner menu will also be available).