Whether you're looking to bring together a group of friends, family members, or coworkers, NYC is packed with activities that encourage team bonding. From black-light bowling and escape rooms to painting tutorials and pizza-making classes, these eleven locations below provide the ideal environment for both large and small groups, creating memories that they won't ever forget and helping to building lasting friendships along the way.
Best of NYC Escape Rooms: The Escape Game New York City (Midtown East)

With 14 locations nationwide, The Escape Game has built a successful set of escape experiences with customized sets and exciting stories full of twists and turns. Have fun, use your brain, and work together as you follow clues to escape the room in 60 minutes. At The Escape Game New York City location near Grand Central, you can escape one of the following five rooms: The Heist, Prison Break, Gold Rush, Playground, and Special Ops: Mysterious Market. The Escape Game makes an ideal team-building activity for corporate groups. You'll use the strengths of each team member, learn about each other, and laugh along the way. If you'd like to book The Escape Game for a corporate event, you can even coordinate start times between rooms for a dose of (healthy) competition. 295 Madison Ave., 917-970-1360, theescapegame.com/newyorkcity
Bowlmor Lanes (Times Square)
Bowlmor Lanes via Facebook
Bowling is anything but lame at Bowlmor, where there are 48 black-light bowling lanes at your disposal. Vintage leather sofas and massive lane-side video walls add some extra funk to this hotspot, and private bowling alleys are also available to rent out. Bowlmore also has a Laneside menu that is filled with specialty cocktails and snack-worthy appetizers including crab & artichoke dip and avocado hummus. Additional location in Chelsea. 222 W. 44th St., 212-680-0012, bowlmor.com


Fly High (Staten Island)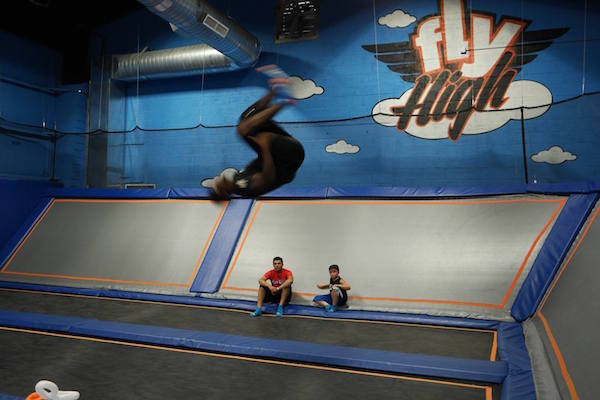 If you've got an adventurous crowd, head over to NYC's first indoor trampoline park, Fly High. It's hard not to bond when you're flying high in the air together and landing in a giant pit filled with hundreds of foam cubes. Fly High is made up of a main court, a bungee slingshot, a flying foam pit, massage chairs, and a dunk zone, so make sure your group comes filled with energy and ready to have a good time. 501 Industry Rd., 718-524-6561, flyhighny.com.
Gagopa Karaoke (Midtown West)
What better way to bond than crooning classic tunes to each other in a private karaoke room? Gagopa Karaoke rents out private rooms for $32 an hour for up to four people (and an additional $8 an hour for each additional person). There is a room available for up to 30 people. Their song list is extensive, with over 20,000 English songs and 10,000 Spanish songs, along with tunes in Korean, Japanese, Chinese, and a variety of other languages. 28 W. 32nd St., 212-967-5353, gagopakaraoke.com
The BEAST Speedboat Ride (Hudson River)
Get your group's blood pumping aboard the BEAST Speedboat Ride. Circle Line Sightseeing's custom-built, 70-foot speedboat rides the waves of the Hudson at 45 miles per hour, and the adventure is filled with twists, turns, and splashes as it takes you within 100 feet of the Statue of Liberty and provides you with panoramic views of midtown and lower Manhattan. Add in the lively soundtrack and the entertaining captain and crew, and you've got yourself a bonding experience on the high seas! Pier 83 W. 42nd St., 212-563-3200, circleline42.com
Paint Nite (Multiple Locations)
You don't have to be a professional artist to enjoy a Paint Nite. Even someone who has never picked up a brush before will leave this event with a beautifully composed canvas of colors. Enjoy a drink of your choosing while an instructor guides the group with an acrylic painting tutorial. Canvases, brushes, and paints are all included in the ticket price. Multiple locations throughout New York. 855-767-4270, paintnite.com
Chocolate Noise
Most people have never heard of a chocolate tasting, which makes it a nice surprise for corporate events in particular. It's like a wine or cheese tasting except with chocolate. Hook up with Chocolate Noise for a bespoke event that will educate as well as please the senses. You can taste multiple bean-to-bar chocolates, roasted cacao beans, and fresh cacao fruit juice. Guests also play games like chocolate trivia and do a blind tasting, with the winners taking home prizes—chocolate! Your host is Megan Giller, author of Bean-to-Bar Chocolate: America's Craft Chocolate Revolution, and an instructor at the Institute of Culinary Education in NYC. chocolatenoise.com
Pizza School NYC (Lower East Side)
Who doesn't love pizza? Take your group to Pizza School NYC to allow for some quality group bonding over the beloved Italian dish. But before you eat, you'll have to make the pizza! Stretch dough like a pro while you work with your team members to create a delicious and authentic pie. If there's one thing that was ever able to bring people together, it has to be a slice of piping hot pizza. 371 Grand St., 212-288-5483, pizzaschool.com
Museum Hack (the Met, American Museum of Natural History, Rubin Museum of Art, etc)
Turn co-workers into team-workers with Museum Hack's interactive tours! Museum Hack can update their tours to match your industry too, so get ready for a completely unique and sassy team experience! And, get ready to play Blind Artist, a game that is a toss between pictionary and charades that will bring your team closer than ever! 800-210-9676, [email protected], museumhack.com
Mount Vernon Hotel Museum (Upper East Side)
A 1799 carriage house that was converted to a country inn, the Mount Vernon Hotel Museum is a most unlikely oasis of genteel history amid the modern bustle of uptown. If you're looking for team-building activities, consider booking something like the museum's "Path Through Life," a museum-wide board game come to life. Movements are determined by luck, strategy, knowledge of 19th-century culture, and some quick-witted deal-making. After-hours events have also included Murder Mysteries, based on a real-life newspaper account of a body unearthed under the floorboards of the museum, which has also been developed into a team-building experience. 421 E. 61st St.,
212-838-6878, mvhm.org
The Great Guac Off
If you love avocados, gather your team and compete to see who can make the best guacamole. That's not all. This team building session includes more (like pundacado — where teams earn points for avocado themed puns)! Each standard guac off is two hours long, with optional add-ons to extend the time either with more competition or a "cocktail party" to cool down. 347-919-7792, thegreatguacoff.com
Charter Your own Water Taxi
Get ready for to bring your team to sea with this adventurous venue. New York Water Taxi offers companies open bar packages, hors d'oeuvres stations, and catering menus with main dish highlights including chicken Milanese, pan-seared Scottish salmon, roast tenderloin of beef, grilled tofu, and more! Or, board the boat as a way of transportation to a secondary location for you and your employees. 212-742-1969, nywatertaxi.com
Read Next | 8 NYC Attractions for Groups