Ripley's New York is a museum of wondrous and strange exhibits in Times Square. Right now, with the Ripley's + 1 promotion, buy a Ripley's ticket and get a major discount off admission to a top New York attraction.
Ripley's New York
With Ripley's + 1, you're on your way to a perfect New York day. Go to Ripley's for a fun-filled journey through an escape-room and a black hole, then choose from over 100 additional attractions for a discounted ticket. The list includes Top of the Rock Observation Deck, One World Observatory, and the American Museum of Natural History. Discounts are up to 48% off and vary by venue.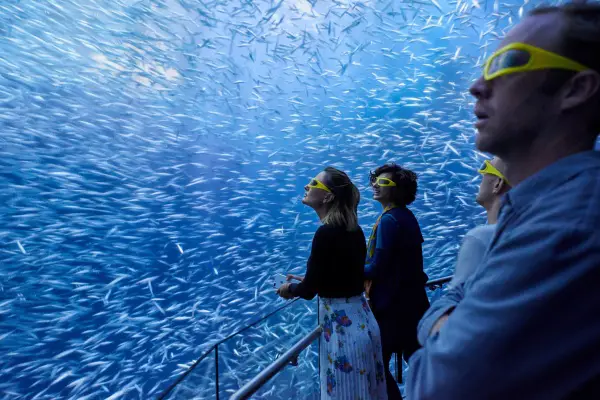 National Geographic Encounter: Ocean Odyssey
There are major attractions, museums, bus tours, boat tours, and walking tours included in Ripley's + 1. Notable attractions include Instagrammable Midtown sights like National Geographic ENCOUNTER: Ocean Odyssey, One World Observatory, SPYSCAPE, and DreamWorks Trolls The Experience. There are also guided tours of historic sites like Macy's, Radio City Music Hall, Grand Central, and Madison Square Garden.
SPYSCAPE
In tandem with your Ripley's ticket, you might take advantage of New York's rich culture. Go to the city's oldest museum at New-York Historical Society, or explore the former World Trade Center at the 9/11 Memorial & Museum. Some of the world's finest art can be found at the iconic Frank Lloyd-designed building for the Solomon R. Guggenheim Museum. All three locations of the Metropolitan Museum of Art are participating, as well as both locations of the Museum of Modern Art. Board an aircraft carrier-turned-museum at the Intrepid Sea, Air & Space Museum or the history of the Jewish people at the Museum of Jewish Heritage — A Living Memorial to the Holocaust.
Go wild with the Central Park Zoo or Bronx Zoo using this promotion, or take a break in the natural beauty of New York Botanical Garden or Brooklyn Botanic Garden.
Sightseeing cruises on offer include the CitySightseeing Hop-on, Hop-off Ferry Tour and the Hornblower Alive After Five cruise, a daily happy hour cruise.
THE RIDE
See the city by bus with The RIDE, the interactive performance/tour experience that turn the streets into a stage. The RIDE hosts their fantastic original tour, plus The TOUR and The Downtown Experience.
Burn a few calories with Central Park Bike Rental, or a walking tour of any area town that interests you. Eligible walking tours take you through neighborhoods like the former Underground Railroad sites, Greenwich Village, Soho and Little Italy, Central Park's TV and Movie Sites, and New York's most fabulous fashion windows. There's also a Hamilton Happy Hour Tour, in honor of the of-the-moment founding father.
Food-focused walking tours on offer allow you to sample flavors from the East Village, Union Square, Brooklyn, Midtown, and New York's best desserts with the World Famous Sweet Tooth Tour.
Ripley's + 1 is available online here; scroll down to Ripley's Admission + One Top NYC Attraction for tickets. You must visit Ripley's first in order to obtain tickets to your chosen "+1" attraction, which you can visit within 60 days after purchase. No need to decide on your attraction beforehand, as you can choose after you buy. Click here for a full list of eligible attractions.
Ripley's Believe It or Not! Odditorium is capital of "the unusual, the unexpected, and the unbelievable." Travel inside a black hole, see the world's largest gallery of shrunken heads, and play a frenzied game of Smash Dash. Better yet, engage in the brand-new escape-room adventure Ripley's Relic by solving a series of clues in an underground cave. Kids and adults will love this weird and wacky experience in the heart of New York City! Ripley's is open seven days a week.
---
Ripley's Believe It or Not! is located at 234 W 42nd Street. Call 212-398-3133 or visit ripleysnewyork.com for tickets and more. Find more details on the Ripley's + 1 deal at citysights.com.