The Brooklyn Museum continues its exploration of feminist art with Out of Place: A Feminist Look at the Collection. This exhibition continues where Half the Picture, which ran last year, left off. Both exhibitions seek new perspectives on the intersectional feminism found in modern and contemporary art. Out of Place opens January 24.
Lourdes Grobet (born Mexico City, Mexico, 1940). Untitled, from the series Painted Landscapes, circa 1982. Silver dye bleach photograph, 711/16 × 73/4 in. (19.5 × 19.7 cm). Brooklyn Museum; Gift of Marcuse Pfeifer, 1990.119.12. © Maria de Lourdes Grobet. (Photo: Brooklyn Museum)
There will be more than 40 artists included in this exhibition. Among them are Louise Bourgeois, Beverly Buchanan, Chryssa, Thornton Dial, Helen Frankenthaler, Lourdes Grobet, Louise Nevelson, Dorothea Rockburne, Betye Saar, Miriam Schapiro, Judith Scott, Joan Snyder, and May Wilson.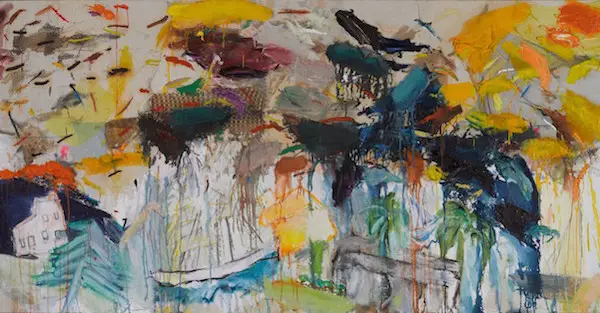 Joan Snyder (born Highland Park, New Jersey, 1940). Buried Images, 1978. Mixed media on canvas, 48 × 96 in. (121.9 × 243.8 cm). Brooklyn Museum; Gift of the Estate of Gifford and Joann Phillips, 2019.6. © Joan Snyder. (Photo: Brooklyn Museum)
These and the other artists featured in Out of Place are atypical members of the art world who often didn't enjoy widespread critical or institutional success. In fact, a majority of the pieces on display have never been exhibited until now. The exhibition will also investigate the institution as an artistic space, as well as feature site-specific work and art created at home, thereby showcasing the artists' various creative processes.
One of the featured artists, Miriam Schapiro, was the subject of a recent exhibition at the Museum of Arts and Design at Columbus Circle. Known for her fabric collages and recontextualizing items from the domestic sphere, Schapiro termed her art pieces "femmages." She founded the California Institute of the Arts' Feminist Arts Program along with the artist Judy Chicago, whose room-sized installation The Dinner Party is also on view in the Elizabeth A. Sackler Center for Feminist Art at the museum.
Betye Saar, recently the focus of a retrospective at the Museum of Modern Art, will also be featured. Saar's work, like Schapiro's, also incorporates materials traditionally associated with female domesticity, such as lace and fabric. She was part of the Black Arts Movement and produced the famous sculpture The Liberation of Aunt Jemima in 1972.
Louise Bourgeois is the French and American artist whose work baldly depicts human sexual anatomy and explores themes of family, sex, and gender. In 1993, Bourgeois was honored as America's representative at the 45th Venice Biennale. She passed away in May 2010.
The Greek artist known as Chryssa will also be included in Out of Place. Chryssa was fascinated by the use of neon when she lived in New York and created sculptures like The Gates to Times Square from neon tubing and other materials. Chryssa, who lived from 1933 to 2013, has work at the Solomon R. Guggenheim Museum and the Whitney Museum of American Art.
Out of Place: A Feminist Look at the Collection runs January 24 to September 13. See the exhibition at the Elizabeth A. Sackler Center for Feminist Art on the fourth floor of the Brooklyn Museum. Brooklyn Museum is located at 200 Eastern Parkway. For tickets and more, call 718-501-6354 or visit brooklynmuseum.org.