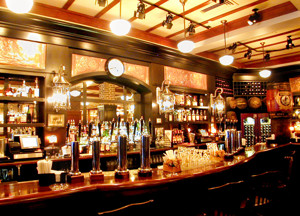 Inside Scoop: Heartland Brewery Times Square
Times Square has a new American restaurant serving handcrafted beers, housemade sodas, and a hearty steakhouse menu. The handsome, 12,000-square-foot space boasts Victorian touches and a large-scale mural in the style of Thomas Hart Benton.
Heartland has consistently brewed New York's freshest craft beers, including six classic brews and a wide range of seasonal ones. Brewers at Heartland assemble a variety of distinctly American ingredients to create their beer recipes. Heartland's beers taste different than beers from Germany and Britain because they are made from indigenous ingredients such as Wisconsin malt, hops from Washington and Oregon, and American yeast. All beers are served at their freshest within one to two weeks of brewing.
It did not take long for the Heartland's brewing techniques to be recognized. Heartland's Farmer Jon's Oatmeal Stout won a bronze medal at the prestigious Annual Great American Beer Festival in Colorado in 1995 and a gold medal in 1997.
The restaurant's well-prepared food and carefully designed, homey setting won accolades as well. Heartland was named Best Brewpub by New York magazine in 1996 and 1997. Since then, Heartland has grown into the largest group of brewpubs in the region.