Thirteen percent of New York traces its heritage to the Emerald Island, but on St. Patrick's Day everyone in the city is Irish for a day. The city's main event is the St. Patrick's Day Parade, which marches up Fifth Avenue from 44th to 79th Street; unfortunately due to coronavirus concerns, the parade is postponed indefinitely. When it takes place, this year's Grand Marshal will be James T. Callahan, General President of the International Union of Operating Engineers and a long-time New Yorker (Callahan represents over 400,000 workers in the United States and Canada; additionally, he's President of the New York Friends of Ireland).
Photo: Joe Buglewicz
St. Patrick's Day NYC 2020: Beer & Bites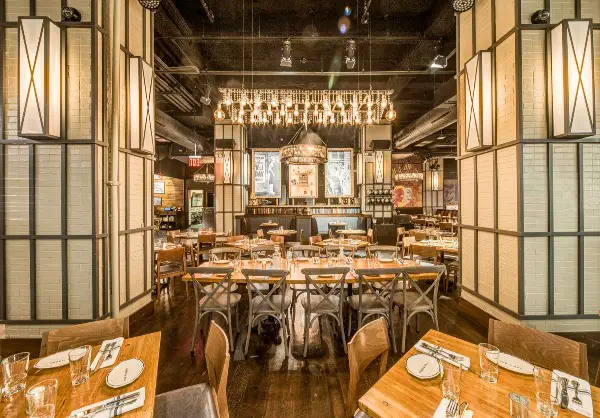 Times Square's newest draw is The Ribbon, a spinoff of the Blue Ribbon empire of fried chicken and sushi fame. Brothers Bruce and Eric Bromberg, hospitality legends with more than 25 years under their belts, have brought the Theater District a winning combination of elegant-yet-approachable environs and perfectly executed elevated comfort food. Large-and-in-charge steaks, burgers, fried chicken, and whiskey will all star on the menu this St. Patrick's Day.
Nearby Patrick's Restaurant & Oyster Bar is a new classic from the creators of Tony's DiNapoli. They're serving Pat LaFrieda burgers and USDA prime steaks alongside some of NYC's best oysters, craft beers, and cocktails.
Up on West 47th Street you'll encounter The Long Acre Tavern, welcoming sports fans, beer nerds, bacon lovers, brunchers, and beyond. This new spot brings together an inviting atmosphere, ample space, and creative offerings from kitchen and bar alike.
Also in the neighborhood is Bill's Bar & Burger, which boasts 400 seats, making it the biggest standalone burger joint in the country. Every burger, shake, and fry, in dozens of varieties and counting, is made fresh daily here.
New NoMad cocktail lounge J.Bespoke will be celebrating St. Pat's with a one-night-only Irish Mule. Bright and snappy, the drink is made with Proper No. Twelve Irish Whiskey, fresh lime juice, and Q Ginger Beer. The bar's TVs and projector will be tuned to March Madness.
Molly's Irish Pub and Restaurant Shebeen feels like a trip to 19th-century Ireland: a perfect setting to celebrate St. Paddy's. There's sawdust on the floor and a wood-burning fireplace in this pub, which has operated since 1895. Come to the Emerald Isle by way of Gramercy for a pint of Guinness and Irish lamb stew.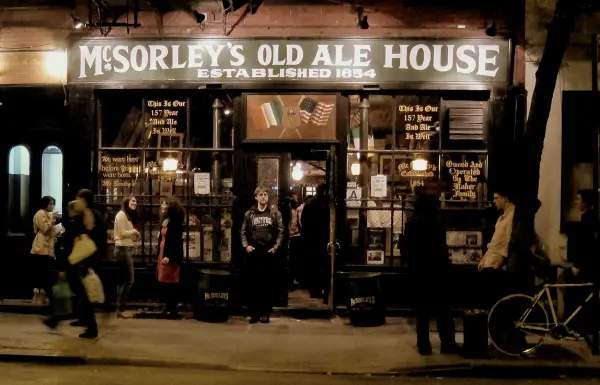 McSorley's Old Ale House will be completely packed throughout St. Paddy's weekend, even during the breakfast hour. But we can't not shout-out the city's oldest bar (opened in 1854), which is also a classic Irish pub. Head to 7th Street in the East Village to fight through the crowds, and don't say we didn't warn you.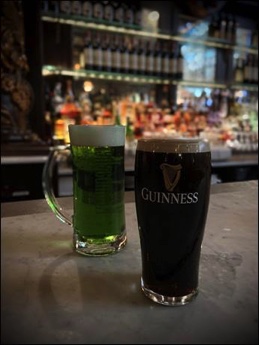 Hailing from County Mayo and Monaghan in Ireland, Celtic Developers Group Co-Owners Frank McCole and Tommy Burke celebrate their homeland at four spots around town: Oscar Wilde in the NoMad District, Lillie's Victorian Establishment in Times Square and Union Square, and Papillon Bistro & Bar in midtown, which is steps away from the parade on Fifth Avenue and St. Patrick's Cathedral.
The extra-long marble bar and opulent antique decor at Oscar Wilde reflect the style of the famous Irish playwright while leaving plenty of room for revelry. Oscar Wilde has 32 beers on tap and 300 whiskeys in the antique piano/whiskey cabinet behind the bar, in addition to Irish coffees and hot toddies. For St. Pat's they'll be serving up Irish specialties like corned beef and cabbage with Irish soda bread ($26) and Irish lamb stew with Irish soda bread ($24). Green beers available on request!
Lillie's, named for a British socialite who was once friendly with Oscar Wilde, also offers corned beef and cabbage ($20), Irish lamb stew ($18), Irish soda bread ($6) and the drink special of a pint of Guinness and Jameson Irish Whisky shot of $15. There's also green beer for $7.
Located steps away from the Fifth Avenue Parade, Papillon Bistro & Bar will be adorned with all things green and will also offer green beer, Guinness, and Irish coffee.
Virgil's Real Barbecue brings authentic tastes to Times Square. For St. Pat's they'll have all kinds of specials, including beer-glazed corned beef sliders ($18.95) served with chips; an Irish Mule ($10) made with Bushmills 'Red Bush' Bourbon, mint, ginger, lime, and soda; and the Green Watermelon Lemonade Party Jar ($54), ready for sharing with Skyy Watermelon Vodka and fresh lemonade, in a jumbo-sized gallon jar.
Since 1762, Fraunces Tavern has served New York City hearty meals and pints to go with them. Come to the Financial District on St. Patrick's Day for a few rounds.
Learn and imbibe at the same time with a Cheese 101: Taste of Ireland class at Murray's Cheese in Greenwich Village. The legendary cheese shop is holding this class in honor of the holiday, with a tasting of seven cheeses that run from fresh to bloomy to blue and everything in between, paired with unlimited pours of house wines.
A few days before St. Paddy's (Thursday, March 12th) you can learn the ins and outs of Irish Whiskey Through the Ages at Le Grand Triage: Wine & Whiskey on the Upper East Side. Hear a fascinating history (experts think Irish whiskey is one of the world's first spirits, dating back to the 12th century) while sampling a range of classic and new-age bottlings.
St. Patrick's Day in NYC 2020: Music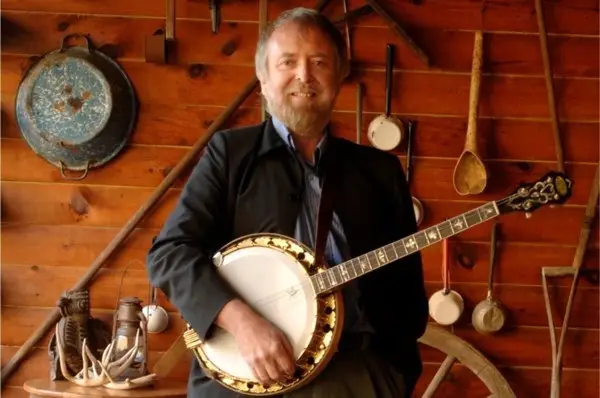 Mick Moloney
Honor Ireland's patron saint at his namesake cathedral in midtown. The Irish Heritage Concert will return to St. Patrick's Cathedral on Thursday, March 12, and is free for all. Expect the band Mick Moloney & Friends, as well as the cathedral choir and organs at this popular community event.
The CRAIC Fest returns to New York for its 22nd year, celebrating all things Irish in both cinema and music. Come to Mercury Lounge on Saturday, March 7th, for a night of music and performance that starts off with Dublin's own Rebel Phoenix and moves on to special guests Kneecap & Ireland's Call with John Connors.
Murphy's Law plays St. Patrick's Day with special guests at Bowery Electric.
March 17, dance to fiddle-filled hit "Come On Eileen" at the Dexys Midnight Runners Tribute with Too-Rye-Ay featuring Ted Leo. Playing Dexys' hits and deep cuts, the supergroup tribute Too-Rye-Ay will perform two sets. The band features members of Ted Leo & The Pharmacists, Gramercy Arms, Elk City, and Nova Social, bringing a little punk spirit to The Bell House in Gowanus, Brooklyn.
St. Patrick's Day in NYC 2020: Literature
March 15, take home an Irish tome at the 10th Annual Irish Arts Center Book Day. The IAC will establish a dozen pop-up Book Day stations around the city and distribute free—that's right, free!—books by Irish writers. Check IAC social media accounts for book station locations. Distribution will begin at 8am.
St. Patrick's Day in NYC 2020: History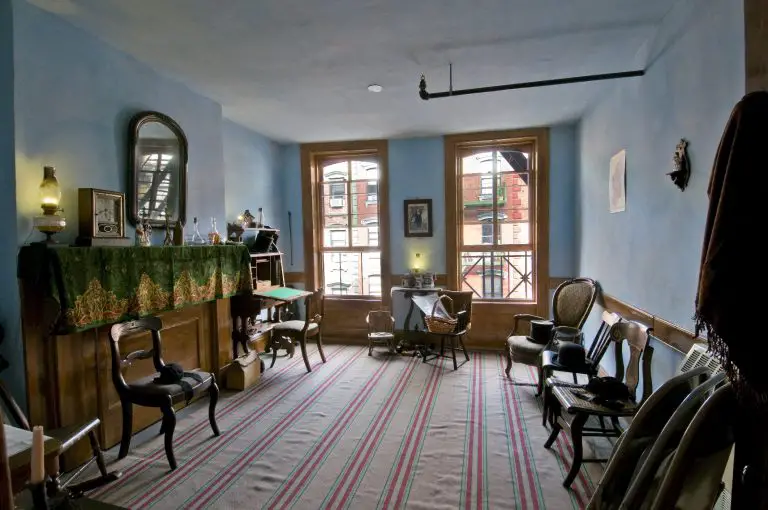 Image: Keiko Niwa
At the Lower East Side's Tenement Museum, visitors can explore the apartment of 19th-century Irish immigrants. In 1869 the Moore family lived at 97 Orchard Street and faced the prejudice often dealt to Irish people during that era. At the same site, you can explore the apartment of the Scheider family, who ran a saloon in the basement of 97 Orchard. These tours runs daily at the Tenement Museum.
Another famous historic house in New York will be putting on several tours for St. Patrick's Day. Built in 1832, the Merchant's House Museum in the East Village preserves the oldest intact family house in the city and offers you a walk back in time to the life of the Tredwell family who lived there in the 19th century. On Thursday, March 12, check out the tour An Evening With Bridget Murphy. This back-stairs look at the house provides insight into the life of Bridget Murphy, an 1850s Irish servant in New York, who will appear to tell her story and entertain the crowd with a song. The night of Friday, March 13, the "Spirit of the Irish" Candlelight Ghost Tour will spook guests with stories about deaths that occurred inside the house. On the evening of Saturday, March 14th, check out the guided tour A Tribute to the Tredwells' Irish Servants with Bridget Murphy.
If you're around the Battery in March, stop by the distinctive Irish Hunger Memorial near Brookfield Place. This structure recalls the Great Irish Famine from 1845 to 1852, during which over one million people died of hunger. The walkable memorial recreates a rural Irish landscape with native plants from the north Connacht wetlands and low walls of Kilkenny limestone. Designed by Brian Tolle, the Irish Hunger Memorial not only points to the past but to the pressing realities of world hunger today.
For a very different slice of Irish history, take The Irish Mob of Hell's Kitchen walking tour with Hidden New York this St. Patrick's season. You'll learn about vintage Irish gangs like the Gophers and Westies and their old stomping grounds in Hell's Kitchen.
Saint Patrick's Day in NYC 2020: Shopping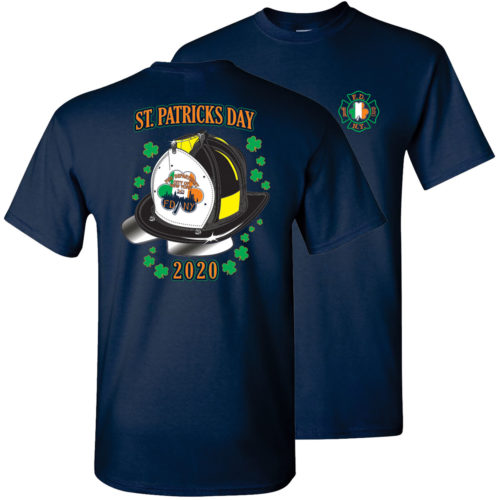 2020 FDNY St. Patrick's Day t-shirt. Show your Irish pride! Be the first to rock this FDNYShop 2020 annual St. Patrick's Day t-shirt (every year features a new image and they're limited edition). This year's shirt is navy, available in sizes small through 3XL, $241.95-$27.95. 100% pre-shrunk cotton. While you're at the FDNY Fire Zone in Rockefeller Center, grab the 2020 FDNY Calendar of Heroes, which lets you celebrate the men (or women) of the FDNY and EMS every month. There's also a multimedia fire safety learning center where NY's Bravest share life-saving tips here. Items can additionally be found online. 34 W. 51st St. (btw. Fifth & Sixth Aves.), 212-698-4520, FDNYShop.com
Saint Patrick's Day in NYC 2020: Comedy
In honor of St. Patrick's Week, Carolines on Broadway welcomes a lineup of some of Ireland's top comedians for The All Irish Show. The show will feature Sean Finnerty (The Tonight Show), Colum Tyrrell (Irish Comedy Awards), Katie Boyle (The Shift Podcast) and Connor Larsen (Roast Battle). March 15th.