Today's the day: the mayor's declaration that February 27th, 2019 is officially "STOMP Day" in New York—an honor reflecting STOMP's 25th anniversary in the City That Never Sleeps. And clearly, the show's formidable rhythms and percussive pulse are doing their part to keep it that way.
If you haven't seen the iconic production that's been raising the roof of Off-Broadway's 347-seat Orpheum Theatre since 1994, step up and become part of a phenom that defies time, but not energy or cadence. This is the flagship stamping ground (literally) of a worldwide following thanks to spin-off engagements that span North America and (alphabetically) Abu Dhabi, Argentina, Australia, Bahrain, Belgium, Brazil, Canada, Chile, China, Czech Republic, Denmark, Dubai, Egypt, Finland, France, Germany, Greece, Guatemala, Hong Kong, Hungary, India, Israel, Italy, Japan, Kuala Lumpur, Kuwait, Latvia, Luxembourg, Malta, Mexico, Netherlands, New Zealand, Norway, Palestine, Poland, Portugal, Russia, Singapore, South Africa Spain, Sweden, and Turkey.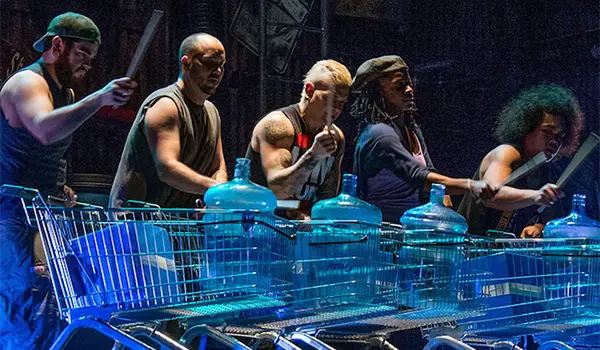 Multi-generational in appeal, STOMP's fierce 90 minutes features a vibrant cast serving up a powerhouse of movement, physical comedy, and unique percussion conduits whose 25 years in the East Village have netted the following counts:
39,000 brooms, 374,400 liters of water, 2,600 gallons of floor paint, 13,000 wooden poles, 52,000 newspapers, 26,000 pounds of sand, 13,000 garbage can lids, 5,200 hammer handles, 6,500 blocks of chalk, 6,500 rolls of gaff tape, 7,800 ace bandages, 15,600 boxes of matches, 1,300 pedal garbage cans, 13,000 medical shoe covers, 9,100 garbage cans, 26,000 drum sticks 5,200 boxes of tissues, and 3,900 ball point pens.
I'll be heading back soon—yes, I fall into the fan base that cannot stay away too long—and hope to see you there: converts and cultists alike!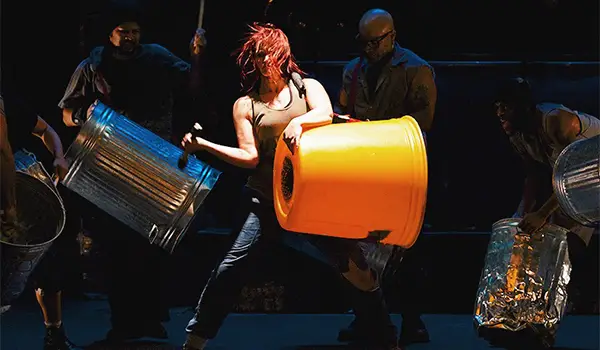 STOMP plays at New York's Orpheum Theatre (126 Second Ave. btw. 7th and 8th Sts.) on the following schedule: Tues.– Sat., 8pm; Sun., 5:30pm; Sat. 3pm; Sun., 2pm. For reservations call 800-982-2787 or visit stomponline.com.