Sure, summer's winding down and the new theatre season's a month or two away from full-throttle, but trust me: star power and new faces are making 2017's transition from August to September a white-hot time of year. Classics like The Phantom of the Opera and newcomers like Prince of Broadway are only part of New York's expansive theatrical picture. I invite you to indulge in some serious celeb sighting!
ANOTHER SHOT OF BRANDY
Brandy Norwood makes a triumphant return to Chicago. Photo by Jeremy Daniel.
A Grammy-winning R&B diva that can't resist slipping onto the Broadway scene for a surprise pop-up performance…what's not to love? (Not a concert, mind you, but a return visit to a character she rocked two years ago.) This fleeting ta-da moment—August 17 through the 31st—comes by way of Brandy Norwood. She's re-entering the role of glam 1920's headline-stealing housewife-turned-murderess Roxie Hart, in Broadway's longest running musical revival, Chicago.


Norwood has called working on the show life changing, which explains why her 2015 run was extended to allow more of her fans to see her onstage at the Ambassador Theatre. But from what I hear, this time around 17 performances are the cut off, so you may want to make scoring tickets a priority.
NEW RESIDENTS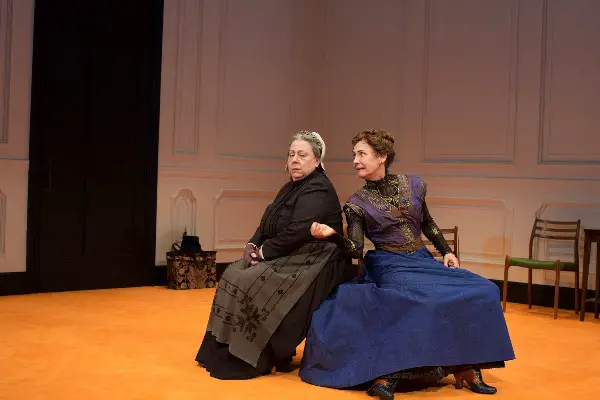 Jayne Houdyshell (left, with Laurie Metcalf) makes a brilliant turn as the household retainer in A Doll's House, Part 2. Image (c) Brigitte Lacombe.
A Doll's House, Part 2 recently experienced a cast change—a big one. Of the four players, 75% departed, offering audiences a new dynamic, as well as a serious incentive to revisit the show. And I can assure newcomers to this outstanding work by Lucas Hnath you will not be disappointed by the current performances. They're delivered by two much acclaimed Broadway veterans: Tony winner Julie White (Little Dog Laughed) in the role of Nora (vacated by Tony-winner Laurie Metcalf); and Tony nominee Stephen McKinley Henderson (Fences, on Broadway and in the 2016 Denzel Washington film), who took over the part of Torvald Helmer from Chris Cooper. They are joined by Erin Wilhelmi (The Crucible), who replaced Condola Rashad as the Helmers' daughter, Emmy. Tony winner Jayne Houdyshell, in a brilliant turn as the household retainer, remains with the cast.
FYI: Laurie Metcalf will be back on Broadway at the end of February when previews launch for Edward Albee's Three Tall Women. She'll be starring alongside Oscar winner Glenda Jackson, who returns to Broadway after a 30-year absence.
At 7pm every Tuesday, two-time Tony winner Donna Murphy (The King and I; Passion) takes the stage at the Shubert, where she blows audiences away with her pedigreed soprano take on Dolly Levi—an iconic part that's been turned even more iconic by Bette Midler, who picked up a Tony for her more pop take on the role of a turn-of-the-19th-century matchmaker. Yes, Midler's still in the driver's seat the rest of the week, but the opportunity to see Murphy, a Broadway superstar, should not be passed up. It doesn't hurt that the love interest of both Dollys is played by Frasier veteran/Tony winner David Hyde Pierce. (Murphy will also be covering during a couple week-long Midler hiatuses, check hellodollyonbroadway.com for dates.)
TURNING LEFT ON THE GREAT WHITE WAY
Oscar winner Michael Moore takes on the tweeter-in-chief in The Terms of My Surrender.
Michael Moore, despite his Michigan Midwestern street cred, steps up to the Broadway podium not so much as a provocateur pundit but as a liberal every-dude conduit to entertainment. Not at the expense of getting his point across, of course. Is there subversive snark buzzing around his Broadway debut? It would be heartbreaking if there weren't—as lamentable and bizarre as if Moore entered the theatrical fray bareheaded, wearing contacts, and sporting a tux.
But then again, no two evenings of Moore's limited-run show, The Terms of My Surrender, are 100% alike. Each comes wrapped in the month/week/day's capricious headlines.
The material may be mercurial but the man delivering it? Not so much. Moore, whose film Bowling for Columbine won a 2002 Oscar, is a master at wielding a poking stick at any worthy abomination, with dysfunctional government being front, center, and tediously tweeting as America burns.
"I think what the world needs right now is Michael Moore standing on a Broadway stage sharing his hilarious stories and incendiary political perspective, creating the kind of dialogue that can only happen in the theater," says Tony-winning director Michael Mayer (Spring Awakening).
And while once upon a rant Moore called the Donald "a malignant narcissist," his show doesn't stick exclusively to a POTUS agenda: there are a few other topical fish to eviscerate with humor and pragmatism in this 90-minute show. So sure, go to be entertained; but leave empowered.
IF ONLY
Retro TV fans will want to sit up and take notice of the Off-Broadway play If Only seeing as it stars Melissa Gilbert (aka Laura Ingalls on Little House on the Prairie). The drama by Thomas Klingenstein runs August 19th through September 17th at the Cherry Lane Theater.