The Seaport District, which was formerly called the South Street Seaport, is one of New York's original commercial hubs. It offers unparalleled views of Brooklyn and the Brooklyn Bridge, the Statue of Liberty, and the Manhattan skyline. An essential part of the city for more than 300 years, the re-envisioned Seaport District, which was temporarily closed in the wake of Hurricane Sandy, now boasts Pier 17. This sprawling new structure offers a 1.5-acre rooftop, as well as restaurants, outdoor bars, shops, and a venue for concerts, culture, and special events. Read on for some great places to dine and drink by the South Street Seaport.
R17
CREDIT: Teddy Wolff
New to the Seaport scene is R 17—a rooftop cocktail bar offering stunning water views. The hotspot offers a new buy-one-get-one specialty cocktail deal daily from 5 to 7pm. The list includes the London Mule (Pimm's No. 1, lemon juice, celery, cucumber and ginger beer); the San Luis Swizzle (Derrumbes Mezcal, genepì, pineapple juice, Peychaud's Bitters, and serrano pepper); The Edmont (Jim Beam Rye, Laphroaig 10-year mist, blanc vermouth, honey, and lavender); or A Manhattan View (Baker's 7-Year Bourbon, Cocchi Barolo Chinato, bitters, and Amarena cherry). The Rooftop at Pier 17, 89 South St., 917-512-7540, r17nyc.com
Bin No. 220
The Seaport area's local wine bar Bin No. 220 entices spring crowds with its new happy hour menu, which includes crowd pleasers such as sangria, wine, beer, and margaritas. Food includes baked cheese fondue, baked artichoke dip, and tomato salad crostini. Happy hour is offered Monday through Friday from 2 to 6pm and every Saturday and Sunday from noon to 4pm. Bin No. 220 is also open for breakfast and lunch. 220 Front St., 212-374-9463, bin220.com
The Dead Rabbit
This tri-level mid-19th century style Irish/New York drinking saloon is celebrating its sixth anniversary. Since its debut, The Dead Rabbit has garnered lots of accolades. It nabbed the "World's Best Bar" title in 2016 at The World's 50 Best Bars in London. Housed in a landmarked building that dates back to 1828, The Dead Rabbit mixes a first-story neighborhood taproom experience with a vast Irish whiskey selection. Its refined second-story Parlor offers world-class original cocktails. It also serves food, including Sunday brunch. (If you're wondering about the name, it's inspired by an infamous street gang that was prevalent in Lower Manhattan in the 1850s.) 30 Water St., 646-422-7906, deadrabbitnyc.com
Fraunces Tavern

Drink like a Founding Father at Fraunces Tavern. History enthusiasts know that this iconic destination marks the oldest bar in New York City and was visited by George Washington at the conclusion of the Revolutionary War. Washington's signature drink was the Hot Ale Flip—the first recorded mixed drink in history. Ale, rum, and molasses were warmed with the Tavern's fireplace poker, and then served in a copper vessel. Fraunces Tavern's other property, Dublin export the Porterhouse Brew Co. Bar, which is located next door, has resurrected the Flip replete with a Colonial era preparation. The Hot Ale Flip incorporates Porterhouse Irish Red Ale, Lemon Hart & Son Overproof 151 Rum, and demerara sugar. It's heated tableside in a copper vessel using a blowtorched loggerhead until it bubbles over with frothy foam. 54 Pearl St., 212-968-1776, frauncestavern.com
Fresh Salt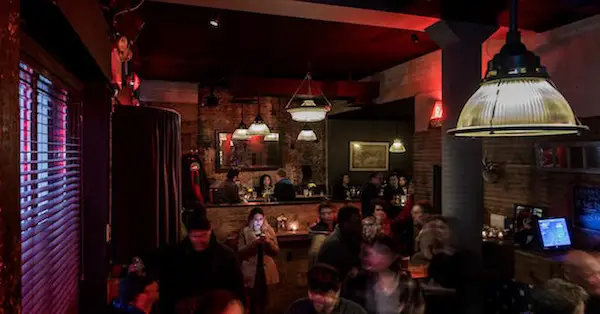 Neighborhood bar and cafe Fresh Salt's moniker was inspired by the faded advertisement featured on the front of the 1885 smokehouse it now inhabits. The ad states "Fresh, Salt, and Smoked Fish." Since 2004, this Seaport locale has lured everyone from area residents, writers, ambitious start-up types, and office workers to artists, musicians, and the occasional sailor. Fresh Salt was nearly destroyed in the wake of Hurricane Sandy. Thanks to crowd sourcing initiatives, however, it's managed to rebuild. It marks the last remaining bar of the former Fulton Fish Market. The space still feels old-school—its integrity and ol' saloon vibe remain even after the area's revitalization. Happy hour is held daily (including weekends) from 4 to 8pm. Indulge in the Fresh Salt Gimlet, made with jalapeño tequila, lime, and simple syrup and boasts a chili-salted rim. 146 Beekman St., 212-962-0053, freshsalt.com
For more information on South Street Seaport, visit seaportdistrict.nyc.