Broadway may be dark but there's new music coming our way. The Times Square Alliance just announced its new Songs for Our City challenge, which will bring fresh original music from Broadway performers responding to lockdown and the coronavirus crisis.
Alice Ripley/Times Square Alliance
The new songs will be livestreamed next month for free, starting with a kick-off concert on Tuesday, June 2nd. The shows will begin at 7:05PM EDT at TSQ.org/Songs, timed to begin just when the city-wide cheering for essential workers concludes. The series will culminate in a grand finale on the summer solstice, timed to coincide with the Make Music New York series.
The lineup will include 27 performers, who will take community as the inspiration for their new songs—drawing on the Theatre District or memories of Broadway. The participants include: Leslie Becker; Sam Carner, Derek Gregor, and Selda Sahin; Jaime Cepero; Lauren Elder; Drew Gasparini; John Arthur Greene; F Michael Haynie; Marcus Paul James; Donnie Kehr; John Krause; Janet Krupin; Molly and the Memphis Thunder; Anthony Norman; Alexander Sage Oyen; Alice Ripley; Rob Rokicki; Jennifer Sánchez; Max Sangerman; Heath Saunders; Dru Serkes; Ethan Slater; Starbird & the Phoenix; Will Taylor; Will Van Dyke & Jeff Talbott; Joel Waggoner; Mike Wartella; and Tim Young.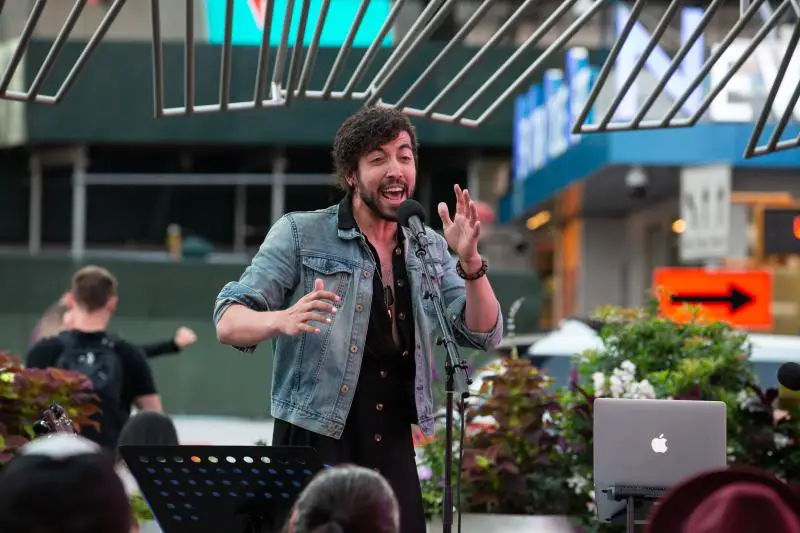 Heath Saunders/Times Square Alliance
All of these artists have played Times Square live in the Broadway Buskers concert series, which showcases Broadway performers' original music through free concerts in pedestrian plazas. The "Songs for Our City" series will be MC'd by Broadway Buskers host and curator Ben Cameron.
Marcus Paul James/Times Square Alliance
The concerts will also raise funds for Broadway Cares/Equity Fights AIDS' COVID-19 Emergency Assistance Fund, which provides urgent resources to those within the performing arts community
Songs for Our City takes place over seven concerts in June:
Tuesday, June 2nd
Wednesday, June 3rd
Tuesday, June 9th
Wednesday, June 10th
Tuesday, June 16th
Wednesday, June 17th
Sunday, June 21st (Finale)
John Arthur Greene/Times Square Alliance
There's an interactive aspect, in that audience members will be able to vote on their favorite during the first six concerts. One performer from each will get to square off in the finale, with the biggest vote getter then anointed with the Audience Choice Award. A panel of Broadway and music notables will pick their winner as well after the June 21 show.
The shows will begin at 7:05PM EDT at TSQ.org/Songs.