You know Eataly as the mecca of Italian eating in New York City. This Flatiron market (now with an additional location in Battery Park) is filled with espresso, pizza, pasta, gelato, wine—everything Italy does best. In the spirit of spring, Eataly's rooftop restaurant, Serra by Birreria, is in full bloom with a brand-new look and special menu. Read on for what you'll find at Serra Fiorita, NYC's idyllic Italian greenhouse.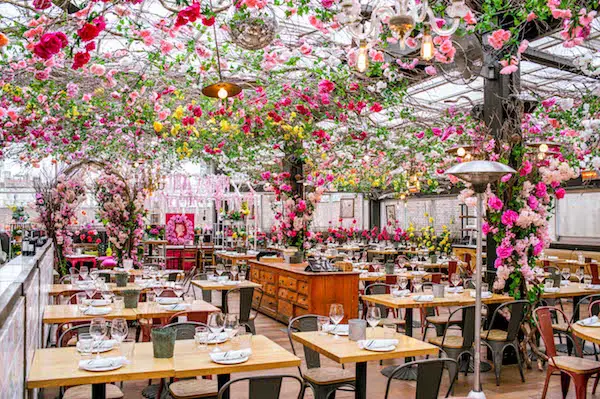 The Drinks
Put some sparkle into your spring with the spritz list of seasonal cocktails at Serra. This cocktail program's starting point is the Aperol Spritz. This traditional cocktail originated in nineteenth-century Veneto and is made with the orange aperitivo Aperol, Prosecco, soda, and an orange wedge to top it off. Other spritzes include a frozen Aperol Spritz and the Spritz Bianco made with Sangiovese Bianco, St. Germaine, and basil grown in-house.
If you're coming with a crew, consider the pitcher cocktails on offer. These include Aperol Spritz, the blood-orange Flatiron Fizz, and Sorrento Spritz with lemon, cucumber, and mint.


All-natural wines are the stars of the wine list. Flip through the Libations Guide, and you'll find engaging infographics that explain the difference between natural, biodynamic, organic, and amphora wines. With these naturally made wines, there are no additives or pesticides—just flavor first, from the biodynamic rosé to the Sicilian red aged in a clay pot. This diverse range of wines are available by the glass and by the bottle, selected by Beverage Director Randall Restiano.
Beer and cider (or sidro) are available as well from Italian and American breweries. After dinner, you can also indulge in Digestivi from an "angry" amaro to a sweet moscato.
The Feast
Serra Fiorita serves food perfect for Italian springtime, including seasonal appetizers, pastas, entrees, and desserts. Not only are in-season ingredients front-and-center, but also Serra sources regional produce, meat, and cheese from regional farms near New York City. Better yet, the fresh herbs topping everything from cocktails to gnocchi are as local as it gets. Basil, nepitella, peppermint, and marjoram are all grown in-house in a vertical hydroponic garden furnished by Farm.One.
Indulge in a plate of prosciutto and spring cheeses (many regionally sourced) as an appetizer. Another special plate to share is the Salsiccia Lucaniga, an Italian sausage served in a spiral and served with broccoli rabe, mustard, chile pepper, and warm Otto bread. The pork in this sausage is organic, grass-fed, and raised in upstate New York.
Group diners can also enjoy regional pork as a table with the prix fixe Porchetta Per La Tavola. Book your table two days in advance to take advantage of this special feast, featuring slow-roasted pork from Autumn's Harvest farm and broccoli rabe pesto.
Another winning dish made with regional pork is the Maiale Alla Birra, a pork shoulder braised in beer and topped with apricot glaze, Granny Smith apples, and mustard vinaigrette. Regional proteins also include Hudson Valley steelhead trout served with fennel and potato, and New York chicken with lemon, thyme, fregola pasta, and asparagus. Pasta-lovers can look forward to gnocchi with basil pesto and vesuvio with pancetta, peas, and parmesan.
The Garden
Serra fiorita means "flowering greenhouse" in Italian, and once you enter the transformed space, you'll see the name spring into life. The springtime iteration of SERRA is decked floor-to-ceiling with blossoms in a range of bright colors, as well as an open-air greenhouse. At night, there's the added charm of twinkle lights. Needless to say, you're guaranteed a great photo at Serra from any angle and a romantic ambiance any time of day. The blossoming doorway trellis inside the restaurant is a particularly photogenic spot for interested Instagrammers.
Serra Fiorita is the perfect venue for your next big event, from a group dinner to a large reception. Book the semi-private greenhouse for a smaller affair (8 seated guests, 30 standing) or the entire rooftop for up to 200 guests. Find a detailed outline of event options here.
The Parties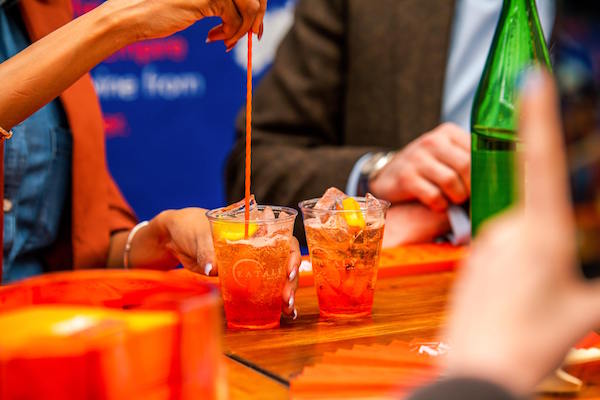 Special events are scheduled throughout spring at Serra Fiorita. Thursdays until June 20, Spritz Like an Italian from 5 to 7pm. These weekly happy hours offer deals on spritzes and additional draws like DJs, Aperol tastings and demonstrations, and photobooths. Click the link above for a detailed schedule of Spritz Like an Italian events.
Oenophiles can enjoy Wine Dinners under the Stars on May 1 and 8. Learn about wine from actual vintners and taste their pairings with a menu of Serra's best dishes at these exclusive ticketed dinners.
In celebration of summer, come enjoy Serra Summer Fest on June 19, a special evening full of food, drink, music, a photo booth, and more. June 21, it's the Summer SolSpritz, toasting the solstice with Aperol for all.
---
Serra Fiorita by Birreria is located on the 14th floor of Eataly at 200 Fifth Avenue. Call 212-937-8910 for reservations, and visit eataly.com for more information.