New York City is already into its Phase 2 of reopening, with restaurants, bars, museums, and attractions all ready for their comeback. What are the plans for post-coronavirus cleaning and social distancing? We have all the latest procedures and protocols for the city's responses to COVID-19 here. Visitors to the city should look for the Stay Well NYC Pledge seal posted in venues and on their websites. Both guests and businesses are asked to participate, committing to some basic common sense ways of dealing with the pandemic that include masks, hand washing, maintaining social distancing, and staying home when you're not feeling well.
SAFE REOPENING NYC: STATUE CRUISES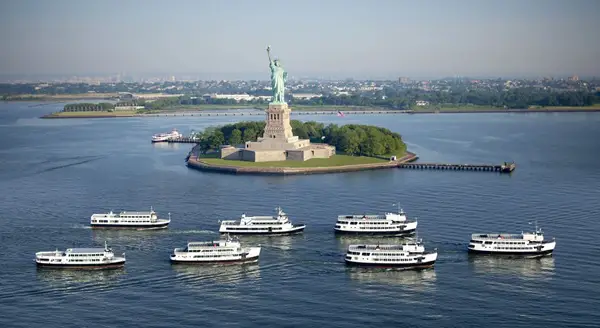 Although the Statue of Liberty and Ellis Island remain temporarily closed, Statue Cruises is once again out and about in New York Harbor. Sixty-minute tours, complete with history and stunning views, can now be booked, with a focus on safety. Statue Cruises is following social distancing guidelines, including face mask requirements for crews and guests, deep cleaning, vessel capacity cut in half, and contactless payment. Tours run four times daily out of the Battery Park departure point in Lower Manhattan at 10am, 11:30am, 1pm, and 2:30pm. These tours will continue until Liberty Island and Ellis Island reopen (Statue Cruises is the exclusive provider of ferry service for the National Park Service to the two landmarks). Tickets are $26/adult, $19/seniors, $14/child and free for children three years and under. Tickets may be purchased in advance (strongly encouraged) from the Statue Cruises website or at Gangway 5 in Battery Park. statuecruises.com
SAFE REOPENING NYC: CENTURY 21
For over 50 years, Century 21 in Lower Manhattan has been famous for connecting shoppers with top designers at up to 65% off retail—100% of the time. With NYC's pause ending, Century 21 is back open, with new safety guidelines that include sanitizing stations, disinfectant wipes for carts and baskets, the wearing of masks, enhanced cleaning—with extra attention paid to high-touch surfaces—floor markers to help with social distancing, PPE for employees, and safety partitions to protect both customers and cashiers. Temporary hours at the downtown store are daily 11am-5pm. 22 Cortlandt St.,
212-227-9092, c21stores.com/covid-19-response-reopening.html
SAFE REOPENING NYC: NEW-YORK HISTORICAL SOCIETY
A trip to New York wouldn't be complete without a visit to the New-York Historical Society with four centuries of history and art. It hits the spot for anyone craving an offbeat (and often surprising) bite of the city's culture. Reopening for the museum will go in stages, with the part one slated to begin on August 14th. A special free outdoor exhibition, Hope Wanted: New York City Under Quarantine, will kick things off with documentation of the experiences of New Yorkers across the five boroughs during the height of the pandemic. On the historic date of September 11th the museum intends to reopen indoors, with safety protocols in place for visitors and staff. Hope Wanted will take place outdoors in New-York Historical's rear courtyard (located at West 76th Street between Central Park West and Columbus Avenue), providing an open-air environment for visitors to view the exhibition and contemplate the impact of COVID-19 on New York City. Admission is free; access will be limited and face coverings will be required for entry, with social distancing enforced through timed-entry tickets and on-site safety measures. 170 Central Park West, 212-873-3400, nyhistory.org
SAFE REOPENING NYC: HORNBLOWER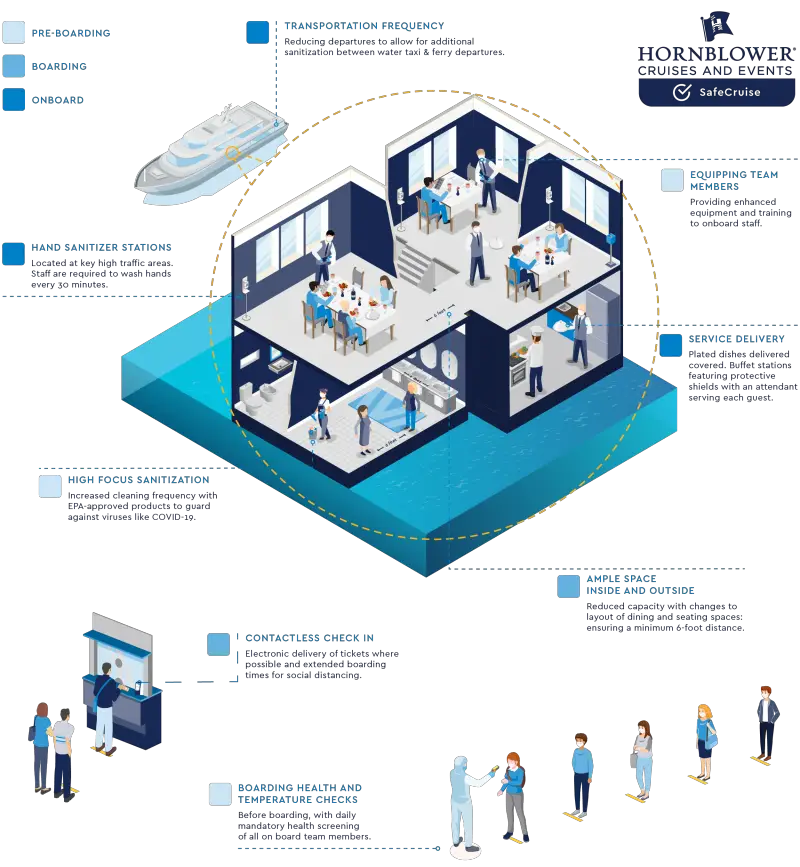 Take in unparalleled skyline views from the water aboard one of Hornblower Cruises and Events's breathtaking sightseeing cruises. On the path to reopening, Hornblower has updated its industry-defining "SafeCruise by Hornblower" program to deliver an even higher standard of onboard cleanliness. Established cleaning processes address a broad spectrum of viruses. SafeCruise by Hornblower follows the most up-to-date FDA, CDC, and PHAC guidelines and introduces more health-driven measures at every touchpoint, as seen in the graphic above. Procedures will be kept in place for the foreseeable future, in conjunction with updates from the Centers for Disease Control and Prevention (CDC), the Public Health Agency of Canada (PHAC), and the World Health Organization (WHO). Pier 40, 353 West St., 212-206-7522, hornblower.com/safecruise
SAFE REOPENING NYC: SPIRIT CRUISES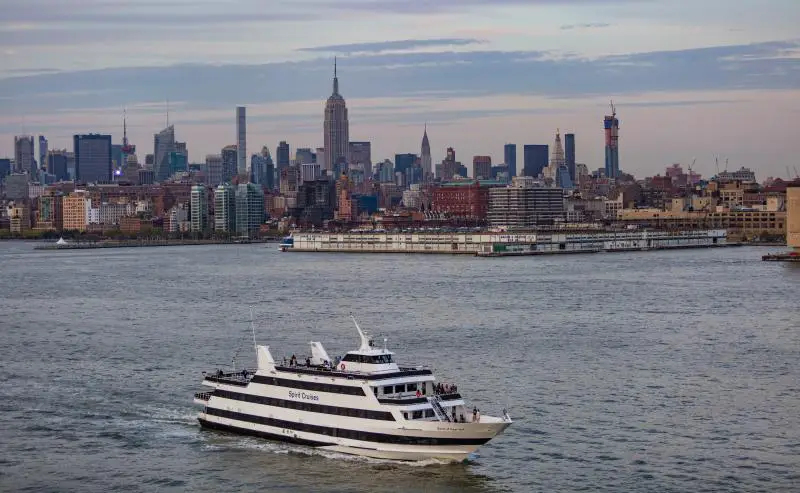 Credit: Hornblower Cruises and Events.
You can enjoy the city skyline from entry points in both New York City and New Jersey with Spirit Cruises. A regular program of outdoor dining experiences will be available from Saturday, July 11 onwards aboard the Spirit of New Jersey, which has a fabulous rooftop experience, sailing from its home port of Lincoln Harbor Marina in Weehawken. Delicious cuisine and a full array of drinks are equalled only by unbeatable views of the Empire State Building, Brooklyn Bridge, and Statue of Liberty. Prices start at $69 for lunch and $120 for dinner and and include a multi-course menu of freshly prepared entrees, salads, and desserts. Across the Hudson in Chelsea, come out this Friday, July 10th for an outdoor pop-up experience onboard at Chelsea Piers. There will be table-side bar service and light bites available for purchase, with free entry (first-come first-served in accordance with current capacity limits). Vessels offer expansive decks, providing plentiful space and fresh air, ensuring more than enough room on board for everyone to stay safely apart. For more on SafeCruise by Hornblower's industry-defining standards for health, safety, and security, see above or read more at hornblower.com/safecruise. Spirit of New York: Chelsea Piers, 212-727-2789; Spirit of New Jersey: Lincoln Harbor, 201-333-8600; spiritcruises.com


SAFE REOPENING NYC: MADAME TUSSAUDS NEW YORK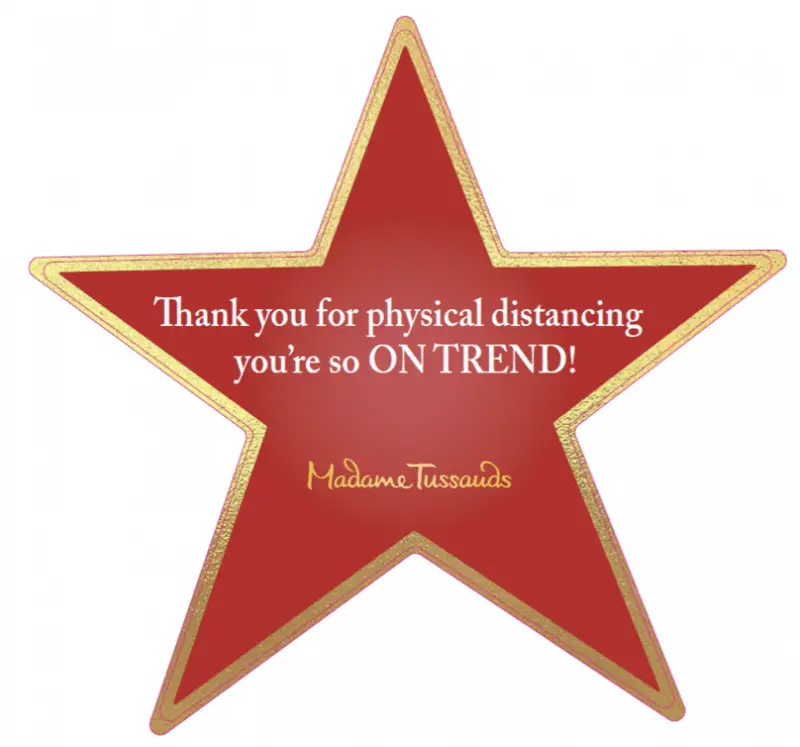 Madame Tussauds New York, in the heart of Times Square, is the only place with no ropes or barriers holding you back from living your best life with your favorite stars. Voted as one of New York's most unique attractions, you'll experience famous moments with the world's most iconic musicians, A-list stars, sports legends, world leaders and more. Although Madame Tussauds isn't in the openings category yet, they're already put a lot of thought into how to make the attractions safe. Key steps will include elevators limited to one family/group at a time, timed entries, capacity limited to one-fourth regular numbers, interactive areas remaining closed, face coverings required, new signage to help direct guests, regular cleaning throughout the day, and limited hours. 234 W. 42nd St., madametussauds.com/newyork
SAFE REOPENING NYC: EMPIRE OUTLETS
Empire Outlets is the only outlet mall within the five boroughs of New York City. Located just across New York Harbor from One World Trade Center and the Statue of Liberty, a free 20-minute Staten Island Ferry ride connects you with deals on your favorite brands—and some of the best views of the New York skyline. When it reopens, the nearly four acres of outdoor space here will make it easy to shop and explore safely (the stores are connected by expansive outdoor stretches, unlike with conventional malls). All employees will be trained with CDC COVID-19 safety guidelines, including how to put on, take off, clean, and discard PPE. All employees will be required to wear masks and conduct temperature checks. Stores will operate at reduced capacity and there will be increased use of touch-free transaction technology. Regular enhanced cleaning and disinfecting of high concentration touchpoints including seating, handrails, escalators, elevators, and restrooms—not to mention fitting rooms. There will be hand sanitizing stations throughout the property and social distancing markers in common areas. Revised hours are Monday to Saturday 10am-8pm, and Sundays 11am-7pm. 55 Richmond Terrace, Staten Island, empireoutlets.nyc
SAFE REOPENING NYC: STARBUCKS RESERVE ROASTERY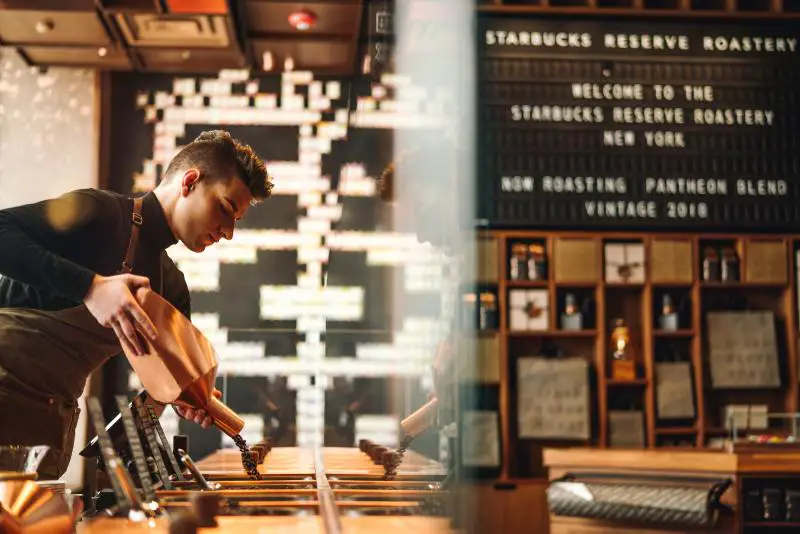 The Starbucks Reserve® Roastery New York in the Meatpacking District is a place to experience Starbucks like never before. This 23,000-square-foot plant contains not only retail space but also an operating coffee roastery. Back open and welcoming visitors agan, you can enjoy a variety of coffee classics and roastery creations—each drink is handcrafted with Starbucks's rarest coffees, roasted on site. In addition, there are Princi Italian pastries made fresh daily, and "Family Meals" that you can enjoy at home. Among the reopening precautions now in place here: enhanced cleaning measures (elevated cleaning and sanitizing protocols that meet or exceed public health guidelines); prior to shifts, all partners complete a pre-check, including taking temperatures; partners are required to wear facial coverings during their shifts and continue to frequently wash their hands; customers will follow social distancing and safety protocols and wear facial coverings. 61 Ninth Ave., 212-691-0531, starbucksreserve.com/newyork
SAFE REOPENING NYC: COLOR FACTORY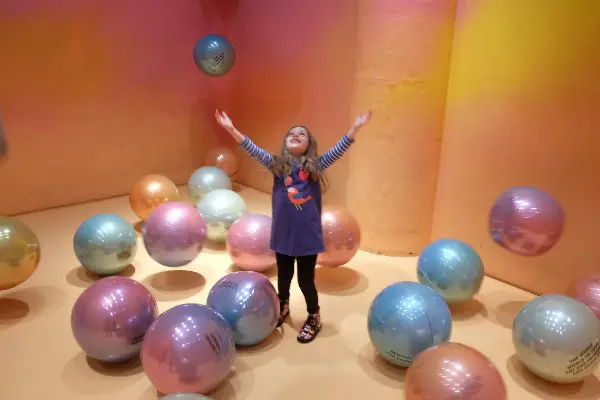 Designed by a wide spectrum of artists, the interactive experience Color Factory tours visitors through 16 rooms devoted to the wonder of color. Color Factory is planning on a phased reopening this summer, with limited capacity and reduced hours of operation. Once open, they will implement new measures to provide a safe environment for all visitors and employees. This comprehensive approach includes: increased sanitation and cleanliness procedures, reduced capacity (to ensure proper social distancing), required masks for everyone in the building, newly installed hand sanitizing stations throughout the exhibit, hassle-free ticket rescheduling for anyone who feels sick, and changes to some high-touch exhibits. 251 Spring St., colorfactory.co
SAFE REOPENING NYC: LINHART DENTISTRY

Since 1981, Linhart Dentistry has been taking care of New York City and their offices are back open to treat patients. Among the new safety measures are three separate, sanitized waiting areas, increased spacing between appointments, pre-screening of patients, in-office testing, medical-grade air purifiers, daily deep cleanings, and staff in PPE. 230 Park Ave., 212-682-5180, drlinhart.com
SAFE REOPENING NYC: DR. RONALD A. PRIMAS
Labelled many things in his career—from a 24-hour urgent care doctor, to Doctor to the Stars, to a travel medicine expert and even "the best in town"—Dr. Ronald A. Primas is an optimal medical resource for both city visitors and the NYC community. Dr. Primas is a board-certified and doubly re-certified internist, a preventive medicine specialist, and is a Fellow in the American College of Physicians and the American College of Preventive Medicine. As New York City emerges from the pandemic, Dr. Primas's office on the Upper East Side is treating active COVID-19 patients, doing real-time COVID-19 viral PCR testing, and antibody testing for immunity. In addition, look to Dr. Primas for hotel and other industry COVID-19 prevention protocols and workplace walkthroughs to ensure employee and hotel guest safety. 952 Fifth Ave., Suite #1D, 212-737-1212, ravelmd.com
SAFE REOPENING NYC: THE MET MUSEUM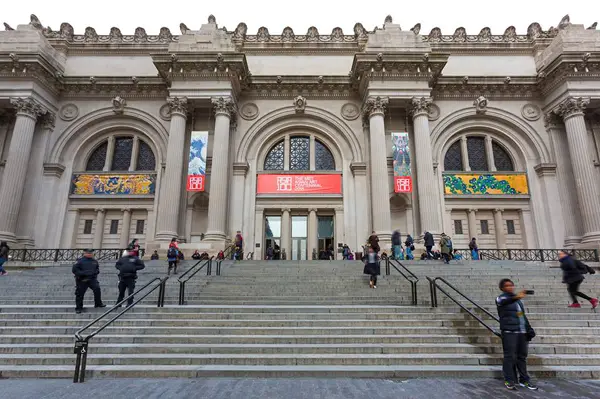 The Met Museum displays some of the greatest cultural treasures in the world, representing every category of art from just about every country from every time period from the Stone Age to the present. The museum is planning to reopen on August 29th with new social distancing guidelines. "The safety of our staff and visitors remains our greatest concern," said Daniel H. Weiss, President and CEO of The Met, in a statement. "We are eagerly awaiting our reopening as, perhaps now more than ever, the museum can serve as a reminder of the power of the human spirit and the capacity of art to bring comfort, inspire resilience, and help us better understand each other and the world around us." All tours, talks, concerts, events, and the Met Gala are canceled for 2020. The Costume Institute's About Time: Fashion and Duration exhibition is scheduled to open on October 29th, 2020. Hours for reopening will be shorter and the museum will not be open as many days of the week. The Met's medieval annex uptown, the Cloisters, is scheduled to open shortly after the main branch. 1000 Fifth Ave., 212-535-7710, metmuseum.org
SAFE REOPENING NYC: AMTRAK
Photo credit: Amtrak.
With car rental rates peaking during the busy summer season, Amtrak offers affordable and convenient transportation on Acela for leisure travel to NYC, connecting with the Northeast Corridor. For post-coronavirus safety, Amtrak offers cashless service and they'll be waiving change or cancellation fees for reservations made by August 31st. Bookings are limited on most trains to allow for social distancing in seating areas; if you're traveling alone you can put belongings on the seat next to you. Families and friends can easily get seats together. Amtrak is also upgrading its cleaning protocols in stations and onboard. For a video of the enhanced safety and cleaning measures, see here. Acela offers comfortable seating with more space and legroom than a typical vehicle. Onboard the high-speed train, customers have access to WiFi, electrical outlets at their seats, and complimentary food and beverages. Additionally, passengers can travel across the East coast on Northeast Regional, and enjoy the scenic landscapes onboard the Adirondack and Vermonter routes. A full list of Northeast routes can be viewed here.
SAFE REOPENING NYC:
THE HIGH LINE
Andreas Komodromos/Flickr
The west side's beloved elevated park,
The High Line
, will reopen on Thursday, July 16th. To accommodate our new normal, capacity at the park will be greatly reduced.
Free timed-entry tickets
will be available starting Thursday, July 9th, at 10am. After that, reservations will be opened every two weeks on Mondays, starting July 20, for an additional two weeks. A limited number of walk-up passes will also be available at the entrance, but advance planning is recommended. Traffic will only flow in one direction, starting at Gansevoort Street. All visitors must enter at the southern end of the High Line, at Gansevoort Street and Washington Street, and move northwards. In this first reopening phase, the High Line will be open only to 23rd Street. City-wide safety protocols will also apply here, including the requirement of wearing a mask or face covering and maintaining 6-foot social distancing.
thehighline.org
SAFE REOPENING NYC:
THE RIBBON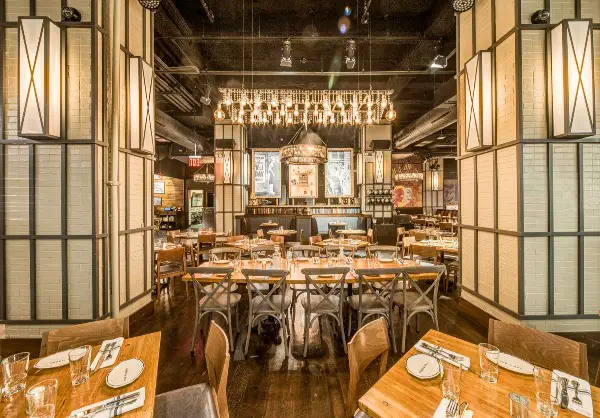 Times Square's newest draw is The Ribbon, a spinoff of the Blue Ribbon empire of fried chicken and sushi fame. Brothers Bruce and Eric Bromberg, hospitality legends with more than 25 years under their belts, have brought the Theater District a winning combination of elegant-yet-approachable environs and perfectly executed elevated comfort food. Although dining rooms are awaiting New York City's Phase 3 to begin, plans are already in place to ensure a safe experience. They'll be using the CLEANSE® portfolio of viral/bacterial fighting UVC solutions to address each of the three critical "PAS" threats to the safety of indoor environments (People, Air, and Surfaces) using the power of UVC light to kill viruses, bacteria, and mold. You'll find these enhanced procedures at the original location of The Ribbon, on the Upper West Side, 20 W. 72nd St., 212-787-5656, theribbonnyc.com; 220 W. 44th St., 212-944-2474, 44.theribbonnyc.com.
SAFE REOPENING NYC:
VERSA ROOFTOP & RESTAURANT
The open-air spot on the fifth floor of the Renaissance New York Midtown Hotel, VERSA Rooftop & Restaurant has reopened with a social-distancing-friendly 8,000 sq. ft. to roam. Enjoy stunning Empire State Building and Hudson Yards views while dining in the sky. VERSA welcomes back guests with new social distancing and health safety protocols, following the city's guidelines. Specifically, you can expect reduced capacity, increased spacing between tables, training and PPE for staff, new contactless technology including the NFC chip and QR code that pops up digital menus on smart phones, regular cleaning and disinfecting of high-touch areas, and much more. There's also a new food and drink menu for summer, with highlights like shishitos, guac, pastrami sliders, lobster rolls, and brisket-blend burgers with bacon and cheddar. The summer's signature cocktails include frosé and spicy cucumber margaritas. 218 W. 35th St., 646-850-2850, versanyc.com
SAFE REOPENING NYC: THE MILLS AT JERSEY GARDENS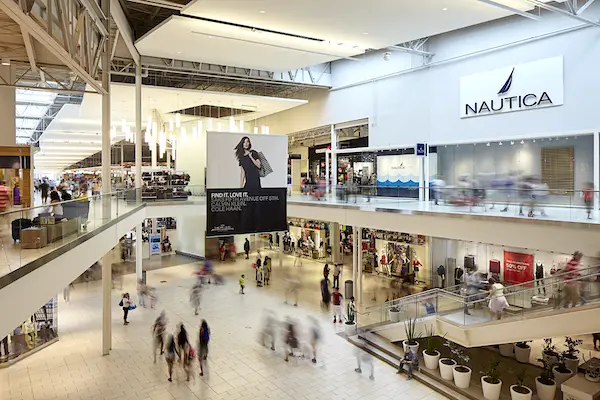 Located just a half-hour from Midtown, The Mills at Jersey Gardens provides luxury shopping at outlet prices. This Elizabeth, New Jersey mall has outlets for brands like Banana Republic, Timberland, Nike, True Religion, Zales, ALDO, and Coach. You can also find department store brands at Saks Off Fifth, Century 21, and Neiman Marcus Last Call. After a pause for the coronavirus, the mall is back and serving customers again. You can read full coverage of their safety and cleaning measures here. 651 Kapkowski Rd., 908-354-5900, simon.com/mall/the-mills-at-jersey-gardens
SAFE REOPENING NYC: NORDSTROM
Photo courtesy of Nordstrom.
Department store Nordstrom has six NYC locations and they're all back open now, including the new Nordstrom NYC Flagship on West 57th Street. For the new normal, safety precautions include health screenings for employees, face coverings required for both workers and customers, limited capacity to aid in social distancing, and increased cleaning. Hours will be reduced as well. 57th & Broadway, 212-295-2000, shop.nordstrom.com
SAFE REOPENING NYC: SAKS FIFTH AVENUE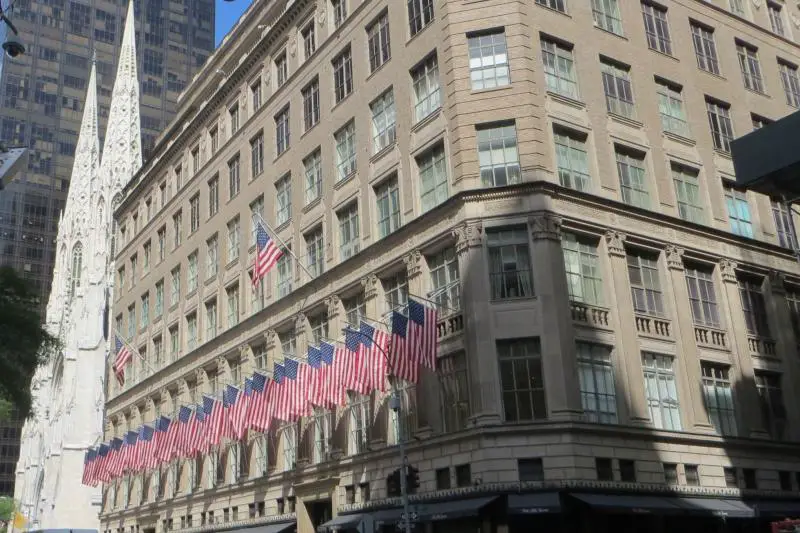 Flagship department store Saks Fifth Avenue opened back up for in-store shoppers on June 24th. Social distancing will be a priority, with precautions for cleanliness all through the store. There are 100 hand-sanitizing stations throughout the store and escalators are illuminated by ultraviolet lights that continuously clean the handrails (elevators are reserved for seniors and customers with health issues). Masks are required to shop. Tried-on clothing from the dressing rooms will be set aside for 24 hours and makeovers and spa treatments remain suspended for now. 611 Fifth Ave., 212-753-4000, m.saks.com/locations/s/newyork
SAFE REOPENING NYC: Q.E.D.
Outdoor live shows and open mics are back on at favorite Astoria performance venue Q.E.D. Enjoy it all safely and socially distant in the back yard, complete with frozen margaritas and frosé to stay or to go. Hours Friday 5-10pm, Saturday noon-10pm, and Sunday noon-5pm. 27-16 23rd Ave., Astoria, Queens, 347-451-3873, qedastoria.com
SAFE REOPENING NYC: OASIS DAY SPA
Oasis Day Spa, with locations in New York City and Westchester County, is a national award-winning day spa that combines peaceful, beautiful environments with a superior, friendly, highly trained staff. They'll be back open again starting Monday, July 6th. The options offered will include massage, waxing, and hydro services. 1 Park Ave., 212-254-7722, oasisdayspanyc.com
SAFE REOPENING NYC: ASTOR PLACE HAIRSTYLISTS

New Yorkers have been getting haircuts at Astor Place for some 70 years now. This subterranean bastion of city authenticity is back open for Phase 2. Among the safety procedures now undertaken: every staff member will be tested before taking on clients; will have daily temperature checks; wear mask and gloves; will disinfect all tools, chairs, and surfaces between clients; and will wash hands between every cut. In addition, cuts are now by appointment only, there are no shaves or beard trims, and there are partitions between chairs, which are socially distant. New hours are daily 7am to 7pm, closing at 6pm on Sundays. 2 Astor Pl., 212-475-9854, astorplacehairnyc.com
---
EVERYTHING TO DO NYC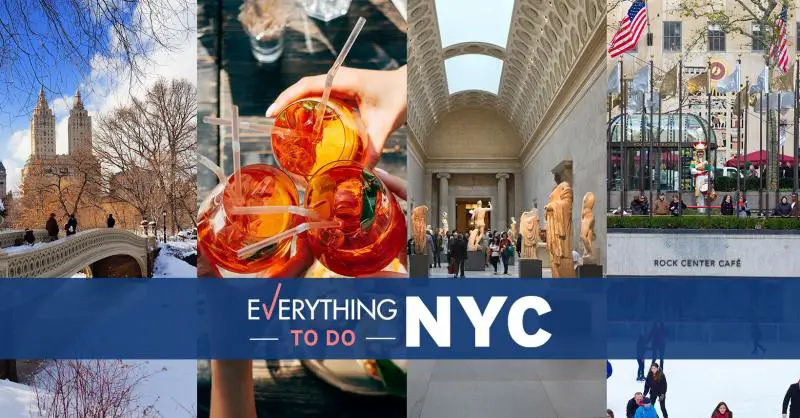 Want free advice on what to do and see in New York? Join our Facebook group Everything to Do NYC, a place for people to ask questions and get tips on how to make the most of the city.