One of the reasons New York grew so big and so fast is Manhattan's access to water. Two great rivers hug the city's length (the East River is a tidal estuary and not a river, if you want to get technical about it), coming together in New York Harbor. Beyond the simple pleasures of getting out on the water, a boat ride in NYC leads past crucial points in U.S. history, engineering, and architecture. You'll also see the city's still-thriving maritime industry at work and enjoy the greatest skyline views in the world.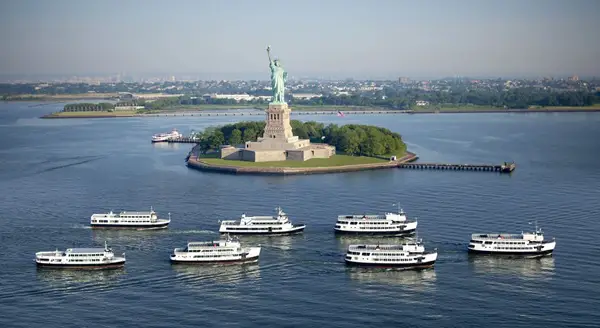 New York Harbor is home to the Statue of Liberty and Ellis Island. If you want to see them first-hand, Statue Cruises is the only way to get there. Boats depart from Battery Park City in Lower Manhattan and Liberty State Park in New Jersey, providing memorable routes past the skyscrapers of the Financial District. You won't truly appreciate Lady Liberty until you see her up close. Ellis Island was the historic gateway for 12 million immigrants to the U.S.—40% of Americans can trace an ancestor here. On a visit today you can immerse yourself in the immigrant story inside a fully restored French Renaissance Revival station.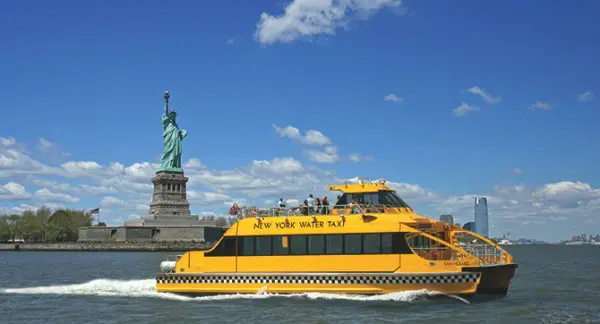 Taking inspiration from iconic New York cabs, New York Water Taxi aspires to a similar hop-on hop-off convenience. Climb aboard one of these environmentally friendly twin-hulled catamarans and enjoy the ride. The most popular option is the All-Day Access Pass, which lets you create your own itinerary, hopping on and off four Water Taxi piers around New York Harbor. Along the way you'll catch some amazing skyline and Statue of Liberty views. Don't worry about the weather: there's an open top deck and climate-controlled cabin to choose from. The Water Taxi's Statue of Liberty Express leaves from the South Street Seaport, with informative guides providing local color on a 60-minute tour full of prime photo ops.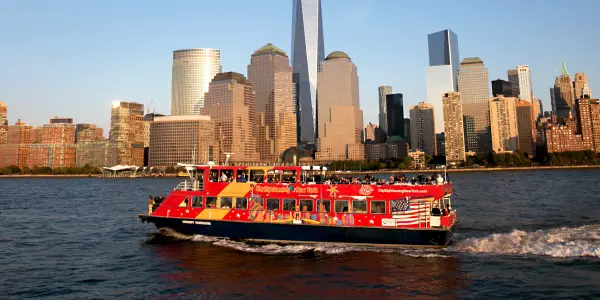 The CitySightseeing Ferry Tour explores the city with two hop-off locations in Manhattan. You can access midtown via Pier 78 near Times Square and downtown at the World Financial Center, in addition to enjoying skylines, bridges, the Statue of Liberty, and a fully narrated tour. There's a climate-controlled interior and a "rainy day guarantee," giving you access to a major attraction if the weather doesn't cooperate.
Bountiful buffets, stunning skyline and Statue of Liberty views, and non-stop DJ music provide a one-of-a-kind New York experience aboard Spirit Cruises. Cruising the Hudson, Spirit offers lunch, dinner, moonlight, and holiday cruises, with convenient departures from Chelsea Piers in New York and Lincoln Harbor in Weehawken, New Jersey. Bateaux New York is Manhattan's premier all-glass, European-inspired dining cruise vessel. Creative meals, fine wines, impeccable service, and breathtaking views are all standard; you'll likely find live music and a dance floor as well.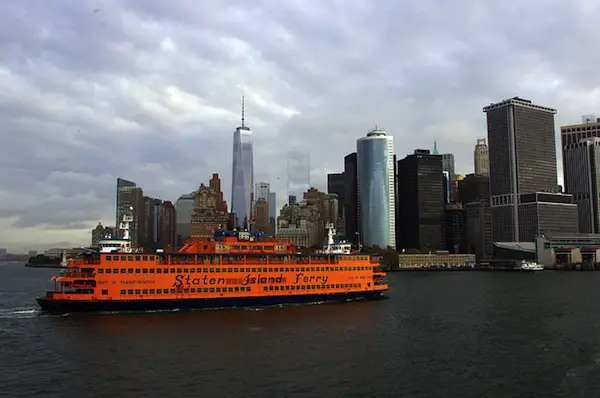 The Staten Island Ferry is 100% free, and it offers amazing views of New York Harbor. Even if you don't have any reason to go to Staten Island, you can just pop the next ferry back (it runs 24 hours a day between Manhattan and Staten Island). For the best skyline and Statue of Liberty views, sit on the right side (east) going out and the left side (west) to return.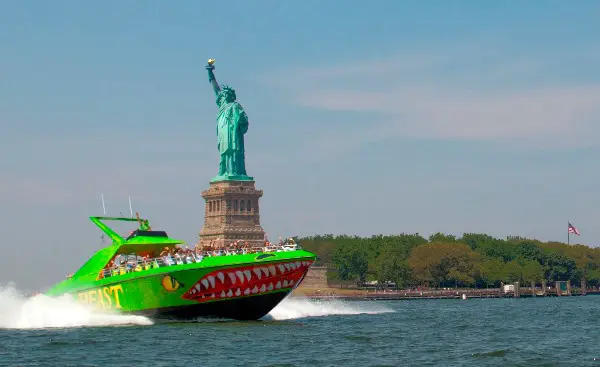 Feel the need for speed? Warmer weather is a great time to take a ride on the wild side on NYC's custom-built offshore racing powerboat, The Beast. You'll zoom away at a heart-pounding 45mph before coming to a screeching halt within 100 feet of Lady Liberty for the best #StatueofLibertySelfie, among other panoramic views.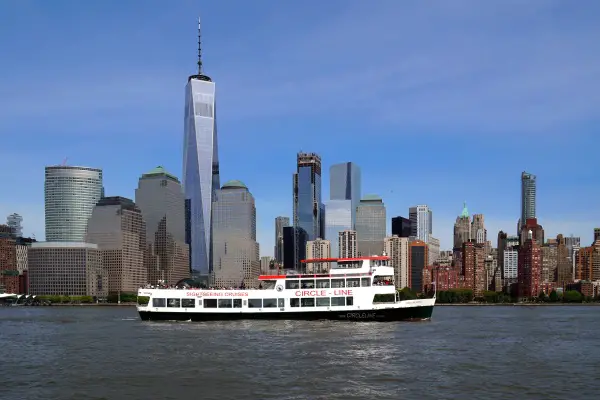 For more than 70 years, Circle Line has been showing visitors the city, including the only cruise that goes all the way around Manhattan: Circle Line's Best of NYC Cruise. One trip will show off five boroughs, three rivers, and more than 20 bridges on the way to 101 New York City sights. State-of-the-art Empire Class ships have recently launched, providing quieter rides, better sound for the personable onboard guides, bigger windows, improved climate control, and more outdoor deck space. (For dining and entertainment, take a ride on Hudson's, a three-story "floating rooftop" that's a Circle Line sibling.)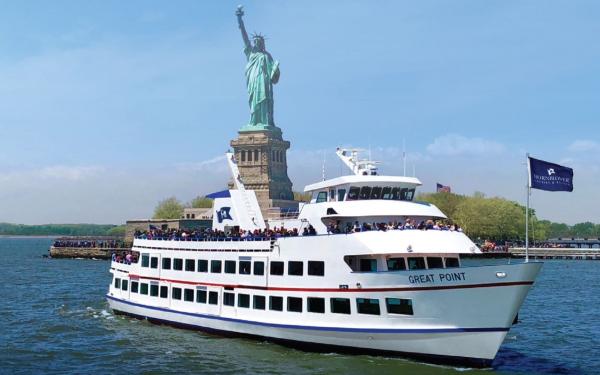 You can take in unparalleled skyline views from the water aboard one of Hornblower's breathtaking sightseeing cruises. The See NYC Sightseeing Cruise, departing from Pier 15 at the South Street Seaport, is a great way to view the Statue of Liberty and icons like the Brooklyn Bridge and One World Trade Center—all in one hour. (There are also Hop-On, Hop-Off Cruises from midtown to Lower Manhattan, featuring 90 minutes of must-see sights.)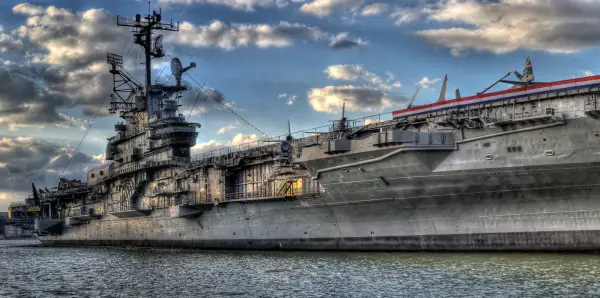 Right next to Circle Line you'll have one additional opportunity to get out on the water. Although the Intrepid Sea, Air & Space Museum doesn't leave its moorings, it's still a thrill to get out on the Hudson and explore a legendary aircraft carrier that played a big role in American history. The museum includes Enterprise, the world's first space shuttle, and 27 authentically restored aircraft. Among the temporary exhibitions you'll find Ports of Call, which shows photos, souvenirs, and film footage of young sailors traveling the world as part of the Intrepid crew.