Opening February 8, 2019, Frida Kahlo: Appearances Can Be Deceiving will present the art and artifacts of the renowned Mexican painter at the Brooklyn Museum. Advance tickets are available here now.
Kahlo (1907-1954), who has recently experienced a resurgence in popularity, lived and worked in a manner which challenged the political, social, and sexual norms of her era. A strident supporter of the Communist Party and the Mexican Revolution, she held her national identity dear and used traditional Mexican dress as a fixture of her public persona. Kahlo's large body of self-portraits create a mythos of self (some even say she invented the selfie). Bold and enigmatic, Frida Kahlo has become a symbol unto herself, her famous unibrow adorning everything from sneakers to stamps.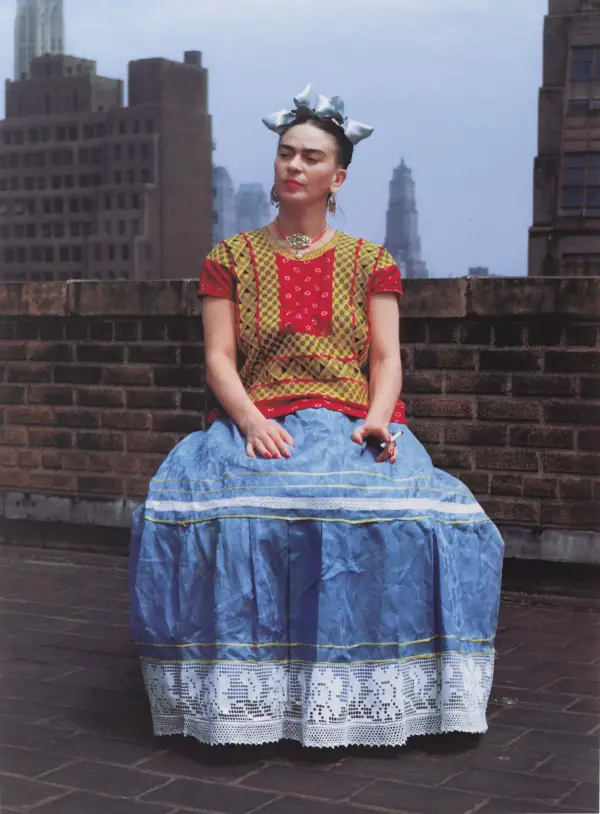 Nickolas Muray (American, born Hungary, 1892–1965). Frida in New York, 1946? printed 2006. Carbon pigment print, image: 14 x 11 in. (35.6 x 27.9 cm). Brooklyn Museum? Emily Winthrop Miles Fund, 2010.80. Photo by Nickolas Muray, © Nickolas Muray Photo Archive. (Photo: Brooklyn Museum)


Appearances Can Be Deceiving will take a personal look at Kahlo by presenting her work alongside items from her home in Mexico City. There will also be historical film footage, photographs, and selections from the Brooklyn Museum's collection of Mesoamerican art.
Frida Kahlo was born in 1907 (though she claimed to be born in 1910, the year of the Mexican Revolution), and grew up in her family home at Casa Azul, or "Blue House," in Mexico City. The artist lived there throughout her married life with the artist Diego Rivera. After her death in 1954 at the age of 47, Rivera ordered that Kahlo's personal items be kept at Blue House until 15 years after her death. Now The Blue House is the Museo del Frida Kahlo, and items from its collection will be shown in the U.S. for the first time for this exhibition.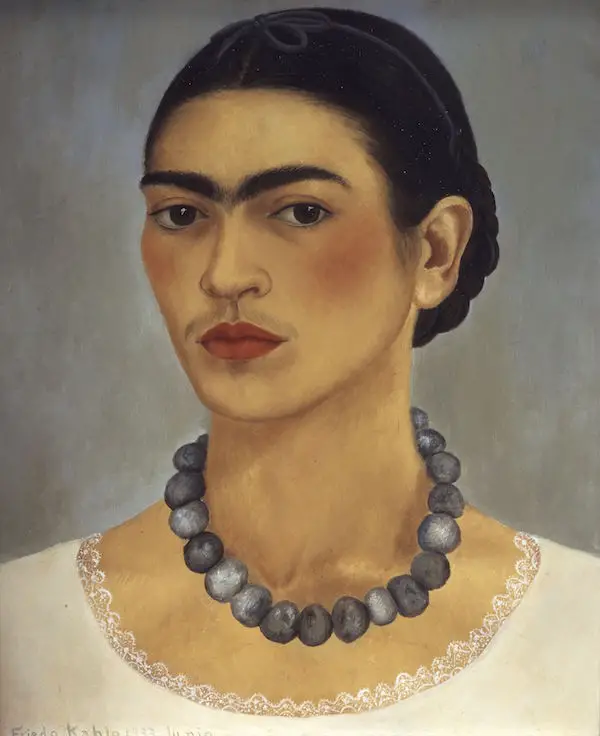 Frida Kahlo, Self-Portrait with Necklace. (From Meg Blackburn.)
Self-Portrait with Necklace (1933), Self-Portrait with Braid (1941), and Self-Portrait as a Tehuana, Diego on My Mind (1943), will number among the paintings on display at Brooklyn Museum. The artist's work, which might depict Kahlo's face on a slain deer or a woman with roots weaving through a hole in her chest, is frequently lumped in with Surrealists like Salvador Dali. The artist herself thought different. "They thought I was a Surrealist but I wasn't," she said. "I never painted dreams. I painted my own reality." The striking Self-Portrait as a Tehuana portrays Kahlo in a sweeping white headdress, a miniature portrait of her husband Diego Rivera inscribed on her forehead.
Catherine Morris, Sackler Senior Curator at the Brooklyn Museum, says, "Under-recognized in her lifetime, Kahlo has become a feminist icon over the past four decades. The prevailing narrative that women are too often defined by their clothes, their appearance, and their beauty was powerfully co-opted by Kahlo through the empowering and intentional choices she made to craft her own identity."
Kahlo's face, represented again and again in her paintings, is memorable not only for its stoic expression but also the hair linking her eyebrows together and shading the skin above her lip. Another element of her now-iconic personal image is the artist's elaborate Tehuana clothing, an ensemble featuring large, colorful skirts and floral headdresses. This traditional Mexican dress comes from the Tehuana region in Oaxaca, a matriarchal culture and a part of Kahlo's ancestry (her mother was half-Tehuana). Appearances Can Be Deceiving will show select pieces of clothing from Kahlo's home, as well as cosmetics, letters, and items from her personal jewelry collection.
Kahlo also suffered physical disabilities; she contracted polio as a child and was injured in an automobile accident at age 18. It was during her initial recovery from this accident that Kahlo began to paint. Later in life, the artist's eye-catching personal style concealed the orthopedic corsets and disabled leg underneath her clothing. This exhibit takes its title from Appearances Can Be Deceiving, a self-portrait of Kahlo that exposes her disabilities underneath a transparent dress. A few of Kahlo's corsets, which she painted with designs like the Communist Party's hammer and sickle, will be on display as well.
Brooklyn Museum has selected several pieces from its Arts of the Americas collection for this exhibit. An ancient Colima dog sculpture of the Xoloitzcuintli, a hairless dog, will represent Kahlo's affinity for this particular animal. Other pieces will include a pair of Nayarit male and female figures, Aztec sculptures of the Maize Goddess and the Wind God, and ceramics made in Guadalajara in the early 20th century.
The Surrealist Andre Breton described Kahlo's work as "a ribbon around a bomb." Breton, in fact, brought Frida Kahlo's work to prominence in the States and, thereafter, the world. In 1938 Breton arranged her first and only show in New York City at the Julien Levy Gallery. This placed Kahlo on the world stage and brought her from behind the towering reputation of her husband, a celebrated artist himself. During this pivotal era, Frida Kahlo sat for photographer Nickolas Muray on top of a building in Greenwich Village. This portrait, in which Kahlo coyly casts her gaze to the left of frame and holds a cigarette in one hand, also evidences the artist's colorful personal style with a cornflower-blue skirt, red patterned blouse, and two blue ribbons tied in bows on her head.
Frida Kahlo: Appearances Can Be Deceiving will run February 8 to May 12, 2019. Tickets are on sale now. This exhibition was organized by Catherine Morris, Sackler Senior Curator for the Elizabeth A. Sackler Center for Feminist Art, and Lisa Small, Senior Curator of European Art at Brooklyn Museum. The exhibition mirrors a similar exhibition at the V&A London.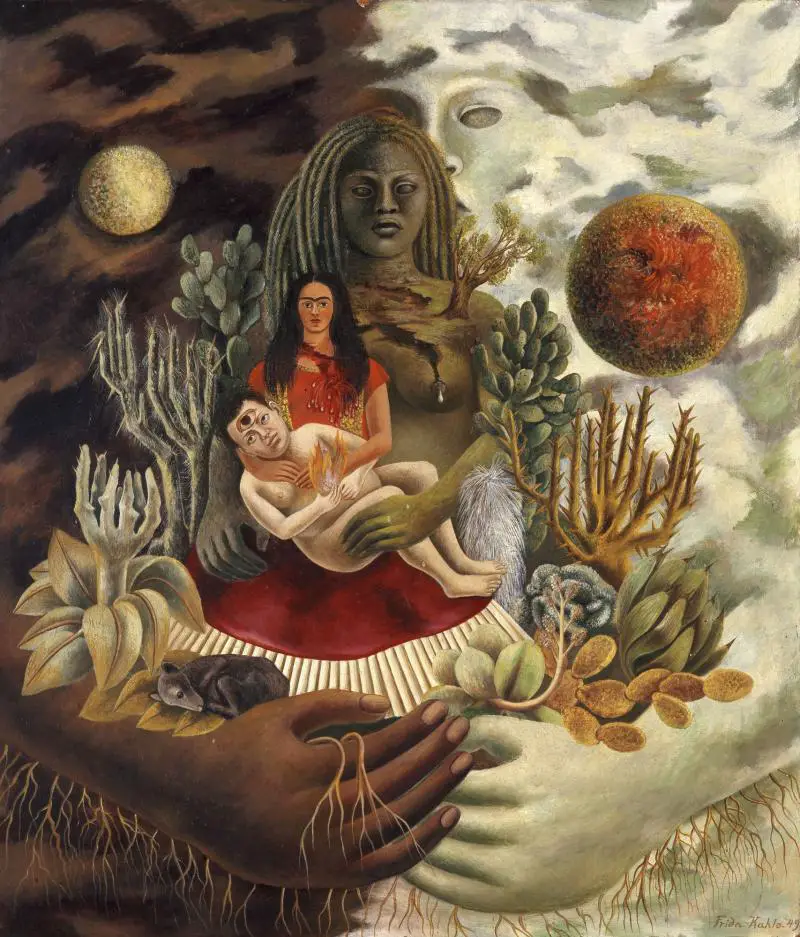 Frida Kahlo (Mexican, 1907–1954). The Love Embrace of the Universe, 1949. Oil on Masonite, 27½ x 23¾ in. The Jacques and Natasha Gelman Collection of 20th Century Mexican Art and the Vergel Foundation. ©2018 Banco de México Diego Rivera Frida Kahlo Museums Trust, Mexico, D.F. / Artists Rights Society (ARS), New York.
Brooklyn Museum is located at 200 Eastern Parkway. Call 718-638-5000 or visit brooklynmuseum.org for tickets and more. Advance tickets are available here.