With New York Fashion Week behind us, there are still plenty of ways to indulge in all things fashion this fall. We're all for shopping, of course, but this list is for exploring the history of fashion and the people who make it. Take a free tour of the Garment District, hear a design icon talk about her process, and see historical jewelry up-close with these fashion diversions in NYC.
Pierre Cardin: Future Fashion at Brooklyn Museum
Installation view, Pierre Cardin: Future Fashion, Brooklyn Museum (photo: Jonathan Dorado, Brooklyn Museum).


In the 1960s, Pierre Cardin made his name with futuristic dresses and astronaut-inspired headpieces on his models. Over the following decades, his famous "target dress" and boundary-pushing fashion show staged on the Great Wall of China sealed his status at the forefront of the fashion world. Future Fashion at the Brooklyn Museum celebrates the 96-year-old designer and his fellow futuristic creators. Also at the museum is a restaurant pop-up: Maxim's at The Norm, a seasonal concept inspired by the famous Paris restaurant owned by Cardin himself. Exhibition on view now through January 5, 2020. 200 Eastern Pkwy., 718-501-6354, brooklynmuseum.org
The World of Anna Sui at Museum of Arts and Design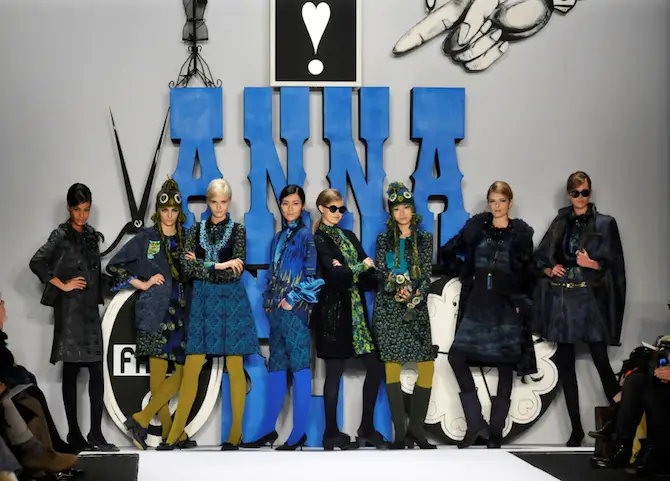 Photograph by Thomas Lau, courtesy of Anna Sui.
The vibrant, whimsical designer Anna Sui is the subject of an exciting new retrospective at MAD on Columbus Circle. Sui's iconic "Babydoll Dresses," "Dolly Head Mannequins," and a range of fashion looks from her decades-long career are on view, as is a miniature version of her Soho boutique. Materials on the designer's life and personal aesthetics give visitors a sense of the personality behind Sui's distinctive brand. Fans should also check out Sui Saturdays in conjunction with the exhibition. October 12, Sui will discuss her interior design aesthetic with Elle Decor's Vanessa Lawrence. November 2, see hairstylist Garren and makeup artist Pat McGrath in conversation with the designer. Exhibition on view now through February 23, 2020. 2 Columbus Cir., 212-299-7777, madmuseum.org
Paris, Capital of Fashion at FIT Museum
Educate yourself about the history of fashion at the university on Fashion Avenue (better known as 7th). The museum at the Fashion Institute of Technology always shows fascinating exhibitions that are free and open to the public at its Chelsea campus. Paris, Capital of Fashion explores the French city's role in shaping how we think about fashion, then and now. Exhibition items date from the 1700s through today and include pieces of haute couture and the work of French designers like Chanel and Jacques Fath. On view now through January 4, 2020. Also on view at the museum this fall is the exhibition Minimalism/Maximalism (through November 16). 227 W. 27th St., 212-217-4558, fitnyc.edu
Jewelry for America at The Met Fifth Avenue
Although Camp, The Met's Costume Institute Exhibition, has closed, fashion fans can enjoy this fall's "Jewelry in America." The exhibition sees the history of the United States through the lens of its jewelry. Witness items from The Met's collection, including artistic renderings of jewelry throughout American history, as well as unique rings, necklaces, brooches, bracelets, and more. 1000 Fifth Ave., 212-535-7710, metmuseum.org
Sex and the City and Gossip Girl Tours
Experience two of the most fashionable shows ever to hit the small screen with On Location Tours. These guided rides through Manhattan will show you the glamorous worlds of Sex and the City and Gossip Girl. With the SATC tour, you'll get a close-up look at Carrie's West Village brownstone, explore the Meatpacking District, and even have a cupcake like Carrie and Miranda on the show. Obviously the Gossip Girl tour will put you and your friends on The Met steps like Blair and Serena, in addition to Dylan's Candy Bar and other iconic sites. Both tours are narrated and interactive experiences in the comfort of a charter bus, perfect for any weather this fall. Various locations, 212-913-9780, onlocationtours.com
Tour the Garment District
Learn the inner workings of New York's Garment District on a free tour led by Mike Kaback. This licensed guide and industry insider will take you inside a showroom, factory, and the lauded Mood Fabrics (which fans of Project Runway will recognize). Kaback will also narrate the incredible history of clothing manufacturing in the neighborhood. Upcoming fall tour dates are scheduled for October 3, October 20, November 5, and November 17. Meet at Seventh Ave. & W. 39th St., [email protected], garmentdistrict.nyc