The exhibit Everything is Connected: Art and Conspiracy at The Met Breuer begins with a look at artists who adhere, more or less, to the straight and narrow—at least in terms of their approach. These artists use their works to focus, for instance, on the shell corporations set up by what was New York's largest private landlord, to the vast web that drew into it arms dealers, businessmen, and politicians. These artists may be looking at conspiracies, but they're conspiracies that can largely be fact checked and documented.
The second part steps into the realm of the speculative, into what we think of more as the fringe of conspiracy theory. But just because you're paranoid doesn't mean it's not art.
Peter Saul, (American, born 1934). Government of California, 1969. Acrylic on canvas. Collection of Brian Donnelly, New York. © Peter Saul. Courtesy Mary Boone Gallery, New York.
You'd be forgiven for wondering if you were in fact at The Met Breuer when you enter the galleries for this exhibition, because it seems like a very un-Met type of show. It is, in fact, the first major museum exhibition to look at the issue of artists exploring government power and the suspicion that increasingly haunts our culture.
The exhibit is large not only in scope, but also in representation—30 artists and 70 works of art and media that encompass sculpture, photography, sculpture, video, and installation art. It looks at conspiracy theory in the West, stopping just before the 2016 presidential election.
Postwar America really paved the way for the era of conspiracy theory to flourish—for starters, the country expanded in both size and complexity. A series of events, such as Kennedy's assassination, which really kick starts the exhibit, started raising questions with no clear answers—which in turn led to more questions. The exhibit, not surprisingly, has a slightly hallucinatory feel, as if you've stepped into a sort of media funhouse that seems both familiar and weirdly distorted.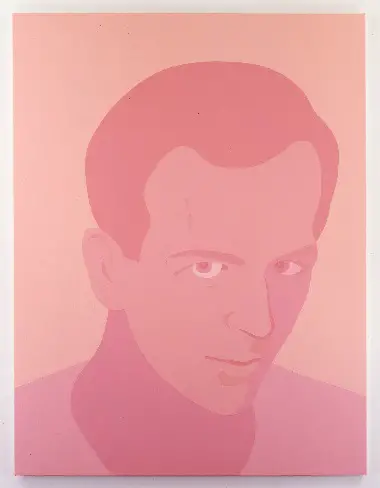 Wayne Gonzales, (American, born 1957). Peach Oswald, 2001. Acrylic on canvas. Courtesy of the artist; courtesy Stephen Friedman Gallery, London.
The show, in fact, opens with two huge canvases by Wayne Gonzalez, one of Lee Harvey Oswald, who of course shot John F. Kennedy, and one of Jack Ruby, who shot Oswald. Oswald looks as if he's taunting us; Ruby seems more of a blank mask. Yet together, they set up the essential question at the heart of this show: What's really going on?
The show feels strangely prescient at times: The Bank of Commerce and Credit international scandal in the late 1980s was the inspiration for a diagram by the late conceptual artist Mark Lombardi, and you may feel a jolt when you realize that Robert Mueller was one of the top prosecutors. Another series, by Sarah Charlesworth, shows a Polaroid image of Aldo Moro, the Italian prime minister who was kidnapped by the Red Brigade, in newspapers around the world. Each image show him holding up a copy of the Italian newspaper La Repubblica with the date, so his captors could prove he was alive (he was later killed). In this series, all the text has been removed. Conspiracy or documentation? Either way, it's a powerful statement that shows how art can both comment on and bear witness to world events, and in fact shape the way they're viewed.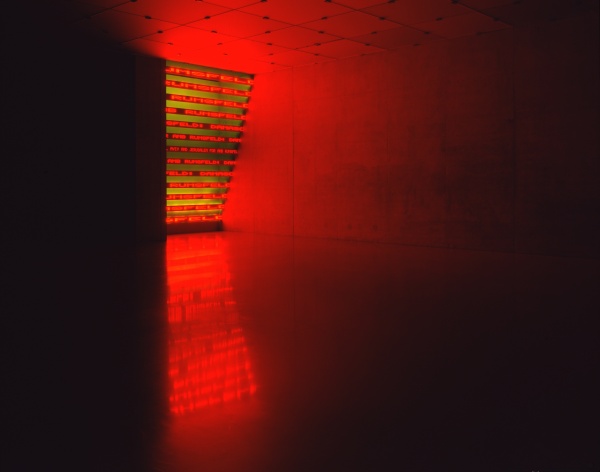 Jenny Holzer, (American, born 1950). Red Yellow Looming, 2004. 13 double-sided LED signs with read and amber diodes. Collection of Cari and Michael Sacks, New York. © 2018 Jenny Holzer, member Artists Rights Society (ARS), New York.
One of the most provocative works in the show is by Jenny Holzer: "Red Yellow Looming" is an LED sculpture—her signature—from 2004 with 13 horizontal tickers whose text is from government documents on Iraq. It's a powerful piece on politics and language. And just as relevant today as it was when it was first unveiled.
The exhibit also includes a video interview with Black Panther activist Fred Hampton, who was later killed by police; an exploration of the mind-control program launched by the CIA; and the late Mike Kelley's "Educational Complex," which explores the idea of distorted memories, as seen in the headline-grabbing McMartin preschool sex-abuse scandal, which found that children had most likely been coerced into false memories.
While more of a through line might have helped to bring a sense of cohesiveness to the exhibit, some of the individual works, such as Holzer's, are powerful enough in their own right to starkly convey both clarity and urgency—and if there's anything we need today, it's both.
---
Everything Is Connected: Art and Conspiracy is on view at The Met Breuer from September 18, 2018 through January 6, 2019. The Met Breuer is located at 945 Madison Ave., 212-535-7710, metmuseum.org/visit/met-breuer.