The DUMBO Improvement District and Two Trees Management Co in partnership with the New York City Department of Transportation Urban Art Program (NYCDOT) and the Jonathan LeVine Gallery, announce the creation of DUMBO Walls, a series of eight outdoor murals packed within a four-block stretch of DUMBO along the BQE.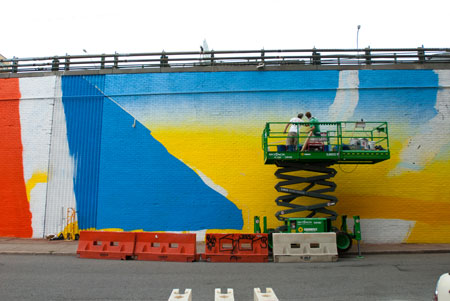 This extensive project is being presented through the NYCDOT Arterventions program with funding provided by the DUMBO Improvement District and Two Trees Management Co. Works by CAM, MOMO, Stefan Sagmeister and Yuko Shizimu are presented by the DUMBO Improvement District and Two Trees Management Co. Works by DALeast, Eltono, Shepard Fairey and Faith47 are presented by Jonathan LeVine Gallery and Wooster Collective, in conjunction with 10 Years of Wooster Collective 2003—2013, a group exhibition on view at 525 W 22nd Street from August 7—24, 2013.
ABOUT THE ARTISTS

DALeast was born in Beijing, China in 1984 and is currently based in Cape Town, South Africa. He studied sculpture at the Institute of Fine arts and began doing street art in 2004 under the alias DAL and has since become one of the most promising artists of the new international scene. Painter, photographer, sculptor and video maker, the work of DAL is representative of a new season in street art. He takes from contemporary art a multidisciplinary approach and a critical vision, combining it with the spirit of urban art that plays with architectural elements and perspectives. DAL is inspired by the way the material world revolves, how the spiritual world unfolds, life's emotions and the infinite space around us. He uses different mediums, methods, disciplines and spaces to create his works.

Eltono, a native of France, is a street artist known for his constructive approach and sensitivity to medium and location. His improvisation in situ of forms and colors helps integrate his work within an already existing balance found in the location he has chosen. He almost always choses neglected surfaces with the intention of reviving their dignity and to take advantage of the power found in aged textures. Such pieces are seldom very visible, which adds privacy to the fortuitous meeting with his work. Renouncing the visibility sacrifices numerous public encounters with his work, but in return increases the pervasiveness of each piece. Eltono's work may be found in cities around the world, including Beijing, Warsaw, Tokyo, Lima, Milan and Mexico City.

Shepard Fairey was born in Charleston, SC in 1970. He currently lives and works in Los Angeles. In 1989, as a student at the Rhode Island School of Design, Fairey launched an ambitious campaign of stickers featuring the wrestler Andre the Giant and became internationally known using the slogan The Medium is the Message in his Obey Giant street campaign. In the two decades since then, his artwork has been exhibited in numerous galleries, museums and collections around the world. He designed the iconic "Hope" graphic for Presidential Barack Obama used during the candidate's campaign in 2007-2008. In January 2009, during inauguration week, the "Hope" image was acquired by the Smithsonian National Portrait Gallery, and became part of their permanent collection. In February of 2009, a mid-career survey of Shepard Fairey's work over the past 20 years was the subject of his first museum exhibition at The Institute of Contemporary Art in Boston. In 2010, the show traveled to The Andy Warhol Museum in Pittsburgh, PA, and Contemporary Arts Center in Cincinnati, OH.

Faith47 is a self-taught contemporary street artist based in Cape Town, South Africa. Finding beauty in the brokenness of abandoned spaces, Faith initially became recognized for her numerous artworks crossing all economic boundaries on South Africa's weathered canvas. The feeling of disillusionment in political structures and in the human condition is evident in many of her earlier works. Her recent paintings dig deeper into the mysterious unknown, conveying ways of seeing through the physical reality and into the layers underneath. Today Faith's paintings can be found in many cities including London, New York, Shanghai, Paris, Vienna, Sao Paulo, Berlin, Nairobi, Melbourne and Vancouver.

Craig Anthony Miller (aka CAM) is a Brooklyn native who holds a BFA in Graphic Design from St. John's University. Influenced by both stained glass art and graffiti, CAM employs his graphic art training to create work that explores far, distant lands and tribal warriors stealthily transplanted into layered urban landscapes. CAM's work has been in collective group and solo shows in NYC and around the world.

MOMO is an artist working outdoors with systems and homemade tools. His "Tag the Width of Manhattan" utilized the existing street grid and a custom bicycle paint-dispensing unit to write his name the width of New York City. His Street Collage demonstrates a minimalist postering technique free of printing. The MOMO Maker group of works are serial, and installed in the city with invented equipment. PLAF is an unauthorized sculpture project in New York's water ways, taking power from NY's tides and currents. Most recently Practical Geometry is a developing set of tools to draft, design, and organize wall murals with adapted masonry techniques. Born in San Francisco, MOMO has travelled most of his life, lived in New York for six years and currently keeps a studio in New Orleans.

Stefan Sagmeister, a native of Austria, received his MFA from the University of Applied Arts in Vienna and, as a Fulbright Scholar, a master's degree from Pratt Institute in New York. He has designed visuals for the Rolling Stones, the Talking Heads and Lou Reed. Having been nominated five times for the Grammies he finally won one for the Talking Heads boxed set. He also won most international design awards. In 2001 a best selling monograph about his work titled "Sagmeister, Made you Look" was published by Booth-Clibborn editions. Solo shows on Sagmeister Inc's work have been mounted in Zurich, Vienna, New York, Berlin, Tokyo, Osaka, Prague, Cologne and Seoul. He lectures extensively on all continents.

Yuko Shizimu is a Japanese illustrator based in New York City and instructor at School of Visual Arts. Newsweek Japan has chosen Yuko as one of "100 Japanese People The World Respects" in 2009. Her first self-titled monograph was released worldwide from German publisher Gestalten in 2011. The first children's book Barbed Wire Baseball (written by Marissa Moss) came out from Abrams in April, 2013. Shizimu's work may be seen on The Gap T-shirts, Pepsi cans, VISA billboards, Microsoft and Target ads, as well as on the book covers of Penguin, Scholastic, DC Comics, and on the pages of The New York Times, Time, Rolling Stone, The New Yorker and in many other publications over last ten years.