Arts lovers wanting to check out a variety of dance companies this fall—without breaking the bank—should head over the Brooklyn Bridge to Dumbo, where the DUMBO Dance Festival will be spotlighting work by 70 companies this October in its four-day festival.
Taking place from October 11-14, the DUMBO Dance Festival will bring together both emerging and established dance artists from New York and around the world for a slate of 11 different mixed bill programs. Tickets will be priced at $15 each, giving audiences the chance to see a wide range of artists perform at an affordable rate.
White Wave Dance Company. Photo: Chris Randle.
The festival is presented by WHITE WAVE Young Soon Kim Dance Company, a company dedicated to multi-dimensional dance productions with both modern and timeless themes. The company helps to stimulate progress in the dance world by giving choreographers the ability to create and present pioneering new works through its festivals, concerts and educational activities.
"This is a festival about opportunities," Young Soon Kim, Artistic Director of WHITE WAVE Dance, said in a statement. "The DUMBO Dance Festival provides an opportunity for over 350 performing artists to showcase their work. Further, it offers New York audiences the chance to participate in one of the most diverse displays of leading-edge choreography and excellence at an affordable price."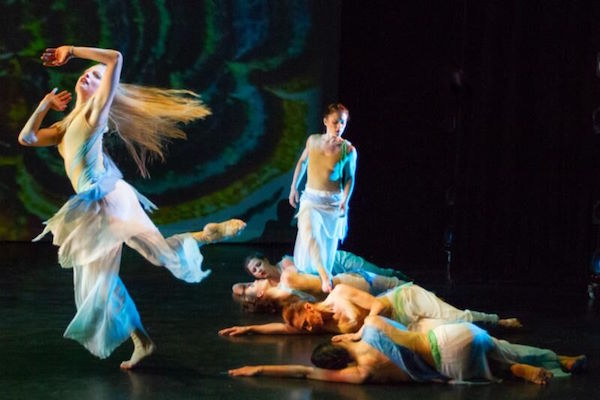 Buglisi Dance Theatre. Photo by Terri Gold.
The DUMBO Dance Festival will kick off October 11 with a special gala celebration featuring performances by CARMELO SEGURA DANCE COMPANY, Augusto Soledade Brazzdance, Jennifer Muller | The Works, Ballet Clasico Alina Abreu, Buglisi Dance Theatre, and WHITE WAVE Young Soon Kim Dance Company. The performances will be followed by a Korean dinner buffet and raffle.
From there, the festival will be packed with multiple mixed bill programs each day, which audiences can attend for just $15 each. Among the companies performing in the festival are local companies Jin-Wen Yu Dance, Ballet Hartford, Sokolow Theatre/Dance Ensemble and Sheep Meadow Dance Theatre, along with other US-based and international companies from Spain, Mexico, and the Dominican Republic.
Ekklesia Contemporary Ballet. Photo: Jon Schroth.
Families can enjoy a special family-friendly show on Sunday, October 14 at 1:30pm, which will include performances by Jazz Roots Dance Company, Ballet Nepantla, Ekklesia Contemporary Ballet, Scott Willits Project, Incite Insight ARTS, American Swiss Ballet Company and sixteen94. The festival will come to an end Sunday evening with a grand finale program offering performances and a closing ceremony.
The 2018 DUMBO Dance Festival will take place October 11-14 at the Gelsey Kirkland Arts Center in Brooklyn. To purchase tickets, please visit 2018dumbodancefestival.eventbrite.com.