If you're visiting New York with your canine pal or just missing him or her, take time on National Dog Day, August 26th, to ponder how much joy dogs bring. If you're an NYC local and want your own canine, you can avoid supporting puppy mills and adopt a dog at a local shelter. After all, a dog is man's best friend — and there's nothing quite like a giving a hug and kiss to a pooch after long day.
Drop into the William Secord Gallery, 29 W. 15th St., where leashed dogs are welcome. The gallery specializes in 19th and 20th century dog paintings as well as dog-related items like an antique walking stick or a 10th century French bronze. Open by appointment; call 212-249-0075 for details.
Canine sightseeing alert: Tawny Tours, part of Z-Travel and Leisure, offers tours with a vehicle. It's $99 for you and your hound. For specifics such as sites to be visited, where to meet, etc., call 914-633-6658 or email [email protected]
Take a walk in beautiful Central Park with or without a furry friend. There are many dog parks where critters can run off-leash or, if you yearn to see dogs of New York in the, um, fur, they are all over this dog-filled city.
If you work up a thirst and want your furry pal to come along while you imbibe, d.b.a. , 41 First Ave. in the East Village, has a big beer, whiskey, and bourbon selection and welcomes pooches inside the bar or on the back patio. One day before National Dog Day, on August 25the, they will be hosting Paint & Sip with Your Dog, at 1:30pm. Lucky Dog, 303 Bedford Ave., Brooklyn, also welcomes canines with a backyard for play.
Of course you can buy dog wear, accessories, and other trappings back home but bragging rights come with saying "we picked this up in New York." Among the dog boutiques, The Barking Zoo, 172 Ninth Ave., Canine Styles, 830 Lexington Ave., and the more affordable chain, Unleashed by Petco, are good bets.
Love Shake Shack? The one located in Madison Square Park, off Madison Avenue at 23rd Street, offers your fave burger and fries and the "Pooch-ini": a chilled doggy treat, coated in peanut butter with dog-friendly vanilla custard.
Immortalize your canine pal at Bar Moxy in the Moxy Times Square Hotel, 485 Seventh Ave. (at 36th Street), where from 4-8pm on National Dog Day artist Ben Lenovitz will create custom pawfect portraits. There are only so many "sittings" so email to get a spot: [email protected] with 'PET' in the subject line. Portraits are $80 each, with 50% of the proceeds going to Muddy Paws Rescue.
The Hotel Wales, 1295 Madison Ave. on the Upper East Side, welcomes furry friends, charging a non-refundable fee of $25 per pet, per night for pooches up to 40 lbs, and $50 per night for pets over 60 lbs. Nomo Soho, 9 Crosby St., in artsy SoHo, has off-peak summer rates and charges those with dogs a $100 cleaning fee
Ollie's Ice Cream + Stuff, 158 Irving Ave., Brooklyn, serves delicious artisanal ice cream for people and pup-cups for doggos. Everyone raves (or barks).
Celebrate National Dog Day with a date at The Wilson, 132 W. 27 St. Every purchase of an entree from the Dog Menu comes with a complimentary Tito's Greyhound cocktail for your human! Indulge in specially prepared doggy dishes like a 16 oz. grilled ribeye steak, pan-roasted salmon, and grilled chicken breast, while your human enjoys a refreshing Tito's drink. The menu is available exclusively on the side patio and the front terrace. For reservations, please have your human email [email protected].
Boulton & Watt is debuting Boulton & Woof, their first-ever dog menu. Visiting pups will be treated to a free bandana and a first look at the new Boulton & Woof menu featuring steak tartare, sweet potato jerky, and a peanut butter bone. Make sure your owner grabs a table outside, because the menu isn't served inside! Reservations require a human phone call to 646-490-6004.
Hotel Indigo Lower East Side is hosting an adoption event and "Yappy Hour" in partnership with The Humane Society of New York in the hotel's Orchard Street entrance. From 4-6PM guests and locals alike can bring their favorite four-legged friend to mix and mingle with other dogs and check out some adorable pups available for adoption. Complimentary doggie treats courtesy of Lord Jameson and toys from BarkBox will be provided + other fun activities!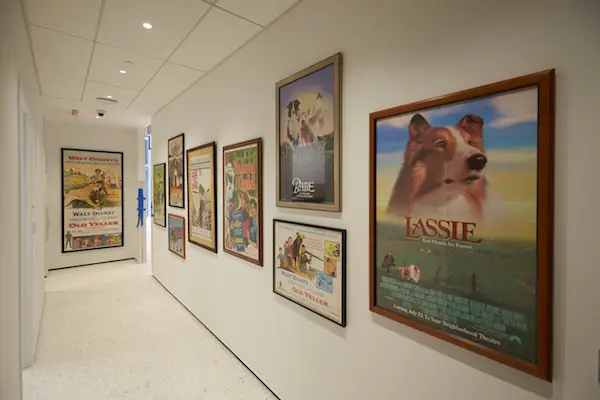 There's a room at the Museum of the Dog dedicated to film posters where a dog is the star, including Lassie, Babe, and Old Yeller.
And a must-see for dog lovers: Museum of the Dog, 101 Park Ave. Close to Grand Central (closed Mondays, so not a Dog Day destination) you can see a stunning array of canine-related art and artifacts, enjoy interactive displays, visit the library, and investigate the small but nicely edited gift shop.