DeKalb Market Hall in Brooklyn is the newest spot for satisfying your latest craving in New York City's hippest borough. A center for showcasing the cultural diversity of the area, DeKalb Market Hall offers more than just a bite to eat with a show kitchen, a cocktail bar, and live programs every day. To add to the fun, "Movies With A View" will be partnering with DeKalb Market Hall this summer to bring you some of the best eats while you enjoy outdoor flicks at Brooklyn Bridge Park. Not sure where to begin? Here are our top five picks for DeKalb Market Hall.
Best of DeKalb Market Hall: Katz's Deli
Katz's Deli is famous for their appearance in the much-loved romantic comedy When Harry Met Sally, as well as for their pastrami sandwiches. Portions are generous at Katz's, so come with a ready appetite. You can also try the corned beef, some brisket, a cheesesteak, or even a burger among other things from the extensive menu at Katz's. Try just one, or come back again and again to try them all – you can't go wrong with anything on the menu at this New York City staple. katzdelicatessen.com
Best of DeKalb Market Hall: Ample Hills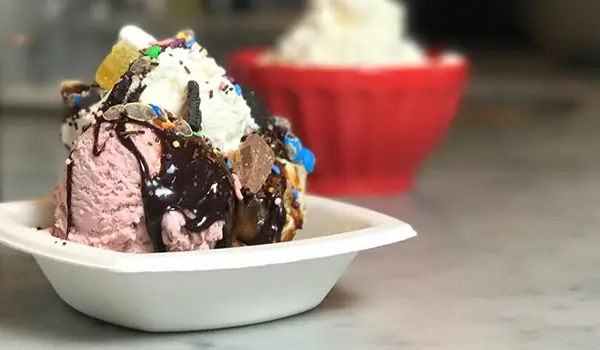 For those with a sweet-tooth, Ample Hills is waiting to serve you all the ice cream you could ever want. Along with their usual creamy and fulfilling flavors, Ample Hills has a special flavor for the DeKalb Market Hall location: Junior's Cheesecake. With malted chocolate and bits of cheesecake to make you forget you're in an underground market and not in the heavens, this ice cream is a must-try. The only thing you have left to decide: cone or dish? amplehills.com
Best of DeKalb Market Hall: Wikiwiki
Wikiwiki has brought Hawaiian comfort food (just how the island locals like it) all the way to New York City. You can get poke with tuna, salmon, or tofu. You can get a plate with rice, macaroni salad, and your choice of meat, such as grilled chicken or spicy pork bulgoki. You can get side orders like kimchi and seaweed salad. Long story short, you can get authentic Hawaiian food that will send your senses overseas while you stay seated in Brooklyn. wikiwikinomnom.com
Best of DeKalb Market Hall: Pierogi Boys
Pierogis are stuffed Polish dumplings, and at Pierogi Boys, you can watch them be made right in front of your eyes. Dinner and a show, in the best way possible. Top your potato dumplings with goodies like bacon, chives, and sour cream or top your beef and pork filled pierogis with fresh herbs. You can even eat them plain and savor every tender bite. It's food that looks good and tastes even better. Enjoy!
Best of DeKalb Market Hall: Two Tablespoons
The vegetarians out there need not fear, because Two Tablespoons is here for you, serving up fresh vegetarian and vegan options at the DeKalb Market Hall. Veggie burgers, noodle bowls, summer rolls – you won't be limited by your diet here. If you stop by for breakfast, you can start your day off right with an organic scrambled egg bowl or some steel-cut oatmeal made with almond milk, coconut oil, and optional toppings including blueberries, bananas, hemp seeds, dried apricots, and pecans. twotbsp.com