In Brooklyn's ever-burgeoning culinary scene, renowned chefs are setting up shop in the borough and serving award-winning cuisine. But at these restaurants, don't expect a posh place where you need to dress up. Expect a Brooklyn facade—a warehouse, a pier, a pizza parlor—with an array of fascinating dishes awaiting you inside. These are the freshest ingredients, utilized masterfully, in neighborhoods throughout Brooklyn. Bon appetit!
Best Fine Dining Restaurants in Brooklyn: Dumbo
The River Café started in 1977, back when Dumbo was a forgotten industrial area at the base of Brooklyn Bridge. Proprietor Buzzy O'Keeffe attracted crowds with the restaurant's astounding view of the Manhattan skyline, fresh takes on new American cuisine, and exceptional wine program. Today, The River Café is the site of countless special occasions for tourists and locals alike, who enjoy live piano music, top-notch wait staff, and incredible dishes. Chef Brad Steelman has received a Michelin star for his assured menu, offering fine seasonal ingredients and perennial favorites like organic chicken with agnolotti pasta, chanterelle mushrooms, and Madeira wine jus. For dessert, you can't deny the classic chocolate Brooklyn Bridge, reflecting the view out the window. One Water St., 718-522-5200, rivercafe.com


Best Fine Dining Restaurants in Brooklyn: Bushwick
At Blanca, Chef Carlo Mirarchi takes the art of the tasting menu to new heights. You must arrive on time for your scheduled dinner in this tiny Bushwick kitchen, where you'll join a small group of other diners for a culinary adventure of over 20 courses. The menu changes according to availability of ingredients—and the whims of Chef Mirarchi—but expect decadent surprises like macadamia-espresso dressing on Japanese sweet potatoes and spicy pork lava (eat at your own risk!). Blanca also has the distinction of a two-star Michelin rating, one of only two restaurants at this level in all of Brooklyn. Seatings are available Wednesday through Friday at 6pm and 9pm, and Saturday at 5pm and 8pm. At your appointed reservation time, meet hostess inside Roberta's at 261 Moore St., blancanyc.com
Best Fine Dining Restaurants in Brooklyn: Williamsburg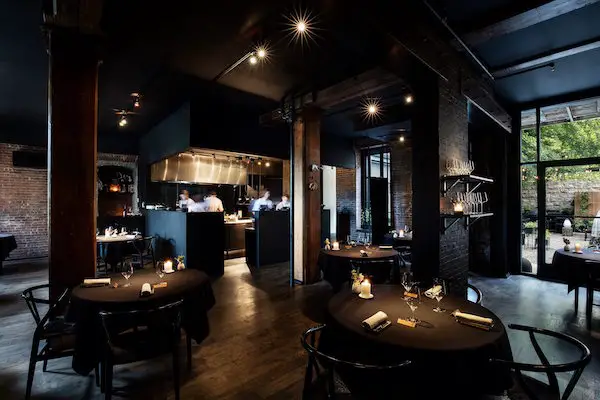 Winner of two Michelin stars, Aska brings Scandinavian sophistication from its antique warehouse underneath the Williamsburg Bridge. Swedish chef Fredrik Berselius prepares elegant tasting menus with a variety of unusual ingredients like deer lichen and pig's blood and chamomile jelly. These dishes surprise the palate and create a dining experience you won't soon forget. There are just ten tables in the dining room (reservations required), while the cellar seats many more and offers beer, wine, cocktails, and a calming backyard space in warmer weather. 47 S. 5th St., 929-337-6792, askanyc.com
Best Fine Dining Restaurants in Brooklyn: Williamsburg
Traif celebrates all things pork, made with a rich combination of pan-Asian flavors and soul-food goodness. This Williamsburg restaurant wows with ribs slathered in strawberry and decked with pomegranate seeds, as well as tuna tartare with tempura eggplant and Indonesian soy sauce. Pork belly makes an appearance or two, of course, as do bone marrow, bacon donuts, and gigantic prawns dressed in uni butter. In short, this is a carnivore's best bet for a nice meal out. Tasting menus are around $50 per guest, and table participation is required. 229 S. 4th St., 347-844-9578, traifny.com
Best Fine Dining Restaurants in Brooklyn: Prospect Heights
In true Brooklyn form, some of the vegetables on your plate come from Olmsted's backyard, which also makes for lovely seating in good weather. The restaurant, named for one of the key designers of nearby Prospect Park, is helmed by Chef Greg Baxtrom, formerly of Manhattan mainstays like Per Se. The focused menu is approachable, innovative, and note-perfect in all seasons. Right now, enjoy end-of-summer produce with watermelon sushi, Garden Basil Spaetzle with marinara and parmigiano reggiano, and gourmet frozen yogurt with lavender honey for dessert. 659 Vanderbilt Ave., 718-552-2610, olmstednyc.com
Best Fine Dining Restaurants in Brooklyn: Williamsburg
While Lilia serves some of the borough's most transcendent Italian food, you won't find much fuss or formality in this popular Williamsburg restaurant. The pasta is the star of the show here, with pillow-soft ricotta gnocchi and fettuccine with spicy lamb sausage and tomato. There's nothing like the expertly grilled veal flank steak with hot peppers and basil or black bass with salsa verde as mains. These dishes assert intentionality and care, courtesy of Chef Missy Robbins, but they won't break the bank. Be sure to make a reservation, as Lilia can be a tough table to get! 567 Union Ave., 718-576-3095, lilianewyork.com
Best Fine Dining Restaurants in Brooklyn: Prospect Heights
Mast-o-Bademjan - pan fried eggplants with saffron and yogurt, at Sofreh.
Middle Eastern cooking typically comes casual, but Sofreh elevates its Iranian home cooking with some unique preparations and more upscale setting. Owned and operated by an Iranian couple, this Prospect Heights restaurant serves crackly barbari bread with cucumber yogurt dip to start, as well as a comforting Persian herb and noodle stew with lentils, cured yogurt, and garlic chips. Tantalizing main dishes include a catch of the day with herb and tamarind sauce and a half chicken with Persian plum-saffron sauce, barberries, and fries. As for your drink, try the Tehran Dirty Martini with vodka and housemade pickled almond brine. 75 St. Marks St., 646-340-0322, sofrehnyc.com