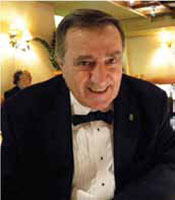 Open since 1964, Le Périgord has been host to movie stars across the ages from Liz Taylor and Richard Burton, to Brad Pitt and Angelina Jolie. Visiting members of the UN, faithful regulars, and French food enthusiasts have kept Georges busy for nearly 50 years.
"How's the beef bourguignon?" It was lunchtime on a Wednesday at Le Périgord and a half-empty glass of white wine was sitting next to a very full glass of red wine, above a white china bowl of meaty brown stew; its aroma wafting up in nearly visible tendrils. Owner Georges Briguet continued: "If you want to make this bourguignon, first you go to a butcher and ask him for a cut to make a beef stew. He'll give you the shoulder, the chuck of the shoulder." He went on to give cooking instructions, which included braising the beef, adding turnips, carrots, celery, potato, onions, 2-3 glasses of red wine, and a little salt before a low and slow period in the oven of about 2-3 hours. "The beef is the key...If it's the right cut, it will do all the work for you." He had barely finished this oration when a large constituency of Uruguayan diplomats stopped in, presumably taking a break from the nearby United Nations HQ, for lunch. Georges greeted them formally, made his rounds throughout the dining room, and sat back down to chat a bit longer about his restaurant, Le Périgord, one of the oldest and best French restaurants in New York City.
Q. How has Le Périgord evolved over these last few decades and changed?
GB: The big change, the first that comes to mind, is one that I'm actually not too happy about. The dress code. For a great many years when people came to a fine restaurant, a French restaurant with a white tablecloth, every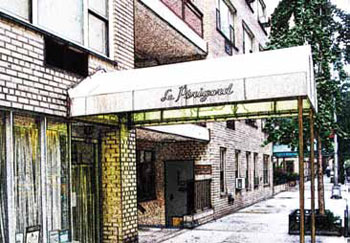 man had a jacket and tie on. We wouldn't even let anyone into the restaurant unless they were properly dressed. Years ago we would never have let anyone come in wearing blue jeans or shorts. If they would have been dressed that way, back then, the chef would not have cooked for them. Then about ten, or maybe 12 years ago, we relaxed the rule. The new generation came around, my children included, and for some reason they just don't understand the art of fine dining.


Q. Has the cuisine at Le Périgord changed very much with the times?
GB: Yes and no. The food here is food like in France, and by that I mean, what they serve in France today is what we serve at Le Périgord. Our chef was born, raised, and trained in France. He was trained in Brittany and for part of his career he worked at Lutèce, which was one of the most famous restaurants in New York, if not the world. When it closed in 2004, he came to Le Périgord and he's been here ever since. French children are raised in the kitchen, cooking with their mother. I think it is much, much easier for a French-born young person to be a good chef than it is for people in many other cultures. I learned so much in the kitchen with my mother, but I never cooked professionally. In the kitchen I couldn't see all of those beautiful women in the dining room.
Q. I saw the a wide range of dishes as I entered; can you talk about the mealtime service?
GB: Our cooking here is simple, elegant, classical French and our guests see food the whole time—when they walk in they see the first-course options: Canadian lobster with coriander sauce, sh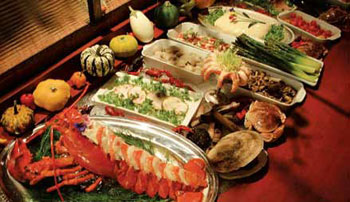 rimp, asparagus, celery remoulade, and the 'famous' artichokes. Then once they are seated, the waiter takes their order and brings them whatever they wish. They select their entrée, and wine (if they wish) and dessert is served on the "Temptation Wagon." [The temptation wagon rolls closer.] Today we've got blueberry tart, apple tart tatin, chocolate mousse, chocolate mousse cake. It is known all over the country. In fact, that Temptation Wagon is why we were so successful when we opened back in 1964.
Q. Do you select all of the wines yourself?
GB: I was born in a vineyard. My parents made their living growing grapes in the Rhone Valley, so to me wine is like a way of life, and I order all of the wine that we serve in the restaurant. I taste all of them, I price all of them, and because I do that personally I can keep the prices on my wine list very reasonable. Sometimes I make more on the food than the wine. In many cases, people will see a bottle they know, and when they're finished they'll order a second bottle. If you are too greedy with the price of wine people are hesitant to order even one bottle; they might only order one glass.
Q. What are your favorite places to eat in France?
GB: In France, like in America, my favorite place is my home. My wife is a fantastic cook, she was born in France and her mother was a great chef as well. In France, as in New York, you can get amazing, fresh ingredients and baked goods at the markets, and that's what my wife does when we are in France. She goes shopping for the food that we're going to eat that night and then she cooks it. I'm always here in the restaurant, and I'm always around people, so when I take time off or when I travel, I enjoy a little solitude.
Le Périgord
405 East 52nd Street
212.755.6244, LePerigord.com