Hot, hot, hotter. That pretty much sums up the New York summer. But if you are visiting New York during the summer, a high temperature isn't going to stop you from exploring the city, is it now? One neighborhood in New York not to miss is trendy Williamsburg, Brooklyn. While there are tons of options for shopping and restaurants, here are our picks for the best options in Williamsburg to beat the heat.
1. Radegast Hall & Biergarten
Ok, so maybe this is not the best tip for beating the heat. Or is it? Sometimes you just want to sit down after a long day of walking up and down the streets of New York. What better way to relax your feet than with a cold beer and a grilled wurst surrounded by great people in a laid-back atmosphere? ragegasthall.com
2. Brooklyn Brewery
If you feel overheated from the sun and the idea of sitting outside soaking up more sunshine is not appealing to you, but you wouldn't mind a cold beer, take the trip to the famous Brooklyn Brewery. Not only do you get a round trip of the place but you get to taste the different brews while you're walking around. Yep, that sounds appealing to me. brooklynbrewery.com
3. McCarren Park
For some, the sun is finally here to be enjoyed. No beating the heat here, thank you very much. If you're like me, who loves wandering the streets for new places and treasures to see, it is good to take a break once in awhile. So why not grab some snacks and water and head on over to McCarren Park to refuel? nycgovparks.org
4. Brooklyn Bowl
Hungry but you don't want to sit inside in a crowded restaurant for your meal? Why not take a trip to Brooklyn Bowl for a snack instead? Here you can eat and drink while bowling. The venue is big and high-tech, and Saturday and Sunday are even dedicated to family bowl from noon to 5pm. Brooklyn Bowl is also a popular music venue. If you're lucky, maybe you'll have some live music with your burger (and your pins). brooklynbowl.com
5. Barcade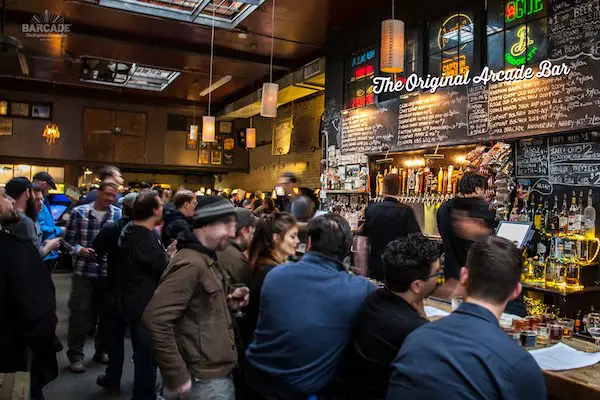 This place is one of my favorite places to pass the time, hands down. When I first moved to New York, I stumbled upon this place by accident. And boy was I glad I did. When entering it is like you can touch the amount of nostalgia running through the venue. All of your favorite vintage video games are lined up next to the wall. So, grab a drink and get situated in front of your favorite game from when you grew up! barcadebrooklyn.com
About the author: Nina Furseth is the Engagement and Corporate Communications Analyst for RentHop, a national apartment rental site based in New York City. She moved overseas from Norway three years ago and has since been living and working as an expat in New York, enjoying everything the city has to offer.