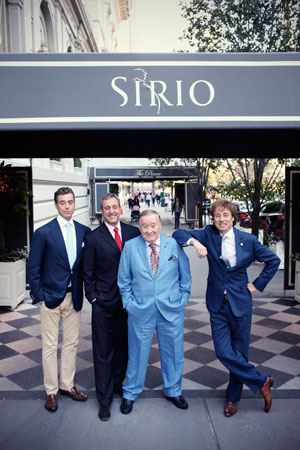 Sirio Maccioni arrived in New York City in 1956; he was 24, and had worked his way across the Atlantic on an ocean liner from Italy. He grew up in a small town in Tuscany, a locale that he refers to as both the place he most loves to visit, and (jokingly) as "the only civilized place in the world." His first job in New York was cleaning tables at the Pierre Hotel. As of last fall, with the opening of "Sirio," he now owns the restaurant at the Pierre Hotel. With this, the most recent addition to the Maccioni's restaurant portfolio, they now have eight restaurants in three countries and a standing engagement with the Holland America Line's 15 ships called "An Evening at Le Cirque."
And in case you missed the 2007 HBO Documentary A Table in Heaven, the Le Cirque family of restaurants is also a family business. Mario, Marco, and Mauro Maccioni have worked alongside their father for years to maintain his legacy, a luxurious atmosphere, top-notch clientele, and fine cuisine. On this particular morning, Mauro, the youngest of the Maccioni clan, joined us at a table in the front with a cappuccino in hand to discuss the state of their familial union.


Q. What was it like to grow from one location and one concept to everything you have now—specifically, the second restaurant Circo?
Mauro: Obviously, my father opened Le Cirque—which is and always has been a classical French restaurant with top-notch kitchen talent trained in French technique. I think that back in the early '90s, when I was getting out of college and my father knew that his sons were going to be involved in the business, he knew we were going to need to expand. As Italians, and as Tuscans, it was definitely a dream and a desire for us to do an Italian restaurant. That's what Circo was really, a nod to our heritage, and we made the conscious decision to make the cuisine there more rustic, heartier fare, in the Tuscan tradition—Osteria—with dishes like wild boar stew, polenta, and heavier pastas. That was in '96, and we still maintain that identity with the food, because now we have another Italian restaurant here in New York, Sirio, which is more pan-Italian and a little more sophisticated. Having different restaurants, different styles, different towns, different countries, I feel it's a little bit like a financial portfolio. You have to diversify so that when you're not doing so well in one area, another will keep you balanced.
Sirio: It really is great. It's fantastic to see my sons working with me, and to see how much we have grown and are still growing. It's also a little bit scary, but it's good, the restaurants are doing well; we even have a Le Cirque in New Delhi now. Our chef there was actually born in India and then moved to the town where I grew up, near Tuscany. His name is Mickey Bhoite; he's fantastic—he looks Indian but he cooks like an Italian.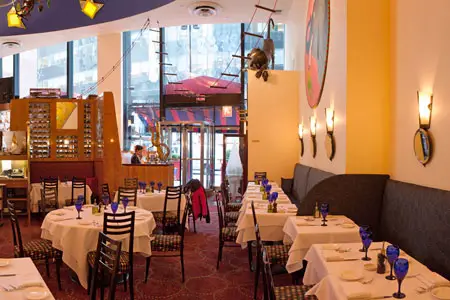 The dining room at Circo

Q. If you had to distill it down into one sentence, what would you say has made Le Cirque such a legendary, iconic restaurant?
Sirio: I believe that when you do something, you either strive to be the best or don't even try. When I opened Le Cirque in 1974, I was trying every day to be the best. I was young, I worked hard, I worked a lot, and I had great people around me. Sometimes, you look back and wonder, "Why did I do that?" But I have always hated when people come to me and complain, to ask why something is not done, so I still try to do better every day. One of the things I am the most proud of is that most of the people who work here really want to be here. I'm very proud of what we have created, but no matter what there's always more. I still have a hard time going to sleep at night; I find myself getting up to find a piece of paper to write down ideas that come to me while I'm in bed. Talk more with [Mauro]; this is the future, I am the past.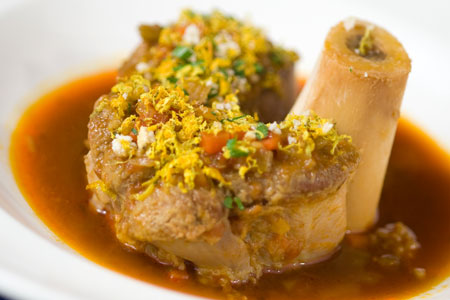 Circo's Lamb Shank

Q. Was there a moment when you knew that you wanted to be involved in the family business?
Mauro: I would say it was in the summer of '82 when we travelled to visit Paul Bocuse in Lyon, France. I can still remember how great the little things were, like the morning coffee and the croissants, how good the butter was. I remember thinking that fine dining is a pretty cool thing. I can't speak for my brothers but I'm pretty sure they enjoy the business as well. My father always jokes that he would have loved to have an architect, a doctor, and a lawyer—but instead we all sell soup, like him.

Le Cirque - 151 East 58th Street • 212-644-0202 • lecirque.com • @lecirquenyc
Le Cirque Café - 151 East 58th Street • 212-644-0202 • lecirquecafe.com • @lecirquecafe
Circo - 120 West 55th Street • 212-265-3636 • circonyc.com • @circorestaurant
Sirio Ristorante - 795 Fifth Avenue • 212-940-8195 • siriony.com • @siriony
Top photo: The Maccioni men (left to right): Mauro, Mario, Sirio, and Marc