In 1974, La Forêt, a swell boite in the Pierre Hotel, opened and was quickly embraced by the smart set. At that time, Italian-born Sirio Maccioni, today one of Gotham's most beloved restaurateurs, worked at the hotel and oversaw the La Forêt lounge, restaurant, and nightclub. He had arrived in the States some 13 years prior, after paying his professional dues in the hospitality profession in Hamburg, Paris, and his native Montecatini; and then, adding to his already impressive CV, he burnished his skills at the legendary Wall Street eatery Delmonico's, and subsequently at the celebrated Colony. It was not long after that that the revered impresario opened his own showcase, the much-loved Le Cirque, in the Mayfair Hotel. (It's worth noting that Maccioni helped launch the careers of many luminaries among the brightest stars in the current foodie firmament, among them, Jacques Torres and Daniel Boulud.)
Photo: Eric Laignel
So, it is all the more fulfilling for him to return to the Pierre, currently a Taj Hotel, to open yet another restaurant, adding to the Maccioni Group's holdings. (The space had previously housed a branch of London-based Le Caprice, and in November of last year, it became the charming Sirio.) Just before the opening, the maestro commented, "Sirio Ristorante is my chance to offer diners an opportunity to experience the cuisine that my family and I enjoy while dining out throughout Italy," he noted. "I'm looking forward to returning to The Pierre and sharing this part of my heritage with New Yorkers and visitors alike." And I can report, after checking it out, Sirio is another jewel in Maccioni's crown of superlative restaurants.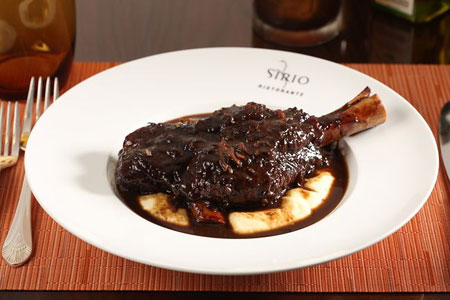 Photo: Melissa Horn
Designed by the renowned architect Adam D. Tihany, it marks the eighth collaboration between the two legends, so it's probable that they can finish each other's sentences at this point, with Tihany's knowing precisely what it is that Maccioni needs to make his property welcoming. And Sirio is definitely that—inviting, cozy, warm. Along the southern wall is a line of banquettes, cushy and comfy, all the more so because there are extra pillows strewn around. (You may want to rest in between courses, just so you can taste even more on the seductive menu.) And it is that menu that will keep you coming back for more.
Executive Chef Filippo Gozzoli, formerly of the five-star luxury hotel Park Hyatt Milan and the two- Michelin-starred restaurant Arquade at Hotel Villa del Quar in Verona, Italy, is overseeing the kitchen. Italian-born Gozzoli has over 20 years' experience working in some of the world's top kitchens in London, Rome, Florence, and Milan. In 2007, he received the Best Emerging Young Chef award from Italy's premier business newspaper, Il Sole 24 Ore.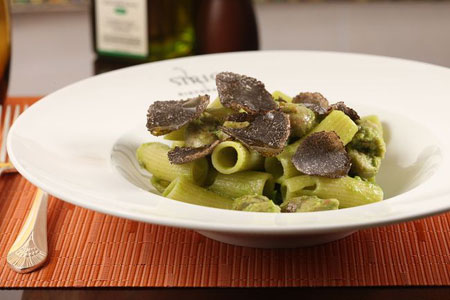 Photo: Melissa Horn
Chef Gozzoli's menu features contemporary and seasonal Italian cuisine. Signature dishes include beef carpaccio, quail egg, baby bok choy, lemon-grass, black truffle; tuna tartare, toasted pine nuts, olive oil, spicy soy-wasabi sabayon; potato gnocchi, roasted octopus, cherry tomatoes, arugula; veal piccata with prosciutto, sage, mashed potato, white wine sauce; potato gnocchi, roasted octopus, cherry tomatoes, arugula; and among the desserts, some dishes to really wow'em—quadrato di cioccolato e nocciole Piemontesi and ravioli dolci. On one occasion, I sampled the traditional pounded and breaded veal chop and can only say that the portion was so huge, it was practically falling off the plate; the second half made a great lunch. Service is impeccable, with polite and attentive staff tending to your every need.
You'll dine regally and peacefully here, and moreover, you'll leave satisfied and delighted. 795 Fifth Ave. (61st St.), 212-940-8195; siriony.com