When Broadway contracts expire, it's not uncommon for actors, particularly those with West Coast roots, to take it on the lam. The most recent – and newsworthy – departures involved the four-character cast from the Tony-nominated Best Play, A Doll's House, Part 2 by Lucas Hnath.
Heading out will be three members of the celebrated quartet: 2017 Tony Award winner Laurie Metcalf, Oscar winner/2017 Tony Award nominee Chris Cooper and Condola Rashad. The amazing (and in the case of A Doll's House, awesome) Tony winner Jayne Houdyshell (The Humans), is staying on with the production, currently slated to run through January 7, 2018.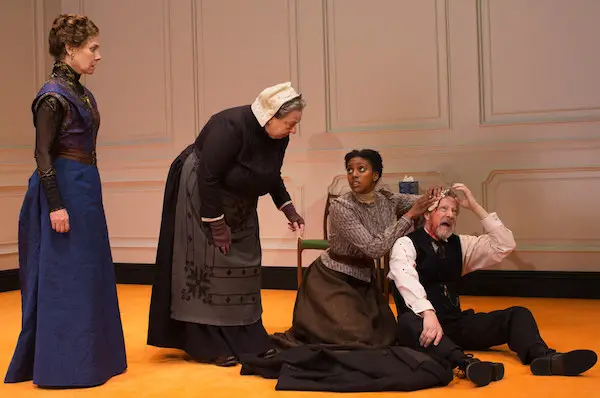 Last call! Laurie Metcalf, Condola Rashad (third from left), and Chris Cooper's last day in A Doll's House, Part 2, is July 23rd. Photo: Brigitte Lacombe
As for replacements, producer Scott Rudin announced that Tony winner Julie White (Little Dog Laughed) will be stepping into the role of Nora, being vacated by Metcalf, while Torvald (now played by Cooper), will be taken over by Stephen McKinley Henderson (Fences – both on Broadway and the Denzel Washington film). As for Rashad's role, Erin Wilhelmi, who made her Broadway debut last season in Ivo Van Hove's revival of The Crucible, will play Nora and Torvald's daughter, Emmy.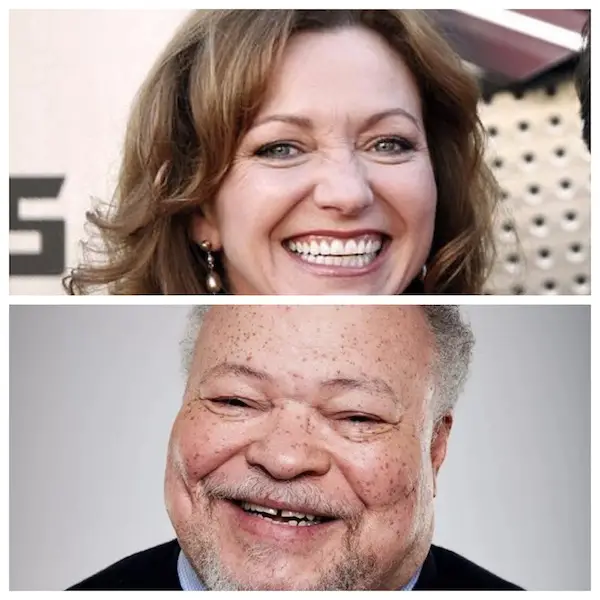 Julie White and Stephen McKinley Henderson will take over the leads as Nora and Torvald, beginning July 25th.
Considering the intriguing differences between the original cast and cast-to-be (the newbies take over on Tuesday, July 25th), there's an irresistible – almost built-in-draw to see both sets of actors. I mean, seriously, you couldn't ask for a better compare-and-contrast, physically, stylistically, you name it. I, for one, cannot wait.
I'm also curious to know if the new trio will be strutting the Golden Theatre stage through the show's closing or if other performers will be stepping in en route to early 2018. For now, I suggest wrangling tickets (not that easy) to see the originals while lining up future reservations for the incoming. dollshousepart2.com
[Directed by Tony winner Sam Gold, A Doll's House, Part 2, takes place 15 years after Henrik Ibsen's classic ends with Nora exiting her home, husband and life with the slam of door.]