Vermilion is a big restaurant in a big building with a menu of big flavors. With floor-to-ceiling windows, it is the culinary corner office. Owner Rohini Dey, PhD, has straddled the corporate and academic worlds, and her entrepreneurial spirit took hold when she decided to give a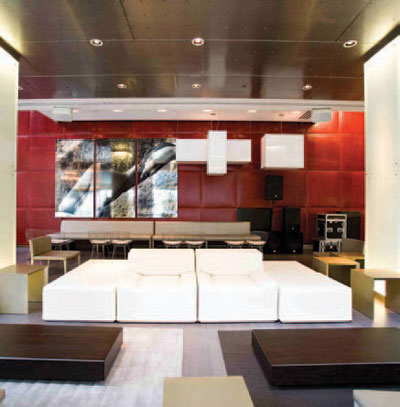 boost to the food of her native India by combining it with a Latin template. Indian food served in America, she thought, was bland, so she opened the first Vermilion in Chicago. Dey, who is involved in promoting women in the culinary arts, showcases the cooking of various well-known guest chefs at the New York restaurant (such as Sue Torres of Suenos).
The lounge and bar on the first floor is a place to indulge in some signature small plates with a cocktail. Duck Vindaloo Arepa—shredded marinated duck brushed with pomegranate molasses with curry leaf mango—is a delicious pairing of two intense cuisines. Try Tamarind Cilantro Shrimp served with cool daikon slaw, or the tangy Tomatillo Gazpacho with crispy eggplant fritters.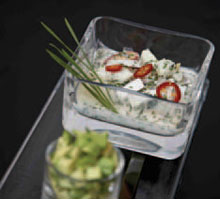 Signature Latin-Indian entrees include Caldeirada de Peixe, a traditional Brazilian seafood stew with Indian seasoning and tomato rice. Another is Chili-Glazed Blackened Tamarind Ribs served with avocado fritters and tomatillo pachadi, a type of chutney. Tandoori Skirt Steak is seared over a flame and served with chorizo and a jicama citrus roll. Side dishes offer the best of both worlds with basmati rice and plantain chips. Lunch Monday-Friday; dinner Monday-Saturday from 5pm; closed Sunday; tasting menus with 10 elements from $90 to $110.
480 Lexington Avenue • 212-871-6600 • thevermilionrestaurant.com