Suenos is a below-street-level Chelsea hideaway with three brightly colored rooms, an enclosed courtyard garden, and stunning wall art in the form of folk-like dream boxes by Lucas Moran. Ow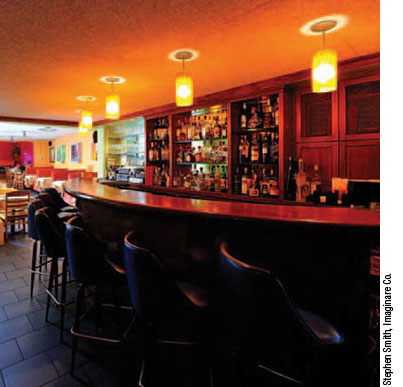 ner/chef Sue Torres grew up on Long Island but did not discover Mexican cuisine until after culinary school, when she worked at a high-end Mexican restaurant. She says she will never tire of cooking the cuisine because of the abundance of chiles, herbs, and spices and the many layers and nuances using them.

The signature appetizer, Lobster Sopes, is an example of such nuances. Adabo chile is poached in coconut milk and its oil seeps into the milk to provide a totally new spice experience. The lobster is then poached in a silky reduction of this sauce and served in a house-made, crispy, chile-spiked corn cup. Corn is ground by hand at the restaurant with a Molino and lava stone, providing a base for making all of the restaurant's tamales, tortillas, and gorditas. On Sundays and Tuesdays, you can create your own tacos or tostados with a variety of fillings such as tequila-flamed shrimp and tamarind-glazed hanger steak for $35 p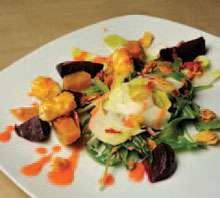 er person.
A popular entrée is the Chile-Rubbed Goat steamed in Mexican beer (Negra Modelo) served with mashed green plantains. The wet chile rub gives the dish its large flavor. The Crispy Duck Confit with sweet plantains, goat cheese Gordita, and pipian (a type of green mole) is another winner. A special four-course tasting menu is available for $50. Dinner Sunday-Saturday from 5 to 11pm, later on Saturday; closed Mondays.
311 West 17th Street • 212-243-1333 • suenosnyc.com