It's sometimes refreshing to have to wrestle—intellectually—with a work of art, a passage in a novel, or the meaning of a stanza in a poem. But it's also refreshing to sometimes just get it: to read a paragraph that initially seems complicated, but actually makes perfect sense; or be shown the relationship between two pieces of art and to clearly understand what's going on.
Such is the case with Josef Albers in Mexico, newly opened at the Solomon R. Guggenheim Museum. Albers, famed for his abstract work, was a member of the Bauhaus (the famed German art and design school, closed by the Nazis in 1933) and also taught at institutions including Yale University (where he headed the design department) and Black Mountain College in North Carolina.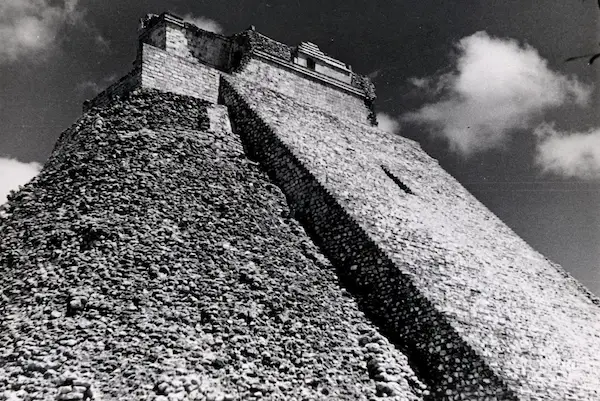 Pyramid of the Magician, Uxmal, 1952
But he's probably best known for his series of colorful squares, aptly titled "Homage to the Square," which he recast in various sizes and colors over many years, as well the "Variant/Adobe" series, both of which are gorgeous in their rich, sundrenched colors and use of geometry. Despite his fame as an abstract artist, Albers' approach to experimentation was disciplined and rigorous, exploring the use of color within a series of nesting squares.
The exhibit at the Guggenheim, interestingly enough, focuses mainly on Albers' black and white photographs, as well as his photo collages. He and his wife Anni traveled to Mexico many times over a period of more than 30 years, from 1935 through the 1960s. While there, they spent time at numerous archeological sites, from Uxmal to Chichen Itza. Albers took photos of everything from the landscape to shrines and monuments he encountered throughout the country; the resulting photo collages demonstrate his interest in geometric experimentation as seen though the influence of pre-Columbian art. His focus on these trips was often the geometric forms—and that's where the a-ha moments come in; seeing an image of a monument in Mexico next to one of his abstract squares often makes the relationship apparent. Albers' interest in pre-Columbian art added to rather than distracted from his interest in abstract art, despite the seeming contradiction.
Josef Albers, Variant/Adobe, Orange Front, 1948-1958, Oil on Masonite, 59.6 × 68.5 cm, The Solomon R. Guggenheim Foundation, Gift, The Josef and Anni Albers Foundation in honor of Philip Rylands for his continued commitment to the Peggy Guggenheim Collection, 1997 © 2017 The Josef and Anni Albers Foundation/Artists Rights Society (ARS), New York
The colors of the monuments he saw clearly influenced the palette he used in his own work; once you've seen the images side by side, the relationship is unmistakable. And it's exciting for the viewer to be able to essentially see the world as the artist did—we see what he did, thanks to the photographs, and are even more able to interpret how he translated what he saw into his own art.
Six sites are featured in the exhibition, which also includes a small selection of ephemera such as maps and travel journals. The museum's airy, somewhat stark interior is a perfect foil for both the photos and the rich, colorful geometric shapes.
Wander through, and then wander through again. This one's a treat.
Josef Albers in Mexico runs through Feb 18, 2018. For more information, visit guggenheim.org.