The acclaimed Broadway revival of Miss Saigon brings back the tragic love story of Chris (Alistair Brammer), an American soldier, and Kim (Eva Noblezada), a 17-year-old Vietnamese bargirl, shortly before United States troops evacuate Saigon in 1975. As for the third key player in this compelling musical, look to "The Engineer"—the sleazy opportunist who runs the bar-and-brothel where Kim and other young women work. Dressed in shades of purple and red, his long hair looking sweaty, Jon Jon Briones captures The Engineer's shadiness from his first seconds onstage.
All photos by Matthew Murphy
Briones tapped into his underprivileged upbringing in Manila to understand a character whose troubled life in Vietnam turned him into a conniving exploiter of women. The Engineer, he says, "is a scampering animal" unable to fill his needs.


"He wants something; he's been denied things. He's asking, 'Why do people have this? Why can't I have that?' I've seen people like him. I've hung out in the red light district so I see where he's coming from," Briones says, adding, "He's fast on his feet. He's a survivor."
A conniving hustler, The Engineer thinks that South Vietnam, and later in the show, Thailand, are too small to contain him. He looks to the United States as his salvation—not for political or religious freedom, but to find an even greater hustle.
"I need room to flex my muscles/In an ocean where the big sharks feed," he sings in the glitzy production number "The American Dream," while he slithers like a gleeful snake across the stage. "Make me Yankee, they're my family/They're selling what people need."
Briones's performance—along with the famous helicopter that enters spectacularly in Act II with a show of blinding lights and a torrent of whap-whap-whaps from its rotor—are but two of the marvels found in Miss Saigon, a reimagining of Puccini's opera Madama Butterfly.
The lovely melodies (Claude-Michel Schönberg wrote the music; Alain Boublil wrote the lyrics with Richard Maltby Jr.) are compelling hooks for the love story and Kim's heroism and sacrifices as she raises (and protects) her and Chris's now three-year-old love child, Tam—played in poignant silence by four young actors. Kim is left to survive under Communist rule after the war while Chris has made a new life back in the States with his American wife, Ellen (Katie Rose Clarke).
All the while, The Engineer is never far away—trying to hustle his way to America by insinuating himself into Kim and Tam's lives.
For Briones, the role is part of a continuum with Miss Saigon that began in the Philippines. The actor attended a convent school on a scholarship, singing in the choir; later, he was cast in the ensemble of the original 1989 London production after auditioning in Manila (where, incidentally, the original Kim, Tony winner Lea Salonga, was discovered). By 1995, Briones had graduated to play The Engineer in Stuttgart, Germany and, since then, has portrayed him in productions around the world.
As a Filipino, Briones has avoided the controversy of a white man playing the Eurasian pimp that erupted over Tony winner Jonathan Pryce's casting as The Engineer months before the production moved to Broadway.
Briones recalls that in the Philippines he was accustomed to seeing white actors in films wearing prosthetics and adopting Asian accents to play Asian characters. Back then, they were doing yellow-face," he says.
For Miss Saigon, the producers have subsequently hired actors with Asian heritage, like Briones, to play The Engineer in U.S. productions, including this first Broadway revival.
"We're here," Briones says. "We're not invisible."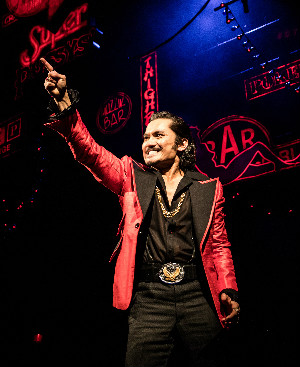 ---
Miss Saigon is playing at the Broadway Theatre, 1681 Broadway, btw. 52nd & 53rd Sts.
For tickets call 212-239-6200 or visit saigonbroadway.com.