After opening their first (and flagship) restaurant in London in 2001—becoming the only European Chinese restaurant to receive a Michelin Star in 2003—and later expanding with a second London locati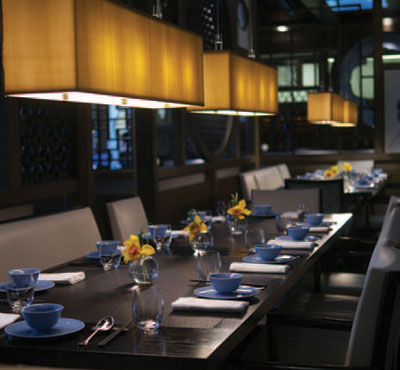 on and into Miami, Mumbai, Abu Dhabi, and Dubai, the world-renowned Chinese restaurant finally arrived in New York City this past April, bringing their modern Cantonese cuisine, impeccable service, and unparalleled dining experience to Manhattan. It was most certainly worth the wait.


The menu follows that of Hakkasan's other locations, utilizing the recipes of London-based Corporate Executive Chef Tong Chee Hwee, who has been with the restaurant since its inception, with International Development Chef Ho Chee Boon helming the New York kitchen. (Chef Ho, who relocated here from Bangkok for the launch, has developed a few menu items that keep locally sourced ingredients and influences in mind.) What also stands out is the opulent interior (designed by the design team of Gilles & Boissier, who also worked on the Miami and Abu Dhabi locations): a deep blue color scheme with red and pink undertones and blue- and red--hued frosted glass and mirrors installed throughout, and a lovely 60--foot bar and 80--foot entranceway lobby.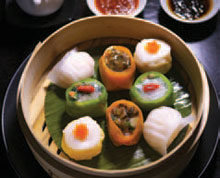 Signature dishes include: Crispy Duck Salad with pomelo and pomegranate seeds and Stir-Fry Lobster with Wild Mushrooms in XO Sauce; Roasted Silver Cod with Champagne & Chinese Honey; and Stir--Fry Black Pepper Rib--Eye Beef with Merlot. Featured cocktails include the Plum Sour, the Zesty Martini, and the Smoky Negroni, a cocktail created with Grand Marnier smoke infusion, Ransom Old Tom gin, Antica Formula vermouth, and Campari.
311 W. 43rd St. • 212-776-1818 • hakkasan.com/newyork